Hofu
Hofu
(
Hōfu-shi
) is a city in
Yamaguchi prefecture
, Japan. It is named after its former status as the provincial capital (
kokufu
国府) of Suō Province (周防国).
Get in
By plane
Yamaguchi Ube Airport
(山口宇部空港,
Yamaguchi Ube Kūkō
) (
UBJ
) is about 45 minutes away by car, though this only offers flights to Tokyo Haneda and seasonal services to Seoul Incheon.
By public transport, take a bus to Shin-Yamaguchi station (35 min, ¥890), then take the train. The more intrepid traveller can walk 10 minutes from the airport to Kusae station and take a train from there to Shin-Yamaguchi, which takes about 40 minutes but saves ¥480.
The nearest airport with regular international flights is Kitakyūshū, but it may be preferable to use Fukuoka or Hiroshima Airports.

By train

Hōfu is on the San'yō Main Line but not the San'yō Shinkansen, which runs through the north of the city without stopping. The nearest Shinkansen stations are Tokuyama to the east (25 min, ¥500) and Shin-Yamaguchi to the west (15 min, ¥320); Shin-Yamaguchi has somewhat better service.
Journey times via Shinkansen are broadly as follows: 
Tokyo: 5 hours 20 minutes (longer if avoiding Nozomi trains) and ¥20,690 (¥21,560 if going via Shin-Yamaguchi)
Shin-Osaka: 2 hours 30 minutes and ¥12,400 (via Tokuyama)
Hiroshima: 1 hour 15 minutes and ¥4190 (via Tokuyama)
Hakata: 1 hour 20 minutes and ¥6020 (via Shin-Yamaguchi)
Local trains run to Shimonoseki (1 hour 30 minutes, ¥1490) and Iwakuni (1 hour 25 minutes, ¥1320). A journey to Hiroshima using San'yō Main Line local trains, changing at Iwakuni, takes 2 hours 50 minutes and costs ¥1940.
As an alternative to the Japan Rail Pass, JR West offers three passes serving Hōfu, which are available to Temporary Visitors with foreign passports:
The Hiroshima-Yamaguchi Pass covers all JR stations in Yamaguchi prefecture and services as far east as Miyoshi and Onomichi. It can also be used for the non-reserved seats of all San'yō Shinkansen trains (including Nozomi and Mizuho trains) between Mihara and Hakata, and the JR Miyajima Ferry. It lasts five days and costs ¥11,000 (12,000 if bought in Japan).
The Okayama-Hiroshima-Yamaguchi Pass extends the valid area to Tsuyama and Takamatsu. It can be used on all Shinkansen trains between Okayama and Hakata. It lasts five days and costs ¥13,500 (¥14,500 if bought in Japan).
The San'yō-San'in Pass extends the valid area still further to cover the Urban Network area of Kansai (as far as Tsuruga and Wakayama) and both reserved and non-reserved seats of the Shinkansen between Shin-Osaka and Hakata. It lasts 7 days and costs ¥19,000 (¥20,000 if bought in Japan).
All three of these passes can be used on the JR Bus to Yamaguchi mentioned below.

By highway bus
By local bus
Chūgoku JR Bus run services once or twice an hour from Yamaguchi, taking about 40 minutes and costing ¥860. This is slightly faster than taking the train via Shin-Yamaguchi, but more expensive.
Bōchō Bus runs services to Shin-Yamaguchi and Tokuyama, but these take longer than the train.

See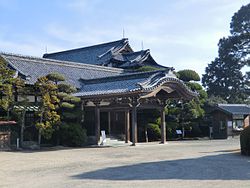 address: 14-1 Matsuzakichō

A Shinto shrine.

phone: +81 835-22-0001

address: 1-15-1 Tatara

Formerly the residence of the Mōri Clan, this museum houses four of Japan's National Treasures.
Drink
Laughable

phone: +81 835-22-1023

address: 1-7-31 Tenjin

Hōfu's main bar, most easily found by looking for the neon yellow shower curtain that serves as its door.
Go next