Hoi An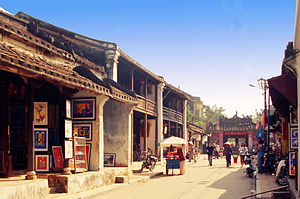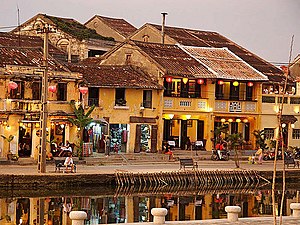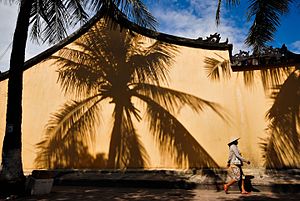 Hoi An
(
Vietnamese
: Hội An) is a beautiful city in
Vietnam
about 30 km to the south of
Da Nang
. The Old Town of Hoi An is listed as a
UNESCO World Heritage Site
. Hoi An is also commonly used as the base for half-day trips to a cluster of abandoned and partially ruins of
My Son
, another UNESCO World Heritage Site in the west of the Central Highlands.
Understand
Hoi An, once known as
Faifo
, with more than 2,000 years of history, was the principal port of the Cham Kingdom, which controlled the strategic spice trade with Indonesia from the 7th-10th centuries and was a major international port in the 16th and 17th centuries. The foreign influences are discernible to this day.
The culture and heritage is mostly from the Cham people whose kingdom originally stretched from Hue south to Phan Tiet (south of Nha Trang). The Champas were most likely originally from Java. The original Cham political capital was Tra Kieu, the commercial capital was Hoi An and the spiritual capital was My Son (Hindu). The Cham people were Hindu, and by the 10th century the influence of Arab traders to Hoi An resulted in the conversion of some to Islam.
The second major influence was Chinese, first by traders, then by escaping Ming Dynasty armies, who after settling in Hoi An for some years, moved further south and created Saigon as a major trading port.
The third and last major influence of culture and heritage was from the Vietnamese and is fairly recent and only came after the Cham lost control of this area. For a tourist wanting Vietnamese culture and heritage,
Hue
is a much better destination than Hoi An.
While the serious shipping business has long since moved to
Da Nang
, the heart of the city is still the
Old Town
, full of winding lanes and Chinese-styled shophouses, which is particularly atmospheric in the evening as the sun goes down. While almost all shops now cater to the tourist trade, the area has been largely preserved as is, which is unusual in Vietnam, and renovation has proceeded slowly and carefully. It's mercifully absent of towering concrete blocks and karaoke parlours.
The culture and heritage that UNESCO WHS status for Hoi An Old Town was trying to preserve is long since gone. Since 1999, when UNESCO status was awarded, there has been a massive increase in mass tourism, with the result that most houses have been sold to speculators and shop owners to be used for commercial purposes. The community and with it their culture and heritage is gone and in their place are shops, restaurants, art galleries, etc. There are hundreds of tailor shops in Hoi An, all selling similar low value products to ever smaller numbers of Western tourists.
UNESCO Biosphere Reserve status also applies to Hoi An Old Town, but in reality this status, like all other UNESCO designations, has not been accompanied by enlightened site management.
The main thoroughfare in the Old Town is
Tran Phu
. Just south of the Old Town, across the Thu Bon River, are the islands of
An Hoi
to the west, reached via Hai Ba Trung, and
Cam Nam
to the east, reached via Hoang Dieu.
Get in
By plane
The nearest airport is in
Da Nang
which has domestic connections to
Hanoi
,
Ho Chi Minh City
,
Nha Trang
,
Can Tho
, and
Da Lat
and some international flights to
Bangkok
, Chiang Mai,
Singapore
,
Siem Reap
(for
Angkor Wat
),
Seoul
,
Tokyo
,
Hong Kong
and charter flights to
China
.
A taxi from Da Nang airport to Hoi An costs about USD22 using a taxi with a meter. This is one occasion where haggling to set a fixed price is cheaper than going by the meter. Air conditioned minibus taxis cost USD5 per person to the airport (there are no minibuses from the airport, you must first go to the city). The journey takes about 45 min.
By train
There is no railway station in Hoi An. The nearest is in Da Nang (+84 511 3750666), which receives several trains a day from Hanoi, Ho Chi Minh City,
Hue
,
Nha Trang
, etc. Train tickets can be booked online or bought from most travel agents and hotels.
By bus
From Da Nang
There is a public bus #01 from Da Nang's bus station to Hoi An's bus station. The bus runs roughly every 20 minutes from around 05:30 to 17:50, and the trip takes slightly less than an hour. The fare is 18,000
đong
, see
DanangBus website
. While many of Vietnam's bus ticket collectors/conductors are honest, this route is not generally blessed with them, and foreigners will get ripped off if you give them a chance.
Know the correct fare and don't get bamboozled. The official fare is posted on signs on the left outside the front entrance door, and above the driver. Try to board through the front door (even if the collector invites you to board through the back) and look at the prices (take a photo to drive the point home). The collector might try to tell you baggage is extra, but it is not, unless you have a suitcase that literally takes up a whole seat. The collector might show you a 50,000-đong bill handed to them by one of old ladies taking the bus: this is a scam, the ladies get a bundle of money back later to confuse tourists. If you give a larger bill expecting the correct amount of change, you instead be charged 30,000 or 50,000 đong per person and the collector will pretend to not understand when you complain. The best technique appears to be ignoring the collector's claims and having each passenger hand him 16,000 đong in exact change (or 20,000 đong if you don't have smaller change and are willing to take the loss). He will tell you it's wrong and ask for more. Ignore him and keep holding the money out. After a few minutes he'll come back and take it.
The bus makes a loop through northern Da Nang and passes through downtown Da Nang. See the route on https://www.danangbus.vn/roadmap.html and live bus positions at http://ecobus.danang.gov.vn/web/guest/homepublish. If you're staying in Da Nang, your accommodation should be able to point you to the nearest stop.
The bus stop closest to the train station is in front of 155 Lê Duẩn road (GPS 16.0704,108.2147), marked with a bus stop sign (leaving the train station cross the square and walk down Hoàng Hoa Thám road and turn left at the next intersection with Lê Duẩn). As of January 2018, the bus stop at 355 Lê Duẩn road still says the 01 bus stops there, but it doesn't anymore. Keep walking 500 meters more and you will get to the correct one at 155 Lê Duẩn road. There is no longer a particularly convenient bus stop coming from Da Nang airport; the nearest appears to be near the Museum of Cham Sculpture (270 Trần Phú; GPS 16.0620, 108.2232; about 35 minute walk or 3 km taxi).
In Hoi An, the bus ends at
Bus station
address: 67 Nguyễn Tất Thành, Hoi An
This is about 1.5 km northwest of the old town centre, about 15 minutes walk (though the first couple of minutes are not very pretty). The return buses leave from there as well. A xe om from Hoi An bus station to the old town should be around 10-15,000 đong.
On the return trip, the #01 bus passes within 700 metres of the Da Nang train station. Nearest stops are at 166 Lê Duẩn and 79 Ông Ích Khiêm.
There is a shuttle bus direct to Danang airport (120,000 đong, 1 hour).
Other destinations
There is no shortage of travel agencies and private buses travelling to and from Hoi An to destinations such as Hue, Hanoi, Saigon, Dalat and Nha Trang. Guesthouses can arrange tickets for a surcharge, although they may not release the ticket to you until after you check out.
Those arriving by bus not on an open ticket should be aware you may not be dropped off at the Hoi An bus station, but at a guesthouse about a 10-min walk from the station. The motorbike taxis or tuk-tuk waiting for your bus there will take you to your lodging for USD1–2.
Open-tour buses run daily up and down the coast from
Da Nang
:
Hue
(3½–4 hr, 90,000-100,000 dong),
Nha Trang
(9–10 hr).
Buses from
Buon Ma Thuot
or other cities in central Highlands going to Da Nang will drop you off just outside of Hoi An, at a stop along the highway if asked. From there it is a 15-minute motorbike ride to anywhere in town.
By taxi
Fixed price for taxi from Da Nang is 280,000-300,000 đong (2016), passing
Marble Mountains
on the way. If you're coming from Hue, prepare to pay at least 1,200,000 đong.
By boat
The old Champa way was to travel by the river system. The rivers of Hoi An cover hundreds of kilometres and offer an interesting and adventurous alternative to travelling by road. Get on a boat and you'll begin to see a whole lot more of Hoi An and the delta. You can charter boats for about USD1/hour.
Get around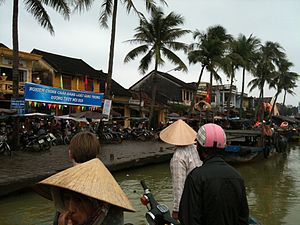 The centre of Hoi An is very small and pedestrian-friendly, so you will be walking around most of the time. Motorbikes are banned from the centre of town during certain times of day (08:00 to 11:00, 13:30 to 16:30), but you should keep an eye out for motorized kamikazes, even in the most narrow alleys. The city government does not allow motorbikes to enter Old Town on the 14th and 15th of each lunar month. On those evenings, a lot of activities, including traditional games such as
bai choi
,
trong quan
, and
dap nieu
are held in all over the town.
By taxi
Taxis can be found in the middle of Le Loi St, over the river in An Hoi or summoned by phone. When busy, taxis may refuse your fare back to your hotel from town if it is too close, opting for larger fares. Arranging a shuttle from your hotel may be a better option although prices may be higher.
phone: +84 83 829-8888
Motorbike taxis, of course, are always an option.
Get a car to visit
My Son
early in the morning, about an hour away, or the Marble Mountains, about forty minutes north towards Da Nang.
By bicycle
Pedal bicycles can be rented quickly and easily for as low as 20,000 đong per day, and is one of the best ways to get around town. If you are not staying directly in Old Town, this is an outstanding option for traveling back and forth and to the beach.
By motorbike
Traffic in Hoi An is minimal, so if you've been avoiding getting on a bike in the big cities, Hoi An and the surrounding countryside like is ideal to get used to the road rules.
There are plenty of places in Hoi An offering motorbike rentals. Take a short ride down to the beach and enjoy the water, explore the island community of Cam Thanh, or travel toward Da Nang to visit the stunning Marble Mountains.
The most common rental motorbike or scooter is a Honda Nouvo which is fully automatic, comfortable for two people and has storage space under the seat for helmets or other similarly-sized gear. It's standard practice for a rental bike to have only enough fuel to make it to the next filling station. Make sure you get a helmet for everyone on the bike.
You can get a bike for 125,000 dong without
haggling
(2018). Petrol costs around 22,000 đong/litre and 2-3L is enough for a good day of sightseeing, going to the beach and zipping around town. In addition to filling stations, there are also little hand-operated roadside pumps everywhere; these can be convenient, but they're more expensive (30,000 đong/litre) and the quality of the fuel is questionable.
The usual disclaimers apply to motorbikes in Vietnam: foreign driving licences are not valid. In the event of an accident, foreigners driving a motorcycle without a valid licence are considered to be at fault and therefore liable for damages and may face a citation. Check your travel insurance exclusions, as generally you will not be covered for accidents when riding a motorcycle here. That means no reimbursement for hospital treatment or, worst case, the repatriation of your body. Drink-related motorbike collisions are a major issue in Vietnam. Traffic accident statistics for the region are frightful. As well, emergency services are not up to international standards.
See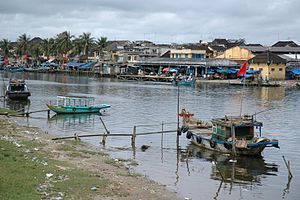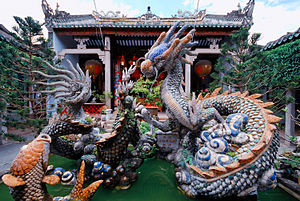 Old Town
The Old Town, with its historical architecture and very walkable streets filled with shops and restaurants, is arguably at its best at night, when the activity along the river front is lit by the soft light of silk lanterns.
Entry to Old Town is free, however entry to all historical sites is handled via a
coupon system
, where 120,000 đong (2016) gets a ticket that can be used to enter any five attractions. Tickets are sold at various entry points into the Old Town, including Hai Ba Trung St, and also at some of the attractions, including the Cantonese Assembly Hall.
Landmarks
Japanese Covered BridgeThe bridge was constructed in the early 1600s by the Japanese community, roughly 40 years before they left the city to return to Japan under the strict policy of sakoku enforced by the Tokugawa Shogunate, and renovated in 1986. Today, it's the symbol of Hoi An. Entry is one coupon, but it's possible to cross back and forth several times without meeting a ticket-checker. If your scruples bother you, leave a tribute for the pig statue or the dog statue standing guard at opposite ends of the bridge.

Quan Cong Temple

address: 24 Tran Phu St

Founded in the 15th century, this temple is dedicated to Quan Cong, a Chinese general who is remembered and worshipped for his qualities of loyalty, integrity and justice. Statues of him and several others are inside the temple.
Museums
Museum of Hoi An History and Culture

address: 7 Nguyen Hue St

The museum contains some old black and white photos of Hoi An taken in the early 20th century. It also houses an old cannon, some two-thousand year old pots from the Sa Huynh period, and a case full of 9th century bricks and tiles from the Champa period.

Museum of Folk Culture

address: 33 Nguyen Thai Hoc St

Some may be put off by the bizarre-looking plaster sculptures of Vietnamese peasants, but this museum documents the dress and culture of rural Vietnam.

Museum of Sa Huynh Culture

address: 149 Bach Dang St

The museum's main collection consists of pottery and urns from the 1st and 2nd centuries. Upstairs is another museum, the Museum of the Revolution. Its main collection consists of pictures from war heroes and a collection of weapons such as grenade launchers, machine guns and AK 47s.

Museum of Trade Ceramics

address: 80 Tran Phu St

The dusty, unlabeled displays of broken pottery are eminently forgettable, but the house itself is nice enough, and it provides a good opportunity to explore the shape and layout of an old Hoi An home.
Traditional old houses
There are four
old houses
that exist in an awkward halfway state between museum showpiece and somewhat shabby residence for the family that lives there.
Old house of Phung Hung

address: 4 Nguyen Thi Minh Khai St

Traditional two-story wooden house, inhabited over 100 years by eight generations; and the current one guides you around in hope of a tip.

Old house of Quan Thang

address: 77 Nguyen Thai Hoc St

Old house of Duc An

address: Nguyen Thai Hoc St

Old house of Tan Ky

address: 101 Nguyen Thai Hoc St

As above, a younger member of the family will provide a cup of tea and a "tour" that doesn't stray from the front room of the house, as you'd need to step over sleeping members of the older generation to go anywhere else. The design of the house shows how local architecture incorporated Japanese and Chinese influences. Japanese elements include the crab shell-shaped ceiling supported by three beams in the living room. Chinese poems written in mother-of-pearl are hanging from a number of the columns that hold up the roof.
Congregation halls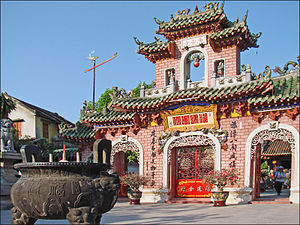 Numerous
congregation halls
, where Chinese expatriate residents socialized and held meetings, are dotted about the town. They are typically named after the home region of their members, such as Fujian and Canton. Some attractions do not have ticket-takers.
Cam Pho Communal House

address: 52 Nguyễn Thị Minh Khai, Phường Minh An

Quang Trieu Assembly Hall

address: 176 Tran Phu St

Built in 1885, it has a calm courtyard with ornate statuary. Take a peek at the half-hidden back yard and its kitschy pastel dragon statues.

Phuc Kien Meeting Hall

address: 46 Tran Phu St

Hokien (Fujian) meeting hall built in 1757.

Trieu Chau Meeting Hall

address: 157 Nguyen Duy Hieu

Chinese all-Community meeting hall built in 1887. It's near the Fujian hall, also occupying the block.
Performances
Hoi An Art Craft Manufacturing Workshop

address: 9 Bach Dang St

Folk music performances are offered Tu-Su at 10:15 and 15:15.

Hoi An Traditional Art Performance House

address: 75 Nguyen Thai Hoc St
Do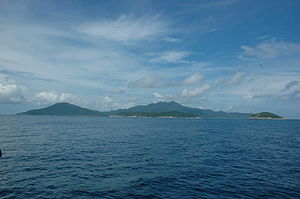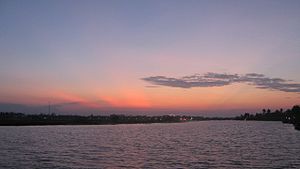 There are boat rides on the river, local beaches, diving.
Bicycling
Cam Kim Island Bicycle TourCam Kim is a scenic rural island which is almost entirely free of tourists. Stunning rural scenes, rice paddies, villages, fields of water buffalo and quiet roads are the big draws of Cam Kim. With your bike, you will be able to explore numerous picturesque pathways along with some bamboo bridged. There will be plenty of opportunities for taking photos and just taking in the wonderful scenery. You are led by a student volunteer keen on improving her English.

Heaven and Earth Bicycle Tours

phone: +84 510 3864362

address: 57 Ngo Quyen

Owned by Pascal, a French expat, and his wife, Thu, who is a native of Hoi An. If you take this tour, they will guide you to destinations that are not accessible to large tour groups.

Hoi An Love of Life Bicycle Tours

phone: +84 235 3505017

address: 66 Phan Chu Trinh St

Organised by local professional tour guides. Places visited include the Buddhist pagoda and a picturesque fishing village while cycling through luscious green rice fields where buffaloes roam.
Buy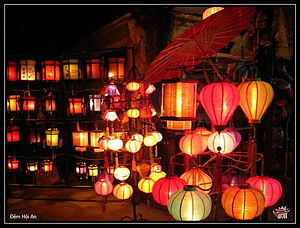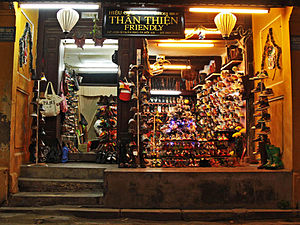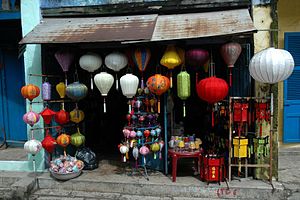 The are many ATMs around Hoi An but none seem to allow withdrawals over 2 million dong. They all charge for withdrawals. Agribank and Vietcombank maybe the cheapest with a fee of 20,000 đong, max withdrawal 2 million dong.
Money changerIf changing cash the best places are the gold shops near the market.

Marble and marble powder statues - outside the entrance to Marble Mountain. Look for Quan Am, the Vietnamese version of China's Kwan Yin, a female Buddha usually depicted pouring out a flask of water. Small powder statues are available for USD1, marble for around USD20, you can tell them apart by the price. Deep discounts may be available by bargaining.
Brass gongs and bells - There are many foundries on the road to My Son. Items can be made to order. This is the origin of the souvenirs sold in Hoi An tourist shops.
Hand made silks and lanterns - Old Town tourist shops
Bespoke clothing
Hoi An is known as the centre for affordable custom-made clothing. There are around 400 tailor shops in the city, some better than others. Most can complete something in one day, so you may wish to make an order on arrival so there will be time to complete the work. The principle of
caveat emptor
is definitely relevant. Ask at your accommodation. You will probably need to leave a deposit of about half the finished price before the work is started. If there are problems, shops may or may not be willing to make adjustments; you will not get a refund. Some strategies to minimise your risk:
Use recommendations from your accommodation and not from motorcycle drivers (they get a kickback whilst your hotel probably doesn't)
Order one thing at a time: if something goes wrong with one item, you lose less money;.
Take something that fits, they work better with copies.
Make sure they understand any special instructions: pockets, shortening, etc., the language barrier is not your friend.
Price things in more than one shop: materials and prices vary.
Order from more than one shop, again so all your eggs are not in one basket.
Tailor shops:
Len Silk

address: 74 Tran Phu St

The owner is the 6th generation in the family business. Her grandmother learned to make silk by hand as a young girl. She continued for 50 years. Then mass-produced imported silk became the norm and the village women mostly dropped the craft. Reasoning that traditional techniques of making hand-produced silk resulted in a superior product, she kept the business of using time-worn techniques going. Nearly all the garments in the store made by this method. Only women's clothing is available in hand-crafted fabrics.

Song Trang 'Moon River'

phone: +84 510 3936937

address: 166 Nguyen Truong To

Men's and ladies' tailoring. 2-piece suits start about USD100. Many similar in nearby Le Loi St.

phone: +84 984488811

address: 631 Hai Ba Trung

This tailor shop is very highly rated by many travellers.

phone: +84 510 3914995

address: 358 Nguyen Duy Hieu St

Top end prices. You pay for the name, and the bag the clothes come in.
Eat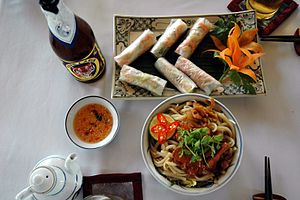 Food in Hoi An is, even by high Vietnamese standards, cheap and tasty. In addition to the usual suspects, there are three dishes that Hoi An is particularly famous for:
Cao lầu, a dish of rice noodles which are not quite as slippery as pho and a bit closer in texture to pasta. The noodles are topped with slices of roast pork, dough fritters, and this being Vietnam, lots of fresh herbs and veggies.
White rose (banh bao vac), a type of shrimp dumpling made from translucent white dough bunched up to look like a rose. Eat it at 533 Hai Ba Trung St.
Wonton dumplings, essentially the same as the Chinese kind, served up in soup or deep-fried.
Budget
The Central Market has a food court with several stands serving Hoi An specialities and typical Vietnamese food like pho, and spring rolls. It has a few stands catering to tourists with English-speaking staff and menus, and stands catering mostly to Vietnamese which serve rice and side dishes.

Bale Well Restaurant

phone: +84 510 650 6979

address: 45-51 D Tran Cao Van

Set menu: bánh xèo, pork savoury pancakes; barbecued satay pork loin, wrapped in a lettuce leaf, with side salad.

Binh Minh Restaurant

address: 197 Ly Thuong Kiet St

Western breakfasts, standard Vietnamese specialities, family atmosphere and reasonable prices.

Cafe Bobo

address: 18 Le Loi

Popular and reasonably-priced. The frappucino-style mocha shakes are great.

Cafe 43

address: 43 Tran Cao Van

Biere Lerue for 10,000 đong and bia hoi (pronounced doy in the south) fresh beer for 3,000 đong. The food is general traveller fare but tasty. Try the cao lao noodles which is the local speciality. Portions are adequate. The "fresh spring rolls" (steamed) cost around 40,000 đong, but are huge.

Lantern Town RestaurantHoi An is the home of lanterns and Lantern Town restaurant, housed in an ancient house, combines French colonial architectural influences with traditional Vietnamese style.

Đũa Việt

phone: +84 90 519 1136

address: 126 Tran Cao Van St

Formerly the Laugh Café and now run by one of its former employees, Đũa Việt (meaning Vietnamese Chopsticks) continues to serve the delicious and reasonably priced dishes of its predecessor, including local dishes and a large selection of vegetarian offerings. Try the grilled fish (or other meat) in a banana leaf with fresh turmeric.

address: 578/1 Cua Dai

Wooden building in a romantic garden with big tree and lotus pond, hidden in small and quiet alley. Vietnamese food such as: xeo pancake, spring roll (fresh and fried), Cao Lau, brown rice, great Vietnamese salad and fresh fruit juice.

Pho Ha Noi

phone: +84 907 269 123

address: 448 Cua Dai Rd

The real deal. Pho and bun. Popular with locals. Try out your Vietnamese as English understood.

Restaurant 96One of the numerous restaurants on the river bank, this restaurant is packed every night of the week. Many of the guests are returning customers, so the food must be good. There are plenty of vegetarian options and excellent spring rolls. The wait for food tends to be longer than normal, but it's worth it. The surliness of the owner does detract from the overall dining experience.

Sun Shine

phone: +84 510 391-6902

address: 46 Tran Cao Van St

A homey and cheap restaurant. Serves fresh and home-cooked Vietnamese and Western food. Prices start at 20,000 đong for a bowl of cau lau, and a plate of 6 spring rolls will only set you back 30,000 đong. 3,000 đong for fresh beer and Vietnamese ice tea is free of charge. Proprietor Hoi is offering cooking lessons for 120,000 đong per person, plus the cost of the menu items you wish to prepare. The lesson takes place in the house kitchen behind the restaurant, giving you an insight into Vietnamese City life.

Thanh Phuong

address: 56 Cong Dong

Cheap and cheerful local eats. A steaming seafood hotpot is 109,000 đong, codfish hotpot 89,000 đong.

31 Nguyen Thai Hoc StHere you can find many small stands which serve good and cheap food quickly.

Treats "Same same only different"

phone: +84 905 409 873

address: 322 Ly Thuong Kiet St

Western breakfast served all day. Clean and quiet. Reasonably fast Wi-Fi. Pizza and Vietnamese specialties, and possibly the best cao lau in the city.

Trung Bac

address: 87 Tran Phu

100 years of cao lau and still going strong. A bowl of chewy noodles and lots of veggies costs 15,000 đong.

White Lotus

address: Phan Bội Châu

New restaurant with Australian owner. Serves good Asian and Western dishes, staff very helpful and obliging to any request.

White Rose

address: 533 Hai Ba Trung

The shop that makes most of the "white rose" dumplings served all around town. 40,000 đong per serving, and if you ask nicely they'll let you try to make them yourself.

Cao Lầu 474

phone: +84 01215737986

address: 474 Cua Dai

Super friendly. They say "best cao lầu in Hoi An"
Mid-range
Alfrescos

phone: +84 510 3929707

address: 83 Tran Hung Dao St

Offers comfort food: Aussie steaks, pasta, pizza, Mexican and ribs. Also deliver. Offer a Tuesday, Friday special deal of two for one pizza for delivery. Shows rugby and Aussie rules football.

phone: +84 510 3911229

address: 36 Tran Phu

New in town, serves the best Vietnamese and Mediterranean barbeque in the garden. Comfortable lounge, cocktails and shisha inside the traditional wooden house.

phone: +84 510 3925000

address: 13 Nguyen Hoang St An Hoi islet

Set in a colonial building with garden across the night market. French food with foie gras, duck magret, BBQ steaks and some vietnamese food. Nice sangria and cocktais, good wine selection.

Brother's Cafe

phone: +84 510 391 4150

address: 27 - 29 - 31 Phan Boi Chau St

Tranquil French colonial riverside setting. Big selection of local food, especially seafood.

Dingo Deli

phone: +84 906 552824

This delicatessen offers an extensive selection of gourmet foods through the restaurant and European grocery store. Attractive ambience, and the aroma of freshly brewed coffee. A wooden constructed adventure play ground for children to play on overlooks paddocks with buffalo and the Thu Bon River.

phone: +84 510 8505605

address: 32 Le Loi St

Cruise restaurant with a sunset dinner cruise and cooking class.

phone: +84 510 3910839

address: 111 Nguyen Thai Hoc

Offers Asian fusion food made of fresh local products. As an example is duck breast marinated in five spices served with bitter-chocolate passion fruit spicy garlic butter sauce. The atmosphere is very relaxed with a colourful interior design. Rather expensive.

Morning GloryChoose from a variety of local dishes, and be sure to experiment, because everything is truly excellent. The staff speak good English, the place is beautifully decorated, and the food will have you coming back for more. And if you really enjoy the food, ask about their cooking classes. While there are cheaper places to eat in Hoi An, this one is by no means expensive, especially considering how good the food is. Most main courses are between 40,000 and 70,000 đong.

Moon Restaurant & Lounge

phone: +84 510 2241396

address: 321 Nguyen Diuy Hieu

Beautiful old house, laid-back atmosphere and superb Vietnamese food.

Red Bridge Restaurant & Cooking School

phone: +84 510 933222

address: Thon 4, Cam Thanh

Next to the Thu Bon River within 2 acres of tropical gardens. Offers a wide range of Vietnamese Food, in an open air restaurant. Cooking Classes begin around 08:00 at the Hai Scout Cafe for an Italian-style coffee then a tour of the market to shop for fruit & veg. Booking for dinner is essential. They sometimes close early if there are no customers. They offer cocktails as well as the usual beers and a wine list.

phone: +84 510 3911700

address: 35 Nguyen Phu Chuc

Run by two Austrian brothers. Western/Vietnamese fusion food.

Son Hoi An

address: 177 Cua Dai

Very popular stopping point for those cycling back from the beach.

Thanh Restaurant

phone: +84 510 3861366

address: 76 Bach Dang

Great Vietnamese and Western food. Excellent grilled fished in banana leaf and nice river view.

address: 147B Tran Phu St

One of the first restaurants in Hoi An open to Western visitors. A family-run restaurant offering a stylish blend of classic Vietnamese, traditional Hoi An specialities, and modern dishes using fresh ingredients. It's a fabulous place to relax over a drink and watch the hustle and bustle of life pass by.
Vegan and vegetarian
Hong An

phone: +84 122 5992823

address: 343 Cua Dai

Good vegan Vietnamese food. Small menu, but includes local specialities.

phone: +84 510 3927632

address: 213 Nguyen Duy Hieu

Vegan (100% vegetarian) Vietnamese, International & Indian food, fruit juices & smoothies. Cooking classes & tours. Located in Centre of Hoi An Old Town. This place is on the expensive side: USD2.50 for a bowl of noodles soup with vegetables. USD1.50 for orange juice. However, the food is good and the staff nice.
Drink
Walking along the river at night, you will find a lot of pubs. Beer is around 30,000 đong. Cocktails are 20,000-50,000 đong. There are some bar foods available, such as fried prawn crackers for around 15,000 đong a plate. Just walk into any pub and have a seat. However, Hoi An is not a real party destination and has a rather limited number of nightlife locations.
BB Lounge

phone: +84 510 392 5000

address: 13 Nguyen Hoang St an Hoi islet

The new bar, lounge and club in town, located on the third floor above Bamboo Buddha restaurant. Nice selection of cocktails, rum shooters and tapas. Live music and regular DJs, dance floor. Sky balcony, open late.

Before and Now

address: 51 Le Loi St

The most popular bar in Old Town. Reasonably priced drinks and food. Happy hour specials available in the evening. Offers seating, pool tables and bar stool seating. Usually closes at midnight.

phone: +84 510 391 0782

address: 88 Nguyen Thai Hoc St

Great bar in a traditional house with a back garden, pool table, Wi-Fi. Plays many kinds of music on request, with music once a week. Great choice of cocktails and beers, wine by bottle or by glass. Food: small tapas, Vietnamese salads, pasta, lasagne, hamburgers, seafood, rice salads.

Infinity

address: Far left Side, An Hoi Islet

The new hot place in Hoi An. Very cheap drinks, lots of outdoor tables. Free shisha for groups of 4 or more. Begins to get crowded by 21:00 and is packed until late. As the popularity of this bar has risen, many other bars and previous late night spots of Hoi An are quickly being ignored as this is now increasingly popular.

Rosie's cafe

address: 8/6 Nguyen Thi Minh Khai street

A lovely cafe tucked in a peaceful alley of Nguyen Thi Minh Khai. Signature drink is cold-brew coffee which is less acid than hot brewing and cold pressed juice. Not only the food and drink, but also the space to relax and enjoy the atmosphere of Hoi An old townal.

Why Not Bar

address: 10B Pham Hong Thai

Late night bar near old town. Not to be confused with the much different bar/club of the same name in Nha Trang. This very small 3-storey bar advertises free drinks and cheap all-you-can drink specials. Patrons do not come to this bar until at least midnight, when the rest of the town has closed down. Open until late.
Sleep
Hoi An New Town
The atmosphere of the Old Town hasn't been preserved by accident: strict bylaws prohibit new construction within its narrow lanes. As a result, there's a building boom just outside the borders of the Old Town, most noticeably as you head north of Le Hong Phong. Walk a few blocks from that old world ambience, and suddenly you're in a construction zone. Several hotels have sprung up in this area, which is completely lacking in the charm that brings visitors to Hoi An. Not surprisingly, those are the hotels (Phuong Nam Hotel is among the worst offenders) that are most likely to pay commissions to open-tour bus companies and use Internet sites to describe the dusty construction zone as a "peaceful area". They're also cheaper and easier to bargain with, but the reason they're so cheap is that they're missing the whole point of a visit to Hoi An. There are plenty of options closer to the centre of town. Once you've taken a night-time stroll through the Old Town, you won't mind if you had to fork over an extra dollar or two for a better location.
Hotels in Hoi An are fiercely competitive, which means plenty of choice and generally high standards. Budget options are slightly pricier than many other parts of Vietnam, with 6 USD being about the cheapest. Many are clustered around
Hai Ba Trung St
and "Ba Trieu" (formerly,
Nhi Trung St
), just north of the Old Town and within easy walking distance, and also along
Cua Dai St
, off to the east and a bit of a hike away.
Most of Hoi An's high-end hotels are located along the unbroken beach stretching from Da Nang to Hoi An. Closest is Cua Dai Beach
5 km away.
Budget
phone: +84 510 3911888

address: 69 Nguyen Phuc Chu

Nice and quiet, very near old town (opposite riverbank). Nicely decorated wide rooms. Free Internet and Wi-Fi.

Dai LongA 7 minute walk from the heart of the old town. Extremely clean, spacious rooms. Beds come complete with a mosquito net. The staff are incredibly helpful and speak excellent English. Free Internet and Wi-Fi.

phone: +84 510 863484

address: 423 Cua Dai St

Average value hotel with some English-speaking staff and a location that is not central. Satellite TV and decent air conditioning in some rooms. Other rooms have no air-con. Many rooms smell mouldy, so have a look before you check in. Cheaper rooms are below reasonable value. Free computers with Internet in the lobby, free Wi-Fi (patchy in rooms), swimming pool, and free cocktails for one hour in the evenings. They also have dorms available (three single beds in a room) for USD6 per night.

Ha My TT Hotel

phone: +84 908 220747 (French), +84 908 112825 (English and Japanese)

address: Thon 1, Dien Duong, Dien Ban, Quang Nam

This ancient French-style beach resort about 6 km from Hoi An centre has been renovated. It has a special atmosphere and its friendly owner, Mr Nguyen Van Hien, will do everything to make you feel comfortable. Don't be put off by its unpainted facade, as the rooms are nice, and the beach is good.

Hoa My

phone: +84 510 916582

address: 201 Ly Thuong Kiet St

Cheap, modern, very clean, but of course a bit outside the old town. There are two more similar hotels next to it. They sell bus tickets at approximately twice the genuine price.

phone: +84 510 3916579

address: 45 Le Quy Don St

Average value hot. Great hotel in good location and scenic setting. Well furnished en suite rooms with cable TV with excellent reception, air-con, ceiling fan, fridge, Wi-Fi and balcony restaurant with an impressive view. Has bicycles for hire for 15,000 đong next door and motorbikes also. The staff are friendly, and they provide complimentary small snacks as well as a welcome dinner.

Hop Yen

phone: +84 510 3863153

address: 103 Ba Trieu & 694 Hai Ba Tru'ng St

Clean rooms, spacious, moody staff with moderate to good English and tour advice. The open bus tickets they sell are not however with the companies they say they are, an inferior company, book elsewhere. Free internet and Wi-Fi before 21:00.

phone: +84 510 916718

address: 60 Hung Vuong St

Affordable, nice rooms and swimming pool. Near a local market but a bit far from tourist sites. Bargain to get good price. Normally price doesn't include breakfast.

address: 31/1 Tran Cao Van St

A clean, friendly and modern atmosphere. An indoor restaurant on the first floor overlooks the hotel pool. The hotel is a stones throw from the markets and old quarter. Bicycles are offered to guests free, however motorbikes can be rented for USD4 per day from across the road. Good service and complementary all you can eat breakfast each day before 11:00. (This hotel is not connected with the Phuoc An River Hotel on Cua Dai beach road.)

Sunflower Hotel

phone: +84 510 3939838

address: 397 Cua Dai St

Popular with backpackers. Motorbike and bicycle rental places both sides of the hotel (80,000 đong if renting for a few days, 100,000 đong for one day) (20,000 đong for a bicycle). Rooms are spacious with large beds, air-con, fridge, cable TV, fast Wi-Fi. Some rooms have balconies. Both dorms and private rooms available. Has a clean, medium sized pool and lounge chairs, with an outdoor bar and restaurant located next to the pool. Room rate includes a good buffet breakfast. A 15 minute walk into the city and 15-20 minute bike ride to the beach.

Tan Phuong

phone: +84 510 3862531

address: 209 Ly Thuong Kiet

Small fan room for USD6, larger nice rooms for USD8. North side of the city, but easy walking access to the city centre. Also rent bikes/motorbikes.

Thanh Binh 3

phone: +84 510 916777

address: 98 Ba Trieu St

Popular budget hotel done up like a Chinese temple, with a pool and pleasant rooms, all air-con equipped. The mattresses are on the hard side and the breakfast isn't much. Free Wi-Fi throughout and Internet at the lobby.
Mid-range
Splurge
Palm Garden Beach Resort and Spa Hoi An

phone: +84 235 392 7927

address: Lac Long Quan Street, Cua Dai beach, Hoi An City, Quang Nam Province, Vietnam

A charming beachfront resort with 216 rooms and bungalows. It is 30 km from Danang International Airport and 5 km to Hoi An Ancient town.

phone: +84 510 391 4555

address: 1 Pham Hong Thai Street

93 rooms and suites in split-level design with daybed porches. 5 dining options. The main resort activities include swimming and boat trips to the Thu Bon River.

Le Belhamy Hoi An Resort and Spa

phone: +84 510 3941888

address: Hamlet 1, Dien Duong Village, Dien Ban District

All rooms are equipped with private pool, balcony, garden, living area, refrigerator, minibar, Wi-Fi and TV with satellite/cable. Restaurant, room service, concierge, swimming pool, pool bar, spa, fitness room/gym.

Dong An Beach Hotel

phone: +84 510 927888

Overlooks the Thu Bon River, and less than a 5-min walk to Cua Dai Beach. Around 5 km away from the city.

Furama Beach ResortLuxury resort on fabled China Beach. About 20 minutes to Hoi An by taxi (5 minutes to Da Nang).

Hoi An Glory Hotel & Spa

phone: +84 510 3914444

address: 358 Cua Dai St

With 1 restaurant and 2 bars, Glory Hotel has 94 rooms built in 4 areas with garden, swimming pool and green field views.

Hoi An Pacific Hotel

phone: +84 510 923777

address: 167 Cua Dai St

1 restaurant and 2 bars, including the "Sky Bar", on the 6th floor of the hotel with terrace view of the area.

phone: +84 510 3950 777

address: 39 Dao Duy Tu

A French colonial style boutique hotel with Japanese architecture influence in the quiet area 5 minutes of walk from the Ancient Town of Hoi An. 119 rooms are of MGallery standard by Accor hotels, overlooking Thu Bon river, pool and Hoi An town. There are one outdoor pool, two restaurant, one chic bar, one spa, complimentary bikes and gym.

phone: +84 510 914555

address: 1 Pham Hong Thai St

French colonial style architecture with rooms overlooking the Thu Bon River at the east end of Hoi An, a short walk from the Old Town but just far enough away that a quiet night's sleep is practically assured. Rooms are large, many are bi-level with a sitting area, and have air-con; but restaurant and bar are open to the breezes. Two-day package (off-season) was USD250 for two, with breakfast and dinner for two, and 20% spa discount. Breakfast is buffet style.

address: Hoa Hai Ward, Ngu Hanh Son District Non Nuoc Beach

You will need a car and driver for this beach and sport club resort oasis.

phone: +84 510 3927888

address: 05 Cua Dai St

2 min walk from the beach, with views of surrounding paddy fields, river and sea. 120 rooms, ranging from deluxe, superb deluxe rooms to executive, family and presidential suites. Each room has a private balcony or terrace and offers views of the river, pool, garden or countryside. Free Wi-Fi throughout. There is also a fitness centre, beauty salon and spa, bar, baby sitting services and gift shop.

phone: +84 510 3927 555

address: Thanh Nien Rd - Cua Dai Beach

This hotel with a large swimming pool is by the river a short stroll from the market. Evening musical entertainment in the lobby.

phone: +84 510 927040

address: Cua Dai Beach

phone: +84 510 3861621

address: 143 Tran Phu St

Small historic hotel.
Stay safe
November flooding
Hoi An regularly floods during November. Visitors who plan to arrive during one of their floods should book ahead.
The city stayed open during the November 2013 floods, although there were news reports of tourist evacuations. As hotels near the river flooded, tourists started moving to hotels on higher ground. Flooding affected streets up to four blocks uphill from the river, as well as the hotel and restaurant area across the bridge on An Hoi peninsula. The water levels for this flood seem slightly below the levels of the 2011 flood; the cleanup seemed to be well handled.

Connect
Internet - Most hotels and restaurants have free Wi-Fi, often unsecured, although Facebook may be a problem here as elsewhere. There is also a widely available citywide network: to connect, open your browser and click the banner at the top.
Go next
Day trips
There is a nominal fee for entry; it is worth paying extra for the small map. No one will tell you how to get to the top to overlook Fire Mountain to the west, there is one trail accessible from the WC—look for the handrails going up—another is nearby, near a temple complex and next to an arch over the trail.
Accessibility: An elevator available for a small fee. It may be broken, but it only leads to platform with an overlook towards the water; you would still need to take stairways to see the temples, so there is no advantage to the elevator. If you can make it up the stairs at the entrance, there will be no problem with the rest of the stairs. Cave floors and trails may be wet but are not slippery.
Further afield
Moving north
Moving south
Laos
From Hoi An bus station buses run to Da Nang, ending the route at the bus station, where there are many options. An early bus directly to Pakse, even a looong ride to Vientiane. In order to cross the border to Lao, there are many buses to Kom Tum. Ask the to drop you at Pleikan, is a town where locals gather to take a minivan at sunrise and reach the border when it opens. The minivan will wait for you after the formalities in the Viet side. Back to the minivan you will be drove to the Lao border, where visa on arrival will be issued. And back to the minivan. The route at Attapeu, capital city of Attapeu province, Laos.