Holambra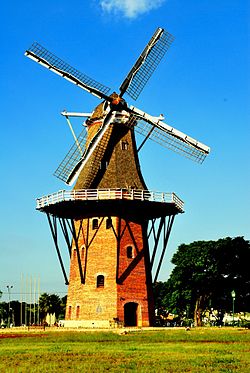 Holambra
is a city in the state of
São Paulo
.
Understand
Holambra is a moniker formed by combining the first letters of
Hol
land,
Am
erica, and
Bra
zil. It was founded in 1948 as an immigrant colony by a group of 500
Dutch
Catholics looking to resettle after World War II, and many more Dutch settled here in the years that followed. They brought with them the famous horticulture of their country, and today Holambra is known nationally as the
City of Flowers
— it has become South America's largest producer of ornamental flowers. The city now has just over 11,000 residents, and is considered one of the tourist centers of the state of
São Paulo
, giving visitors a taste of Dutch culture through architecture, traditional cuisine, arts and crafts, dance performances, and music.
Get in
By car
From
São Paulo
, take the Anhanguera Highway to km 86 and take SP-340 towards
Mogi-Mirim
about 30 km more to the Holambra exit at km 141.
By bus
From
Campinas
, there are numerous daily departures through Viação Princesa D'Oeste, tel. (19) 3276 2100.
See
Holambra WindmillA functional full-scale traditional Dutch-style windmill. At 38.5 meters tall, it is considered the largest windmill in South America.
Do
Garden Center Cidade das Flores Tour

address: SP-107, km 29.9

This 1.5-hour van tour, leaving from the garden center shop, will take you to see the flower fields themselves, as well as point out restaurants and points of interest around town. Leave some time to have a look around the 10,000 sq meter garden center as well, as they claim to sell the largest variety of flowers in the country.
Events
phone: +55 19 3817-2228

The largest flower festival in South America, bringing in some 300,000 visitors annually with traditional Dutch dance performances, fairground rides, lots of food and souvenir stalls, and of course lots of displays and sales of flowers.
Buy
Flowers - That's what the town is known for, after all. Holambra isn't that big, and you won't have any trouble finding a flower shop or ten, not to mention the massive Garden Center Cidade das Flores (see the Do section above).
Eat
phone: +55 19 3802-4248

address: Rua Proteas, 42 - Jardim Morada das Flores

The main attraction here is the flower pizza, but you may want to check in advance, as the required flowers are not available at some times of year. There is, however, a full menu of regular pizzas and side dishes, as well as a full bar and occasional live music.

phone: +55 19 3802-1290

address: Estrada do Fundão 200

Typical Dutch restaurant, serving a phenomenal jachtschotel (hunter's dish) with either filé mignon, rabbit, or duck, and a highly-praised eisbein, as well as a sate met pindasaus and dishes with mutton, grouper, and salmon. For a starter, try a frikandel and homemade bread with garlic paste, or miniloempias.
Go next