Hollywood
No trip to
Los Angeles
is complete without a visit to its most famous district:
Hollywood
, best known as the self-declared entertainment capital of the world.
Understand
Hooray for Hollywood
The best-known song about Hollywood was introduced in the Busby Berkeley-directed 1937 film
Hollywood Hotel
. Since then it has become the unofficial anthem for the movie capital of the world, and is even played at the annual Academy Awards ceremonies.
A business and residential district in the city of
Los Angeles
, the core of Hollywood for a tourist is its three fascinating boulevards: Sunset Boulevard, Hollywood Boulevard, and Melrose Avenue, all of which are worth seeing. Hollywood Blvd is known for its entertainment history, Sunset Blvd for its clubs and nightlife, and Melrose Ave for its shopping, nightlife, and eclecticism.
Hollywood was founded as an independent city in 1903 and voted to merge with the City of Los Angeles in 1910. That same year also saw the birth of the Southern California motion picture industry when D. W. Griffith relocated his Biograph Company, sparking a westward migration of East Coast filmmakers. As movies exploded in popularity in the 1910s and 20s, the name Hollywood became synonymous with the film industry.
In the decades following World War II, Hollywood's glitz and glamour began to fade as most of the leading film studios moved to other places. By the 1980s, Hollywood was considered one of the worst neighborhoods in Los Angeles. The 1990s, however, saw the beginning of community redevelopment efforts, and today Hollywood is once again one of the region's most vibrant areas. Paramount is the only major film studio still headquartered in Hollywood, but the area nonetheless remains an important center of the entertainment industry with its myriad production and broadcast facilities. Smaller studios still in Hollywood include Sunset-Gower Studios, Hollywood Center Studios, Raleigh Studios, Jim Henson Studios, and Sunset Bronson Studios (housed on the original Warner Bros. lot).
The other major studios are located to the north in the
San Fernando Valley
, particularly in
Universal City
(NBC, Universal),
Burbank
(ABC, Disney, Warner Bros.), and
Glendale
(DreamWorks). Most of the rest are to the west:
Century City
(Fox, MGM), the
Fairfax District
(CBS), and
Culver City
(Sony). Many of the studios offer tours if you want to see where films are shot.
If you want to see celebrities, pack your patience or be prepared to play the role of
boulevardier
. The chances of bumping into a celebrity are very low (mainly because most of the celebrities who live in Hollywood usually do not go out in public) unless you're willing to do a lot of hanging out at expensive restaurants in
West Hollywood
,
Beverly Hills
, or in
Malibu
. You can easily see where they live by taking a tour or buying a star map.
Get in
By car
Hollywood is close enough to the
Westside
to make car trips there relatively easy. If you're beginning your trip in Downtown Los Angeles—the proverbial center of Southern California's intricate freeway network—you can head north on
U.S. Highway 101
and exit on Hollywood Blvd or Gower Street. If traffic is a problem (and it
will
be around the hours of 1PM-6PM), consider an alternate route such as one of the surface streets. From the west, Santa Monica Boulevard is a major thoroughfare that links Hollywood with
Beverly Hills
and
Santa Monica
.
By public transit
Hollywood's location is central to most other popular attractions. Metro's Line subway service stops at Hollywood/Vine and Hollywood/Highland, and is the most direct transit connection to
Downtown
. It also continues north to its terminus in
North Hollywood
, with a stop in
Universal City
. Visitors from
Orange County
can get to Hollywood by taking Amtrak's Pacific Surfliner or Metrolink's Orange County Line to Los Angeles Union Station and then transferring to the Red Line.
The stretch of Hollywood Blvd between Highland and Vine is served frequently by Metro bus lines 217 and Metro Rapid 780, while the 180 and 181 from the east terminate just before Hollywood/Vine. Sunset Boulevard is served frequently by bus lines 2 and 302, Santa Monica Boulevard by the 4 and Metro Rapid 704, and Melrose Avenue by the 10. For frequent north-south service, Vine Street is served by the 210 and La Brea Avenue by the 212 and 312.
Long-distance bus service is not available into Hollywood. If taking Greyhound, the best option now is to take one to the station in North Hollywood, then catch the Metro Red Line.
By plane
Hollywood is served by
Los Angeles International Airport
(
LAX
) or the slightly closer Bob Hope Airport (BUR) in Burbank. A direct scheduled shuttle service from LAX is provided by LAXFlyAway for $8 per person, and stops on the west side of Vine Street about half a block south of Hollywood Boulevard. Metro operates a free shuttle between Bob Hope Airport and the North Hollywood Metro station, where you can ride the Red Line subway into Hollywood.

Get around
Hollywood sits roughly between the 101 freeway on the east, Melrose Avenue on the south,
West Hollywood
on the west, and the Hollywood Hills on the north. The main east-west streets of central Hollywood are Hollywood Blvd and Sunset Blvd, intersected by the main north-south streets of La Brea Ave, Highland Ave, Cahuenga Blvd, Vine St, and Gower St. Night-time pedestrian activity in this area is focused on Hollywood Blvd.
The main areas of Hollywood are walkable, and you
could
walk all the way from Hollywood Blvd to Melrose Avenue, but the distance is far enough that most people would probably drive or take the bus.
See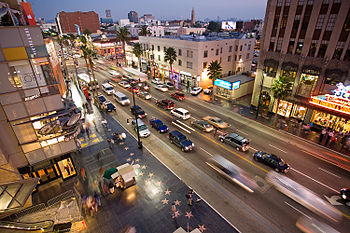 Hollywood is
the
place for . If you're lucky, you can see a taping of a TV show; most of America's sitcoms, game shows, and quite a few of its talk shows are taped at any one of the major studios in the Hollywood area (quite a few dramas are filmed in these studios as well, but since they tend not to be filmed before a live studio audience, your chances of getting to see one of those live are virtually nil). Nearby
Studio City
,
Burbank
,
Century City
,
Fairfax
, and
Culver City
hold the most prominent studios, but in Hollywood proper, Paramount Studios is the filming location of many sitcoms and
Dr. Phil
, Hollywood Center Studios provides production facilities for Disney and Comedy Central, among others (
@Midnight
is a big draw these days), and
Jimmy Kimmel Live!
broadcasts from a complex adjacent to the El Capitan Theatre. In general, you'll have to call or go to the website of the show itself to get tickets.
Hollywood SignHollywood's most recognizable landmark is easy to spot high up on Mount Lee in nearby Griffith Park. You can drive part way up for a closer look, but you can't hike all the way to the sign. The best viewpoints of the sign are from the Griffith Observatory in Griffith Park, on Mulholland Drive above the Hollywood Bowl, and from the Hollywood and Highland Center. For a rare view of the Hollywood sign with lines of palms trees on the side, go to 650 S Windsor Blvd, or further north.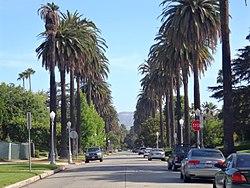 address: along Hollywood Blvd btwn La Brea Ave and Gower St, and along Vine St btwn Sunset Blvd and Yucca St

The Hollywood Walk of Fame consists of a series of stars embedded in the sidewalk to commemorate famous movie, radio, theatre, and TV personalities. Since 1960, over two thousand stars have been immortalized; the schedule for upcoming star ceremonies is listed on the Walk of Fame's website.

Capitol Records Building

address: 1750 Vine St

One of the most iconic buildings in Los Angeles. The circular tower—which contrary to popular belief was not intentionally designed to resemble a stack of records—is home to Capitol Records' west coast operations. Contained inside the building are the renowned Capitol Studios. Unfortunately, tours of the inside are no longer offered to the general public.

Charlie Chaplin Studios

address: 1416 N La Brea Ave

An interesting historical landmark, this complex was built in 1917 as the studios for Charlie Chaplin's film company. Constructed in Tudor-style architecture, it has the appearance of a small English village from the outside and was where many of Chaplin's most iconic films were shot, including The Gold Rush, City Lights, Modern Times, and The Great Dictator. In 2000, the studio was bought by the Jim Henson Company, which marked their presence with a statue of Kermit the Frog above the main gate. The studio is not open for tours, but you can admire the architecture from the outside.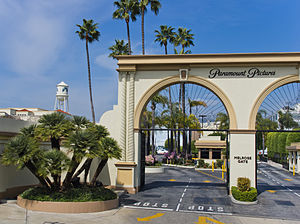 Paramount Pictures Studio Tour

phone: +1-323-956-1777

address: 5555 Melrose Ave

The only major film studio still located in Hollywood, Paramount has been using this as a production facility since 1926 and has filmed many notable pictures here, including Sunset Boulevard, Rear Window, Cecil B. DeMille's The Ten Commandments, and Breakfast at Tiffany's. Today you can take a 2 hour guided tour of the backlot, which is still used for film and television production today.

phone: +1-323-469-1181

address: 6000 Santa Monica Blvd

Dating back to 1899, this beautiful cemetery is one of Los Angeles' oldest and is the final resting place for hundreds of film stars, directors, writers, and other influential figures from the entertainment industry. Johnny Ramone, Cecil B. DeMille, Mel Blanc, Peter Lorre, Mickey Rooney, and Bugsy Siegel are but a few of the famous names you'll see here. Interactive kiosks located throughout the cemetery play short documentaries about those interned here, making it a great place to learn about Hollywood's early history. The cemetery also often holds events, including regular movie screenings (see below under Do) in the summer.
Theaters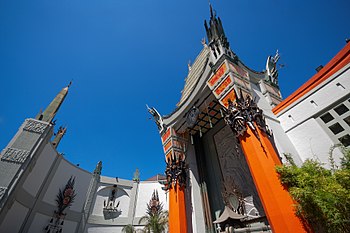 phone: +1-323-464-8111

address: 6925 Hollywood Blvd

The most famous movie theater in the world, Grauman's Chinese Theatre opened in 1927 and is home to the cement footprints, handprints, and (in some cases) otherprints of many of history's most famous movie stars. The theater is also a former home of the Oscars, and today hosts many movie premieres. The forecourt that showcases the star's prints is free to all visitors. Half-hour guided tours of the theater are available.
Museums
Do
Hollywood Tours
Throughout the year, but particularly on summer weekends, those visiting the most popular tourist sites will inevitably be bombarded by people on the street offering tours to see Hollywood and the stars' homes. While most of these tours are offered by reputable businesses, news investigations have revealed many disreputable operators that lack licenses, permits, working seat belts, and sometimes even fabricate their information about Hollywood history and where movie stars live. If you choose to see Hollywood from a tour bus, be sure to do some research in advance to ensure you are traveling with a reputable operator.
phone: +1-323-426-2829

address: 2301 N Highland Ave

America's most famous outdoor theatre hosts a summer concert series by the Los Angeles Philharmonic Orchestra, a spectacular Fourth of July fireworks show set to classical music, as well as numerous other concert events. Traffic and parking can be a nightmare, so the $5 round-trip public shuttles are highly recommended.

Mulholland Drive

address: Mulholland Drive

If you have a car, it is worth driving up to Mulholland Drive. The main attraction is the incredible views from the Hollywood Hills across Los Angeles and San Fernando Valley, with plenty of overlooks available to stop and enjoy, but it's also worth visiting to ogle the impressive (and expensive) residences that line the route.

address: Hollywood Forever Cemetery, 6000 Santa Monica Blvd

The Cinespia film society screens creepy older movies every Saturday during the summer on the Fairbanks Lawn in the Hollywood Forever Cemetery. Crowds can be huge, so arrive prior to gates opening if you want a good vantage point. Most people bring a picnic dinner, a drink (wine or beer allowed, no spirits), blanket, pillow (or low chair) and jacket. A DJ plays music prior to the showing to create a fun outdoor atmosphere. Tickets (including parking) often sell out and should therefore be purchased in advance through the Cinespia web site.

phone: +1-323-962-7600

address: 6215 W Sunset Blvd

A classic Art Deco and Streamline-style theater and dance hall that today serves as a major concert venue that plays host to some big-name acts.

phone: +1-323-464-6269

address: 6126 Hollywood Blvd

A historic venue dating back to the 1920s that serves as another major concert venue and is reputed for its history of showcasing big-name musicians and indie bands.

phone: +1-323-461-3673

address: 2580 Cahuenga Blvd E

An intimate outdoor amphitheater that dates back to the 1930s and recently underwent an extensive renovation. The theater is partnered with the county arts commission and regularly hosts community theater productions.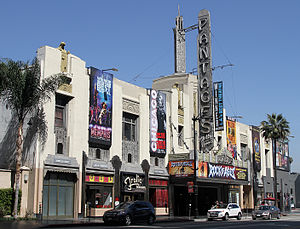 phone: +1-323-468-1770

address: 6233 Hollywood Blvd

A historic Art Deco theater dating back to 1930 which today serves as L.A.'s primary venue for Broadway musicals.

Upright Citizens Brigade Theatre

phone: +1-323-908-8702

address: 5919 Franklin Ave

The L.A. branch of the popular improv and experimental comedy troupe that have cultivated some of the best comics in the industry today. Regularly shows some well-known acts as well as plenty of up-and-comers.
Buy
Hollywood Blvd has countless urban clothing stores. Walk around and find stores with the latest LNG, Phat Farm, Timberland, Sean John, and many more. Melrose Avenue is the to go to place to feel like a star. Start by browsing through vintage clothing stores to maxing out the credit card at chic boutiques.
phone: +1-323-245-6400

address: 6400 W Sunset Blvd

The country's largest independent music store, Amoeba has three locations including Hollywood, Berkeley and San Francisco. Prices are slightly higher than at the discount stores, but the selection is enormous and just about any obscure record you could imagine is to be found somewhere on the shelves.

phone: +1-323-957-5953

address: 6751 Hollywood Blvd

During the golden years of Hollywood, all the superstars were wearing Fredericks, from Greta Garbo to Mae West to Marilyn Monroe. Today, the store is a lot less polished but still a good place to pick up glamorous lingerie.

IPED Foot Spa

phone: +1-323-466-1038

address: 6767 W Sunset Blvd Suite 22

If you are tired of walking a long day in Hollywood. Iped offers 1 hour foot massage for as less as $25.
Shopping centers
phone: +1-323-467-6412

address: 6801 Hollywood Blvd

Something of an attraction in its own right, this massive shopping complex is the home of the Dolby Theatre (where the Oscars are held) and adjacent to Grauman's Chinese Theatre. The streetfront facing Hollywood Blvd is lined with giant advertisements and LED signs, making it seem like a miniature Times Square, and within it has monumental Babylon-themed architecture based on the sets of D.W. Griffith's 1916 film Intolerance. Its four levels hold a food court and numerous retail chains, and since its construction it has become the location of most tourist-oriented services in Hollywood, like bus tours and information centers.
Eat
Budget
Mid-range
Splurge
Dessert
Drink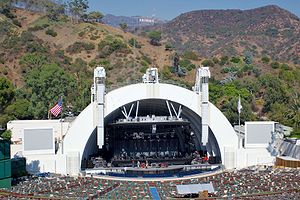 Juice
The Juice Fountain

phone: +1-323-464-8986

address: 6332 Hollywood Blvd

One of the best juice places in LA, it recently moved from its old location on Vine St. The juices are fresh and delicious, and its run by a sweet Hispanic family. Don't mess with the grandma!
Clubs and bars
Street life in Hollywood remains lively later than in most other areas, making the district a satisfying location to come home to. In fact, the best time to see Hollywood is in the evening, since the district serves along with the nearby Sunset Strip, as the regional center for clubs and nightlife. The
Cahuenga Corridor
(along Cahuenga between Sunset and Yucca) has several bars and lounges for bar-hopping.
phone: +1-323-466-7000

address: 7000 Hollywood Blvd

The lounge in this historic hotel is an upscale hotspot where one is likely to find Hollywood elite enjoying cocktails on weekdays, and a hipster party scene on weekends. Plenty of leather couches, candles, and a classy staff provides a sense of how the "other half" lives. Expect Hollywood prices to go along with the Hollywood atmosphere.

Power House

phone: +1-323-463-9438

address: 1714 N Highland Ave

One of the most laid back and relaxed bars in town, head here for cheap beer, darts and classic rock. Come as you are, and you will be glad you're here.

phone: +1-323-462-9621

address: 1652 N Cherokee Ave

Power through the packed crowds and grab yourself a spot at this bar, where the drinks are strong and there's good people watching to be had.

phone: +1-323-467-9355

address: 6255 W Sunset Blvd

Make out as if you're a local and head to this so trendy it has a secret entrance door (hint, the entrance is on Argyle, even though the address is on Sunset). While the crowd can be posey, its one of the better clubs in the area, and still manages to remain intimate and cozy.

phone: +1-323-469-2000

address: 1612 N Cahuenga Blvd

Dark lounge inspired by Dia de los Muertos. Lots of tequila, beer, and of course margaritas.
Sleep
Hollywood offers a wide range in price and quality of accommodations. The antique Roosevelt Hotel provides an upscale choice, though has a reputation for frequently closing its pool for private parties. There is a full range of standard motel chains including Travelodge, Motel 6, and Best Western. There are also a few well-located hostels.
Budget
phone: +1-323-464-6006

address: 1738 N Whitley Ave

This is part of a budget model chain. It offers clean rooms in a convenient location.

phone: +1-323-462-3777

address: 1624 Schrader Blvd

The #1 rated hostel in Los Angeles (by hostelworld guests) in 2007 and 2005, USA Hostels is in the heart of Hollywood off Hollywood Blvd on a quiet side street. This 150-bed hostel offers female and mixed 6- and 8-bed dorms and private rooms, free all-you-can-make pancakes, free coffee and tea all day and free wireless internet. The hostel runs many free and discounted activities and tours and a free shuttle three times per week to Venice and Santa Monica beaches.
Mid-range
phone: +1-323-876-8600

address: 2005 N Highland Ave

This boutique-style hotel is relaxed, comfortable, and uniquely personal with 160 rooms fitted with amenities including FACE cosmetics and flat-panel TVs. Starting in March 2012 this hotel will be rebranded as the Hilton Garden Inn.

phone: +1-323-874-6700

address: 7212 W Sunset Blvd

The Saharan Motor Hotel features deluxe rooms and suites, luxury amenities and excellent service.
Splurge
phone: +1-323-466-7000

address: 7000 Hollywood Blvd

A boutique hotel right in the center of the action offering spacious, well-appointed rooms and suites with luxury bed and bath linens, bath products and state-of-the-art in-room technologies. It is a Hollywood legend, and was the location of the first Academy Awards ceremony.

phone: +1-213-279-3532

address: 1800 Argyle Avenue

The bones of an old hotel, a couple of blocks back from the heart of Hollywood, and right next to the busy 101 freeway, has been given the characteristic Kimpton glossy makeover, and equipped with soft sheets and attentive service. Rooms with "Hollywood view" can indeed see the hills and the famous "Hollywood" sign — and also face the 101, through noise-insulated glass. Two bars, a cafe, plentiful lounge space, and free wifi make this a congenial place for guests to kill time.
Connect
Internet
A few internet cafés are dotted around town, but a better (and cheaper) option if you've got a laptop is to take advantage of the free wireless internet at the numerous coffee shops along and off of either Hollywood Blvd or Melrose Ave.
phone: +1-323-464-8824

address: 6371 Selma Ave

Free wireless internet (if you've got a laptop), decent coffees and teas, and sandwiches and desserts to snack on.
Go next