Honfleur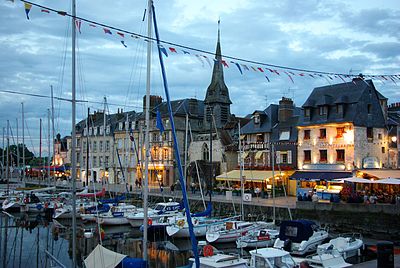 Honfleur
is a town surrounding a beautiful little 17th-century harbor in
Calvados
,
Lower Normandy
. It is still active as a fishing port and marina. The town has preserved many historic and traditional buildings and houses some interesting museums, churches and monuments.
Orientation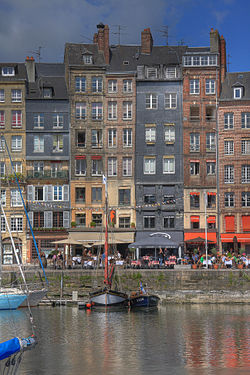 From west to east, here are the areas of Honfleur:
Saint-Léonard with the eponymous church behind the tourist office and the open-air wash house.
L'Enclos with the old port (Vieux Bassin), the Lieutenance, the church of Saint-Etienne (now a marine museum) and the salt halls (Greniers à Sel).
Sainte-Catherine : around the largest wooden church with a separate belltower in France are narrow streets with the best restaurants and art galleries.
The sea wall, bordered with well-kept parks, makes a pleasant walk along the mouth of the Seine.
Get in
Get around
Allo Taxi Honfleurais

phone: +33 2 31 98 87 59

Taxi Morin

phone: +33 2 31 98 77 81

Alain Taxi

phone: +33 2 31 87 35 00
See
Le Vieux Bassin et la LieutenanceOld harbor and port authority buildings. Charming but monopolized by restaurant terraces.

Sainte-Catherine churchThis church was built in wood by ships' carpenters around 1500. The two parallel vaults take the shape of an upturned hull.
Clocher Sainte-Catherine (bell tower)This wooden bell tower is separated from the main church.

Musée Eugène Boudin (Eugène Boudin Museum)

phone: +33 2 31 89 54 00

address: rue de l'Homme de Bois

Eugene Boudin is one of the forerunners of the Impressionist movement. The museum houses some 92 of the painter's works.

Maisons Satie (Satie museum)

phone: +33 2 31 89 11 11

address: 67 boulevard Charles V

A surrealist walk into Satie's music and wit. The composer Erik Satie was born in this house in Honfleur in 1866. His life is told (over free audio phones - in French by Michel Lonsdale, English version also available) from room to room, with many anecdotes and music samples. You'll even see his ghost playing his music on a white piano. Allow one hour to make the tour.

Le Jardin des Personnalités (the Garden of Personalities)A nice well-kept garden down by the mouth of the Seine filled with busts of some of the famous inhabitants of Honfleur. At the rear of the garden, a small path leads to the center of a marsh, where you can enjoy the quiet and look for birds.

Le Jardin Retrouvé (public garden)Along the bank of the Seine, a nice garden with swings for the children.

Naturospace (live butterflies garden)

phone: +33 2 31 81 77 00

An indoor tropical garden with hundreds of butterflies; charming, ideal on a rainy day.

Musée de la Marine (Marine Museum)

phone: +33 2 31 89 14 12

address: quai Saint-Etienne

In the unconsecrated Saint-Etienne church (14th century), an exhibit of model boats and other souvenirs of the sailor's life.

Normandy Culture & Ethnography Museum

phone: +33 2 31 89 14 12

address: rue de la Prison

The museum recreates life in old Normandy.

Pont de NormandieImpressive bridge over the Seine (toll €5.10).

Notre Dame de Grâce chapelAn old chapel built by Richard II and rebuilt in 1615 on the hill with beautiful views over the town and the Seine.
Do
Buy
Post Office : 7 cours Albert-Manuel (500m south-west from the quai Sainte-Catherine), weekdays 8.30am-12am & 1.30pm-6pm Saturday 8.30am-12am
Open markets
Bio Market, place Sainte-Catherine, each Wednesday 8.30am to 1pm
Traditional Market, Sainte-Catherine area, each Saturday 8.30am to 1pm
Fish Market, harbor, each Saturday 8.30am to 1pm
Compagnie des Calvados

phone: +33 2 31 89 57 56

address: 19 rue de la Ville

Calvados tasting, for the serious connoisseur. You'll find here all vintages over the last sixty years.
Goutte de pluie
address: rue de l'Homme de Bois
Art galleries : Looking for an expensive work of art ? Honfleur is the place to be, with dozens of art galleries. Some of the most interesting ones are in the rue du Dauphin.
Eat
There are more than 100 restaurants in Honfleur.
La Commanderie

phone: +33 2 31 89 14 92

address: place Sainte-Catherine

Pancakes and pizzas

L'Homme de Bois

phone: +33 2 31 89 75 27

address: 30-32 rue de l'Homme de Bois

Brasserie, in an old fisherman house; timbered ceiling with exposed beams; oysters, skate wing, floating island.

La Tortue

phone: +33 2 31 89 04 93

address: 36 rue de l'Homme de Bois

phone: +33 2 31 89 70 60

address: 12-14 place Hamelin

Classic restaurant with terrace on the street; excellent preparations of live blue lobster.

La Fleur de Sel

phone: +33 2 31 89 01 92

address: 17 rue Haute

Classic restaurant with fine cooking: cold soup with tuna and tomatoes, calf's liver with vegetables duxelle, strawberry soup. Reservation is essential.

Le Bréard

phone: +33 2 31 89 53 40

address: 7 rue du Puits

Trendy gastronomic restaurant in the artists area of Honfleur; fine and innovative cooking; very fresh fish (turbot €25, sea bass €20). Reservation is essential.i

phone: +33 2 31 89 32 22

address: Place Arthur Boudin, 3 rue de la Ville, 14600 Honfleur

Pleasant service and good food. In central Honfleur but a bit quieter than restaurants on the Vieux Bassin. It serves the seafood that is most in place in Honfleur as well as other choices and has a pleasant covered area on the side of a pedestrian street along one side of the square.

La Chaloupe

address: Vieux Bassin, 14600 Honfleur

One of many similar places along the vieux bassin. A pleasant meal while you people watch is the main attraction. Prices are reasonable for this location and for France and the service fairly quick. There are tables by the waterside with shady umbrellas or you can eat inside.

phone: +33 2 31 89 16 25

address: 16, place Hamelin, 14600 Honfleur

Good for a tasty imaginative meal at a reasonable price in a charming well decorated small restaurant right in the centre of Honfleur (but not on the Vieux Bassin). The service is attentive and prompt. Try the Calvados Fermier with the Apple dessert, they work well together.
Further afield
phone: +33 2 31 65 16 67

address: 33 rue des Brioleurs, Saint-Gatien-des-Bois

Little country restaurant renovated in 2007. Fine regional cooking (whelk salad, duck pâté with pistachio, plaice fillet with cream, roasted guinea fowl fillet). The chef has worked in starry restaurants. Charming welcome by the owner. They also have eight little rooms. Reservation expected.
Drink
La Petite Chine

phone: +33 2 31 89 36 52

address: 14-16 rue du Dauphin

for the best scones, crumble and brownies in town; extensive list of teas from India, Taiwan and other countries

phone: +33 2 31 89 05 28

address: 8 quai des Passagers

live jazz music, cocktails, salads
Sleep
phone: +33 6 07 10 59 17, +33 6 64 81 12 08, +33 2 31 88 51 87

address: rue verte 14600 Honfleur

A delightful, peaceful country house located on the environmentally protected Côte de Grâce, just 2km from Honfleur.This large and recently built architect-designed home – constructed with traditional Normand materials of brick, red cedar and slate and rests on 4 ac of quiet park grounds.The house plan gives each of the 4 rooms its own wing permitting privacy while maintaining an intimate setting.The spacious interior is comfortable and bright. The double living room with panoramic bay windows looks out onto the terraced garden and the grounds beyond.

La Maison de Lucie

phone: +33 2 31 14 40 40

address: 44 rue des Capucins

charming little hotel in the historical center

phone: +33 2 31 81 65 00

address: 2 quai des Passagers, 14600 Honfleur

Right in the centre next to the waterside, this very old hotel is in the thick of the action with views over the harbour, portside parks and the Lieutenance. It is in an old building, some parts with exposed wooden beams and plasterwork, others more recent and probably dating from the 19th century parts. The rooms are embedded in this old building as best as possible but fitting in the modern amenities has sometimes been difficult. Recently redecorated and renovated (probably in 2009) it is well appointed but the quality of the fittings is variable. Considering the price, the rooms are pleasant but not large. There are few amenities other than the rooms and the breakfast room. There is free wireless broadband. The breakfast arrangements are a little eccentric with wobbly tables supporting a vat of boiling water in which you can freshly boil your own eggs or on which you can squeeeze your own fresh orange juice using a (noisy) electric juicing machine as you prepare to enjoy the boiled eggs, continental breakfast or cereals.
Bed & Breakfast
phone: +33 6 70 30 87 86

address: 29-31 route Emile Renouf

Five big and clear rooms in a 19th-century villa, in a big garden. A little bit worrying when you arrive, because the exterior of the villa are not yet restored (the proprietors plan to rebuild the veranda this winter (2007). The interior is great and clear, everything has been renovated as it was one hundred years ago. Good location as the house has a private parking and the center of Honfleur is at a fifteen minutes walk. OK but welcome and cleanliness to improve.

phone: +33 2 31 89 42 40

address: 74 rue du Puits

Very central situation. Warm welcome.
Other
Connect
Tourism Office : quai Lepaulmier (on the D580 passing through Honfleur from west to east) +33 2 31 89 23 30, open every day from 10am to 5pm (closed for lunch 12.30 to 2pm on weekdays)

phone: +33 2 31 89 95 83

address: 55 rue de la République
Go next