Hong Kong/New Territories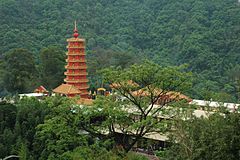 The
New Territories
(新界) of
Hong Kong
were leased by China to the British in 1898. Often ignored by travellers who have little time to spare, offer a diverse landscape that takes time to get to know. Mountainous country parks overlook New Towns that have a clinical form of modernity that has attracted many to move here from mainland China. Public transport and taxis make this area surprisingly accessible if you dare to get out and explore this offbeat place. You won't find many idyllic villages, but once you get over the stray dogs and the ramshackle buildings you will doubtlessly find something that will surprise and cause you to reach for your camera.
Get in
By train
The MTR has absorbed the old Kowloon Canton Railway (KCR) to form a larger network that links the New Territories with Kowloon. Confusingly, you may find some local people still referring to the railways in the New Territories as the KCR.
The
East Rail Line
from Hung Hom connects to
Sheung Shui
,
Fanling
,
Tai Po
and
Sha Tin
on its way to the border with
Shenzhen
at Lo Wu. The
Ma On Shan Line
branches out at Tai Wai and is convenient for heading out east towards the Sai Kung peninsula.
The
West Rail Line
from Mei Foo or Nam Cheong is the choice if you want to go to
Tsuen Wan
,
Kam Tin
,
Long Ping
,
Yuen Long
,
Tin Shui Wai
or
Tuen Mun
.
The
Light Rail
network in the west region of New Territories might be a good transportation means if you intend to travel through some of the areas in between
Yuen Long
,
Tin Shui Wai
or
Tuen Mun
. There are several interchange stations with the West Rail line along the network and there is a fare discount when you are interchanging from the West Rail line to the Light Rail, or vice versa, if you are using the Octopus card.
By bus
Kowloon Motor Bus
operates a large number of bus routes to the New Territories. Many routes depart from Kowloon to the New Territories.
To Tuen Mun: 52X, 53, 57M, 58M, 58X, 59M, 59X, 60M, 60X, 61M, 61X, 62X, 66, 66M, 66X, 67M, 67X, 258D, 259D, 260X, 261, 263, 263M, 960, 961, 962
To Tai Po: 72, 72X, 73X, 74A, 74X, 75X, 271, 307 (from Central, Hong Kong).
From the airport: E41, E42, E33, E34, A41, A41P, A43
Bus 64K from Tai Po to Yuen Long provides a convenient (if rather slow) shortcut across the Territories, passing some attractions including the Wishing Tree and the walled village of Kat Hing Wai along the way.
To Sai Kung: take the MTR to Diamond Hill station, leave the MTR and follow signs to the bus station that is located at ground level above the station. Take bus 92 to Sai Kung and allow 45 minutes for the journey.
MTR also operates several local bus routes within Tuen Mun, Yuen Long and Tai Po, which mostly contain intermediate bus stop or terminus in some major railway stations, providing a connection service from some residential area and villages with town centres.
By bike
Whilst cycling on Hong Kong Island or Kowloon may be suicidal due to the hostile traffic conditions, things are much easier in the New Territories. Quiet countryside roads, mountain-bike trails and segregated cycle paths alongside busy roads make for pleasant cycling for people of all abilities. Bike rental is available from many locations including Sha Tin, Tai Po Market and Yuen Long, to name a few. Rental fees are approx $30-60 per day for a standard 21-speed commuter bike, or up to $150 a day for a top-end road or mountain bike. It's advisable to keep a good supply of water if you plan on cycling away form the urban areas, as high temperatures and hilly terrain can cause rapid dehydration. Once away from the new towns, there won't be a 7-Eleven in sight. Although small local convenience shops, called
士多
(translated from the English word "
store
") are common in some villages, especially along famous cycling routes (usually they would have a soft-drink logo advertisement printed next to their name of the shop billboard), their opening times might be unpredictable for tourists.
See
The main attractions of the New Territories are about experiencing rural life in Hong Kong life, as opposed to the urban energy of Hong Kong Island and the Kowloon peninsula. Although Hong Kong island has some attractive country parks they are eclipsed by those in the more remote areas of the New Territories. The New Towns are of limited interest to most Western tourists for whom the most engaging settlement in the New Territories is
Sai Kung
which has a number of restaurants and bars that will appeal to visitors because of its slower pace of life. Sai Kung also acts as a gateway into some of the best countryside you are likely to find in Hong Kong.
Landmarks
Red House, near Tuen Mun Public Riding School (Light Rail Butterfly station). This is a memorial building to Dr. Sun Yat-sen. The house and the farm was where Dr. Sun Yat-sen planned to overthrow the Qing dynasty. It is named after its appearance, red bricks with plastering in red. The two-storey house is a combination of Chinese and Western architecture. Adjacent to the house is a garden commemorating Dr. Sun Yat Sen and is one of a few places in Hong Kong where the Flag of the Republic of China is flown freely.

phone: +852 2617 1959

address: Tin Shui Wai

This is a kilometre long trail enabling you to take in the most important buildings in this historical area, including the ancient pagoda of Tsui Sing Lau, the Tang Ancestral Hall and the Kun Ting Study Hall.

Tsang Tai Uk

Fu Shin Street Traditional Bazaar
Nature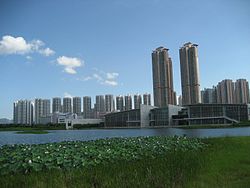 Maclehose TrailStage I is ~3 hours, stage II ~6 hours of walking for a total of 10 stages and 100km. Parts are sealed/concrete road, other parts dirt/rock. if you hike late, take a light as public lights are sparse. Altitude is between 0 and 300m (Sai Wan Shan). Camping sites are available.

The Sai Kung Peninsula is also a worthwhile place to visit. Its mountainous terrain and spectacular coastal scenery make this a special place. If you like challenging routes, try going to Sharp Peak (Nam She Tsim in Cantonese). Sharp Peak is famous for its steep slope with a height of more than 400m. The view from the top is fantastic. For a more relaxed route, try to walk along Section 2 of Maclehose Trail.

Hong Kong Wetland ParkIs a relaxing park set amidst an ecological mitigation area. One can stroll along a network of board walks built over the marshy area and watch birds from a tower. The park also features a large visitors centre/museum. The museum has many interactive exhibits ideal for children, as well as some live animal habitats. To visit, take MTR West Rail to Tin Shui Wai Station, then the #705 light rail to Wetland Park. The park is pushchair and wheelchair friendly.

Yan Chau Tong Marine Park.
A few traditional abandoned villages are connected with hiking trails in the territory. North East New Territories is a famous hiking hot spot for the locals.

Hong Kong UNESCO Global GeoparkDifferent rock formations and geological features are found here.The park is an area of 150 km2 across parts of the eastern and northeastern New Territories.
Museums
address: 1 Man Lam Road, Sha Tin

For those with a serious interest in Chinese culture, this might appeal to you as one of Hong Kong's best museums. Modern, informative and attractively presented, this museum houses several permanent exhibitions of life in the New Territories, Cantonese opera, and Chinese art, as well as temporary exhibitions of a high calibre. Admission $10, open 10AM to 6PM daily except Tuesday and some public holidays.

phone: +852 2653 3455

address: 13 Shung Tak Street, Tai Po Market, Tai Po

An open-air museum converted from the old Tai Po Railway Station. Open from 10AM-6PM on Monday and Wednesday-Sunday. Closing is 1 hour earlier (5PM) on Christmas Eve and Lunar New Year's Eve. Closed on Tuesdays (except public holidays) and first two days of Lunar New Year. Admission is free.

The Art Museum, The Chinese University of Hong Kong

phone: +852 3943 7416

address: Art Museum, Institute of Chinese Studies, The Chinese University of Hong Kong, Sha Tin

Open Monday, Tuesday, Wednesday, Friday, and Saturday from 10AM-5PM. Sunday and public holidays from 1:00-5PM. Closed Thursday (except public holidays), New Year, Lunar New Year, Easter, and Christmas holidays. Admission is free.
Temples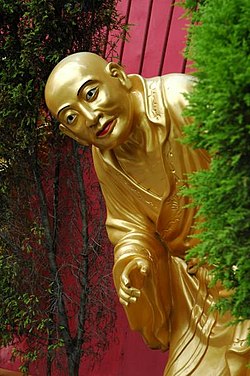 Castle Peak MonasteryClassed as a Grade I historic building that has been standing for more than 1000 years. These historic monuments have stood through the ages in a tranquil woodland area. The striking and picturesque surroundings create an enjoyable view, as well as a solemn ambiance. Upon entering the monastery, you will notice the words "香海名山" (Fragrant Sea and Prestigious Mountain) engraved on the portico. The Tsing Shan Temple is among the three oldest temples in Hong Kong. Inside the temple, there is a main worship hall. Walking up the stairs leading to the hall, you will see "一切有情、同登覺地" (which means Everything on Earth Has Ties and Reaches Nirvana Together). The peaceful environment of this Buddhist temple offers an abiding sense of harmony.

10,000 Buddhas MonasteryThis rather garish but enjoyable modern temple dating from the 1950s in fact contains no less than 12,800 Buddhas lining the walls of the main hall. There's also a nine-story pagoda and some smaller temples above the main complex. Half the fun is getting there, the 500-metre path that climbs up the hill is lined with life-sized golden plastic statues of Buddhas in poses ranging from serene to outrageous.

Miu Fat Buddhist MonasteryThis is a temple built in 1960 and is one of the best monasteries for visitors to enjoy.

Ching Chung KoonA traditional Taoist temple. Many people go to here to worship the gods.

Kat Hing Wai

address: Kam Tin Rd

Of more historical than practical interest, this tiny walled village was one of the first settlements of the Tang clan, who arrived in Hong Kong in the 12th century and have dominated much of the area ever since. The village today, however, has lots of nondescript modern low-rise concrete housing blocks crammed behind a crumbling gray brick wall. $1 donation requested, and if you see the old Hakka women lounging near the sole entrance, expect to pay $10 or so if you want to take their picture.

Lam Tsuen Wishing TreeThe Wishing Tree is an old tree. Traditionally, it is believed that it will bring good luck and fortune. Nowadays, it is a tourist spot for both Westerners and locals. Simply go to Tai Po Market Railway Station and take the green minibus route 25K, or bus 64K to get to the Wishing Tree. Alternatively, you are advised to take a green taxi from Tai Wo Railway Station if you have 4 or 5 people travelling together.

Man Mo TempleA temple built in the 1890s, it is regarded by many as a must-see tourist destination in Hong Kong.

Tsui Sing Lau Pagoda

Tang Ancestral Hall

Kun Ting Study Hall

Che Kung Temple
Local life
To learn about the living environment of Hong Kong's ordinary people, the best way is to have a half-day trip to a public housing estate. A public housing estate is a small community, where you can find residential flats in high-rise storeys as well as commercial complex and cultural facilities. Start the trip in the morning by "Yum Cha" in a Chinese restaurant or food stall in an estate, then visit the commercial centre and the fresh food market. See the life of school children in the afternoon on the lunch break, and visit the community hall and the library to experience Hong Kong life.
Siu Hong Court is right next to Siu Hong MTR Station. In the middle of the court, you can find a fortune which is a ball shape. The lower part represent the bowl and the upper part is the rice. It represent that every people can have a good life after living here.
Tsz Tin Village right next to Siu Hong Court. A traditional Hong Kong village.
Wan Tau Tong Estate is a 5-minute walk from Tai Po Market MTR Station.
Kwong Fuk Estate can be reached by taking the free MTR feeder bus K18 from Tai Po Market MTR Station.
Cheung Wah Estate can be reached on foot after arriving Fanling MTR Station.
Choi Yuen Estate is adjacent to Sheung Shui MTR Station.
Do
The New Territories offer a wealth of hiking and sports opportunities as well as one favoured Hong Kong pastime,
horse racing
.
Horse racing
Sha Tin Racecourse, Sha Tin Racecourse near Sha Tin (special services to MTR Racecourse on race days). Participate in the most popular sport in Hong Kong at games held most Saturday afternoons from September to June. Regular stand seats $10, but a special package rate Special package available to overseas tourists only allows box access for $50.
Outdoor sports
Buy
There are very few products that are unique to the New Territories; however
Yuen Long
is home to three of the best and best known traditional bakeries in Hong Kong: "Hang Heung", "Wing Wah" and "Tai Tung", "Wing Wah" is also one of the best known producers of traditional wind dried sausages and meats. Especially during the period around the Mid-autumn Festival, when moon cakes become available, mainland Chinese tourists will buy cakes and pastries of various kinds as souvenirs and gifts. The "wife cake" (candied winter melon paste in a flaky pastry wrapping) has perhaps gained the most traction in public consciousness, but all three produce a range of traditional Chinese cakes and pastries, these include red bean paste pastries, mung bean pastries, lotus paste and preserved duck egg pastries and of course moon cakes.
Tuen Mun Town Plaza in Tuen Mun is a huge shopping complex which sells mid-range and up-market good of all types. Well worth a visit and you can enjoy it on weekends. Located just a five minute walk from Tuen Mun MTR station. It's also connected with another two Light rail stations.

phone: +852 2608 9329

address: 17-18 Sha Tin Centre St, Sha Tin

This is a huge shopping complex in Sha Tin which sells mid-range goods of all types. Well worth a visit but it will be crowded on weekends. Accessible through the MTR, change at Kowloon Tong station if travelling from Hong Kong island. It also connects with a few nearby but smaller shopping malls via the footbridge networks.

Ma On Shan Plaza

phone: +852 2631 0802

address: Ma On Shan Plaza, 608 Sai Sha Rd, Ma On Shan, Hong Kong

A large shopping plaza in Ma On Shan with a variety of stores. The items are more affordable as the plaza is located in a less-affluent area. It has a series of footbridges that connect to other shopping complexes such as Sunshine City Plaza and MOSTown.

address: No.8 & 10 On Pong Road, Tai Po

A group of shopping malls in the district. It is less crowded than New Town Plaza. Easily accessible by MTR and KMB buses. Take bus K12 from Tai Po Market Railway Station. It can also be reached by the buses which terminates at Tai Po Central.
Uptown Plaza next to Tai Po Market Railway Station is a regional shopping centre in Tai Po.
Tai Wo Shopping Mall next to Tai Wo Station is a typical shopping centre in a public housing estate. Do not expect a variety choice of shops are available, but goods are at reasonable price because the target customers are local people.
Hang Heung (恒香), located in Yuen Long (元朗) at 64-66 Castle Peak Road, is arguably Hong Kong's most famous Chinese bakery and famous among ethnic Chinese worldwide for its Sweetheart cakes (老婆餅). Other products include egg rolls (蛋卷) and almond biscuits (杏仁餅). To get there, take the Light Rail from the Yuen Long MTR station and alight at Tai Tong Road (大棠道) station.
Eat
Even in the New Territories you are never far from international chains such as
McDonalds
, or local chains such as Cafe de Coral,
Fairwoods
and
Maxims MX
. These all serve up a cheap and safe, if somewhat uninspired, standardised menu across their stores, and if no English speaking staff or English menu are available will at the very least have pictures of the menu that you can point at. If you do not feel like eating chain restaurant food, and are not adventurous enough to try your luck with a menu you cannot read and staff you cannot understand, try one of the local self service bakeries for a quick and cheap lunch, you'll find both sweet and savoury filled breads.
Compared with restaurants in Kowloon or Hong Kong Island, the New Territories offers a good range of local dishes, but at a cheaper price. The restaurants recommended here are unlikely to have English menus and the staff are probably not able to speak very good English or Mandarin. If the place is busy, the staff will not have time to help you.
Budget
In the New Territories, there are many places suitable for budget diners with multiple options of cuisine.
Wo Sang next to Kei Lun Light rail station in Tuen Mun. It is famous for its traditional Hong Kong dishes. You can sit next to the kitchen and watch how they cook the fried dishes. The roast goose here is also famous.
Learn Hop 兩合特色餐廳 next to the Siu Hong MTR station. Located inside the Siu Hong Commercial Complex. It is famous for its choice of Guangdong, wonton and dumpling noodles. Also serves Zha jiang mian.

Tai Po Hui MarketA modern complex of small stalls. The must-try items are fried pork chop noodles and fish ball noodles. Also, for as little as $10 a dish, you can choose from a variety of culinary styles, including local favourites and dishes from Shanghai, Japan and south Asia. Tai Po Hui Market cooked food centre is located near Tai Po Market MTR Station.

Chan Kun Kee in Wo Che Estate, Sha Tin. A typical Dai Pai Dong in Hong Kong providing a variety of Cantonese dishes. Get off at Sha Tin Railway Station and take a taxi to Wo Che Estate.
Cheung Wah Estate Cooked Food Centre near Fanling MTR Station. It is a cooked food centre located in a public housing estate. Dishes start at $10 up.
Pai Tau Restaurant, Pai Tau Rd, Sha Tin. This little eatery in a stretch of old shophouses near MTR Sha Tin offers basic Cantonese fare with lunch sets for around $25. No English menu, but the staff are happy to assist.
The mall adjacent to the Tsuen Wan MTR station has many cheap little restaurants and the blocks surrounding it have lots of small bakeries. There are worse ways to spend an early morning than wandering around, inhaling the scent of the neighbourhood and snacking on wonderfully flavoured buns and confections from these establishments.

phone: +852 2476-2495

address: G/F, no.67, Fau Tsoi Street, Yuen Long

Michelin Bib Gourmand winning eaterie serving a menu of noodles, grilled snacks, and prawn dumplings of various types. In the same location since the 1950s, Ho To Tai built its reputation on the basic wonton noodle soup, thin chewy pulled noodles and dumplings of minced prawns wrapped in wonton skins served in a bowl of prawn broth; the other signature dish is shrimp roe noodles, dried boxes of which can be brought to take home. Popular with both locals looking for a quick meal and gourmands alike, the decor and ambience has dated to the point at which it can be considered nostalgically retro.
Mid-range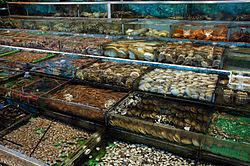 If you're looking for an evening out whilst touring in the New Territories, head for
Sai Kung
(西貢) where you will find a good range of visitor-friendly pubs and restaurants. Sai Kung is rightly famous for its seafood restaurants along the quayside, where you can pick your dinner from an aquarium and have it served any way you like. However, if downing a bucket of bottled beers whilst munching on a plate of crustaceans is not your thing, there is also a fairly good selection of eateries and watering holes to be found in the town centre. Prices here can be reasonable and the cuisine ranges from local to western. Various well-known burger and coffee shops have also found their way to this otherwise secluded part of Hong Kong.
The fastest way to Sai Kung by public transport is to take the MTR to Choi Hung and transfer to minibus 1M (every 5 min) for a straight hop across the mountains. There are public KMB buses from Sha Tin (route 299x) and Wu Kai Sha (route 99) as well, but they take the long way around and spend the better part of an hour in the process. An urban taxi from Central, on Hong Kong island, will cost just under $200 (including tunnel fees).
Fu Ah Seafood Restaurant

phone: +852 27920069

address: G/F 27, Hoi Pong St, Sai Kung

The second-to-last in Sai Kung's seafood restaurant alley, this unassuming joint does good set meals for $150/person, with reasonably priced beer and no surprises in the bill.

Dragon Inn Seafood Restaurant

phone: +852 24506366

address: 19.5 Miles, Castle Peak Road, Tuen Mun

is a famous seafood restaurant in Tuen Mun. The price is more valuable than Sai Kung and you can go to the Sam Shing market to choose your seafood which would provide more variation. It is ranked one of the best seafood restaurant in Hong Kong.

Shanghai Po Po

phone: +852 2618 3708

address: Shop 3207, Phase 1, Tuen Mun Town Plaza, 3 Tuen Lung Street, Tuen Mun

One of the best chain restaurant to eat the Shanghainese food. It serves big dishes at a value price. It's famous for its dan dan noodles and hot and sour soup.
Lung Wah Hotel is famous for roasted pigeons. It is easily accessible by Sha Tin MTR station. Walk in the direction of IKEA and along the path next to the railway line for around 10 minutes to get there.
Sham Tseng Yue Kee Roast Goose Restaurant is renowned for its roast goose. You can get there by red minibus from Jordan or Tuen Mun, or regular KMB bus.
ASRA Indian Restaurant, Shop 15&19, 1/F Shatin Galleria, Shan Mei St, Fotan. This is a famous Indian restaurant in Shatin, they serves authentic Indian kebabs and curries. Affordable lunch sets and tasty dinner choices available with free parking. Near Fotan Station, exit B.
Drink
In addition to Sai Kung's watering holes (see above), in Tai Po Market there are a number of pubs and country clubs along Kwong Fuk Road and the adjacent Luk Heung Lane, Tung Cheong Street. While lacking the glamour of Hong Kong Island's Central district, the area offers more reasonable prices and a friendlier, more local feel. It is about a 5-minute walk from Tai Po Market MTR Station. Overnight transport is readily available on Kwong Fuk Road to take you back to downtown Kowloon and Hong Kong island.

Sleep
Budget
Bradbury Jockey Club Youth Hostel

phone: +852 2662 5123

address: Tai Mei Tuk, Tai Po

A youth hostel in Tai Po. Lots of boating, walking and cycling opportunities nearby and right by the scenic Plover Cove Reservoir.

phone: +852 5768 1893

address: 33 Tao Fong Shan Rd, Sha Tin

A hostel run by a Christian group near Shatin. Located in the "jungle" on a mountain in the New Territories, they provide three meals a day including laundry, and have friendly, amiable staff on site.
Mid-range
address: 3 Tsuen Wah Street

Tsuen Wan. With over 1,026-rooms, you're sure to find one that takes your fancy. Keep in shape by working out at the gym, or take a dip in their huge outdoor pool.

address: 353 Castle Peak Road

Tsuen Wan. Uniquely situated amongst between the Ting Kau and Lido beaches, all 691 rooms give a superb view of the sea. Furnished in a modern design, all rooms feature a kitchen and are fitted out in the latest accessories.
Splurge
Harbour Plaza Resort CityTin Shui Wai. Accessible through Tin Shui Wai MTR Station Exit E2 (Ginza). Has rooms and serviced suites, most of which overlook the Tin Shui Wai Central Park.

phone: +852 3723 1234

address: 18 Chak Cheung Street, Sha Tin

Opened in 2009, this is the first Western-branded hotel in the New Territories, and not only is it gorgeous, but costs about a third of the price of an equivalent hotel in Kowloon or the Island. Facilities include spa, heated pool, popular restaurant, apartments for long stays. The downside is the location: it's not even in central Sha Tin, but two stops out by MTR, at least 20 min from the city and with virtually no amenities in the vicinity. Convenient for the Chinese University of Hong Kong (CUHK) and Hong Kong Science Park though.

phone: +852 2649 7878

address: 34-36 Tai Chung Kiu Road, Shatin

Tai Chung Kiu Road Shatin. Four star hotel overlooking the stunning Shing Mun River. The hotel offers a range of facilities and services including airport transfers, jacuzzis and car rental services for convenience and comfort.
Connect
Postal service
Hongkong Post. Has an extensive network of post offices in the New Territories. Some post offices also have a philatelic section and you can purchase Hong Kong stamps and other postal souvenirs there.
Internet access
Public libraries provide free access to the Internet. There is at least one library in every district.
Community Halls provide wifi to users free of charge.