Hong Kong International Airport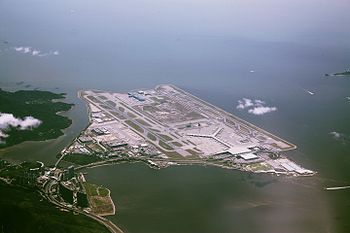 Hong Kong International Airport
(香港國際機場
HKG
), also known as Chek Lap Kok Airport (赤鱲角機場) (after the island upon which the airport sits), is just off Lantau Island in the west of Hong Kong.

Understand
Those who remember the daredevil approach of aircraft prior to landing at the old Kai Tak Airport don't need to guess why Hong Kong decided to build a new airport somewhere else. The Kai Tak Airport was the primary hub for air travel until the 1990s. With only a single runway, one terminal building too small, hills that made takeoff and landing tricky, and sharp turns at low altitude so close to high rise residential buildings that passengers could see residents eating dinners during landings were just a few of the drawbacks. Moreover, due to Kai Tak's proximity to residential areas, a curfew had to be in place in the late night and early morning hours, thus limiting its capacity.
A new airport was eventually built at Chek Lap Kok in the north of Lantau Island, joining three of its northern islands into what is now a world class airport. Designed by Sir Norman Foster, the airport opened in July 1998 and has since been named "World's Best Airport" by Skytrax eight times.
There are many direct flights to Hong Kong from every inhabited continent in the world. Most major cities in
Europe
and
North America
are all served with at least one daily flight, and flights between Hong Kong and other major cities in
Asia
and
Oceania
are frequent. Cathay Pacific operates one of the longest air routes in the world, between Hong Kong and
New York City
(JFK). It is the primary hub for Hong Kong's flag carrier
Cathay Pacific
,
Hong Kong Airlines
and low-cost carrier
Hong Kong Express
.
Due to the special status of Hong Kong, flights to mainland Chinese cities are treated as international rather than domestic flights. As a result of the territory's rather small size, all flights from the airport are international, and there are no domestic flights.
Check-In at MTR stations
If you have paid the fare for the Airport Express train, you can check-in your luggage and print boarding passes at the airport check-in desks at the Hong Kong and Kowloon MTR stations. Some airlines such as Cathay Pacific allow you to drop off your bags up to one day before travel and not have to deal with luggage as you enjoy your final day in Hong Kong. To enter the check-in areas, you must scan your airport express ticket or Octopus card and the fare will be deducted immediately. However, you do not need to enter the airport express station immediately. You can go and do other things, then the same ticket/card will give you free access to airport express on your next entry.
Flights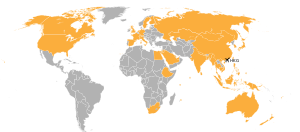 Terminal 1 — All flights and most check-in counters
Terminal 2 — It's only a check-in facility for departing passengers with no gates (passengers are transferred underground to Terminal 1 for boarding). Most low-cost and some full service carriers have their check-in operations here in Terminal 2.
Check-in: Air Astana, Air Explore, AirAsia, Bangkok Airways, Eastar Jet, HK Express, JC Airlines, Jeju Air, Jetstar Asia Airways, Jetstar Japan, Jetstar Pacific, Malindo Air, Myanmar National Airlines, Philippine Airlines, Philippines AirAsia, Scoot, Shenzhen Airlines, Thai AirAsia, Thai Airways, Vanilla Air, VietJet Air
Departures
Each airline uses a specific
check-in aisle:
Terminal 1
Aisle A:
Aisle B: Cathay Pacific
Aisle C: Cathay Pacific, Royal Brunei Airlines
Aisle D: Aeroflot, Air Busan, Air Canada, Air France, Air India, Air Mauritius, Air Seoul, Aurora Airlines, Cebu Pacific Air, Delta, Fiji Airways, KLM, Lanmei Airlines, Malaysia Airlines, MIAT, Nepal Airlines, SAS, Sichuan Airlines, Spring Airlines, Swiss, Turkish Airlines, Vietnam Airlines
Aisle E: ANA, American, Asiana, Austrian, Etihad, EVA Air, Finnair, Juneyao Airlines, Royal Jordanian, S7 Airlines, T'way Air, Virgin Atlantic Airways
Aisle F: China Airlines, Lufthansa, Mandarin Airlines, Singapore Airlines, South African, SriLankan Airlines
Aisle G: Air New Zealand, Air Niugini, Emirates, Ethiopian, Garuda Indonesia, Japan Airlines, Jin Air, Korean Air, Peach, Shandong Airlines, United Airlines, Virgin Australia
Aisle H: Cathay Dragon, El Al, Finnair, Xiamen Airlines
Aisle J: Air China, British Airways, China Eastern, China Southern, Qantas, Shanghai Airlines
Aisle K: Hong Kong Airlines
Terminal 2
Aisle N: Air Explore, Bangkok Airways, Jetstar Japan, Jetstar Pacific, Philippine Airlines
Aisle P: AirAsia, HK Express, JC Airlines, Jeju Air, Malindo Air, Myanmar National Airlines, Philippines AirAsia, Scoot, Thai AirAsia, VietJet Air
Aisle Q: Air Astana, Eastar Jet, Jetstar Asia Airways, Shenzen Airlines
Ground transportation
By train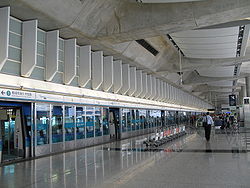 Hong Kong is one of the few major cities in the world where you can get between the city centre and the airport in less than 30 minutes via the Airport Express. There are also plenty of other cheaper options.
Airport Express
The
Airport Express
is the quickest, most comfortable way to travel between airport and city. Trains run every 10 min 6AM-12:45AM, taking about 30 min. For adults (aged 12+), single fares (which cover same-day return) are $70 to Tsing Yi, $105 to Kowloon, and $115 to Hong Kong Central Station. Returns valid for 30 days are $120, $185 and $205 respectively; fares for children aged 3-11 are about half. There's no ticket barrier at the airport, so you can just board and pay in the city. All stations have free porters to help you get heavy bags on and off of the train; there is no need to tip. If you travel with other people you can get a
group discount
if you buy your ticket from the staff at the counter. If you take a taxi to reach the airport express, you are entitled to a
50% discount
when boarding in Tsing Yi and Kowloon. Tourist travel passes sometimes include a return journey on the Airport Express and some airlines sell duty-free tickets during the flights. A cheap way to get to Central is to take the Airport Express to Tsing Yi, and change to the
Tung Chung MTR line
, which costs in total $72.5 one-way or $135 return. A free connection from the Airport Express to the MTR is offered if you use the same Octopus Card to change from the Airport Express to the MTR at Central, Kowloon, or Tsing Yi stations. The transfer is free no matter which station you exit the MTR. Free transfers to
shuttle buses
to area hotels are also provided for users of the airport express.
Kowloon Station on the Airport Express line is located next to West Kowloon
high-speed rail
station and connected by pedestrian walkways, making it easy to transfer from the airport to a high-speed train if you intend to head elsewhere in the Pearl River Delta. The downside is that unlike taking a ferry from the airport, you do have to pass through Hong Kong customs and immigration to do this.
Tung Chung Line
If you want to save around $70, an alternative way is to take the
S1 bus
from the airline terminal to the nearby Tung Chung MTR station ($3.50, 15 minutes), where you can transfer to the
Tung Chung MTR line
to Kowloon ($18, 27 minutes) or Hong Kong ($24, 30 minutes). The Tung Chung line runs the same route as the Airport Express except it terminates at the Tung Chung station and has four additional stops. The MTR system has luggage restrictions and in any case, carrying luggage on the MTR may be cumbersome. This method will take about 45-60 minutes more than the airport express.
By bus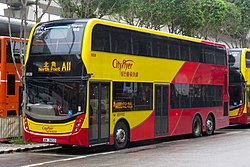 Buses are cheap ($10-40), more scenic, have longer operating hours but are slower. Depending on where you are going, they may be more convenient than the trains and some routes run 24 hours (unlike the Airport Express). A complete list of airport buses is available
online
. There is also an information board at the airport bus terminal. Two companies run buses from the airport:
Citybus ('CityFlyer')
and
Long Win
. Buses travel over the scenic Tsing Ma Bridge, the seventh longest suspension bridge in the world. Buses with routes beginning with "A" (Airbus) (cost: $20-40) have free Wi-Fi internet and take a more direct route than buses with routes beginning with the letter "E" (External) (cost: $10-20), which travel via the cargo terminals and airport offices. Buses with routes beginning with "S" (cost: $3-4) are shuttle buses: the S1 bus operates bus service to the closest MTR station. Bus route "B4" is for cross-border and stops at Hong Kong Boundary Crossing Facilities of the Hong Kong–Zhuhai–Macau Bridge. This route is particularly useful if you are heading towards
Macau
or
Zhuhai
. Finally, buses with routes beginning with "N" are overnight buses. They tend to be more expensive, less frequent and take a less direct route (often going through cargo area, airline catering section and mail centre) before heading for the highway.
By taxi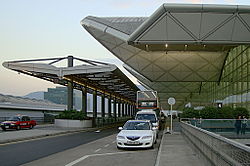 Taxis are a relatively expensive option, with a journey from the airport to Central costing $250-350. The taxi area is clearly signposted near the Airport Express and has separate queues next for each taxi colour:
Red taxis are for destinations on Hong Kong Island and Kowloon, although they are also allowed to go to the local town of Tung Chung as well as Disneyland on Lantau island. If you are going to Hong Kong Island, asking the driver to use the "Western Harbour Crossing" will avoid congestion, but will result in an additional $50 toll charge.
Green taxis are restricted to the New Territories (other than Lantau Island)
Blue taxis serve Lantau Island only. Useful for quickly getting to local Lantau sights before your flight, although there are not many of them and often there are none waiting at the airport. It is easier to hail a blue taxi at the nearby Tung Chung
The information desk after customs can provide you with an estimate to your hotel and maps to show the driver. See
official taxi fare table
. The rates for blue and green taxis are cheaper than red taxis.
Do not take private cars and vans operating as illegal taxis since they are not licensed and in case of accidents, your insurance will not cover you. Generally they are operated by non-Chinese and will be in white or black vans, rather than the ubiquitous blue and red Toyota Crown Comforts. They will approach you inside the airport.
Taxi queues are available at both Kowloon and Hong Kong stations, although the queues are very long at weekends.
By ferry
There are no ferry services from the airport to destinations in Hong Kong. However,
Turbojet
operates a service ($254, 50 minutes) directly to
Macau
. Additional destinations include
Dongguan
,
Guangzhou
,
Shenzhen
,
Zhuhai
and
Zhongshan
.
To get to the ferries after you land,
do not go through Hong Kong customs and immigration
. Instead, follow the signs for "Ferries to Mainland/Macao" to find the ticket counter, where you can buy your ticket with credit card or cash (HKD; RMB are accepted at the unfavorable rate of 1 RMB=1 HKD). There are currency exchange places on the way to the ferry ticket counter. You need to show your boarding pass to buy the ticket. If you have checked luggage, present your baggage stub when buying the ticket and they will transfer your luggage for you—in this case you have to buy your ferry ticket 60 minutes before the ferry departs (in other words, leave yourself a solid
90 minutes
between landing and the ferry departure). When it's time to board, you can travel directly to SkyPier for your ferry without having to pass through Hong Kong immigration at all.
If you do pass through immigration by mistake then the train journey to the Hong Kong ferry terminal will take you about another hour (with a significant connecting walk between trains in Central station), so taking this direct ferry is a great option.
Ferries to Shenzhen stop at either Shekou (the city's main ferry terminal) or Fuyong Ferry Terminal. Prices as of 2019: HK$220 to Shekou, $295 to Fuyong, $340 from Shekou to HKIA, and $360 from Fuyong to HKIA. This second option is located close to Shenzhen Bao'an International Airport and connected by a 5 min shuttle bus ride. This makes it a convenient option if you need to connect between flights at Hong Kong and Shenzhen airports. Be sure to give yourself ample time to make any connections, preferably at least 6 hours between your two flights.
By car
Car rental services are provided in the airport complex. They provide airport pickup and drop off services and can be booked prior to the flight.
Chauffeur service
Chauffeur service is an expensive way to travel to and from the airport, which is dedicated to business travellers, and it ranges from $400 to $1000. Services feature a point-to-point travel by luxury cars or MPVs. Services are usually provided by bank credit card concierges, hotels and airlines. Chauffeur service usually requires advanced booking and individual price quoting. Drivers will meet at the exit of the arrival hall and hold a card with your name. Never ride cars of those who ask you in the airport. They are illegal and accidents are not covered by insurance.
Get around
The airport has two terminals, separated by the MTR station. When arriving at the airport via the Airport Express train, the doors on both sides of the train open. Terminal 1 is on the left and Terminal 2 is on the right. If you alight the train on the wrong side, it will take about five minutes to walk between the terminals. Before arriving at the airport, you should check which terminal your airline uses for check-in. Most of the well-established airlines use Terminal 1 while budget and low-cost carriers use Terminal 2.
Terminal 2 is a check-in only facility with no boarding gates. All flights depart from Terminal 1 or the new Midfield Concourse. You can clear security at either Terminal 1 or Terminal 2. Terminal 2's security line is often shorter. After passing through security at Terminal 2, you will proceed to the Automated People Mover (APM) train in the basement, which will carry you to your gate at either Terminal 1 or the Midfield Concourse. North Satellite Concourse can only be accessed by shuttle bus connecting between Terminal 1 near gate 20 and the Concourse. If you get on the train when you were not meant to, you will have to walk very far.
There are more shopping opportunities before security at T2, but its shops close earlier. There are lots of shopping opportunities airside as well.

Do
Entertainment
Hong Kong Airport has an impressive
IMAX cinema
in Terminal 2 (land side). This is a great way to spend a couple of hours waiting for a flight. 3D glasses are provided for free. IMAX 3D films cost around $120.
Museum
Located in terminal 2, the Aviation Discovery Centre is a museum showcasing Hong Kong-related aviation topics and development. There is also a SkyDeck which is a favourite place for planespotters. While the museum is indoors, do note that SkyDeck is outdoors with no shade area and that there is no water fountain or concession stands on the SkyDeck or the museum. You should be prepared if you plan to stay for extended time on SkyDeck.
Lounges
Cathay Pacific has 4 lounges spread around the airport. All Cathay Pacific lounges feature a noodle bar where you can order noodle dishes such as their signature dan dan noodles. 'The Pier' lounge near Gate 62 is the largest, and offers showers, barista coffee and gourmet tea blends by London-based luxury tea brand Jing. Generally lounges open at 5:30AM and close at 12:30AM, though 'The Wing', near Gate 1, remains open until 2AM. All lounges are open to Cathay Pacific Business and First Class passengers as well as select Marco Polo Club and oneworld members, although 'The Wing' and 'The Pier' have portions set up exclusively for First Class passengers.
The Bridge

The DeckCathay's newest lounge.

The Pier

The Wing
Hong Kong Airlines operates the Club Bauhinia lounge near Gate 23.
SkyTeam operates a lounge near Gate 8 for first and business class passengers travelling with airlines in the alliance, as well as travellers with SkyTeam Elite Plus status travelling on SkyTeam airlines.
Qantas has a large lounge with showers, food, internet terminals and plenty of drink.
Thai Airways has a Royal Orchid Lounge near Gate 40
Singapore Airlines has a SilverKris Lounge near Gate 5
Emirates operates an Emirates Lounge near Gate 30
Plaza Premium Lounge2 pay-per-use lounges airside, one near Gate 1 and one near Gate 40, which are also available to people with membership in programmes such as Diners' Club and Priority Pass. All lounges feature a noodle bar where you can order hot dishes, including their signature fish ball noodles. There is also a lounge before security in Terminal 2 (below Airport Express platform), typically used as an arrivals lounge (with food and showers)
American Express Centurion loungeAmerican Express operates a Centurion lounge that is available to people with American Express Platinum or Centurion credit cards.
United Club
phone: +852 2122 8268
Eat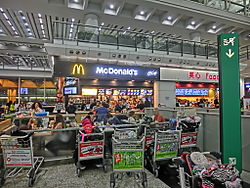 Hong Kong International Airport is known for housing a number of renowned eateries, some of them of Michelin quality. Virtually all of them, however, are landside. There are restaurants airside as well, but most of them fast food parlors such as McDonalds.
There are drinking water fountains in the departures area. A few of these are machines that offer a choice of cold, warm or boiling water.
phone: +852 2323 6690

address: Arrivals Hall, Arrivals Level (L5), Terminal 1

A branch of the famous Ho Hung Kee restaurant in Causeway Bay, this eatery was awarded one Michelin star in 2010. The place is most prized for its noodles, especially for its beef chow foon and wonton noodles, but also offers an extraordinary selection of Cantonese food in general. If you arrive at Terminal 1, Ho Hung Kee is strongly recommended.

phone: +852 3197 9332

address: Coach Station, Arrivals Level (L3), Terminal 2

Hung's Delicacies, another Michelin one-star eatery at HKIA, is known for its exquisite but moderately priced Teochow and Cantonese food, especially for spiced marinated goose, strained goose, and braised vegetables. If you arrive at Terminal 2, you cannot miss Hung's Delicacies.

Crystal Jade La Mian Xiao Long Bao

phone: +852 2261 0553

address: Arrivals Hall, Arrivals Level (L5), Terminal 1

Crystal Jade is a chain Shanghai restaurant that has been, at one point, included in the Michelin Guide for Hong Kong and Macau, although without receiving a star. The place offers a variety of Shanghainese foods, but is most famous for its Xiao Long Bao (juicy pork dumplings) and noodles. If you need a break from Cantonese food, you may give this place a try.

Yung Kee

phone: +852 2261 0593

address: Food Court near Gate 40-80, Departures Level (L6), Terminal 1

An outlet of the once Michelin one-starred restaurant Yung Kee in Central, the place is prized for its charcoal-roasted goose and Cantonese double-stewed soups. However, besides its goose, Yung Kee is also well known for preserving traditional and authentic Cantonese flavors. If you need to eat airside, Yung Kee should be your top priority.
Buy
Hong Kong has no duty on most goods besides alcohol, therefore the concept of duty-free in the airport is rather meaningless. Nevertheless there is the usual selection of luxury brands on the air side, as well as opportunities for last-minute souvenirs such as Chinese cookies and a large Disney store.
If you need to kill some time before checking in, then there are a variety of shops in and around the Terminal 2 check-in desks. Shops dedicated to toys, electronics and Hong Kong specialties can be found.

Connect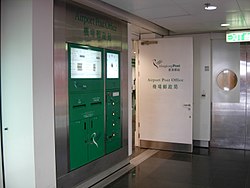 Internet terminals: The airport has a total of 100 desktop computers offering free internet access. Most of these are located at 36 different locations, airside, at the Departures Level of Terminal 1 as well as the Midfield Concourse. There are also six computers at the Departures Level of the North Satellite Concourse. As of August 2013 the terminals can be faulty and slow and the browsers do not work properly with some websites.
Post office: There is an efficient post office in the airport, providing boxes, wrapping material, scissors, and tape. Mailing items is sometimes cheaper and easier than paying airline baggage fees.
Telephones: There are more than 150 pay phones and courtesy phones at the airport.
WiFi: There is a free Wi-Fi facility (after accepting terms and conditions) and a hotline (2188 7799). The WiFi is throughout the air-side areas and has a fast connection speed. The WiFi SSID is "#HKAirport Free WiFi".
Cope
Services at Hong Kong International Airport are generally far better, or at least on par, with those at other major international airports. If you need help, visit one of the 11
customer service centres
, approach an
Airport Ambassador
, or pick up one of the 220 courtesy phones located throughout the terminal.
Baggage packing: Both Terminals 1 and 2 have a fast and efficient service to wrap up your baggage in cardboard or clingfilm and strap it up. Very useful if your airline restricts the items of baggage you can check in. A typical boxing costs around HK$230.
Chemist (drugstore): There are two 'Mannings' stores airside in the airport, each of which stock medicine, baby milk powder and chocolate. If you need any of these then one store is near the North immigration gate, and the other is next to Gate 60.
Clinic: The Airport Medical Centre is a privately-run facility open 24 hours. It is located in the non-restricted area of Terminal 1.
Hospital: In case of emergency, dial 999. The nearest hospital to the airport is the North Lantau Hospital, opened in 2013, in nearby Tung Chung New Town. It is a modern public hospital with a 24-hour accident and emergency centre. Hospitals offer bilingual (Chinese and English) service, while the Hospital Authority also offers an interpretation service for other languages on demand.
Left luggage: There is a manned left luggage facility in the arrival hall, perfect for securely storing your luggage at the airport, for around $55–$80 per day (depending on duration). It is open from 6AM to 1AM. There is another left luggage facility close to the bus station between Terminals 1 and 2. If you are travelling by Airport Express, there are luggage storage facilities in both Kowloon and Hong Kong stations, which are more convenient for those who plan to use the in-town check-in service.
Lost property: The Airport Lost and Found office is located at Shop 88, Level 5, Terminal 2. It is open from 7AM to midnight.
Nursing rooms: The airport has 39 nursing rooms equipped with changing and feeding facilities.
Police: In case of emergency, dial 999. For non-emergency reports, call the Airport Police Station directly on 3661 2000 or visit one of the airport's two Police Reporting Centres, located in the Check-in Hall of Terminal 1 and the Coach Station in Terminal 2 respectively.
Prayer rooms: There are prayer rooms in the departures area. These are completely devoid of any religious symbols, and can appear clinically bland.
Showers: For arrival or in-transit passengers, there are free shower rooms located in Terminal 1 near gate 20. The 10 shower stalls are available 24 hours a day.
Smoking: Smoking in the airport is prohibited by law, except for in the smoking lounges in the restricted area of Terminal 1. At busy times you may have to wait to get in.
Sleep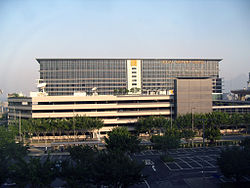 Staff are tolerant of passengers sleeping in the airport. Airside is safer and more comfortable than landside.
There are three hotels in the immediate vicinity of the airport. Via the Airport Express train, you can access more hotels in central
Hong Kong
very quickly.
Nearby
Hong Kong, of course
Lantau Island – take the cable car up to the Buddha statue or visit Disneyland.

AsiaWorld–ExpoA large exhibition and conference centre which is a few minutes walk from the terminal building. This hosts concerts and various trade exhibitions.