Honolulu/Downtown
Downtown Honolulu
is the commercial and governmental center of the Hawaiian Islands, with a number of cultural attractions for visitors to enjoy. Unlike many cities in the United States, Honolulu's downtown has few hotels, with the city's major concentration of hotels located in the tourist center of
Waikiki
. Nevertheless, Downtown Honolulu and its adjacent neighborhoods have many historical and cultural attractions for the tourist to see, as well as a few nice parks and a smattering of restaurants and bars.
Get in
From
Waikiki
, taking Ala Moana Boulevard west will take you to the waterfront section of downtown, Aloha Tower, and Chinatown. To get to the Capital District from Waikiki, take Kalakaua Avenue and follow it until it ends at Beretania Street; Beretania Street will lead you into downtown.
From the airport and points west, you have the option of taking the H1 freeway eastbound to the Nimitz Highway (State Road 92) and following it into Downtown, or staying on H1 and getting off at either Vineyard Blvd (State Road 98) and following it into Downtown, or the Pali Highway (State Road 61) and turning south. From points east of Waikiki, get on H1 westbound and get off at Vineyard Blvd (State Road 98).
If you plan on driving to downtown Honolulu, be sure to bring a lot of quarters. Parking meters are easy to find, but the charge is 10 minutes per quarter. Many parking garages and parking lots are only equipped with parking meters. These include the ones underneath the state capitol building and at the Iolani palace. Without coins, it is extremely difficult to find a place to park.
Many
bus
routes serve Downtown, making it pretty easy to get to by mass transit. From the airport, routes #19 and #20 travel through Downtown, passing by the waterfront before continuing on to Waikiki. Routes #2 and #13 also connect Downtown to Waikiki, traveling along King and Beretania Streets pass the capitol district.
Get around
Downtown Honolulu is about one mile across; all the major attractions are within walking distance of each other. Locations in the Ala Moana district are distant enough from Downtown to make driving or public transit more convenient; routes #19 and #20 of TheBus run along Ala Moana Boulevard.

See
Bishop Street is Honolulu's equivalent of Wall Street, home to most of Honolulu's skyscrapers, including the , the tallest building in the Hawaiian Islands (450 ft/137 m tall).

address: 1 Aloha Tower Dr

Completed in September 1926, the Aloha Tower was for a long time the tallest building in Honolulu and was the first thing that tourists arriving by ship would see.

phone: +1 808 586-0900

address: 250 S Hotel St, 2nd Floor

Occupies the second floor of a beautifully restored historic building with displays of visual art by Hawaii artists in three galleries with both permanent and rotating displays. Also has evening concerts on the lawn.

Cathedral Church of Saint Andrew

phone: +1 808 524-2822

address: 229 Queen Emma Square

Seat of the Episcopal Diocese of Hawaii. Commissioned by King Kamehameha IV and Queen Emma and completed by King Kamehameha V in 1867.

phone: +1 808 522-1333

address: 957 Punchbowl St

The Westminster Abbey of Hawaii, historic church of Hawaiian royalty, constructed between 1836 and 1842. A historic cemetery is adjacent to the church.

Cathedral of Our Lady of Peace

phone: +1 808 536-7036

address: 1184 Bishop St

Seat of the Roman Catholic Diocese of Honolulu, the original structure dates to 1843.

Hawaiian Mission Houses Historic Site and Archives

phone: +1 808 447-3910

address: 553 S King St

Three restored houses, temporary exhibition gallery, and research library provide a unique glimpse into 19th-century Hawaiian life.

phone: +1 808 522-7060

address: 180 North Vineyard Blvd

A collection of rare and beautiful plants from the tropical regions of the world.
Capitol Grounds
address: 415 S Beretania St

Completed in 1969, the State Capitol has a modern, open-air design, with pillars reminiscent of palm tree trunks, and two conical structures symbolizing volcanoes containing the House and Senate chambers, all surrounded by a moat of water representing the ocean.

phone: +1 808 522-0822

address: 364 S King St

Iolani Palace dates back to 1882 and was the official residence of the Hawaiian Kingdom's last two monarchs. As a result of careful restoration and continued preservation, today's visitors to this National Historic Landmark in downtown Honolulu can experience one of the most precise historic restorations and learn much about Hawaiian history and heritage. Next to the palace is `Iolani Barracks, a small fortress-like building.

address: 417 S King St

A historic building that is the seat of the Hawaii State Supreme Court and is noted for the Kamehameha the Great Statue in front, which is often adorned with leis.

phone: +1 808 586-0248

address: across Beretania St from the state capitol

The private home of Hawaii's last monarch, Queen Liliuokalani, it is now the governor's mansion. Call to reserve tours.

Honolulu Hale

address: 530 S King St

In the Hawaiian language, "Honolulu Hale" literally means "Honolulu House", a fitting name for Honolulu's city hall.
Do
Ala Moana ParkA pleasant green space with plenty of grassy lawns and trees, as well as a lovely beach that's popular with local families. An outer reef keeps the water very calm, perfect for children or a nice swim. Lifeguards, showers, restrooms, picnic tables, and food concessions are available.

Kewalo BasinBoat charters are available from Kewalo Basin, adjacent to Ala Moana Park, with numerous operators offering short cruises.

Kakaako Waterfront ParkA nice park southeast of Downtown, situated on the water. There's no beach, but a pleasant oceanside walk and some rolling, grassy hills. Just off-shore is a popular surfing spot known as "Point Panic".
Buy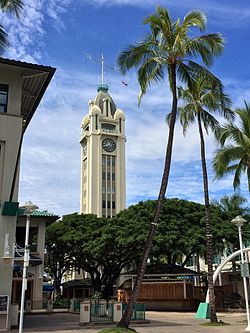 The area around the intersection of Nuuanu and Pauahi is filled with art galleries and antique shops. The first Friday of every month is a downtown festival into the evening and all the galleries are open late. There is also a Farmer's Market every Tuesday and Friday from 7:30AM until 2:30PM on the Fort Street Mall, a pedestrian-only walkway running parallel to Bishop Street from Beretania Avenue to the waterfront.
Aloha Tower MarketplaceNext to Aloha Tower on the waterfront, this mall is best known for several well-known restaurants, such as Gordon Biersch and Hooters. This is also where some cruise liners are received.

Ala Moana CenterThe largest shopping mall in Hawaii and the largest open-air shopping mall in the world. Has over 250 stores on four levels, a massive food court with many different world cuisines, and everything from the practical (groceries and medicine) to high-fashion (Chanel, Prada, etc.) and in between (Limited, American Eagle). The mall's anchor stores are Shirokiya (Japanese Department Store), Sears, Macy's, Nordstrom, and Neiman Marcus. The mall is extremely popular with both locals and tourists alike, so much so that residents of other Hawaiian islands fly in just to shop here.

ChinatownLocated downtown on the blocks just east of the river, Chinatown is an extremely interesting place to visit and shop during the day. The markets contain fresh produce, including many exotic tropical and Asian fruits and vegetables, along with fresh seafood and other items. On many corners you will find women manufacturing leis (the ornamental flowered necklace). And, you can have one made to your specifications, usually fresher and for far less money than you can find them in other places. The best time to visit is between early morning and noon, because the markets and shops begin to close in the early afternoon. Begin your day with a dim sum brunch, or stop at one of the noodle houses and have an authentic dining experience. At night, however, Chinatown has a reputation for being unsafe and is best avoided, though this shouldn't discourage anyone from going during the day.

Victoria Ward CentersA four-block shopping area with 120 stores, including major tenants like The Sports Authority and Borders as well as small boutiques, restaurants, a farmers market and 16-screen megaplex and entertainment center. Encompasses Ward Centre, Ward Warehouse, Ward Entertainment Center, Ward Farmers Market, Ward Village Shops and Ward Gateway Center.
Eat
Drink
address: Ala Moana Shopping Center, Upper Level 4

Popular among locals, especially on weekends and Wednesday nights. Live local music is played M-F 4-7PM, Sa Su 1PM-4PM, and nightly 9:30PM-12:30AM. Happy Hour 8PM-11PM.

address: 902 Nuuanu Ave

This excellent little pub has good beer, good booze, and Irish friendliness without going overboard on the imported (or fake) Irish crap. Live music (try to catch Doolin' Rakes, they kick ass!). They serve sandwiches though they are nothing to write home about.

address: 2 Merchant St

Traditional Irish pub food and local specialties. Mr. Murphy reputedly hand-selects the corned beef, which should tell you something about the quality of the food (it's awesome!); they also pour an excellent pint of Guinness.

Smith's Union Bar

phone: +1 808 538-9145

address: 19 N Hotel St

First opened in 1935 when this section of Chinatown was a red-light district and playground for merchant seamen. Come for the affordable drinks and friendly service. Stay for the ukulele jams and karaoke. There is always something to see, either in the bar or the "action" on the Hotel Street.
Sleep
There are only a couple of hotels in the Downtown area; most hotels in the city are located in
Waikiki
or near the airport in
Western Honolulu
.
phone: +1 808 955-4811

address: 410 Atkinson Dr

This contemporary hotel is close to many of Honolulu's beautiful beaches and attractions.

Aston at the Executive Centre Hotel

phone: +1 808 539-3000

address: 1088 Bishop St

On the top 10 floors of the 40-story Executive Centre skyscraper in downtown Honolulu. 116 suites.
Connect
phone: +1 808 586-3617

address: 478 S King St

The seat of the Hawaiian state library system. Wi-fi access and computers with internet are available, but you'll need a library card to use them - state residents can get one for free, but non-residents have to pay $10 for a 3-month card or $25 for a 5-year card.