Honolulu/Eastern
Eastern Honolulu
is an area of
Honolulu
, made up of several neighborhoods between the Diamond Head crater near
Waikiki
and Makapu'u Point, the very southeastern corner of Oahu. The neighborhoods of
Kapahulu
,
Kaimuki
,
Kahala
,
Waialae
,
Aina Haina
, and
Hawaii Kai
are covered here, along with the Makapu'u Point area.
Get in
From anywhere else in Honolulu, getting here is a simple matter of getting on the eastbound H1 freeway. Just after it passes the Kahala Mall, the H1 turns into a surface street - the Kalanianaole Highway (State Road 72). The Kalanianaole Highway passes everything of interest in this area, before curving north past Makapu'u Point and continuing upshore to Waimanalo and
Kailua
. From Waikiki, you can get to H1 by heading towards Downtown on Kalakaua Avenue, turning right on Kapiolani Blvd, and continuing to the H1 eastbound onramp.
There is
bus
service to this area, but it is somewhat limited. From Downtown, routes #1 and #1L go along the Kalanianaole Highway, with the 1 usually ending at the Kahala Mall and the 1L going all the way to Hawaii Kai. The #22 and #23 travel from Waikiki to Hanauma Bay and Sea Life Park, although service is limited.
See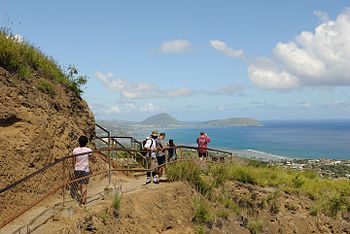 Diamond Head State MonumentOne of the defining landmarks of Hawaii is this ancient volcanic crater which dominates over the surrounding area. An observation deck at the top offers breathtaking views of the southern coast of Oahu. After entering the monument through a short tunnel into the crater itself, you can hike up a 0.75 mile (1.1 km) trail from a parking lot in the crater to the rim, up a couple flights of stairs, through a tunnel (bring a flashlight) and an old coastal artillery to the summit. The hike is very popular and not difficult, but the climb can be a little much for the average couch potato (bring water).

Halona BlowholeAnother popular roadside stop, the Halona Blowhole is one of many blowholes (ocean caves with a hole in the top, so water shoots out the top) along the coast, although this one is easy to view, located right under a parking lot, and can perform some nice blasts of water.

address: 7491 Kokonani St

A 200-acre botanical garden located inside a volcanic crater, with many rare dry climate plants such as African plants, cacti and succulents, plumeria, native wiliwili, dry land palms and bougainvillea.

Lana'i LookoutAnother popular roadside stop west of the Halona Blowhole, the Lana'i Lookout is located on a piece of land that juts out into the ocean. There is a parking lot and many people take pictures of the open ocean crashing onto the rocks. It is possible to walk down the slope of the rock to get closer to the water, although this is not recommended.

Makapuʻu Point State WaysideAt Makapu'u Point, the very southeastern corner of the island, this roadside stop offers scenic views of Makapu'u Point and up the windward coast of Oahu. The 1.75 mile Makapu'u Point trail leads from the parking lot to the historic red-roofed Makapu'u Lighthouse at the end of the point, with magnificent views of the offshore islets and the rocky coastline along the way.

phone: +1 808 259-2500

A Sea World-esque theme park with marine animal shows and an aquarium. For a small fortune, you can also swim with dolphins or sea lions.
Do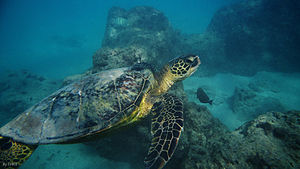 phone: +1 808 396-4229

address: 100 Hanauma Bay Rd

Hanauma Bay is not a place for beach sports but is instead a bay formed in the crater of an extinct volcano and filled with a wonderful coral reef and many fish. The calm waters and abundance of marine life make it an excellent place for snorkeling and scuba diving. A wide stretch of beach also makes it a scenic place to picnic or sunbathe. If you're driving you'll want to get here early in the morning (by 8AM) to ensure you get a space as parking is limited. Otherwise, parking may be available again by afternoon as people leave. On the weekends, public buses (route #22) from Waikiki fill up and will not stop if full; you can also get a shuttle package from most Waikiki hotels for about $15, round trip with snorkel gear, not including admission (ask your concierge). Plan on 20 additional minutes before entering as lines may be long, and all new visitors (as well as visitors who have not visited in the past year) are required to watch an orientation video. Bring water and food; there is a snack bar, but it's limited and pricey. Also keep an eye on the tides; at low tide you will be swimming right on top of the reef, which is harder and makes it less easy to see. Snorkel gear is available to rent at the site.

Halona Beach CoveKnown as "the Peering Place", this is a small, rocky cove with a small sandy beach that is great for swimming when the surf is calm. It requires a small hike down to the beach, and there's no lifeguard or facilities, so it's swim at your own risk. Also, do not swim when the water is rough.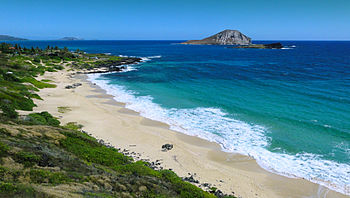 Makapu'u BeachA very scenic, rocky beach that's usually too rough for swimming but is a very popular spot for surfing and bodysurfing. During the summer the beach is wide and the ocean is usually calm, but during the winter high surf erodes the beach, exposing large rocks in the pounding shorebreak and generating powerful rip currents.

Sandy BeachTrue to its name, this is a nice, wide stretch of beach that's great for swimming when the surf is calm. When the water is rough though, the shorebreak and rip tide currents create steep, hard-breaking waves that make it rather treacherous for swimming but quite popular with surfers and bodyboarders. Visitors unfamiliar with the beach frequently misjudge the dangers and get into trouble; swim at your own risk. Lifeguards and facilities are available.
Buy
Hawaii Kai Shopping Center

address: along Keahole St

A large strip mall that's one of the main shopping areas in Honolulu, anchored by a Costco's and a Safeway.

phone: +1 808 732-7736

address: just off H-1

A regional mall is known for its more upscale shops. It is anchored by Macy's, Barnes and Noble Bookstore, and an 8-plex movie theater.

phone: +1 808 395-4737

address: 7192 Kalanianaole Hwy

One of the main shopping centers in East Honolulu, with smaller shops and restaurants, a small marina behind the mall, and an 8-plex movie theater.
Eat
phone: +1 808 739-8780

address: 5000 Kahala Ave

Fine restaurant lauded for its contemporary island cuisine. Recommended are the pan-seared Hudson Valley foie gras, sashimi and slow-braised pork belly.

Genki SushiA Japanese-style eatery, with employees shouting "irrashaimase!" (welcome) when you enter. Very popular with the younger people, offering many types of sushi.
Genki Sushi Kapahulu

phone: +1 808 735-7700

address: 885 Kapahulu Ave

Genki Sushi Aina Haina

phone: +1 808 373-4033

address: 820 West Hind Drive #102
Irifune

phone: +1 808 737-1141

address: 563 Kapahulu Ave

This funky little Japanese fusion joint is one of the best kept secrets in town. Be sure to try the garlic ahi. There can be a long line of locals on some nights. It's BYOB!
Olive Tree Cafe

phone: +1 808 737-0303

address: 4614 Kilauea Ave

A very well known Mediterranean and Greek food spot among Honolulu resident's, this is a charming place, with most of its tables outside a small lanai. It is BYOB, and you can bring your own glasses to avoid the cup fee. There is a wine store on the side of the restaurant, in case you forget your own.
phone: +1 808 737-2275

address: 726 Kapahulu Ave

Easily the best place to get Hawaiian food in the islands popular with kama'aina and the savvy traveler willing to venture beyond the tourist track. Get the combination plate for a sampling of both kalua pig and lau lau (with some pipikaula, lomi salmon and poi on the side). An advice would be to get here early: as the best Hawaiian food restaurant it is very popular and waiting lines grow fast.
phone: +1 808 396-7697

address: 6600 Kalanianaole Hwy

Known as the "Wolfgang Puck of the Pacific," Roy Yamaguchi specializes in Hawaiian fusion cuisine. This is the flagship restaurant of the Roy's Restaurant chain and overlooks Maunalua Bay with a lovely westward view.
Zippy'sThe island equivalent of Denny's, though far more popular with the locals. There's a wide variety of food, including plate lunches at reasonable prices; their signature dish is their chili, which they prepare in many different ways: served over rice, over a burrito, or over french fries, to name a few.
Zippy's Kahala

phone: +1 808 733-3730

address: 4134 Waialae Avenue

Zippy's Kaimuki

phone: +1 808 733-3722

address: 3345 Waialae Avenue

phone: +1 808 733-3725

address: 601 Kapahulu Ave

Zippy's Koko Marina

address: 7192 Kalanianaole Hwy
Sleep
address: 5000 Kahala Ave

Set on 800 feet of secluded beach, this rather lavish resort has numerous luxury rooms and suites, five restaurants and a spa on site, and is a favorite with international statesmen and celebrities. However be careful; this resort can be way overpriced and the room descriptions can be misleading.