Honolulu/Manoa-Makiki
Manoa
and
Makiki
are two prominent neighborhoods of
Honolulu
situated in the foothills of the Ko'olau Mountains north of
Downtown Honolulu
. Along with
Nu'uanu
, these neighborhoods sit within valleys which extend into the Ko'olau Range, varying in character from unpretentious bungalows, 1960s cinderblock walkup apartments and small businesses in the lower reaches of the neighborhoods to upscale apartment and condo complexes on the hillsides above. Manoa is best known as the home of the University of Hawai'i at Manoa, the main branch of the largest university in the Hawaiian Islands. Makiki sits beneath the Punchbowl crater, home to the National Memorial Cemetery of the Pacific, and has gained recent fame as the birthplace and childhood home of President Barack Obama.
Get in
Manoa and Makiki are bisected by the H-1 freeway, and are easily accessible heading East (from Downtown) via the Punahou or University exits and heading West (from Hawaii Kai) via the University or Wilder exits. You can also follow surface streets into the area, namely King Street (one way heading east) or Beretania Street (one way heading west), which run through the southern end of the Manoa and Makiki area and continue west straight into Downtown. Nu'uanu is located along the Pali Highway (State Road 61), which can be accessed from the freeway or, if coming from Downtown, by heading straight inland on surface streets.
If you're coming from Waikiki it's a 15 minute drive. Get on Kalakaua Avenue and head west, towards Downtown. For Manoa, turn right onto Kapiolani Blvd immediately after crossing the canal and continue for about half a mile before turning left onto University Avenue, which will take you straight to the UH campus. For Makiki, stay on Kalakaua Avenue until it ends at Beretania Street, where you make a left, then make a right onto either Keeaumoku Street or Ward Avenue, both of which will cross the freeway and take you into Makiki.
If taking
TheBus
, both the #2/#13 and #4 routes connect Makiki with Waikiki to the east and Downtown to the west, with the #2/#13 running along King and Beretania Streets and the #4 heading past the UH campus and along Wilder Avenue. The #4 also travels north of Downtown into Nu'uana.
See
phone: +1 808 522-7066

address: 123 N Kuakini St

Portions of this 7.5 acre garden belonged to Queen Liliuokalani, the last reigning Monarch of Hawaii. This is the only one of the five botanical gardens that contain only plants native to Hawaii.

phone: +1 808 532-8700

address: 900 South Beretania St

This museum, founded in 1927 by Anna Rice Cooke, encompasses 32 galleries surrounding six courtyard gardens and houses one of the largest collections of Asian art in the United States, with an impressive Western collection to boot, including Van Gogh, Picasso, Gauguin, Cezanne, Monet, Modigliani and other masters. In partnership with the Doris Duke Foundation for Islamic Art, the Museum also conduct tours of Shangri La, Doris Duke's architecturally significant Honolulu estate that contains the country's largest private collection of Islamic decorative art, including more than 3,500 items, many of whicheaborate ceilings, doorways, and tiles--are part of the house itself.

phone: +1 808 526-1322

address: 2411 Makiki Heights Dr

A division of the Honolulu Museum of Art, this is the sole museum in the state of Hawai'i dedicated exclusively to contemporary art—specializing in art from 1940 to the present. It offers a wide array of visual art, providing interaction with art and artists in gorgeous indoor/outdoor environs. TCM's Makiki digs are located at the historic Cooke-Spalding house and gardens in a residential area. Its collection of works include artists such as Vito Acconci, Josef Albers, Robert Arneson, Jennifer Bartlett, Deborah Butterfield, Enrique Chagoya, Jim Dine, Jasper Johns, Donald Judd, William Kentridge, Sol Lewitt, Robert Motherwell, Vik Muniz, Louise Nevelson, Kenneth Price, Andres Serrano, Kiki Smith, Frank Stella, Masami Teraoka, Mark Tobey, Richard Tuttle, Kara Walker, Andy Warhol, Tom Wesselman, and Peter Voulkos.

On July 16, 2019, the Honolulu Museum of Art announced that the Spalding House will be sold, according to a press release in the Honolulu Star Advertiser.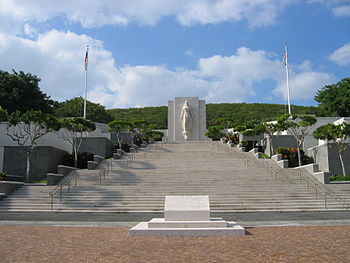 The National Memorial Cemetery of the Pacific

phone: +1 808 532-3720

address: 2177 Puowaina Dr

Situated in the middle of Punchbowl, an extinct crater, this is the final resting place for over 38,000 personnel from WWII, the Korean War and Vietnam. A shrine also commemorates the missing-in-action. It's also the resting place of Stan Dunham, Barack Obama's grandfather. The rim of the crater offers panoramic views of Honolulu. The memorial contains a series of time-line and map-based wall paintings that tell the story of Japanese advances at the beginning of WWII followed by retreat in the face of Allied advances and, ultimately, victory in the Pacific. The cemetery is open year-round (and is closed only on federal holidays other than Memorial Day).

phone: +1 808 595-3167

address: 2913 Pali Highway

In the Nu'uanu valley is this restored historic building, built in 1847 as the summer retreat of Queen Emma, wife of King Kamehameha IV. Tours of the palace are available and offer a glimpse into the lifestyle of the Hawaiian monarchy.
Walking Tour of Obama's former neighborhood. This is one of the newest attractions in Honolulu; so new that there are no historical markers or signs erected by the city. In the thirty years since "Barry" Obama, as he was known as a youth, attended high school, the neighborhood hasn't changed all that much. Major landmarks along the walking tour, which takes about an hour to complete, include his grandmother's former apartment at the , (which he attended from 1971-1979), (where Obama was born on August 4, 1961), the (the site of Obama's baccalaureate), the ice cream store where he worked after school, the (where he learned to play basketball), and his mother's old apartment at . For a route and detailed description of the walking tour check out the maps available on the website.
Scenic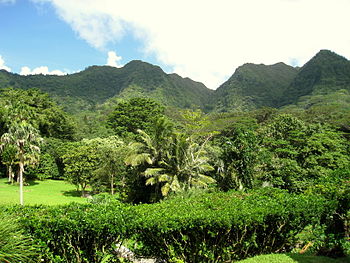 phone: +1 808 988-0456

address: 3860 Manoa Rd

A massive botanical garden at the top of Manoa that's run by the University of Hawai'i with a wide variety of tropical plants as well as scenic waterfalls and views of Manoa.

Manoa Falls

address: 3860 Manoa Road

A 1.5 miles hike to a very tall waterfall. Parking is available a little bit before the trailhead.

Nu'uanu Pali LookoutOne of the more popular scenic vistas on O'ahu and the site of one of the bloodiest battles in Hawaiian history, the Pali Lookout provides a panoramic view of Windward O'ahu. Also interesting at this site is the Old Pali Road, formerly the highway connecting Windward O'ahu to downtown Honolulu. A note of caution: due to its location between two high cliffs, the Pali Lookout is often buffeted by high winds.

Pu'u Ualaka'a State ParkAbove Makiki, this park provides a stunning view of southern O'ahu which includes Diamond Head, Waikiki, downtown Honolulu, Punch Bowl Crater and the airport. There are also hiking trails which allow you to completely forget that you are in a city, taking you into a lush rainforest. Tantalus/Round Top Drive is winding mountain road which takes you about 2,000 above sea level to various viewpoints providing panoramic views, including the Pu'u Ualaka'a State Wayside. From Makiki, take Makiki Street from Nehoa Street and make a left on Round Top Drive.
Do
Hawaii Rainbow Warriors and Rainbow Wahine. The southern end of the UH campus is home to most of the university's sports facilities. The baseball team plays at , while the men's and women's basketball and volleyball teams play at . Adjacent to these two facilities are the university's swimming pool, tennis courts, track and field stadium, and softball and soccer fields. The football team plays at Aloha Stadium in Western Honolulu. Note that UH is one of a dwindling number of schools with separate nicknames for men's and women's teams—men are Rainbow Warriors and women are Rainbow Wahine (the second word translates to "women" in the Hawaiian language).
Buy
address: 2851 E Manoa Rd

A strip mall with about twenty shops including a Safeway grocery store, Long's drugstore (operated by CVS/pharmacy), McDonald's restaurant, a bank and a post office.
Eat
phone: +1 808 949-2526

address: 1857 South King St

Serving top-notch Pacific-Rim cuisine that changes daily. Enjoy your food in style in a restaurant that has a glassed-in terrace and open kitchen. Alan Wong's was the only restaurant in Hawai'i to be listed in Gourmet magazine's List of Top 50 Restaurants in America (it ranked #8). Reservations recommended. Street or valet parking.

Bangkok ChefAs good and as cheap that an amazing delicious Thai meal can get. The place started as a Thai market, but has grown as a local favorite. The high quality of the food, associated with fresh ingredients and low prices make this spot a must try while in Honolulu.
Bangkok Chef Manoa

phone: +1 808 988-0212

address: 2955 E Manoa Rd

Bangkok Chef Nuuana

phone: +1 808 585-8839

address: 1627 Nuuanu Ave
phone: +1 808 947-8778

address: 1926 South Beretania St

Bakery specializing in a local variety of doughnuts called Malasadas. Malasadas are hole-less doughnuts made fresh and dusted in sugar. It's best to eat the malasadas hot right out of the fryer.
Chiang Mai Thai Restaurant

phone: +1 808 941-1151

address: 2239 S King St

While there are many Thai restaurants on Oahu, this is one of the best and most reasonably priced. The Panang Curry is especially good. You have to drive or take a cab if you're staying in Waikiki, but it's well worth it!
Eastern Paradise Restaurant

phone: +1 808 941-5858

address: 1403 South King St

Basic, decent Korean food at a budget price.
phone: +1 808 532-8734

address: Honolulu Museum of Art, 900 South Beretania St

Situated in an indoor/outdoor setting, it's usually packed with locals. It's the place to go for imaginative salads and sandwiches at a reasonable price. The art isn't bad either.
Jimbo

phone: +1 808 947-2211

address: 1936 S. King St., Suite 103

Specializing in authentic Japanese udon and soba, freshly made on-site. Parking can be difficult, but there are additional parking spaces behind the building. They don't take reservations.
Sushi Company

phone: +1 808 947-5411

address: 1111 McCully St

Owned and operated by a Japanese couple. They offer high grade take-out sushi at budget prices. You can enjoy lunch or dinner here for well under $10.
phone: +1 808 949-2269

address: 2135 Waiola Ave

One of the best places to get shave ice (local equivalent to snow cones). Popular with both locals and visitors. Very long lines during the summer heat, extremely limited parking, but still worth it.
Zippy'sThe island equivalent of Denny's, though far more popular with the locals. There's a wide variety of food, including plate lunches at reasonable prices; their signature dish is their chili, which they prepare in many different ways: served over rice, over a burrito, or over french fries, to name a few.
Zippy's Makiki

phone: +1 808 594-3720

address: 1222 South King Street

Zippy's McCully

phone: +1 808 973-0877

address: 1725 South King St
Sleep
phone: +1 808 947-6019

address: 2001 Vancouver Dr

8 B&B rooms in a large cottage. There are no hotels or motels in Manoa, because it is primarily a neighborhood of single-family residences.

phone: +1 808 596-2080

address: 1111 Piikoi St

2 bed dorms (no bunkbeds) and private rooms, 5 person limit per bathroom