Honolulu/Waikiki
One of the best-known beaches in the world,
Waikiki
is a famous district of the city of
Honolulu
, on the
Hawaiian Island
of
Oahu
. Sandwiched between the Ala Wai Canal and the ocean in the shadow of the towering Diamond Head crater, Waikiki is noted for being the tourist center of the Hawaiian Islands.
Understand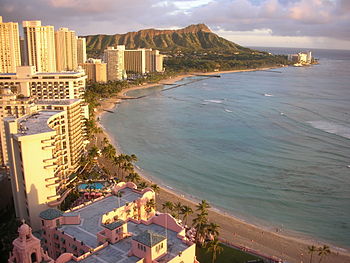 Waikiki was the favorite playground of Hawaiian royalty in the 19th century, when it was an area of wetlands fed by streams from the valleys above Honolulu. That all changed in the 1920s when the government decided to build what would become the Ala Wai Canal, which would drain the wetlands and pave the way for later development.
These days, this 1.5-mile (2.4-km) stretch of white sand beach is the nucleus of Hawaii's tourist industry, packed full of high-rise hotels that promise to treat you like a king, some of which may also require a king's ransom for admission. Although it is often criticized for its concrete-jungle appearance, large crowds, and touristy feel, there is a lot to enjoy here and you can still find a quiet spot if you know where to look.
Get in
For information on getting to Honolulu, see the Get in section of the Honolulu article.
From the airport, there are plenty of options for getting to Waikiki. The
Airport Waikiki Express
provides shuttle service to hotels in Waikiki every half hour for $9 per person; look for the bright yellow t-shirts. Be warned that these are full coach buses, and if your hotel is on the eastern end of Waikiki, it will take the shuttle just as long to get through all the other hotels and traffic as it did to reach Waikiki from the airport. If you are a party of multiple people, it's better to take a cab.
Additionally,
city buses
#19 and #20 ($2.50, $1 per child or senior; exact change required, local bills and coins accepted) connect Waikiki to the airport once every half-hour, passing through Downtown. You can catch them on the outside second level of the international and domestic departure terminals. Note: The bus only allows luggage that fits on your lap and under your seat. If you have more luggage than this, consider other options.
If coming to Waikiki by car from the airport or points west, follow signs for the H1 freeway east, then follow H-1 east about 2 miles (3 km) to the Waikiki/Nimitz Highway exit and follow the Nimitz Highway (which turns into Ala Moana Boulevard past Downtown) straight into Waikiki. Another option is to stay on H1 east and take exit 25A (King Street); after merging onto King Street, stay to the right and take the second right onto Kapahulu Avenue and follow Kapahulu into Waikiki. If coming from the east, take H1 west to the Kapiolani Blvd exit and follow to Kapiolani Blvd to McCully Street and make a left into Waikiki.
Get around

When getting directions in Hawaii you're more likely to hear "mauka", "makai", "ewa", and "diamond/koko head" rather than north, south, west or east. Mauka means towards the mountains. Makai means towards the water, in this case the ocean. Ewa means toward Ewa Beach, or roughly west, and Diamond/Koko Head means roughly east in the direction of Diamond Head. This means that directions are dependent on where you are on the island. In the case of Waikiki and Honolulu, which are located on the south shore of Oahu, mauka roughly means north, and makai roughly means south.
In Waikiki, the three main streets, from makai to mauka, are Kalakaua Avenue (one way Ewa to Diamond Head, along Waikiki Beach), Kuhio Avenue (two-way), and Ala Wai Boulevard (one way Diamond Head to Ewa, along the Ala Wai Canal).
Everything in Waikiki is within easy walking distance of each other. Another option is to use a moped - around Waikiki, numerous stands can rent mopeds (small motor scooters). Prices vary greatly, so look around a bit before deciding. These bikes generally cannot exceed , allowing for easy travel on city streets. A couple of rules to remember and locals will respect you better:
# Stay to the right! At all times stay as far right as possible, and if turning, stay to the far right of the lane you are in (moving to the far right side of the road as soon as you can).
# It is illegal to ride double, so avoid having a passenger on your bike.
# Don't park your bike on the sidewalk police will ticket.
# Unless experienced, don't ride the bikes in at night in dark areas -- it is very difficult for you to be seen.

See
Kapiolani Park. A large public park at the east end of Waikiki (toward Diamond Head), home to the Waikiki Shell amphitheater and the Honolulu Zoo. Right across the street on the shore is the Waikiki Aquarium.
phone: +1 808 971-7171

address: 151 Kapahulu Ave

Lovely zoo with lots of exotic animals and plenty of the big-name ones like elephants, rhinos, lions, zebras and giraffes.

phone: +1 808 923-9741

address: 2777 Kalakaua Ave

The third oldest aquarium in the U.S., this incredible institution has hundreds of species of marine life from Hawaii and the Pacific, including sharks, octopus, jellyfish, colorful reef fish, coral, and an outdoor exhibit with Hawaiian monk seals.
Beaches
If not the most famous stretch of beach in the world, Waikiki Beach (which is in fact, a series of beaches) is by far the most famous in Hawaii. It forms the foreground of most postcard pictures, with Diamond Head in the background, and it is the first beach that comes to mind when most people think of Hawaii. Consequently, it is also, by far, the most crowded. It's a good place to learn to surf if you can manage not to hit or be hit by other beginners in the throng.
From west to east:
Kahanamoku BeachNamed after legendary surfer Duke Kahanamoku, this is a man-made beach and lagoon on the Ala Moana end of Waikiki, in front of the Hilton Hawaiian Village Resort.

Fort DeRussy BeachLocated adjacent to a park, this is the widest stretch of beach and one of the most popular. It is also a good spot for snorkeling, with a coral reef a little offshore.

Royal Manoa BeachLocated in front of the Royal Hawaiian Hotel and the Moana Surfrider Hotel, this is perhaps the most crowded stretch of beach in Waikiki.

Kuhio BeachWith an offshore retaining wall, this is a calmer section of beach that's great for families and beginner surfers. Along Kalakaua Avenue are four stones known as the Ancient Pohaku (Wizard Stones) which are believed to hold spiritual healing powers. There is also a statue of legendary surfer Duke Kahanamoku located here, often adorned with leis and a popular photo spot.

Queens Surf BeachIn front of Kapiolani Park, this is a quieter section of beach that's also popular with gays. The snorkeling is great here, with huge tangs, Moorish Idols and other fish.

San Souci BeachLocated between the War Memorial Natatorium and the New Otani Kaimana Beach Hotel, this is a much quieter section of beach that's protected by a reef; great for families and swimming.
Do
First time visitors should be sure to book at least one luau. Some are better than others, check with your hotel concierge for recommendations.
Waikiki has excellent surfing for beginners and old hands alike. It doesn't have the killer waves like Pipeline, but it has nice small longboard waves right off the beach which is where the beginners lessons are. A bit of a paddle will bring you out to some moderate sized waves. There are several places to rent boards and hire lessons right on the beach, all of which open early, and there are countless cheaper places to rent off-beach.

address: Hilton Hawaiian Village

Submarine tours off the coast of Waikiki, getting up-close to marine life, coral reefs, and shipwrecks.
Buy
At the west end of Waikiki you can find the ridiculously expensive stores like Armani, Tiffany's, Bvlgari, etc.
ABC StoresThese ever-present stores are located so that most hotels are within no more than a one-block walk. In fact, many locations are located in the shopping areas of the major hotels. They provide all manner of convenience store food, souvenirs, and merchandise, but the convenience does come at an extra cost. If you're looking for Hawaiian bath & body products, you'll find a variety of Forever Florals products at ABC Stores.

phone: +1 808 922-8790

address: 2155 Kalakaua Ave

General merchandise stores popular with locals with locations throughout the islands. Longs Drugs (referred to as just Longs by locals) should be on your list of places to go if you're going to be in town for more than a few days and don't want to eat out every night, as groceries here are cheaper than just about any grocery store on the island, with very few exceptions. Because of this, Longs is a popular place to shop and lines to check out can get very long very fast, and some stores are best described as hectic. The wait is well worth it, however. Another important note is that if you are from the mainland and need a refill on prescriptions, Longs is now owned by CVS/pharmacy.

Food Pantry

phone: +1 808 922-0027

address: 2370 Kuhio Ave

The closest thing to a proper supermarket in Waikiki.

phone: +1 808 753-5714

address: 2330 Kalakaua Ave

Anchored by Saks Fifth Avenue.

phone: +1 808 922-2299

address: 2201 Kalakaua Ave

The main shopping mall in Waikiki, with levels of many tourist-oriented shops and restaurants. Includes more than 100 shops and restaurants ranging from Cheesecake Factory to high-end boutiques (Hermes, Fendi, Cartier, etc.), to art galleries and lei stands.

phone: +1 808 931-2700

address: 330 Royal Hawaiian Ave

One of the largest duty-free shops in the state. Due to its duty free nature, it is very popular with foreigners, especially Japanese. However, Americans can buy anything here as well, just be prepared to pay the tax as you normally would.

phone: +1 808 923-1191

address: 2250 Kalakaua Ave

Includes five levels of small shops, including a rooftop restaurant.
Eat
Budget
phone: +1 808 926-3444

address: 134 Kapahulu Ave

This is one branch of a small chain. The name represents truth in advertising. The burgers are very big and juicy, and so are the grilled chicken breasts. The other ingredients, such as the lettuce, tomatoes, and onions are also fresh. Good value, good food even for people who usually steer clear of burger joints. The decor has a retro 1960s feel and the sound track they play is classic 1960s/early 70s rock.

phone: +1 808 931-6000

address: 2310 Kuhio Ave

Cafeteria-style restaurant specializing in Japanese Udon--thick, long noodles served with meat, vegetables and broth. There is usually a line out the door but service is quick since it is cafeteria style,.
Mid-range
phone: +1 808 922-2268

address: 2335 Kalakaua Ave

Named after legendary surfer Duke Kahanamoku. For meals and drinks right on the beach you can't beat Duke's. It's a bar and a restaurant. Their Sunday live music is a local favorite.

phone: +1 808 926-3447

address: 2464 Kalakaua Ave

This very popular breakfast/brunch spot attracts lines, so don't go if you're in a big rush. They make excellent omelettes and pancakes, and there are three syrups on the table; the coconut syrup is the best of the three. Portions are humongous, so go very hungry or order with restraint. Service is polite, and the vibe is convivial.

phone: +1 808 926-5222

address: 2586 Kalakua Ave

This is an enclosed, but open-air sports bar on across the street from the beach.

Mikawon Korean Restaurant

phone: +1 808 924-3277

address: 2310 Kuhio Ave

Very informal, with colorful testimonials in various languages papering the walls. Clientele is primarily Korean, and staff speak little English, so don't expect a lot of help in deciding what to order. Just get whatever seems good to you (some photos in the menu may help), and enjoy some delicious real Korean food. Excellent banchan (complimentary side dishes), too.

phone: +1 808 923-8454

address: 2570 Kalakaua Ave

Good food and service.
Splurge
phone: +1 808 923-3877

address: 18F Waikiki Business Plaza, 2270 Kauakaua Ave

Hawaii's only revolving restaurant and offers views of both ocean and mountains. Best time to dine is at sunset. Serves pacific-fusion cuisine.
Drink
Almost all bars in Waikiki also serve good food and sometimes it's hard to draw the line between pub and restaurant. Any of these places should also be considered a good place to get dinner.
phone: +1 808 923-0669

address: 134 Kapahulu

The oldest and best-known gay-friendly nightspot showcasing a glassed in dance floor. Excellent cocktails, especially mai tais. Music videos are shown on big screens, and are all by request on Monday nights. Open to the air.

phone: +1 808 926-1777

address: 311 Lewers St

Energetic pub atmosphere with live music playing every night.

Moose McGillycuddy's

phone: +1 808 923-0751

address: 310 Lewers St

Live music, daily specials, tasty adult beverages, ono pupus, bikini contest, friendly atmosphere and staff. Huge selection of breakfasts, pupus (appetizers), burgers and specialties. A Waikiki landmark for over 26 years.

phone: +1 808 923-9273

address: 226 Lewers St

Not only does it have a wonderful food menu, but they offer over 130 draft beers from all over the world, the huge island bar protects the 4 walls of taps within. If you were wondering how they can have so many beers on tap, just take a walk over to the double pained 2 inch thick Plexiglas wall that allows you to observe the elaborate tap system. It may take you longer to pick out a beer than to actually drink it.
Sleep
There are many hotels in Waikiki. Try to find a place that's close to the center of town and has decent amenities and has been recently renovated. Don't bother eating at the hotel restaurant unless it's one of the famous high-end ones like Duke's. The usual hotel booking websites all do a pretty good job here, although don't be surprised to find that the name of your hotel has changed since you booked your reservation.
Budget
Mid-range
Splurge
Stay safe
If you are not familiar with this climate, at times you may feel like you are about two inches from the sun. The cool breezes or convertible you are driving may offset the heat, but not the ultraviolet sun rays. Take appropriate care and keep the convertible top up, until evening or early morning.
Do not pick up strangers, regardless of whether they act friendly and say they really need a ride.
Be careful when you're in the ocean. Never underestimate power of the currents and the waves, and don't swim alone. If in doubt, ask a lifeguard about the current conditions. If there are signs posted, heed them. Jellyfish sometimes float near shore - if you get stung, head to a lifeguard station. The lifeguard will spray vinegar on the stings.
Although certainly safer at night than Chinatown, exercise caution when walking in Waikiki at night. A potent mix of drug dealers, prostitutes and drunken tourists can explode into a bad situation.
Theft is rampant on Waikiki Beach. Never leave items unattended.
Connect
There is an internet cafe, , at 2463 Kuhio Ave. Also in same building there is a little shop to get a prepaid SIM card for your mobile, Dakine Cellular. Tiny place, but helpful staff.
Go next
Waikiki is a pleasant place, but there is much more to see in the
rest of Honolulu
and other parts of Oahu. Definitely consider making it your base, but unless all you want to do is be on the beach in Waikiki during the day and have dinner and cocktails there at night, don't spend all of your time there.