Honolulu/Western
Western Honolulu
is an area of
Honolulu
, made up of the neighborhoods between
Downtown
Honolulu and Pearl Harbor. The neighborhoods of
Kalihi
,
Moanalua
,
Salt Lake
, as well as the Honolulu International Airport and Pearl Harbor are covered in this article.
Get in
Getting to this area from anywhere else in Honolulu is a simple matter of getting on the westbound H1 freeway and following it in. The freeway passes by the main points of interest here: the Bishop Museum (take the Kalihi Street/State Road 63 exit), the airport, and Pearl Harbor (get on State Road 99 westbound), continuing west into the suburbs past Pearl Harbor, ending at
Kapolei
. If coming from Waikiki or Honolulu, get on Ala Moana Boulevard and follow it west; it will become the Nimitz Highway and merge into H1 near the airport.
If taking the
bus
, routes #19 and #20 connect Waikiki and Downtown with the airport, with the 20 continuing past Pearl Harbor. Also serving Pearl Harbor from Waikiki and Downtown is the #42. If heading to Kalihi and the Bishop Museum, the #2 runs from Waikiki and Downtown.
See
phone: +1 808 847-3511

address: 1525 Bernice St

Founded in 1889 by Charles Reed Bishop, the last direct descendant of Kamehameha I, this massive museum is by far the largest in Hawaii, with a complex of buildings holding an excellent collection of artifacts from the islands. The main building, the Hawaiian Hall, holds three floors of exhibits on the history and culture of Hawaii, with numerous artifacts, recreations of Hawaiian villages, and a complete whale skeleton hanging from the ceiling. The Science Adventure Center has exhibits on the natural history and environment of Hawaii, including a large simulated volcano that "erupts" regularly. The museum also features a planetarium, a Hawaii sports hall of fame, and plenty of traveling exhibits.

phone: +1 808 834-8612

address: 2850 Moanalua Road

A scenic public park is the Moanalua neighborhood, home to a small cottage which was home to Prince Lot Kamehameha (who would later become Kamehameha V) and a large monkeypod tree known as the "Hitachi Tree".
Pearl Harbor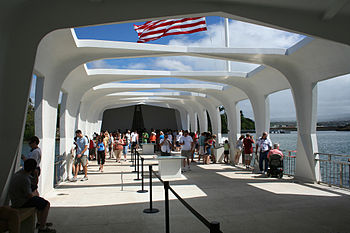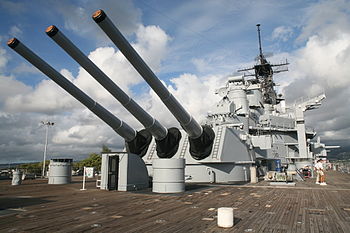 Pearl Harbor
address: At Kamehameha Hwy (Hawaii 99) and Kalaoa St
Well known for 7 December 1941, the "day that lived in infamy", when a surprise attack by Japanese forces killed over 2,000 U.S. military personnel and brought the U.S. into World War II. Today the harbor, still functioning as a navy base, is the site of several memorials honoring the fallen of the war.
Do
address: at Salt Lake Blvd and Kamehameha Hwy

Home to the University of Hawaii football team and the annual NCAA football Hawaii Bowl every December.

phone: +1 808 487-9921

address: 4510 Salt Lake Blvd

An ice rink is probably the last thing you'd expect to find in a tropical city, but at least it makes for the perfect getaway if the hot climate is too much for you. If you don't own a pair of skates, there is a skate rental desk immediately when you enter the building. If skating is not of interest there is a concession stand and two arcade game rooms.

Sand Island Beach Park

address: Sand Island

Tucked away behind an industrial area facing the Honolulu Harbor, this large park offers plenty of green lawns, excellent views of Downtown, and a very calm sandy beach that's never crowded and with fairly good swimming. No lifeguards; restrooms and picnic tables available.
Buy
phone: +1 808 486-6704

address: Aloha Stadium, 99-500 Salt lake Blvd

Hawaii's largest swap meet. Bring your hat, sunscreen, and bottled water and plan at least 1/2 day. The swap meet is like a giant outdoor flea market, surrounding Aloha Stadium, and features merchants offering local food items, clothing and Hawaiian souvenirs. You are unlikely to find Hawaiian souvenirs for less money anywhere else. The prices are reasonable, haggling allowed, unique items from local artists and merchants abound. Most places are cash only, but there are a few standalone ATMs on the outskirts of the swap meet.
Eat
address: 1240 North School St

Serving freshly-prepared local food in the plate lunch style, Helena's is known for their Korean-style short ribs (galbi) and their lau lau. They tend to fill during mealtimes, and parking is scarce, so arriving just after the lunch rush or walking from the nearby Bishop Museum is recommended.

Zippy'sThe island equivalent of Denny's, though far more popular with the locals. There's a wide variety of food, including plate lunches at reasonable prices; their signature dish is their chili, which they prepare in many different ways: served over rice, over a burrito, or over french fries, to name a few.
Zippy's Dillingham

phone: +1 808 832-1750

address: 1210 Dillingham Blvd

Zippy's Kalihi

phone: +1 808 832-1755

address: 904 Mokauea St

Zippy's Nimitz

phone: +1 808 532-4205

address: 666 North Nimitz Hwy
Drink
phone: +1 808 848-2800

address: 50 Sand Island Access Road

Not much to speak of in terms of food or drink (their Mai Tai is alright) but the decor is straight out of a tiki-lovers paradise.
Sleep
phone: +1 808 836-3636

address: 3253 N Nimitz Hwy

Located 1/2 mile from the Honolulu Airport and offers rooms and suites in a tropical setting. Features an outdoor pool, a restaurant and lounge and meeting facilities.

phone: +1 808 440-2290

address: 1275 Saratoga Blvd. Bldg. 78

Requires a military ID.