Hope (British Columbia)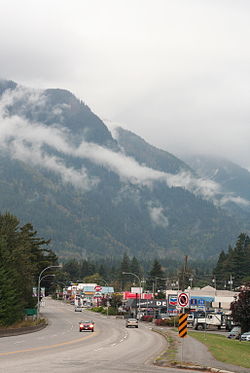 Hope
is a small town at the far east of the
Fraser Valley
in
British Columbia
. Hope is well-known as the gateway to British Columbia's interior, and serves as the junction of four major highways. Outside of the Lower Mainland, Vancouver Island, and Whistler areas, going anywhere in British Columbia by road requires travelling through Hope. Locals like to say that the rest of British Columbia is "Beyond Hope".
While it might be easy to dismiss this small town as just a place to gas up and grab a Timmy's coffee, Hope is justifiably popular as a four-season travel destination. Nestled among mighty peaks, at the confluence of three rivers, Hope is an excellent base for exploring some of the best scenery Canada has to offer. The Hope area offers outdoor recreational opportunities from hiking, downhill and cross-country skiing, fishing, and hunting, to all types of sports in and on the water.
Understand
The Sto:lo First Nations were the early residents of the area. Explorer Simon Fraser arrived in what is now Hope in 1808, with the Hudson's Bay Company creating the Fort Hope trading post in 1848. The Fraser River and Fraser Street is named for the explorer, while Hudson's Bay Street and Fort Street in Hope commemorate the town's origins.
Hope was transformed in 1858 and onward by the Fraser Canyon Gold Rush as thousands of miners flooded into the region. Spurred by the gold rush and the desire of the British to solidify their claim to control in the face of thousands of American prospectors pouring in, the Colony of British Columbia was created on 2 August 1858, and the Colony of British Columbia joined Canada in 1871 after being promised a railway connection to eastern Canada, which came through Hope.
Founded as a trading post because of its strategic location at the confluence of multiple river valleys, built up because it lay at a choke point into the gold fields, and today a major junction of highways, Hope exists because of its strategic location as the only way to get to so many places.
Hope was incorporated as a village (District) on 6 April 1929, became a town on 1 January 1965, and was reincorporated as a district municipality named the District of Hope on 7 December 1992.
Hope has been a popular location to shoot films. The first Rambo film First Blood (1982), with Sylvester Stallone, was almost entirely shot in and around Hope. Other movies filmed here include Shoot to Kill (1988), with Sidney Poitier, Tom Berenger and Kirstie Alley; K2 (1992) - the area's mountains standing in for the Himalayas - and several others.

Get in
By car
Important:
Highway 5 (the Coq)
between Hope and Kamloops is not part of the Trans-Canada Highway, but the high mountain route built in 1986 saves at least an hour of travel time over the older, often two lane Highway 1 route to Kamloops and is therefore preferred by travellers, except during extreme winter weather, when the lower elevation canyon route may be a better choice.
Highway 7 (the Lougheed Highway) heads west on the north bank of the Fraser River, to Mission, Coquitlam, and eventually Vancouver. This route is a slower route to Vancouver because it is not generally a divided highway and goes through the commercial cores of Mission, Maple Ridge, Pitt Meadows, Coquitlam, and Burnaby before reaching Vancouver. A scenic drive though.
By plane
The nearest major international airport is Vancouver International Airport (
YVR
), 155 km west in Vancouver. Closer is the Abbotsford International Airport (YXX), 70 km west in Abbotsford. Abbotsford Airport offers fewer connecting flights but it is much closer and easier to navigate. The airport is serviced by WestJet, Air Canada, and several car rental agencies.
Hope AerodromeHope is home to what may be the longest grass airstrip in Canada at in length. During summer months, the Hope Aerodrome has extensive glider activity.
By bus
Ebus connects Hope to Kamloops, Kelowna, and Vancouver.

Rider ExpressBus service along the Trans-Canada Highway from Winnipeg to Vancouver, twice daily. Service from: Revelstoke, Salmon Arm, Kamloops, Abbotsford, and Vancouver (British Columbia); Calgary, Strathmore, Canmore, Lake Louise, and Banff (Alberta); Medicine Hat, Swift Current, Moose Jaw, Regina, Whitewood, and Moosomin (Saskatchewan); and Brandon, and Winnipeg (Manitoba).

Agassiz-Harrison Transit operates a bus route from Hope to Agassiz. From Agassiz, another bus operates to Chilliwack downtown exchange, Rosedale, Popkum, and Harrison Hot Springs.
By train
Few people travel by rail anymore in Western Canada but Via Rail eastbound has a whistle stop called Haig, just across the Fraser River from Hope.

Get around
The town of Hope is small, and can be crossed on foot or by bicycle. There are two distinct commercial areas.
Downtown Hope centred on Wallace Street is laid out on a grid that includes numbered streets crossing Wallace St. Downtown fronts on the Trans-Canada Highway (as Water Street) separating it from the Fraser River. Downtown includes city hall beside a lovely central park, a grocery store, lots of places to eat, several motels around the northern fringes. There is an Envision Credit Union with an ATM on the north side of downtown. The Hope Visitor Centre is located at the southwest corner of downtown on Water Street just before it funnels traffic onto highways out of town.
The Old Hope-Princeton Way, found south of downtown and across the railway tracks, hosts most of the gas stations and fast food joints. A Save-On Foods grocery store, RCMP station, and many motels are strung along the old highway route.

See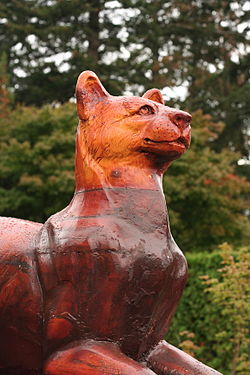 Hope Visitor Centre & Museum

phone: +1 604 869-2021

address: 919 Water St

This is a good place to stop if you're looking for travel information, including brochures, maps and self-guided tour routes. There is a small museum (open from mid-May to early-September) and a gift shop. Some staff members are very knowledgeable about the filming of Rambo: First Blood in Hope, and you may be able to arrange a guided tour of the sites if you call ahead.

address: 349 Fort St

Works by local artists.

Doc's Carving Gallery

address: 314 Hudson Bay St

Collection of chainsaw carvings created by a local chiropractor. Admission by donation.

Self-guided walking and driving tour of Rambo: First Blood filming locationsTour includes locations in and around Hope.

Self-guided tour of chainsaw carvings, Various locations in and around Hope. Hope is home to over 30 large chainsaw carvings, mostly of British Columbia wildlife. A tour map is available from the Hope Visitor Centre.

address: 376 Wallace Street

Lovely, restored cinema showing mainstream movies.

Hope SlideA huge landslide on 9 January 1965 peeled off 47 million cubic metres of rock, the largest in recorded Canadian history. The flow filled a lake in the valley, sloshed 30-60 m up the opposite hillside, and fell back. It buried the highway to a depth of 50 m. Several vehicles, stopped below by an earlier slide, were buried, and four people killed. The scar all the way up Johnson Ridge is still vivid, and it's possible to make out a crease in the trees on the other side of the valley, where the slosh reached. A driveway up from the highway leads to a parking lot with a good view, an explanation, and simple toilets.

Christ Church historic site. Reverend Alexander St. David Francis Pringle arrived in Hope in 1859 and founded the first library on the British Columbia mainland and within two years, also founded Christ Church (Anglican). Today, Christ Church is the oldest church on the BC mainland still holding services on its original site in downtown Hope. It is now a National Historic Site of Canada.
Friendship Garden is a Japanese garden immediately adjacent to the district hall on Wallace Street. Built by Japanese-Canadians in 1991, it is dedicated to the Japanese-Canadians who were interned nearby at Tashme during World War II.
Do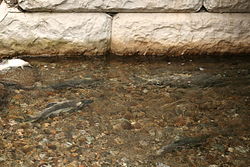 Coquihalla Canyon Provincial ParkOthello Tunnels is a popular trail that follows the former Kettle Valley Railway path through rough cut tunnels and shear canyon walls. Popular movie filming location and the most unique walking trail in the area.

Whitewater rafting on the Fraser River. Various companies offer rafting trips so you may want to pick up some brochures or seek advice from the Hope Visitor Centre. Most tours must be booked well in advance.
Mountain biking. Numerous decommissioned logging roads and the Kettle Valley Railway bed provide hundreds of kilometres of trails.

Kawkawa CreekThis is one of the best locations in Hope to see salmon spawn. Fall is a particularly active time of year to witness salmon running upstream.

Kawkawa Lake offers a beach, swimming, boating, and canoeing opportunities.

phone: +1 604 869-5881

address: 900 Golf Course Rd

Hiking the many nearby trails. Try the Mount Hope lookout (if you're in good shape) or the trails around Thacker Mountain. The Trans-Canada Trail runs through Hope.
Camp Hope is an over 100-acre facility just west of the town on Hwy 7 operated by the Seventh-day Adventist Church. It is used for a 10-day camp meeting that annually attracts more than 10,000 people, a full youth summer camp program and other meetings and conventions year round.
Hope Brigade Days One of the largest events of the year in Hope is Hope Brigade Days. Hope Brigade Days occur every year at the start of September. Hope Brigade Days events include a parade, fireworks display, midway, chainsaw carving competition, demolition derby, kids' carnival, and 4x4 racing.
Skagit Valley Provincial Park can be accessed to the south of Hope off Flood-Hope Road via Silver Skagit Road. This scenic recreation area adjoins the Ross Lake National Recreation Area in Washington State. It is possible to drive into the USA park for several kilometres legally without any border formalities, but it is expected that you will return to Canada the same day.
Eat
address: 322 Wallace St

Everyday 7:30AM-9PM. Coffee drinks and quick meals. Internet cafe. Live music. Licensed. $4-10.
Kimchi Japanese & Korean Restaurant 821A 6th Avenue. Sushi and Korean food.

Hope Pizza Place

address: 468 Wallace St

Pizza, etc., to take out.

Rolly's Restaurant

phone: +1 604-869-7448

address: 888 Fraser Ave

Very good pancakes, pasta and other more casual dishes. Huge food portions for the price and nice atmosphere - a neat little restaurant.

phone: +1 604-860-0822

address: 293 Wallace St.

A more upscale place to eat. Seasonal outside patio, reservations recommended.
Drink
There are no real drinking establishments of note in Hope.

Sleep
Hope abounds with motels; they number over twenty, most centred around the downtown core.
Best Western Heritage Inn

address: 570 Old Hope-Princeton Way

Kw'o:kw'e:hala Eco RetreatLocated near Hope, this wilderness lodge and eco vacation experience offers fully-guided eco vacation destination packages, or self-guided eco getaways. See website for information & directions.
There are also a number of private campgrounds, a city operated campground and Provincial Parks campgrounds.
Go next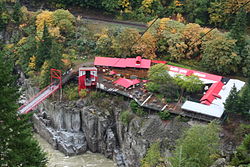 Fraser Canyon and the Hell's Gate Airtram - The drive along the Fraser Canyon from Hope to Boston Bar is a beautiful journey. The tram ride over the Fraser River is short but very scenic. Enjoy the ride, but don't expect much from the touristy gift shops, fudge factory and children's activities at the bottom of the ride.