Hormuz
Hormuz
or Hormoz (Persian: هرمز‎,) is a town on the Southwest coast of
Iran
.
Hormuz was a fairly important city in medieval times, such as when
Marco Polo
visited it around 1275, but today is only a town of about 6,000.
Understand
Hormuz is located on the
Straits of Hormuz
, the narrows at the mouth of the
Persian Gulf
. The Straits have been mentioned fairly often in news over the last few decades because of their strategic importance. They are the best place to control traffic in or out of the Gulf; if someone wanted to cut off seaborne shipments of something — Gulf oil going out, arms coming to Iran, or supplies to US forces in Iraq — this is where they would do it.
In medieval times, Hormuz was the capital of its province and the province is still called
Hormozgān
, though the city of
Bandar Abbas
is now the capital. To escape Mongol attacks, one ruler shifted the capital to nearby Hormuz Island and built a town there called New Hormuz, but he soon made peace with the Mongols and moved the capital back.
Get in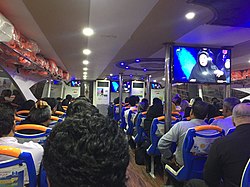 Travelers to Hormuz island can reach it on large modern ships from Bandar Abass. It takes about half an hour.
See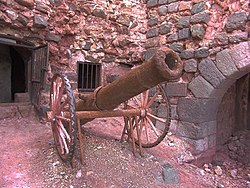 Hormuz is considered as a "must see" island. You can drive around the circumference of Hormuz in one hour, and there are many sights to see.
Portuguese CastleBuilt as Fort of Our Lady of the Conception in 1515, this semi-ruined red stone fortress is one of the few remaining monuments of Portuguese colonial rule in the Persian Gulf.
Do
Many people enjoy recreational fishing in Hormuz. It's best to set out close to dawn or sunset, when the weather is not so hot. Locals are available to help you learn how to fish.

Sleep
phone: +989121575713 (Mr Ali)

Named after the island's red earth, this hotel is now the only registered place in the island.
Other than this hotel there are some local houses where tourists can stay.