Horsens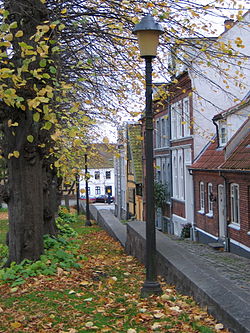 Horsens
is a city in eastern
Jutland
with a population of around 55,000. Horsens is a port town at the end of a beautiful long shallow-water inlet. Such inlets are known as fjords in Denmark and there are several of them on the East Jutland coast. Horsens fjord is typical, with rolling hills and forests stretching all the way down to the water and making the city feel less like a coastal town. The larger city of
Vejle
south of Horsens also sits at the bottom of a Danish fjord.
Horsens has a pedestrianised center with historic buildings, cafés, restaurants and opportunities for specialty shopping, and the inner city is dotted with art installations. The local tourist office is at Søndergade 28.
Horsens is an old town. Already during the Viking age it was a settlement called Horsens. The name probably referred to the breeding of a large numbers of horses in the area.
Get in
It takes 28 mins to reach Horsens from
Aarhus
by DSB Intercity trains, the main train service operating in
Denmark
. Horsens is two stops from Aarhus towards
Copenhagen
on the main line running from
Frederikshavn
in north to Copenhagen.
The nearest airport is Billund Airport, the country's second largest airport.
There is also a smaller airport in Tirstrup, north of Aarhus. Passengers arriving at that airport and are depending on public transportation will have to catch the airport coach into Aarhus station and then a train from Aarhus to Horsens.
From Copenhagen, Horsens can be reached with trains running from Copenhagen Airport Kastrup. The journey time is approx. 2 ½ to 3 hours (most often passengers will have to change trains at the main station in Copenhagen).
Get around
The central train station unloads you in the city center and most of the interesting parts of the inner city can be done in a day if you choose to walk on your own two feet. Walking is safe, easy and enjoyable in Horsens. Another great way to discover Horsens is by bike. You can rent bikes at different locations, ask at the tourist office. A bicycle also gives you quick and easy access to the immediate countryside around Horsens with some good nature experiences.
There is a local bus-network in Horsens and the central terminal is conveniently located at the central station. A ticket purchased on a local bus is valid for one hour and costs DKK 19. A ten-trips card costs DKK 115, each trip is valid for an hour as well.
City Bikes HorsensYou can rent a pink city-bike for free at several spots across town, a special offer arranged by Horsens Tourist office. Just show your ID at one of the rental spots and be sure to return the bike at the same address later.
The tourist's office
phone: +45 75 60 21 20

address: Fussingsvej 8

Horsens' tourists office has its headquarters in Fængslet, a former prison transformed to a modern cultural center. Guides are here to help you and you can pick up brochures and other inspirations as well. In addition to this main centre, several spots across town offers help to tourists with similar brochures or info touch-screens.
See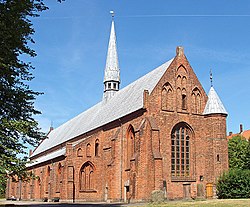 Bygholm ParkThis is a large historic park with ponds, canals and rolling lawns in the English garden tradition. Its a beautiful place and perfect for a stroll or a picnic in the summer. There is a large playground in the park including opportunities for a fitness workout too, public toilets and a 9 "hole" disc-golf field. In the winter months, an outdoor ice rink is assembled. A dominant feature of the park is the large romantic Bygholm manor house from 1775, now a hotel and restaurant since 1919. The park was originally the site of a historic castle, Erik Menved's Castle, from 1313, but nowadays only a small ruin is left.

Vitus Bering ParkA nice park that you can hardly miss on your way from the central station to the shopping facilities in the city center. Constructed in cobblestone and brick with large elevated plant beds of rhododendron. A very beautiful sight when the flowers blossom in May. Take a rest here in the shade of the oak trees. Vitus Bering was a famous Danish explorer, employed as marine officer by the Tzar of Russia in the early 1700s. Bering was from Horsens and this park has been constructed and named in his honor. You can dive into the story of Vitus Bering at Horsens Museum.

SøndergadeHorsens' highstreet. Cafés, restaurants, boutiques, and old buildings in the historic town center. Søndergade and surrounding area is pedestrianised.

Horsens KunstmuseumArt Museum in a large park. What makes this museum unique, is the focus on Danish art after 1800, and Danish experimental art after 1980 in particular.

Langelinie city beachBeach park with large grassy areas and sandy beaches. Great in the summer. Public toilets and showers.

Boller SlotsparkPublic park at the former Boller Castle out of town. Open every day from 1 April to 15 September. The immediate surroundings offer good nature experiences in the forests along the fjord. is a beautiful pathway from the inner city leading directly to this park. Walk or bike if you will.
Do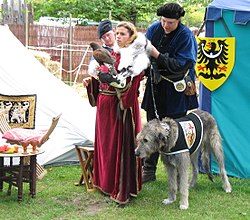 phone: +45 7562 6266

address: Lovbyvej 35

Rent a canoe at the campsite at Bygholm Sø. Open from 15 june and through the summer. Combine it with a nature walk around the lake (8 or 13 kilometres).

European Medieval FestivalOne of the largest cultural events in Horsens, every year on the last Friday and Saturday in August. The town centre of Horsens is transformed into the largest medieval market town in Northern Europe with activities and entertainment for families and children of all ages.

address: Fussingsvej 8

A former State prison, now a cultural institution and working museum. Try a guided tour around the prison or attend a changing palette of events throughout the year, including concerts, Christmas wrestling, and Haunted House theatre. Stay overnight in a prison cell, if you dare! Quench your thirst at HanGun, a local microbrewery in the prison's former laundry house.

address: Sundvej 1A

Here you can dive into the many facettes of Horsens' history. The museum has made an effort to make the experience enjoyable for both kids and adults. A relatively large collection of historic toys where you are encouraged to try for yourself. Follow the fictional boy Erik through Horsens' history or learn about the life of Vitus Bering, a famous arctic explorer from Horsens. Horsens Museum has a total of five permanent exhibitions. At the museum shop you can buy a piece of toy from your own childhood, books, candy or high-end copies of historical Danish jewellery and glassware. In December copies of former times Christmas decorations are on sale.

phone: +45 75 60 23 44

address: Teatertorvet 1

Horsens' theatre scene in a beautiful classical building from 1909. Theatre, music, opera, and cultural talks. Among the many events, the theatre also takes pride in events directed at children specifically.
Buy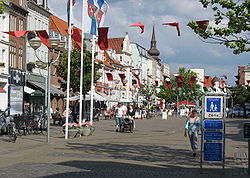 Søndergade is the main highstreet in Horsens. This street and the surrounding pedestrianised areas are at the center of speciality shopping.
Bytorv HorsensA shopping arcade on the Søndergade highstreet. Twenty-seven speciality shops under one roof here. The arcade includes a good, but small bakery, and a kid's playground.

Bilka

address: Høegh Guldbergsgade 10

The largest supermarket in the town of Horsens.
Eat
There are plenty of dining opportunities around the pedestrianized highstreet zone. Most cafés are here, and some of them serves both day and night, including evening dinners and late night partying.
Fast food
Bakeries
phone: +45 76 70 60 00

address: Lokes Allé 30 and Sønderbrogade 95A

The famous Danish bakery-chain Lagkagehuset has two spots in Horsens, both with a dining café. They are both located out of the central scene, so the largest one at Lokes Allé is perhaps the best option, as it also has a drive-in. Excellent quality, and a good opportunity to try a piece of real Danish pastry, as it is supposed to be.

address: Slotsgade 32

A piece of history, this bakery has been here at its central location since 1887, and is still launching quality bread and cakes. Many kinds of Danish specialities, including Danish pastries of course.

Café Caprice

address: Sønderbrogade 4

Nice konditori, the Danish version of the French pâtisserie. A broad selection of confectionate cakes, including layercakes and various cream cakes. Adjacent space to indulge with cake and coffee.
Drink
There is a wide selection of cafées and bars in Horsens. Both young adults and grownups can have a good night on the town here.
Café Gran

address: Grønnegade 15

Hekkenfeldt

address: Graven 17-19

Cafe Koks

address: Nørregade 7

Corfitz

address: Søndergade 21
Sleep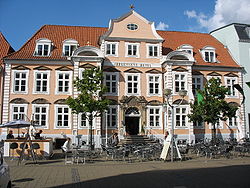 There are a few primitive, but free, camping grounds available.
Go next

Endelave. Take the bus to the small town of Snaptun and then the 1 hour ferry to the island of Endelave. A beautiful and varied nature experience with plenty of opportunity for leisurely beach activities. Bring a bike or rent one on the island and you can see Endelave in a day or two. Do this as a day trip or stay overnight for a mini vacation. Bird tours and nature walks are regularly arranged. Several options for sleeping and dining.
Hjarnø. Another small and very flat island nearby, situated at Horsens fjord. Take the short seven-minute ferry trip there from Snaptun. Hjarnø has around 100 habitants and has a history of long-distance seafaring. Nowadays most people there either work regular jobs on the mainland or are active as farmers on the island. A small group of them are experimenting with wineproduction, a rare sight in Denmark. A haven for seabirds and with opportunities for a small nature hike experience, just follow the marked routes, and some leisurely beach activities as well. Several stone settings from The Viking Age. Do Hjarnø in a day or stay overnight at the camping grounds. You can eat at a café in the old smithy or bring your own food.
Alrø. Small flat island just north of Hjarnø, also in Horsens fjord. Twice as large and a bit higher than Hjarnø, Alrø rises a mere 15 metres above sealevel on its highest spot. In the summer months there is a ferry connection from Snaptun, but Alrø can also be accessed from an artificial landbridge on the northern side. The landbridge can be reached in about a 30 minutes drive from Horsens or Skanderborg; c. 40 minutes from Aarhus. This drive can be combined with a good nature experience in and around Sondrup Bakker, a beautiful area on the northern shores of Horsens fjord. Alrø is a bit similar to Hjarnø; it has a rich bird life and nearly all of it is cultivated land. Bird tours are regularly arranged, as are small canoe trips. Several options for dining and staying overnight.
The city of Aarhus can be reached by intercity trains within 30 mins while the town of Vejle is about 15 minutes away by train in the opposite direction, towards Copenhagen.
Vejle, The regional capital of south Jutland