Hostels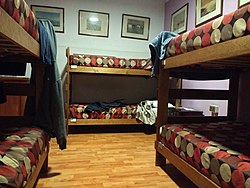 Hostels
, also known as
youth hostels
,
backpackers' hostels
, or just
backpackers
, are a form of cheap
accommodation for travellers
, costing a fraction of what you'd pay at a hotel. Instead of having a room to themselves, hostel-goers typically sleep in a bunk in a "dormitory-style" room shared with other guests. Rooms can be mixed or single-sex, depending on the hostel and the guest's preference. Shared rooms typically include lockers for storing backpacks or valuables, but you may have to bring your own padlock. Some hostels also offer private rooms, which are more expensive than bunks but still generally cheaper than a hotel.
Hostels are designed to
reduce costs
: bathrooms are shared, toiletries aside from hand soap and toilet paper are not provided, and if there is a free breakfast it will probably be skimpy and require you to wash your dishes. Many hostels cut costs in other ways too, for instance, by charging extra for towel rentals, requiring guests to make their own beds, or closing during the day and not letting guests back in until later in the afternoon.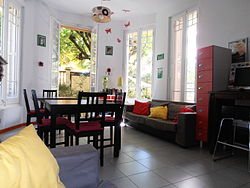 But hostels have their benefits, too – first and foremost the low cost, which is the main draw for many visitors. Hostels also tend to have an informal, more social atmosphere than hotels. This makes them a good choice for
solo travellers
or anyone potentially looking to make a new friend. They usually have common areas, information on local attractions and travel to other destinations, and often a kitchen with dishes, cooking utensils, and places to store food. Some even have scheduled social events for any interested guests!
Hostels cater primarily to young people – a typical guest is in their twenties – but you can often find older travellers there too. Families with children are a rare sight, but some hostels do allow them in private rooms.
Understand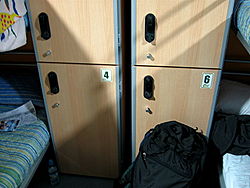 Hostels
vary widely
, with
rules and regulations
depending on the hostel, so expect to see a lot of "generally"s and "usually"s in this article. A few hostels impose a curfew, while most modern hostels let guests come and go at all hours. Some hostels impose a limit to the number of days you can stay though this is increasingly rare and usually not the case in backpacker hostels in Europe, Australia and North America. Some hostels have age limits: a minimum age (unless accompanied) and sometimes a maximum age. In a few instances, the older requirement that guests have to provide their own sheets or a "sleep sack" (a sheet folded over and sewn into a sleeping bag) still exists, though most hostels now prohibit guests from using their own linens to prevent them from bringing bedbugs into the hostel. Towels may be provided for free; if not, they can often be rented for a fee.
The
style of lodging
varies too: hostels may be in lovely historic buildings, resort-style camping villages or ordinary apartment buildings; some are spartan while others are almost luxurious. Most are clean and comfortable. Common facilities include a shared lounge,
laundry
room, and kitchen but these often depend on the country – self-service facilities tend to be available in high-wage countries. Most hostels provide free Wi-Fi and may have desktop computers for guests to use.
Different hostels have different
vibes
. So-called
party hostels
have plenty of booze available and are aimed squarely at young people ready to party, whereas others are calmer and may be more family-friendly. Rural (and small town) hostels often have a completely different character to those in the major cities. To find the best hostels, and the ones that suit your style, read reviews on different hostel booking websites.
If it's your first time staying in a hostel, you might want to try somewhere near home and only one location, and see how you like it. Some hostels can be very cozy and welcoming, but having a laid-back personality is definitely helpful. You can expect to be woken at any hour as other guests enter or leave a shared room. You share common facilities, and people vary in their tidiness and respect for others.
History
The concept of 'youth hostels', as they were originally known, started in about 1910 in Germany and was soon copied in several European countries. Originally, each Hostelling International organisation sought to provide low-cost accommodation in rural areas for young workers who were visiting from urban areas, with an emphasis on hiking, cycling and other healthy activities.
The movement exploded, with more than 2,000 hostels in Germany by 1932 and more in other parts of Europe. Hostels spread to the United States two years later, and after World War II they continued expanding around the world, still with an emphasis on rural areas and outdoor activities. In the post-war years, international youth travel was promoted as a way to increase understanding between countries and avoid military confrontation. Throughout the second half of the 20th century, hostelling continued to grow in popularity, and many hostels were opened in major cities, leading to the enormous range of hostels that exist today in a wide variety of locations.
Hostelling organizations
Many hostels have affiliated themselves with
Hostelling International
(HI, formerly
International Youth Hostel Federation
), a network of over 90 separate national hostelling organizations. Not all hostels are affiliated with HI, and there are also other hostelling networks. The best indicator of quality is a hostel's online reviews.
For some national hostelling organizations, you have to be a member to stay in a hostel. This can be membership of that organization, or another Hostelling International-affiliated organization. Other organizations do not require membership, but members get a discounted price.
Booking

It is advisable to book hostels in advance rather than just turning up and hoping that there will be a suitable bed. To find a hostel, search online or read reviews on hostel booking sites or online travel guides. Hostels vary widely, so make sure to read some reviews. If there are any features that are important to you (Wi-Fi, laundry facilities, lockers, a kitchen, social atmosphere...) do your research before booking. Also think about what time you'll be arriving and check what time you're allowed to check in. Some hostels have 24-hour check-in but some don't, so if you'll be arriving late, make sure you'll be able to check in.
Many hostels appreciate it when guests book directly with the hostel, so that they don't have to pay a commission to a booking site. Check their website to see if extra perks or a lower price is offered for direct booking.

Bring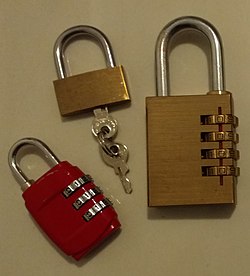 A few useful items for hostels that you might not otherwise think to bring:
Flip flops or shower shoes — as mentioned below, hostel showers get a lot of use. Better safe than sorry—bring something to wear on your feet when you shower.
A padlock — different lockers have different shapes and sizes, so you may want to bring two locks of different sizes, in case one is too big or small to fit in the locker. Even if the hostel doesn't have lockers, you can use a padlock to lock your bag shut and attach it to your bed to deter theft.
Something to sleep in (pajamas, etc.) — in a hotel room you can do what you want, but in a shared hostel room, be respectful to your roommates and put something on to sleep in.
A sleep mask and/or earplugs — shared rooms tend to have people coming and going at all hours, and some of your roommates may snore, so these will help ensure you get a good night's sleep.
A flashlight — so you can hunt through your stuff in the middle of the night, without turning on the lights and annoying your sleeping roommates.
Soap — some hostels don't provide this in the bathrooms, and especially not in the showers.
A towel — sometimes towels are provided or can be rented or bought for an extra fee, but check when booking. If you bring your own, consider using a travel towel or Turkish towel, which dry more quickly and can be folded up compactly.
Possibly a sheet sleeping bag — most hostels provide sheets these days, but a few remote hostels find it difficult to wash all the bedding, and ask that you bring a sheet sleeping bag. This is a sheet sewn into the form of a sleeping bag, and either you can make one by folding an old sheet and sewing it up, or buy one at a camping equipment shop. To keep the beds clean, quilted sleeping bags are usually not allowed.
Sleep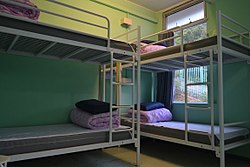 Traditionally hostels only had bunk beds in shared dormitories (bedrooms). Most dormitories have around 4 to 8 bunks, but you can find also find them with just 3 or with as many as 30 or more. If a hostel offers shared rooms of different sizes, bunks in larger rooms will generally be cheaper. Usually the dormitory is only for one gender, and some hostels have greater separation with male and female floors. Increasingly, hostels are providing mixed-gender dorms too. Nowadays, you might encounter any of these combinations: female-only and male-only; female-only, male-only, and mixed; female-only and mixed; or just mixed. If the hostel allows a choice, you'll make it when you do the booking.
Some hostels also let you rent a (private) room (ensuite or shared bathroom), and usually are happy for male and female visitors to share a room that they have booked. If a hostel is not busy, then smaller dormitories may also be let as complete rooms. If you are travelling with younger children, the hostel may insist that you rent a room.
Shared rooms are almost always cheaper than private rooms, but they are a step down in terms of comfort. In a shared room you won't have much privacy or personal space to yourself, and you should keep careful track of your belongings and lock them up when you leave. You may have to put up with snoring or messy roommates, and since people keep widely varying hours, there's a decent chance you'll be woken up by people coming in or out. On the other hand, a shared room offers a great opportunity to get to know other travellers. Along with the savings in cost, that may make the inconvenience worth it. A few hostels have curtains attached to the beds for a little bit of privacy, and otherwise, if you're on the bottom bunk, you can still make it feel a bit more private by hanging your towel from the bunk above you to separate your bed from the rest of the room a little.
Eat
Kitchens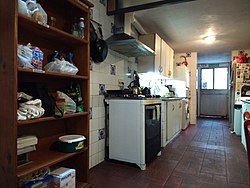 Many hostels provide
shared kitchens
for you to prepare your own food. However not all hostels do, so this is something to check when booking. Some hostels have a cafe, or serve meals (maybe only breakfast) at set times.
The cooking facilities vary greatly between hostels. This can affect both the basic facilities (number of hobs for cooking, etc.) and the provision of pans and plates, etc. Often the facilities in a busy city hostel take a lot more abuse than a rural one.
It is best to design your meals so that you do not need a lot of cooking facilities. Otherwise you may have difficulties if the hostel doesn't have an oven (or others are using it), or you can only use two rings on the gas hob.
You're expected to clean up after yourself when using a shared kitchen. Wash the dishes after you use them, clean up anything you spill, and generally be considerate to your fellow guests.
If you leave food in a shared fridge, make sure that it is wrapped and labelled with your name and when you are staying. Bring some colourful carrier bags from home, as these will be easy to spot in a fridge full of bags from the local supermarket. Many hostels also have a shelf for unopened food packages that visitors brought but could not take along on their trip. Check with the hostel whether they permit you to leave behind unopened food packages for others to consume.
Meals provided
This very much depends on the hostel, but some will provide free
breakfast
. If yours does, come with low expectations—it is unlikely to be as good as breakfast at a hotel. Bread, jam, juice, coffee, and maybe some fruit or cereal is par for the course. Even if breakfast is provided, you'll probably have to wash your dishes after eating.
Some hostels go further and offer dinner or alcoholic drinks as well (though these are unlikely to be free, except maybe free beer at some party hostels). Other hostels don't serve meals but may be attached to a restaurant or bar where you can get a drink or a bite to eat. Even hostels that don't offer any food may have free coffee or tea. As with anything else at a hostel, check before booking if this is important to you.
Work
It's possible to "
volunteer
" at a hostel—work there for several hours a day in exchange for a place to sleep. You can look for hostels seeking volunteers online, or you may have success reaching out to individual hostels and asking if they could use someone for a few weeks.
Stay safe
In terms of
personal safety
, hostels are generally as safe as other forms of accommodation like hotels or
Airbnb
. Hostel managers are conscious of safety and are quite willing to evict guests who act inappropriately. Just read some online reviews beforehand, use common sense, and trust your instincts if something seems weird. If you're really nervous, some hostels offer private rooms. At worst, in the unlikely event that you get to the hostel and your roommates are weirding you out, you can ask the hostel employees if they can switch you to a different room, or even go to a different hostel or a hotel if you have to.
If you're a woman and you don't feel comfortable sharing a room with men, most hostels have female-only dorms. Keep in mind that mixed rooms sometimes end up having more men than women. Would you feel comfortable being the only woman in a room full of men? If not, you may want to go for a female-only room just in case.
It's a good idea to
look up the neighborhood
before booking. Some hostels (but by no means all!) are located in seedier areas to save costs, so research the city you're staying in and double-check that the hostel isn't in a rough neighborhood.
There is always a small risk of items being stolen
, so you need to take care. Increasingly, hostels provide
lockers or safes
where you can store your bags (or at least your valuables), though sometimes you do have to bring your own padlock. Just follow basic common sense and be sure to lock up electronics, cash, and other valuables.
Some hostels have an area where you can
store luggage
for the day after you check out. If checkout time is 10:00 in the morning and your bus doesn't leave until the evening, this can be helpful so you can use the day to explore the destination a bit more without lugging your stuff around with you. This area is more secure in some hostels than in others.
Stay healthy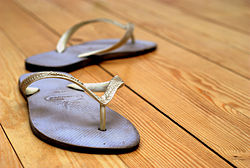 Wear
flip-flops or shower shoes
in the shower. Hostels generally work hard to keep the bathrooms clean, but they get a lot of use from lots of different people. You never know if one of your roommates just got back from a tropical rainforest where they decided to walk around barefoot...so it's better not to take chances.
A few hostels have a pet dog or cat. If you like animals, this can be delightful! And the pets must love having so many people to play with. But if you're allergic, you may want to check beforehand.
Respect

The key principle of hostel etiquette is to be considerate of the other guests. Since practically everything is shared, you'll have to make more of an effort than you would in a hotel. A lot of this should be common sense, but not everyone seems to realize it, so here goes:
Clean up after yourself—in the bedroom, the bathroom, the kitchen, and anywhere else. Around mealtimes there may be a lot of people trying to use a limited number of dishes and utensils, so wash them after you use them, with dish soap (which should be provided by the hostel). If you make a mess, clean it up! And don't eat other people's food from the kitchen, unless it's specifically marked as free for the taking.
In the dorms, be as tidy as possible. Don't leave your stuff lying around the room for your roommates to trip over, and don't put it on anyone else's bed. Respect other people's space: avoid messing with their belongings, and don't use their bed as a place to sit. At night when other people are trying to sleep, minimize noise (including music!), avoid conversations in the room, turn off your alarm clock the first time instead of hitting snooze, and don't turn on the light unless you have to. If you're planning to wake up early in the morning, try to organize your stuff the night before. If you do need to find something in your backpack while others are asleep, a flashlight or cell phone helps, and if you're going to be hunting through plastic bags, it's considerate to do it outside the room so the crinkling doesn't wake people up. Resist any temptation to engage in any...intimate activities in the shared rooms. And if you snore, consider other forms of accommodation.
Remember, a hostel is supposed to be more social than most forms of lodging—don't be shy! Common areas and dorms (as long as no one is trying to sleep) are great places to strike up a conversation. Language barriers are not uncommon—while there will usually be someone on the staff who speaks English, some of the guests may not. But with a bit of patience and ingenuity, you'll find a way to communicate.
Finally, probably the most important tip for a good hostel stay: try to be easygoing. Hostels and hostelgoers tend to have their quirks, and not everyone has gotten the memo about some parts of hostel etiquette. If you don't let that bother you too much, you'll have a much better time, and so will your fellow travellers.

See also