Hot Springs (Arkansas)
Hot Springs
is a city in the
Central
region of
Arkansas
and home to Hot Springs National Park, a
United States National Park
. It is also the childhood home of former President Bill Clinton.
Understand

Hot Springs National Park was the U.S.'s first federally protected reservation, having been created by Congress in 1832 as Hot Springs Reservation. It was made a national park and renamed in 1921. It was originally created to protect the region's 47 natural flowing thermal springs. Today the park protects eight historic bathhouses, and is the nation's smallest national park by area. The park visitor center is housed in the former luxurious Fordyce Bathhouse, and the entire "Bathhouse Row" area is a National Historic Landmark District that contains the grandest collection of bathhouses of its kind in North America.

Get in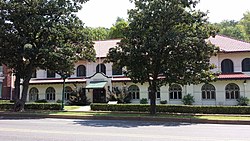 By plane
Hot Springs Memorial Field
Little Rock National Airport (with shuttle service and rental cars.)
By car
From Interstate 30 take the Hot Springs US 70 West exit south of Benton, the Hot Springs US 270 West exit at Malvern, or the Hot Springs Ark. 7 North exit near Arkadelphia.
If traveling south on Ark. 7, come through downtown Hot Springs where the visitor center is located.
If traveling south on US 71 from Fort Smith, or north on US 71 from Texarkana, take the US 270 East exit and take 270B through town.
Coming from Oklahoma on US 70 go all the way into Hot Springs. When you get into the city you will see signs for the National Park.
The Visitor Center is downtown on Highway 7 North or Central Avenue.
By bus
Greyhound Bus Lines, 1001 Central Ave, Suite D, Hot Springs, +1-800-231-2222.
By train
Amtrak's Texas Eagle route serves Little Rock, Arkansas, with shuttle services to Hot Springs.
Get around

The public transport system isn't recommended. It's best to have a car or a friend in the city who doesn't mind driving you around. If you are downtown, it is possible to walk to many sites.

See
Hot Springs National Park
For 200 years, the natural hot springs surrounding present-day
Hot Springs National Park
have been used to treat illnesses and to relax. Today, Hot Springs National Park surrounds the north end of the city of Hot Springs, Arkansas. Visitors from around the world flocked to Hot Springs National Park's historic Bathhouse Row in the 1800s and early 1900s to bathe in the thermal waters, thought to have healing powers; rich and poor alike bathed in its healing waters and relaxed in its bathhouses. With the advent of modern medicine, many bathhouses were closed, but the buildings were preserved and many are open for tours. Today hot and cool mineral water flows from the local springs and many people stop on Bathhouse Row and at the Happy Hollow Spring to fill water jugs at the public fountains. There are no park entrance fees charged.
Hot Springs National Park Visitor Center

phone: +1 501 624-3383 ext 640

address: 369 Central Ave

The visitor center in the former Fordyce Bathhouse is also a 24-room museum offering self-guided tours. Considered the most elegant bathhouse when completed in 1915, it exhibits beautiful mosaic tile floors, marble, stained glass windows and ceilings, a gymnasium, and routine bathing equipment. The 15-minute orientation movie, Valley of Vapors, offers a brief history of the area. Taking the Baths is a 9-minute video showing the traditional bathing routine in the Hot Springs bathhouses. Rest rooms and water fountains are located in the basement. Other rooms shown include the music room, massage rooms and a bowling alley.

Bathhouse RowIncludes the Fordyce Bathhouse and seven other bathhouses all built in the early 20th century. The Row is listed on the National Register of Historic Places. Aside from the Fordyce which serves as the park visitor center, the Buckstaff is the only other operating bathhouse; it is still in use as a spa. The other bathhouses are vacant but awaiting new uses.

The Grand PromenadeA landscaped walkway behind Bathhouse Row which offers a glimpse of the springs and historic landscape features. Entrances are from behind the Visitor Center and from Fountain Street.
Botanical Gardens
phone: +1 501 262-9300

address: 550 Arkridge Rd

Garvan Woodland Gardens. Learn more about its natural flora and fauna.
Museums
phone: +1 501 767-3461

address: 500 Mid America Blvd

A great family attraction and the largest hands-on science center in Arkansas. Take the "Underground Arkansas" tour of a gigantic indoor cave filled with chambers, bridges, tunnels and slides, or experience the light, motion and sound of the "Virtual Reality Simulator." Mid America Museum is the perfect setting for school field trips, birthday parties, summer science camps and more.
Do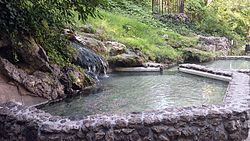 Magic Springs and Crystal Falls

phone: +1 501 318-5370

address: 1701 E. Grand Ave

An amusement park with water and thrill rides such as roller coasters perched high above the Ouachita Mountains, outdoor concerts and more.

address: 2705 Central Ave

From January through April, Oaklawn Park is the place to be in Arkansas. Watch and wager on live top-quality thoroughbred racing, enjoy delicious food served up at restaurants and stands and participate in contests and promotions. Oaklawn also offers simulcast racing action and electronic gaming year-round. Some Arkansas Derby winners have also won one or more of the Triple Crown races in Kentucky, Maryland or New York. During the live racing season, children may enter Oaklawn accompanied by a parent or guardian; children attending during the simulcast season must be at least 48 inches tall to be admitted.

Scenic mountain drivesThe drives on West Mountain, Hot Springs, and North Mountains have overlooks to the surrounding areas. An observation tower on top of Hot Springs Mountain is operated by a concessionaire and offers a panoramic view of the Zig Zag range of the Ouachita Mountains.
Events
Hot Springs is home to several festivals throughout the year.
Buy
phone: +1 501 463-9575

address: 416 Central Ave

Beautiful photography, intriguing paintings.
Eat
Hot Springs has many restaurants inside Victorian buildings in the Historic Downtown District, featuring food and friendly service. Historic downtown is not the only popular eating spot in town. Dine by the lake, on a riverboat, near the horse track or mall, on a main thoroughfare, on a mountain lane. Hot Springs restaurants offer a wide variety of excellent dining choices and cuisines - from cafes to gourmet cabarets.
Drink
phone: +1 501 321-0909

address: 700 Central Ave

Great atmosphere inside a historic building and a great beer list.

phone: +1 501 627-0702

address: 336 Central Ave

Live music inside the oldest bar in Arkansas!
Sleep
Hotels
Camping
Campgrounds with more amenities can be found in commercial, State Park, Corps of Engineers, and Forest Service campgrounds in the surrounding area.
Gulpha GorgeNational park campground with sites available on a first come, first served basis, no reservations. Campsites have a picnic table, pedestal grill, and water nearby. While there are no showers, there are modern restrooms. Water is available at several stations throughout the campground most of the year and at the dump station. Quiet hours are 10PM-6AM. Pets are allowed if leashed.
Stay safe
Caution is advised when handling the thermal spring waters, as their temperatures may reach 143 degrees Fahrenheit. Also, persons with heart or respiratory conditions as should have written consent from a physician before bathing.
The average temperature for the hot spring water emerging is 143°F or 62°C.