Houtskär
Houtskär
(Finnish:
Houtskari
) is a former municipality, now part of
Pargas
, in the
Archipelago Sea
in south-west
Finland
. It consists of about 700 islands having 19 villages. Houtskär has about 520 permanent residents but many more are residing there at the summer.
Some of the islands belong to the
Archipelago National Park
. Houtskär is also on the
Archipelago Trail
.
Understand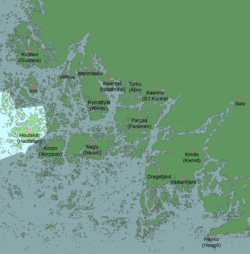 Houtskär is relatively remote group of islands, located in the middle of the
Archipelago Sea
, so there are very little archeological findings. Most of the villages were already mentioned in a manuscript from 1540. In early 1900's notable part of young men moved to USA. People have traditionally lived mostly from fishery and exporting the fish to mainland Finland. The municipality was also famous for its skillful boatmakers. Because of the temperate climate and calcareous soil there are some rare plants growing on these islands. Nowadays growing potatoes and vegetables is an important source of income. There are just a few professional fishermen left.
The main island is quite large and most of the people live there. Other permanently inhabited islands are connected either by a cable ferry, a road ferry or a smaller vessel.
Houtskär is mostly
Swedish
speaking. According to local legend the first permanent residents came from
Dalarna
in
Sweden
explaining why the local dialect is different from the rest of Swedish speaking archipelago. The Swedish word
skär
actually means a skerry but the name Houtskär is, probably, based on Finnish
Hautasaari
or
Hautasalo
, both meaning a grave island. This represents a phenomenon where very old Finnish place names have slowly turned into Swedish similar sounding forms. The name appears first time in 1554 as a chapel under
Korpo
parish. Already in 1636 an order was given to build a new church to Houtskär to replace the old, decaying one.
Service is usually available in both Swedish and Finnish, as well as in English.
Get in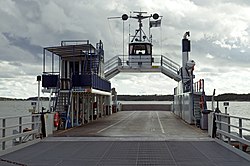 Houtskär islands can be reached only by a boat or ferry. There are two main ports: in the south and in the north. The main village,
Näsby
, is on the east coast of the main island, some 11 km from the Kittuis and 16 km from Mossala. The road is paved.
Road ferries
M/S Stella
and
M/S Mergus
operate year-round between in Korpo and Kittuis. Look at the road signs as the same ferries run to Norrskata as well. See the timetables
here
. The one-way trip takes about 30 minutes. Both ferries are free of charge and have a café.
A road ferry
M/S Antonia
operates during the summer season (May 31th to September 1st in 2019) five times a day Mon-Sat and three times in Sundays between Mossala and Dalen in Iniö. See the timetables
here
. Transport fees: adult €10, children €5, bicycles €12, MC/moped €25, car €40, and caravan €75. The fees for vehicles include all passengers. The ferry has a small café. One-way trip takes about an hour. There are no services in Dalen but a restaurant in Mossala.
You may get in to Houtskär from Torsholma in
Brändö
, Åland, as well. See section 'get around' below.
There are daily
coaches
from Turku to Näsby in Houtskär (about €23, children 4–11 half price). You need to change the bus in Galtby harbour in Korpo. The second bus is waiting for the ferry in Kittuis harbour. During the summer season the bus continues all the way to Mossala only at Sundays. Check the timetables from
Matkahuolto
. Using
Houtskari
as your destination in Matkahuolto search gives you trips to Näsby and
Mossala (Parainen)
to Mossala. Both coaches are operated by
TLO
using Skärgårdsbuss white-green livery.
There is a good
bike
route from Turku to Pargas. Some kilometres after the Pargas centre it gets narrow but continues to the first ferry jetty in Lillmälö. In Nagu, Korpo, and Houtskär you mostly have to cope with the road traffic. It is a good strategy to get off when the batch of cars from a ferry is approaching. Otherwise there is little traffic on these roads. Stay on right as the local drivers really don't expect a bicyclist after the next turn...
If you're coming by a
yacht
there are full service guest marinas at Näsby and Mossala.
Get around
The main road from Kittuis to Näsby and Mossala is paved but otherwise there are just gravel roads. The main road is not only narrow but also crooked and hilly. In general, you won't see too far what's ahead.
In Näsby everything is within
walking
distance. For longer trips
biking
is an easy way to get around. Ask for renting a bike from your accommodation. Houtskär has an internal bus route but during the tourist season it serves mostly between Kittuis ferry jetty and Näsby.
Taxi Peter Juslin: phone +358 400 228 112
Taxi Roger Tengström: phone +358 2 4633 438
The
cable ferries
at Kivimo (Roslax-Kivimo), Mossala (Björkö-Mossala), and Saverkeit (Näsby-Saverkeit) run when needed.
Smaller islands are served by
ship-like ferries
. These don't carry cars. A small passenger vessel
M/S Karolina
(phone: +358 40 717 3455) operates around Houtskär northern archipelago all the way to
Iniö
in the east and
Brändö
in the west. The timetable (
here
) is maybe a bit complex. A small ship-like ferry
M/S Satava
(phone: +358 40 849 5140) operates mostly in Iniö archipelago, but visits Roslax in Houtskär. The timetable (
here
) is complex as well. For the ports marked with 'y' one must order the vessel by phone at least one day in advance. Both vessels are free of charge.
Houtskär southern archipelago is served by
M/S Fiskö
(phone: +358 44 761 8000) from Korpo and Kittuis. The timetable (
here
) is surprisingly straightforward. The vessel is free of charge.
There is no public transportation to
Jungfruskär
. Ask for water taxi (Swedish:
taxibåt
, Finnish:
taksivene
) service or look for arranged tours.
With a
yacht
all small islands are in reach. Be careful about islets with nesting birds.
There are
kayaks
for rent at some lodging businesses.
See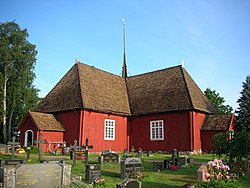 Näsby is perhaps one of the most idyllic villages in Finland.
The Houtskär church

address: Näsby

Wooden cross church build in 1703 on a small hill in the middle of Näsby village.

phone: +358 400 72 3375

address: Sankt Andreas väg 11

Exhibition on traditional handicrafts, boats and scale models, and fishing equipments.
The scenic view of boat houses in and .

Borgberget observing towerObserving tower on a hill in the Järvis village.

Mossala observing towerObserving tower in Mossala Island Resort. A view to Mossala fjärden, a circular structure that never turned into a volcano.

JungfruskärThis small group of islands is considered as one of the most valuable nature spots in South-West Finland. The elder-flowered orchid, Adam och Eve, is flowering on its wooded meadows in June. This centuries old fishing village later became a navy fortress but was opened to public in early 2000's and now most of the islands belong to Archipelago National Park. The right to access is restricted, leave no trace! Excursion harbour with toilets. Camping site. Nature trail.
Do
Boating, fishing, enjoy the nature.
Buy
phone: +358 2 463 3255

address: Näsbyvägen 178

Groceries, mail service, self-care drugs, fuel, Alko pick-up point
A market in Björkö village has been closed since 2016 but is still shown on most maps.
Eat & Drink
phone: +358 40 3551802

address: Näsbyvägen 189

year-round

Grill café Skagen - Näsby gästhamn

phone: +358 2 463 3407

address: Näsby

May-September

phone: +358 40 175 7538

address: Hyppeisvägen 540

June-August

phone: +358 503 477 658

address: Mossala

June-August. À la carte and breakfast. Café. Small bar.

Pub Pelago

address: Björkö

A pub that seems to be open during the summer months every now and then.
Sleep
phone: +358 40 3551802

address: Näsbyvägen 189

Hotel and bar-restaurant in Näsby village.

phone: +358 40 175 7538

address: Hyppeisvägen 540

Hotel is open year-round, restaurant from June to August.

phone: +358 50 572 6242

address: Houtskärsvägen 109

B&B with unique rooms
Camping and cabins
phone: +358 503 477 658

address: Mossala

Cabins, camping site, caravans. Guest marina. Restaurant. Nature trail and observing tower. Activities from fishing to disc golf.

phone: +358 440 53 4100

address: Kittuis färjfäste

Camping site

phone: +358 40 561 8278

address: Näsbyvägen 259

Cabins with B&B for meetings, courses and camp schools. Smoking and alcohol consumption are forbidden.
Guest marina
Connect
Postal code: 21760 Houtskär (all islands)

Stay safe
The ticks are extremely common. If you are driving, beware elks and deers at dusk. There is a health care station in Näsby.

Go next
Iniö to the north or Korpo to the southeast. You could also complete the Archipelago Trail.
A tour to one of the more distant islands of the Archipelago Sea.
The Åland islands, reachable by M/S Karoliina and M/S Satava. Check the timetables carefully.