Howland Island
Howland Island
is an uninhabited island in Micronesia region of the
Pacific Ocean
, about half way between
Hawaii
and
Australia
. It is most notable for what
didn't
happen here: the arrival of Amelia Earhart on her ill-fated around-the-world flight.
Understand
Or maybe not
In the early 2000s, a writer of "alternate histories" put up a web site which presented itself as the official site of the government of the "Republic of Baker Howland and Jarvis", portraying a bustling tourism destination (spurred in part by Earhart's celebrated stop here), including a fake CIA World Factbook article providing statistics for the island nation. The web site is no longer online, but puzzled more than a few armchair travelers.
History
Discovered by the US early in the 19th century, the island was claimed by the US in 1857. Both US and British companies mined for guano until about 1890. In 1935, a short-lived attempt at colonization was begun on this island, similar to the effort on nearby
Baker Island
, but was disrupted by World War II and thereafter abandoned. The island was established as a National Wildlife Refuge in 1974.
Landscape
Low-lying, nearly level, sandy, coral island surrounded by a narrow fringing reef, with a depressed central area. It is almost totally covered with grasses, prostrate vines, and low-growing shrubs, with a small area of trees in the center. It is primarily a nesting, roosting, and foraging habitat for seabirds, shorebirds, and marine wildlife.
Flora and fauna
Only six species of plants can be found on the island. Lepturus bunchgrass, Boerhaavia herb, and two kinds of purslane are dominant on the surface. There are scattered patches of Tribulus, and a few small clumps of scrubby trees called Kou Trees.
The usual species of sea and migratory birds are on Howland. A variety of the small, grey Polynesian rat is abundant. The presence of this rat, kou trees and a few archaeological sites, such as stone paths and pits in which food plants might have been cultivated, suggest that the island was known and visited by Polynesians. There are also the usual hermit crabs and insects, and marine life abounds.
Climate
Howland is an equatorial island with scant rainfall, constant wind, and burning sun.
Get in
By plane

An airstrip was constructed in 1937 for Amelia Earhart to use as a refueling stop. It is no longer serviceable.

By boat

There is one small boat landing area along the middle of the west coast.

Fees and permits

Public entry is by special-use permit from the US Fish and Wildlife Service only, and generally restricted to scientists and educators.

See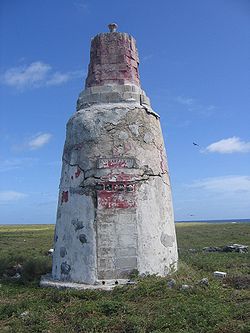 Earhart Light
, near the middle of the west coast. The famed American aviator Amelia Earhart and her navigator Fred Noonan disappeared en route from
Lae
,
Papua New Guinea
to Howland Island, which was to be one of the last refueling stops on Earhart's round-the-world flight in 1937 (
Hawaii
and
California
were next on the itinerary). This "day beacon" (an unlit landmark built for navigation purposes) was named after her. It was built by "colonists" sent to the island to establish possession claims by the United States. Construction was of white sandstone with painted black bands and a black top. It was partially destroyed during World War II by Japanese naval gun fire. Rebuilt May 16th, 1963 by men from the Coast Guard ship Blackhaw, it is no longer maintained and is in disrepair.
Buy

There is no economic activity on Howland Island.

Sleep

There is no accommodation on Howland Island.

Stay healthy

There are no natural sources of fresh water on Howland Island.