Howrah
Howrah
is a city in
Southeast Bengal
in
India
, west of
Kolkata
, across the Hooghly River.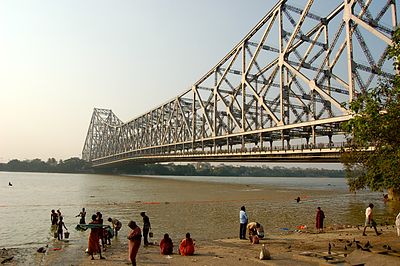 Understand
Howrah officially is a city on its own but in fact it has long grown into one huge urban agglomeration together with Kolkata. Howrah is located on the western bank of the Hooghly river.

Get in
Howrah Railway Station is the largest station complex in the country. The Headquarters of the Eastern Railways is nearby, Fairlie Place, i.e., opposite side of the Hooghly river. Howrah is the main junction station of Eastern and South Eastern Railways. It is well-connected to other parts of West Bengal and as well as India. The station also houses a major transportation hub, connecting many bus routes throughout Howrah and Kolkata. Getting to Howrah can also be achieved via the bus and train links in its twin city
Kolkata
.
Get around

Kolkata
downtown is just across the river, and probably the reason one's here in the first place. To zip around between Kolkata and Howrah the ferry services to cross the river Hooghly is very convenient. There are a number of jetties. On the Kolkata side the ferries link to such jetties as Bagbazar, Armenian, Fairlie, Chandpalghat, Babughat, Princepghat. On the Howrah side there are jetties at Howrah Station, Ramkrishnapur Ghat, Botanical Garden Ghat, Bandhaghat, Golabari and Belur Math. Buy the ticket before you board the ferry and retain the ticket till after you have crossed to the other side and have shown it to the ticket checker near the exit gate or else you will be penalized!
There are two bus stands: Howrah Bus Stand and Kolkata Bus Stand from where you can avail numerous buses to Kolkata and different parts of West Bengal. Prepaid Taxis are also available for travel within Howrah an Kolkata. The Netaji Subhas International Airport linked Volvo Air-conditioned buses are available from Howrah Railway Station.
For short distance travel, there are auto rickshaws, e-rickshaws and cycle rickshaws.
Bridges
There are four bridges across the Hooghly River, connecting Howrah and Kolkata.
Howrah BridgeThe eastern rail terminus for Indian railways is at Howrah. An estimated two million people use Howrah station every day. Howrah station is Kolkata's main railway station and in order to go to Kolkata some use the ferry, a few hire taxis but most use buses or walk across the bridge. The area around Howrah station and Howrah Bridge has grown as a world of its own, catering to the needs of a huge floating population. The 705 m (2,313.0 ft) long Howrah Bridge is a cantilever bridge with a suspended span over the Hooghly River, commissioned in 1943. - This bridge frames the skyline of the riverfront. The ambience is as amicable and profound as the river that flows alongside. But, turn back to your trail of discovery. Dalhousie Square was the administrative centre for British India. On one side is the General Post Office, a majestic specimen of Edwardian architecture. It is built on the site of the original Fort William. On the other side stands Writers' Building, a massive Gothic structure with lonic pillars – still the house of political power.

Nivedita SetuNivedita Setu is a cable-stayed bridge over Hooghly River in Kolkata, West Bengal. It runs parallel to and around 50 m downstream of the old Vivekananda Setu.

Vidyasagar SetuWith a total length of 823 m (2,700 ft), Vidyasagar Setu is the longest cable–stayed bridge in India and one of the longest in Asia. It was built 3.7 km south/ downstream of Howrah Bridge. The bridge was commissioned in 1992

Vivekananda SetuThe 2,887 feet (880 m) long rail-cum-road bridge was built in 1932 as Willingdon bridge, and renamed Vivekananda Setu.
See
Belur Math

address: Northern part of Howrah

Belur Math is the headquarters of the Ramakrishna Math and Mission. Situated next to the Ganges one can sit on the banks of the river Hoogly during evening time and relax. Across the river Hoogly is the Dakhineshwar Temple.

ShibpurShibpur is a neighbourhood in south Howrah, near Vidyasagar Setu. Through the centuries it has been synonymous with the Great Banyan tree. The Great Banyan tree boasts of having the largest canopy in the world. It continues to grow and covers many city blocks and looks like a forest all by itself. The British established the Indian Botanical Gardens in 1786 between the Great Banyan tree and the Hoogly River. Here there is one end of the Grand Trunk Road.

Acharya Jagadish Chandra Bose Indian Botanic Garden

phone: +91 33 67 32 31 35

address: Acharya Jagadish Chandra Bose Indian Botanic Garden Botanical Survey of India Shibpur Howrah West Bengal 711 103

An extraordinary place of vivid nature under the smog filled sky of the city. You will value the silence that is only filled by some birds singing. Nature is wonderfully beautiful here. Institution founded in 1786.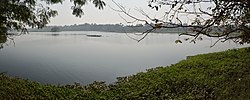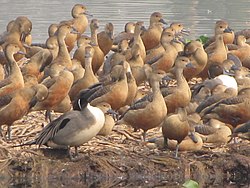 Santragachhi Jheel

address: Middle part of Howrah city

Santragachhi Jheel is a large lake, located next to the Santragachhi railway station. This lake attracts large number of migratory birds in the winter months, particularly in December and January. The number has increased in recent years, as migratory birds have started to avoid destinations like the lakes in Alipore Zoo, Kolkata. Birds like Saras Crane from North America and Australia, and many other local migratory birds such as Cotton Pygmy Goose, Comb Duck etc. are spotted here during this season. The lake area is owned by South Eastern Railway, though the Forest Department of West Bengal also looks after the place. Efforts are made by local residents, Forest Department and Railways to improve the environment for the birds.
Buy
It might be worth while to stroll down Howrah Maidan just for the excitement of a local market, busy with street shops selling anything from clothes, to pots, to fruits. By bus or taxi from Howrah station it will only take 10 minutes to get there.

phone: +91 33 3312-9000

address: 32 Jagat Banerjee Ghat Road, Howrah

This three storey mall contains East India's first PVR cinema hall. Large food court and many shops.
Eat
Local foods you must try are egg, chicken and mutton roll. Howrah is known for its egg chicken roll, which is available anywhere for ₹25. You will not find these foods anywhere else in the world. Mutton Biryani is also worth a try, in Nizams or Arsalan.
Kichukhhan

phone: +91 98300 88008

address: 23/2/2, Bhagwan Chatterjee Ln, Kadamtala

North Indian and Indo-Chinese. Their signature dish is mixed fried rice.
Sleep
For places to sleep in the Sudder Street area see
Kolkata/Esplanade
, for the Sealdah station area see
Kolkata/North Kolkata
, for the Ballygunge area see
Kolkata/South
. For other areas see the relevant area page.
Budget
Rail Yathri Nivas

phone: +91 33 2660-1742

address: Howrah Railway Station

Show your ticket.
Mid-range
address: 1, Mukhram Kanoria Road

A heritage property, with a lot of character and one of the oldest hotels of Kolkata. Renowned for homey atmosphere and offers very neat and clean, airy rooms - one of the safest hotels in the locality, with cordial staff. Attached baths and cable TV. Five minutes walking distance from the railway station and bus stand. 5,000 sq ft garden. +phones =+91 33 26412149-28490240/55538251
Splurge
address: Kona Expressway, Howrah - 711403 Tel: 033-39884444 Fax: 033-39881222 e-mail: sales.fhp@fortunehotels.in

Nestled in a serene and tranquil atmosphere, Fortune Park Panchwati is a grand place.
Connect
address: 461, Sarat Chaterjee Road, Kazipara, Shalimar, Howrah

a Branch Office
Go next