Howth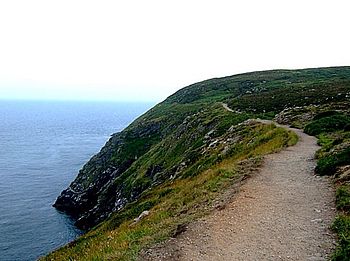 Howth
(pronounced
hohth
) is a small seaside town in
County Dublin
, 14 km (9 miles) northeast of
Dublin
city centre. It's on a "tombola" peninsula: once an island, it became connected to the mainland by a sandy isthmus, which is now the residential area of
Sutton
.
The name "Howth" is probably from Old Norse
Hǫfuð
, a headland. Vikings colonised here from 819, and after their defeat by Brian Boru at Clontarf in 1014 they held out here until 1177. Then the Normans crushed them (hence the "Bloody Stream") and began building the castle. Howth developed as a fishing and trading port. In the 19th century it competed with Dún Laoghaire to be a shipping port for Dublin, but silting of the harbour meant it eventually lost its commercial business. Fishing continues and there's a coastguard base, but it's nowadays mainly a leisure marina. The main reasons to visit Howth are for its beaches, clifftop walks and boat trips. It's glorious in Aug and Sept when the heather cloaks the cliffs in red.
There isn't a TIC here but see
the town website
for info.
Get in
By train
You can reach Howth using the northbound
DART
, a fast train service, from Dublin's city center. A day-return ticket costs €6.25, a single costs €3.30 or €2.40 with a Leap Card from Connolly Station (25-30 minutes), Tara Street Station (29-31 minutes) or Pearse Station (30-34 minutes) in Dublin. There are trains approximately every 20 minutes. The train station in Howth is near the harbor. Other stops include Howth Junction, Bayside, and Sutton.
Other trains run from Connolly to Howth Junction but then continue north to Malahide, instead going 5 km east into Howth; so you must change at the Junction if you find yourself on one of these. This means that coming from the north, you can reach Howth by changing at Drogheda then Malahide then the Junction, without travelling into Connolly and out again.
By bus
Bus 31 & 31A
runs to Howth from Dublin Talbot Street (opposite the Bank of Ireland) via Amiens St outside Connolly Station, along Howth Road through Clontarf, Killester, Raheny and Bayside to Sutton, Howth harbour and The Summit pub on the Ben of Howth. Buses run every 15 mins and take 50 mins, longer in heavy traffic. Bus 31 turns around at The Summit, while Bus 31A continues around the hill on Carrickbrack Rd to Shielmartin Rd, then turns back without completing the circuit.
From the
airport
, Bus 102 runs every 30 mins via
Swords
,
Malahide
and Portmarnock to Sutton station. Change there to bus, Dart train or walk to reach Howth.
By boat
Dublin Bay Cruises
sail daily to Howth from
Dun Laoghaire
(east pier) mid-March to September. They sail at 12:30, taking an hour, with views over Dalkey Island, Clontarf, Bull Island, Baily and Kish Lighthouses, Howth Head, Ireland's Eye and Lambay Island. The return sailing (from west pier) is at 15:30. An adult single is €25, but this includes a voucher to return by Dart train for only €2 if you don't sail back.
Get around

Buses 31 & 31A run through Howth as described above. Otherwise walk.

See
is nowadays mainly a leisure marina. There's a lighthouse at the tip of East Pier. At the end of West Pier there's an imprint of the footsteps of King George IV, who landed here on a visit to Ireland in 1821. (Yes, the cement was wet at the time, he was notoriously heavy but not that heavy.) In July 1914, 900 rifles were landed at Howth by Erskine Childers to arm the Irish nationalists; many were put to use in the Easter Rising and Anglo-Irish war.
(or St Mary's Abbey) is just a masonry shell within a cemetery. It dates back to 1235 though much modified over later centuries. Enter the cemetery from Church Street: the Abbey ruin itself may be locked, enquire locally about access, or just admire the setting with the old gravestones and views over the harbour and Ireland's Eye.

Howth CastleThe castle dates from 1450 but was extensively re-built by Lutyens in 1911. The castle estate or desmesne includes much of Howth Head, with the outlying areas (eg the clifftop walks) having free public access. It's set in Deer Park, an extensive parkland with rhododendrons and a golf course. In 2019 the estate was sold to an investment group, and the castle is closed for redevelopment as a hotel. The castle cookery school is also closed, but the golf course will remain open at least for 2019. It's not known what will happen to the Transport Museum here.

St Mary's Church of Ireland is an attractive little stone church at the castle gates, on Howth Rd west of the Dart station. It was built in 1866.
Dolmen Howth or Aideen's grave is a partly-collapsed megalith in the woods 300 m west of the castle golf club. "Portal Tombs" of this style were built until around 2500 BC, but Aideen is a mythical figure from around 3rd century AD.

address: Heritage Depot, Howth Demesne

Volunteer-run museum with some 100 vehicles, including the trams which formerly lumbered over the Hill of Howth. It's not known what will happen over the sale of the castle but the museum remains open in 2019. In any case it needs to find a better home, because the exhibits are tightly parked together, and Ireland's transport history deserves a better display.
The is an open area of three hills. The highest, topped by radio aerials, is Black Linn, 171 m (561 ft) so it's a "Marilyn". You can drive or walk up: Greenhollows Quarry is active, so this part is ugly, with heavy machinery churning the track. The other peaks are Shielmartin Hill (163 m) 1 km west, and Dun Hill 500 m northwest. Good views over Ireland's Eye and on a clear day you can see the aircraft landing and taking off at Dublin Airport.

Ireland's EyeA small uninhabited island north of Howth, reached by a 15-min boat ride. There are ruins of a Martello Tower and the 8th-century "Church of The Three Sons of Nessan". Just off the Eye are the islet of Thulla and "The Stack" at the northeast corner. Birdlife includes guillemots, razorbills, fulmars, gulls, gannets, cormorants and a few puffins. Grey seals may haul out on the rocks. There are no restrictions on access, but please avoid the cliffs (e.g. for rock-climbing) April-June during the main nesting season. In summer a couple of boat operators ply to the island and others make non-landing cruises around it, enquire at Howth harbour.
Do
Walk: a firm trail goes east of town along the cliffs all the way round to the south of the peninsula, passing Bailey Lighthouse. A complete circuit takes 3-4 hours.
- The lighthouse can also be approached by a 15-min walk from The Summit pub, but the lighthouse and its precincts are closed to the public.
- Inland trails loop over the hills, but you need stout boots and waterproofs, the "Bog of Frogs" route is well-named.
Beaches: at low tide a long sandy beach stretches along the north shore from Sutton to Howth Harbour. Dogs are welcome. The rising tide separates it into Burrow Beach to the west, Hole in the Wall in the middle, and Claremont Beach next to Howth Harbour. The far side of the harbour is Balscadden Bay, also sandy, then it's rocks and cliffs east of there. South tip of the peninsula is Jameson or Drumleck beach, small and not worth the extra distance.
Play golf at Deer Park by the castle, Howth Golf Club near the west shore, or Sutton Golf Club on Cush Point to the west.
Festivals and events
Dublin Bay Prawn Festival is held here in May. The next event is 15-17 May 2020.
Howth Tradfest is a traditional music and ballad festival. The last event was 5-7 July 2019, dates for 2020 are not yet confirmed.
Howth Jazz & Blues Festival may or may not happen in August 2019; the former "Howth Peninsula Festival" has folded.
Eat
Several small cafes & takeaways around the harbour.

phone: +353 1 832-0690

address: West Pier

Fine dining at the end of West Pier. Seafood restaurant with lunch and à la carte menus available.

phone: +353 1 839-5076

address: Howth Dart Station

Great seafood.

phone: +353 1 8324615

address: Thormanby Rd, Howth Summit

Good seafood at reasonable prices. Perfect for a stop after a hill walk.

phone: +353 1 832 5235

address: East Pier

Restaurant by the harbour serves freshly caught fish but is expensive. Also has rooms.

phone: +353 1 839 5188

address: Howth Dart Station

Cafe and restaurant, comfortable and child-friendly, with indoor and heated outdoor seating.
Drink
phone: +353 1 839 0307

address: 28 Abbey Street Howth

A welcoming pub with authentic fireplace and decent food. Occasional live music.
Sleep
Most visitors just day-trip from around Dublin, and there is limited accommodation.
Bed and breakfasts
phone: +353 1 832 2936

address: Kilrock Rd

Small friendly B&B south end of town off Nashville Rd.
Hotels
phone: +353 1 839-0000

address: 13 Sutton Cross, Dublin 13

Three-star hotel with its lawn rolling down to the shore of Dublin Bay. Facilities include a swimming pool, sauna, restaurants & bar. Close to the airport and Howth Village.
along the east coast is available for self-catering, June-Aug £1600 per week, shorter lets available Sept-May from £200 / night.
Stay safe
Howth is served by a
Garda
station, as well as having a lifeboat and coastguard station in the area.
Go next