Hradec Králové
Hradec Králové
is an attractive city in
East Bohemia
,
Czech Republic
.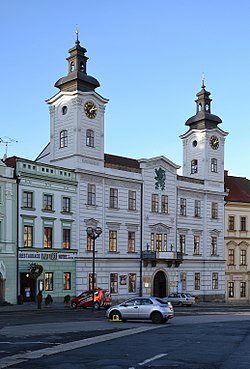 Understand
The city is in the centre of a very fertile region called the Golden Road on the confluence of Elbe and Orlice and contains many buildings of historical and architectural interest. The cathedral was founded in 1303 by Elizabeth, and the church of St. John, built in 1710, stands on the ruins of the old castle. During the 1920s and 1930s the city grew rapidly and due to many buildings of modern architecture Hradec Králové became known as the Salon of the Republic. This was a nickname given to it by citizens who were spellbound by the unique architecture of Josef Gočár.

Get in
Hradec Králové is connected by rail and a highway to
Prague
. It's a 1 hour 45 min trip by train but it is much cheaper and faster to go there by bus, esp. if you travel from the Cerny Most station of Prague when its just 1 hour 15 min, and costs around 100 Kč. It's 15 to 20 min from the rail station to the old town centre by foot or you can use public transport buses.
Get around

You can explore the old centre on foot. Pretty much the whole town can be taken on by foot but there are public transport buses available if you get tired or taxis.

See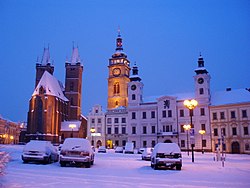 Katedrála svatého DuchaFounded in 1303 by Elizabeth Richeza of Poland, wife of king Wenceslas II, the cathedral is a late Gothic brick church with two towers.

address: Eliščino nábřeží 465

Church of St. JohnBuilt in 1710, it stands on the ruins of the old castle.

address: Velké nám

Modern art from the late 19th century in an Art Nouveau building, built as a bank in 1912.
Do
Since 2004, Hip Hop Kemp, one of the biggest European hip hop festivals, has been held every year in August.
Jazz goes to town, an international jazz festival, is held in Hradec Králové every October.
The city's museum holds one of the oldest surviving collections of Czech Renaissance polyphony, the Codex Speciálník manuscript.
Buy

The main shopping centre is the Futurum located outside the centre. Buses 1 and 2 will take you to it. But don't expect any local fare but just the regular international brands. There are only a few really local shops in the old town and near the railway station and adjoining areas