Hsipaw
Hsipaw
(Thibaw) is a town in Shan State in
Eastern Myanmar
.
Understand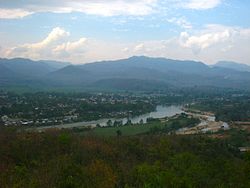 Get in
By rail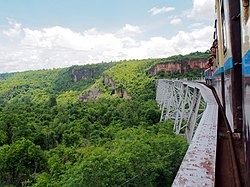 Every day, a train makes it laborious way up from
Mandalay
, via steep hills and a breathtaking gorge, to Hsipaw (and onward to
Lashio
). One of the 'must do' railway journeys of the world, the railway line between
Pyin U Lwin
and Hsipaw is a masterpiece of British engineering, designed primarily to bring trade (and thus control) to the Northern Shan State, an important ally of the British after the conquest of Upper Burma. The highlight of this journey is the
Goteik Viaduct
. A massive steel bridge stretching over a deep gorge. You get the best view of the bridge when sitting on the left side (Mandalay -> Hsipaw) or on the right, if travelling the other way around. The journey takes 11½ hr and costs ~4,000 kyat as of Jun 2019 in Upper class or a bit less in Lower class. However, Upper class is well worth the extra money, because you get very comfy seats, which are really helpful, because the train ride is really bumpy. Many travel the
Pyin U Lwin
(Maymyo) to Hsipaw section one way and return by road. The train departs Mandalay at 04:00 in the morning and arrives (according to schedule) at 14:40. Trains from Hsipaw to Mandalay depart at 09:30 and arrive 21:15 in Mandalay.
Lashio
is 4 hr from Hsipaw by train.
By pickup
Pickups leave early in the morning from Mandalay (6 hr, 500 kyat) or Pyin oo Lwin (4 hr, 300 kyat) for Hsipaw. It is a long and uncomfortable ride and not recommended unless you can get a seat in the front.
By bus
From Mandalay to Hsipaw (5,000 kyat non air-con), buses depart from Pyi Gyi Myat Shin Bus station. Ye Shin Express has two buses at 05:00 and 14:00. Duhtawadi leaves at 14:00. It takes about 5-6 hr. From Hsipaw to Mandalay leaves at 05:30 (6,500 kyat air-con, 4,000 kyat no air-con). The reliability of the buses seems to vary—ask around which is better.
For buses out of Hsipaw, the ticket offices for the two companies are on Namtu Rd across from Mr Food and, for the express bus, at the Shan Market. Buy your ticket on the previous day (your hotel will arrange one at no cost) and try for a seat towards the front of the bus and preferably not on the seat that folds into the aisle (the aisles are blocked for the journey). A bus journey to Lashio (800 kyat) takes two hours and buses leave early in the morning. Both bus companies will pick you up from your hotel, sometimes an hour before the bus leaves (buses leave at about 06:00), so you may find it better to walk to the bus yourself.
In Pyn Oo Lwin the bus ticket to Hsipaw costs 4,500 kyat and leaves from the Samya Restaurant (2 km north Mandalay-Lashio Rd, ask at hotel and reserve in advance.)
By shared taxi
Depending on availability (shared taxis run with at least three passengers). Between Mandalay and Hsipaw is 13,000 kyat and between Pyin Oo Lwin and Hsipaw about 9,000 kyat. 4 hours.
By private car
Approximate cost about US$100 for the round trip.
Get around

It is easy to get around walking or on a rented bicycle (500 kyat/day) or motorbike. Trishaws are available if you don't want to walk and taxis can be found on the Lashio Rd. Guest houses should be able to provide maps of the local area.

See
Bawgyo PayaA revered Shan pagoda. In addition to the usual complement of Buddhas, the pagoda also has some ancient statues of Hindu origin in the plaza outside.

Central MarketOne of the best markets to visit in all of Myanmar. Shans, Kachins and other tribals come here to trade regularly. Because so few tourists visit Hsipaw, the merchandise is primarily for villagers who go there to shop. Radios, spare parts, diverse foodstuffs and Shan clothing (trousers, hats, sandals) and the ubiquitous lyongi. The market begins and ends early, starting at 03:30 and is largely closed by 06:00.

Five Buddha Hill or Nine Buddha HillSunset watching.

Mahamyatmuni Paya

Shan PalaceThe Sawbwas of Hsipaw lived here. The last Sawbwa disappeared during the military coup in 1962 and the palace is cared for by his nephew and his nephew's wife. It was possible to visit parts of the palace but this is no longer possible since the nephew, Mr Donald (Sao Oo Kya), is in prison apparently for saying bad things about the military.

Nam Tuk WaterfallA nice water fall. Possibility to swim. It takes around 2 hr to walk from Hsipaw. Less if you take the bike to the start of the real path (near a monastery). On the path it's not possible to ride a bicycle. Very off the beaten path and relaxing. Less water during summer.
Do
Lying in a valley, Hsipaw is a good place for easy day hikes. There are few restrictions on moving around and, unlike in the Inle Lake region, you don't need to hire a guide.
Mr Charles organises half day boat trips and hikes to Shan Villages and nearby waterfalls, a good way to meet other tourists.
There are multiple agency offering guided tours like Mr. Bike or Ko Pee. Trekking options range from day hikes to multi-day treks, staying overnight a local home stays or tree houses. A popular and rewarding 2-day, 1-night trek leaves around 08:00, includes 7-8 hr of trekking through beautiful corn and rice fields before reaching a Shan/Palaung village where you will stay with a local family. Authentic local vegetarian food is included and you have the chance to experience traditional life with hardly any electricity. Bottled water and other drinks might be available to buy. The trek is rather strenuous as it will be very hot and involves hills (though this is not the Himalaya). A 2-day, 1-night trek costs around 35,000 kyat.
A 3-day, 2-night trek to Namshan is offered though tourist might not be allowed to go there due to armed conflicts (closed as of Oct 2014). Research beforehand and get permits in advance if needed.
Except for the usual trekking gear (good shoes, a hat, small backpack) no special equipment is needed.

Buy
Unless you're interested in Shan headdresses and clothes, there is not much to buy in Hsipaw.
Books can be bought at the shop run by Mr Book. It is always interesting to chat with him, and he can also arrange tours, but some recent unverified and anecdotal reports seem to indicate that he is not as forthcoming as before, possibly because of the dominance of Mr Charles in the Hsipaw tourist industry. Mr Charles also runs a book exchange in the lobby across the front desk where you can either buy a book or exchange one for another for a small fee.

Eat
Hsipaw has lots of food being cooked outdoors but few restaurants. On Namtu Road, across the bridge and toward the turn off for Mr Charles Guest House, several open air places serving freshly deep fried veggies in a batter (sort of like an Indian pakora or Japanese tempura). Very delicious. The market has several stalls that serve snacks (go well before mid-day) and Shan noodles, the main dish in the Northern Shan State, noodles in a sweet and spicy broth packed with meat and vegetables.
Maureen, an Australian woman married to a Shan, runs a café by the Dokhtawady River. Good coffee and conversation is available.
Mr Shake/Yuan YuanOffers freshly mixed juice according to the guests wish i.e. just name some fruits and he will mix it, including alcoholic ingredients. Guests may write down their very own recipe onto a board. The shake seemed to be safe. It has some food as well.

Mr FoodAlong with the usual Chinese and Shan fare, draught beer (700 kyat) is available.

Unnamed ShackServes Burmese food. No menu or sign but you'll recognise it by the big pots full of curries outside. The food is good but, since it is prepared in the morning, best to go for lunch.

The Club TerraceThe newer and fancier place on the riverfront, it has a stunning location and reasonable food.

A Kaung KyiteCheap local burmese food. Many side dishes with rice and refills.
Drink
Black House Coffee ShopThe first place to open on the riverfront, it is a café plus a concrete area for watching the river. Coffees are not great but the beer is cold and cheap. Only a few snacks are available for food. Probably suffering since the fancier place opened next door but still might be the choice for a cheap drink.
Sleep
There are only a handful of choices for accommodation in Hsipaw. They are all decent and clean. The cheapest, Nam Khae Mao, also has the best facilities, yet for some reason the backpackers flock to Mr. Charles, where the staff are unhelpful and the facilities lacking. Mr. Kid's is probably the friendliest of the bunch and the closest to the railway station. If you arrive via night bus, employees from a few of the guest houses will meet you upon arrival to persuade you to accompany them to their guesthouse.
Mr Charles Guest HouseA bit cold and inhospitable. The older wing is popular with backpackers, the huge balcony may be a bit noisy but talking loudly is prohibited from 22:00. Walls are rather thin. While the new wing is quieter it is more expensive at around US$30 for a single and geared towards tour groups. They can arrange bus tickets, share taxis, hikes, trips to Namshan. Wi-Fi is available, and there is an Internet Café next door. Free daily pick up from the train station (Mandalay-Hsipaw train).

Mr Kid Guest HouseVert homey atmosphere, the family is incredibly hospitable, and a cup of tea is always available. Breakfast not included. Western-style toilet.

Nam Khae Mao Guest House / Lily The Home

phone: +95 82 80077, +95 82 80088, +95 82 80316

address: 134 Bogyoke Rd

Collection of 3 guest houses located near each other. Clean and the staff friendly. Can arrange collection from train station, bus tickets, shared taxis, treks and motorcycle trips. Free Wi-Fi, with PC access costing 500 kyat/hr. 24-hr hot water.

Red Dragon Hotel

phone: +95 9258910822, +95 93 3036700

address: Mahaw Gani Street

A newer hotel with small budget (shared bathroom) rooms as well as nicer, more spacious (en-suite) standard rooms. They can arrange bus tickets, taxis, bicycle rental, and tours. Wi-Fi and breakfast included. Laundry and luggage storage available. 24-hr reception and free morning pick up from the night bus drop off point (Inle-Hsipaw bus). Discounts are offered in the low season, but are only offered to walk ins (from US$12). Pre-booked rooms are considerably more expensive (US$20-30).
Stay healthy
There's a small local government run
Hospital
in Hsipaw. It has the most basic medicine and an English-speaking doctor. However, for bigger emergency it's best not to rely on this hospital.
Connect
There are no international dial facilities in Hsipaw. Several stores and call booths offer local and domestic phone service. The office of the telephone utility is by the Shan Palace, but is rarely open and is unlikely to offer international direct dial calls.
Memory Computer Training CenterLike most places in Myanmar, the speed is on the slow side. Try getting there in the afternoon, as fewer people are there.

Net City Internet CafeInexplicably refuses to give foreigners access to Wi-Fi, despite having four separate signals available. They claim that Wi-Fi use is reserved for those with monthly membership, but probably has more to do with the proximity of Mr. Charles, whose untoward business practices are well-known. Staff are decidedly unpleasant.
Go next
Lashio – A trading town replete with modern Chinese hotels, Lashio is the last stop on the way to China.
Kyaukme – A small and pleasant town on the road from Pyin U Lwin to Hsipaw, Kyaukme is an excellent base for trips to Shan villages.
Namshan – About 80 km up in the mountains is the Golden Palaung village of Namshan, the furthest one can get in the mountains and spend the night without an organised tour or guide. The easiest way to get there is to hire a bike and ride pillion (around 15,000 kyat for a two day trip) or hire a pickup (30,000 kyat) from Hsipaw. Mr Book can help organise transport and recent reports suggest that Mr Charles organises tours to Namshan from his guesthouse. In Namshan there is no official place to stay but a couple of places let you sleep on the floor (blankets and sheets provided). As of July 2019, access seemed to be restricted.