Hua Hin
Hua Hin
(หัวหิน) is a seaside resort city of about 50,000 residents (2012) in
Thailand
. 195 km from Bangkok, it is popular with Thais, having become quite fashionable as a weekend getaway spot for
Bangkok
residents, with foreigners, and as an expat retirement or holiday home location.
Although it is developing rapidly, there is a commitment by the local and provincial authorities to avoid the kind of overheated blight that has affected other beach resorts in Thailand.
Understand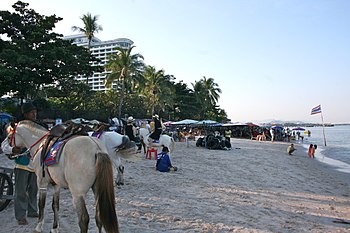 Popularised as a resort in the early 1920s by King Prajadhipok, Hua Hin is closely associated with the Thai royal family and is a quiet and relaxing seaside resort ideal for family vacations, a reasonable 2½ hours' drive down from
Bangkok
. Until 1934, it was known as Samore Riang (สมอเรียง), or "rows of rocks".
The tranquil fishing village was turned into a royal resort and consequently became popular among Siam's nobility and upper classes. In 1928, Prajadhipok built his
Klai Kangwon
("Far from Worries") Palace. As of 2018, Klai Kangwon is a summer residence of the king and is not open for visitors, although the outer palace grounds are open for walkers and joggers from 16:00 to 19:00 daily (wear shoes, have sleeved shirts that cover at least your upper arms and bring your passport).
The 6-km-long beach is pretty and relatively clean, more so than
Pattaya
's, and the cleanliness of the sea is rated "fair". However, most of the beach can completely disappear along certain parts of the coast during high tide. Besides just sunbathing, snorkelling and swimming, visitors can also enjoy golf, spas, caves, peaks, waterfalls, shops, seafood, and nearby national parks. The town is clean, friendly, and laid-back, making it ideal for families and couples.
Tourist information can be found from the corner of Petchkasem Rd and Damnerkasem Rd (Soi 76), quite close to the railway station.
There is also a tourist information centre near the clock tower in the centre of town, which is right next to a Starbucks for those of you requiring a caffeine fix. This is also where many minivans stop to offload and pick up passengers, even though it is not the official bus station, and consequently is an easy place to find a motorcycle taxi or tuk-tuk.
The town of Hua Hin cannot be called scenic. Aside from the beach, the grounds of posh hotels, and the several blocks west of the Hilton Hotel, there is no place to stroll in Hua Hin. The town lacks a central square or focal point. Like most Thai towns, Hua Hin is a nightmare for pedestrians and impossible for those with physical disabilities, the blind, or those confined to a wheelchair. Signage and other obstacles impinge on sidewalks, where there are sidewalks, every few metres. Phetkasem Road, which divides the town into two halves, is a virtual racetrack, with few concessions like crosswalks for those on foot or bicycle lanes for cyclists.
Orientation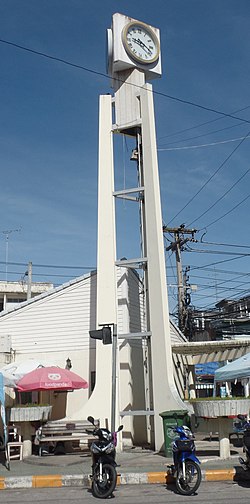 Hua Hin has no real "centre". A clock tower on Phetkasem Road serves as a
de facto
transportation node, where minivans from the north arrive and minivans to the south depart. The tower is just north of Soi 61.
Phetkasem Road bisects the town, leading to Cha-am in the north and Prachuap Khiri Khan in the south. Roads perpendicular to Phetkasem on the inland side are even-numbered sois. Those on the sea-side are odd-numbered. The numbers do not match up across Phetkasem. For example, Soi 61 leads to the central seaside area around the Hilton Hotel. The same street on the other side of Phetkasem is Soi 76. It leads to the railway station. At the northeast corner of the Soi 61/Soi 76 intersection you will find the tourist information centre. Behind it is the central police station. Across the street from the police station is a post office. Continuing down Soi 61 to the beach is the office of the Tourist Police.
Climate
Hua Hin has a tropical climate with high humidity and occasional rain. It is typically pleasant however, and can be enjoyed year round. Generally, the best time of the year to visit Hua Hin is in the cool season from November to February, but for those who like it hot, then the hot season is from March to May (when the temperature can well exceed ). The rainy season (although it doesn't rain every day) is from June to October with September being the rainiest of all. The rain in Thailand usually comes in short sharp bursts. It doesn't usually drizzle for long periods of time.
Environment
The quality of the waters of the Gulf of Thailand off central Hua Hin were rated "fair" in 2015 by the Pollution Control Department. But, the report noted that "... the main tourism areas, namely Cha–Am Beach... and Hua Hin Beach... should be consistently monitored, since enterococci (fecal) bacteria levels exceeded the standard...."
One of the first things a visitor to Hua Hin notices is the blizzard of signage. Evidently anyone can put up a sign. Hotels and other commercial enterprises design their signs to look like official signage. They and every other type of sign imaginable degrade the environment and contribute to its ugliness. Town officials do not enforce existing sign ordinances.
Get in
By train
Hua Hin Train StationTrains are an easy way to get to Hua Hin, as the train station is right in the centre of Hua Hin. However, the trains go very slowly getting away from Bangkok, so the 2½ hr road time to Hua Hin can stretch to five or six hours on the train. The price of the train is around 100 baht (and only 44 baht for ordinary trains). Most trains on the southern route stop at Hua Hin. They leave Bangkok's Hua Lamphong and Bang Sue railway stations 10 times daily between 08:05 and 22:50. Generally, it takes four hours for the journey. As of 1 February 2017 tickets may be purchased on-line.
By bus
The main (BKS) bus station is south of the centre of town on Phetkasem Rd just south of Soi 96. This is some 3 km south of town centre. A tuk-tuk there costs ~180 baht, motorcycle taxi from the Hilton Hotel area, 60 baht. This bus station is for conventional buses which go to Ubon, Korat, Chiang Mai (850 baht), Surat Thani, Phuket, and points further south. The BKS ticket office is open daily from 06:00-24:00.
Coaches from Hua Hin to Pattaya and Suvarnabhumi Airport operated by the Roong Reuang Coach Company depart from the Roong Reuang Coach Terminal (Jan 2017). The terminal is 7 km north of town centre, near the Hua Hin Airport on the sea side of Phetkasem Road.
Local, non-air conditioned buses to Pranburi depart from the road adjacent to the fresh market in town center. BKS buses go to the BKS Station near Soi 96 on Phetkasem. Stop the bus at any point prior to this if you want to get off. The clock tower on the left (coming from Bangkok) is the effective town "centre" (keep your eyes open as it is easy to miss).
Bangkok to Hua HinFrom Bangkok: regular buses to Hua Hin leave from the Sai Tai Mai terminal and take around 3½ hr. The price (1st class) is under 200 baht. From BKK to Hua Hin, regular bus departures: 07:30; 09:30; 13:30; 16:30; 18:30. Ticketing/boarding location: at Hua Hin Counter (Level 1, Gate 8). Fare: 305 baht. Drop-off points: 1. Hua Hin Bus Station 2. Bus stop in front of Bangkok Bank in Cha-am
Sombat TourHas buses that leave the Northern Bus Station (Mo Chit) at 06:00; 08:20; 14:20; and 18:30. Travel time is ~3½ hr.
Hua Hin-Pran Buri Tour

phone: +66 32 8846191-2
Bang Saphan Tour

phone: +66 32 4355105, +66 32 8848895
Bus Southern Terminal

phone: +66 32 4351199, +66 32 4355605, +66 32 4347192
phone: +66 32 514 3878

Regular bus departures daily from the main (BKS) bus station at 09:00; 12:00; 13:30; 15:00 and go to Mo Chit station in Bangkok. Ticketing: Hua Hin Soi 96/1 (Sombat Tour). Travel time is ~3½ hr. Boarding locations: 1. Hua Hin Bus Station 2. Bus stop in front of Government Savings Bank at Cha-am intersection. Fare: 155 baht. Mini-vans arrive and leave from the mini-van station on Soi 51.
Hua Hin-Chiang Mai-Hua HinFrom Chiang Mai: Sombat Tours has 3 buses per day, at 08:00, 18:30, and 19:00. The journey takes ~12 hr. To Chiang Mai: first-class bus daily at 18:00 (735 baht); VIP buses at 17:30 and 18:15 (980 baht).
Hua Hin-KrabiAt least one bus a day departs at 22:00 from the bus station south of city centre. VIP passage to Krabi is 855 baht (Jan 2016). Travel time is approximately 9 hr.
Hua Hin-Pattaya-Hua HinRoong Reuang runs a daily bus (starting 1 December 2015) from the Pattaya Air Conditioned Bus Station on N Pattaya Road to Hua Hin/Cha-am. Departure is at 11:00. Drop-off points are the Cha-am intersection (in front of Government Savings Bank) and the Roong Reuang Coach Terminal. The journey takes 5-6 hr including a stop at Suvarnaphumi Airport (BKK) en route.
The bus from Hua Hin to Pattaya leaves Roong Reuang Coach Terminal daily at 11:00, stopping to pick-up passengers in Cha-am in front of the Government Savings Bank at 11:30. Drop off in Pattaya at the Pattaya Bus Station on N Pattaya Road. Duration is 4-5 hr. Tickets may be purchased at the Bell Travel website.}}
Hua Hin-PhuketGreen Bus has a service that departs the BKS Bus Station in Phuket at 08:30, arrives Hua Hin at 17:30. Super comfortable bus.
Hua Hin - Suvarnabhumi Airport (BKK) - Hua Hin

address: Roong Reuang Coach Terminal

Bell Travel Service is the HH agent for the Roong Reuang Coach Company that provides an air conditioned VIP 23-seat coach service between Hua Hin/Cha-am to Suvarnabhumi Airport to Hua Hin/Cha-am. Travel time is 3 hours. Buses depart the Roong Reuang Coach Terminal (near the airport) at 06:00, 07:00, 08:00, 09:00, 10:00, 11:30, 12:00, 13:00, 14:00, 15:00, 16:00, 17:00, 18:00. The bus stops for passenger pick-up in front of the Government Savings Bank in Cha-am. From BKK, Cha-am passengers will alight in front of Bangkok Bank, Cha-am.
Buses from BKK to Hua Hin depart at: 06:30, 07:30, 08:30, 10:30, 11:30, 12:30, 13:30, 14:30, 15:30, 16:30, 17:30, 18:30, 19:30. BKK bus counter is on Level 1 near Gate 8.
Hua Hin-IsaanShinnakeart Korat Bus Company has daily buses to Surin and Ubon departing at 18:00 and 20:00; to Buriram and Ubon at 19:30 and 22:30; and to Korat at 08:30, 10:00, and 21:00.
phone: +66 38 967 965-7

address: Cha-am Soi 82

Yellow Bus runs routes to and from Hua Hin/Cha-am to the northeast (Surin, Yasothon, Mukdahan), to Ko Samui, to Phuket, and to Rayong (Pattaya). The ticket office at the terminal is open from 08:00-13:00 and 15:00-18:00. The Yellow Bus website says there is a Hua Hin ticket office across from Bangkok Hospital, but it cannot be found.
By mini-van
Hua Hin Bus TerminalHua Hin's northbound minivan services leave from a minivan station on Soi 51. The sign posted in front confusingly calls it the "Hua Hin Bus Terminal". Minivans leave and arrive frequently from points north, none heading south. Arriving at the station you will see 11 ticket windows representing 6 mini-van companies.
Go to the ticket window indicated for travel to the following destinations:
Cha-am
;
Phetchaburi
;
Mahachai
: Ticket windows 1-2-3-4-5-7-10-11
Bangkok (Southern Bus Station-Pinklao): 1-2-3-5-10
Bangkok (Mo Chit 2 Bus Station): 2-7-11
Bangkok (Ekkamai Bus Station): 4
Nakhon Pathom
: 8
Kanchanaburi
: 9
You are not obliged to ride to the final destination. Those going to Bangkok can ask to get off at a BTS (Skytrain) or MRT (Metro) station en route.
Southbound Minivans

address: Clock tower, central Hua Hin

Minivans heading south to Prachuap Khiri Khan, Chumphon, etc., originate and stop at the clock tower in central Hua Hin between Sois 57 and 59. It does not appear to be a minivan station, but you will find someone selling tickets by the motorbike taxi hangout.
By taxi
Taxi service from Hua Hin to Bangkok (a distance of about 200 km) is widely advertised and available. Price after negotiation should be around 2,000 baht. Limousine service, available at Bangkok Airport, is more expensive.
Taxis are bookable via agents around town. Many can be found along Phetkasem Rd, especially around Market Village or downtown. Taxis to or from Pattaya are around 3,000 baht.
By ferry
phone: +66 38 488 999, +66 98 625 9949

A passenger-only ferry service, Hua Hin-Pattaya-Hua Hin, started January 2017. The service is operated by Royal Passenger Liner Co, Ltd. It operates three catamarans, each accommodating up to 346 passengers. The ferry leaves Hua Hin once daily at 16:00 (October 2019), arriving in Pattaya at 18:00. From Pattaya it leaves at 13:00 daily, arriving Hua Hin at 15:00. The 116 km journey takes ~2 hr. Passengers are discouraged from leaving their seats during the voyage and are not permitted on deck. The reason to take the ferry is to save time, as the excellent 24-passenger bus service between Hua Hin and Pattaya takes 4-5 hr, but only costs 389 baht and offers more leg room. The ferry company is extra cautious: the ferry will not sail in stormy weather. Passport or Thai drivers license is required.

Hua Hin to Ko Tao, Ko Pha Ngan, Ko Samui

phone: +66 32 532 762

address: 85/7 Phetkasem Rd

Loomprayah runs ferries to and from the three best-known Gulf of Thailand islands. Excellent website. Example: in low season 2019 Lomprayah offers transport to Ko Tao for a low season fare of 950 baht per person, departing Hua Hin at 23:30 by bus, arriving Ko Tao by ferry at 08:30.
By plane
Hua Hin AirportAs of December 2018 has one scheduled flight, AirAsia to Kuala Lumpur (). Flights depart KUL on M W F Su at 10:05 and arrive HHQ at 11:10. The aircraft then returns to KUL, departing HHQ at 11:40, arriving KUL at 14:35. Green songthaew makes a U-turn at main road near airport and goes to the centre. Taxis from airport can cost up to 300 baht. Alternative is to walk 300 m north to RRC bus station that offers 100 baht shuttles.
Get around
Most visitors rely on the regular green songthaews that run up and down Phetkasem Road all day at about 10-minute intervals. Fare is 10 baht. Their northern terminus is the fresh market in town centre; in the south they turn about in Khao Takiap. Songthaews service Phetkasem north of the central market, but with less frequency.
There are many motorcycle taxis and tuk-tuks, fewer car taxis. Negotiate prices beforehand. You will not get a tuk-tuk for less than 100 baht over any distance (unless you are lucky) if you are a Western tourist. Settle on a price before hiring. You may also be able to find samlors (rickshaws) in town centre. Motorcycle rentals are readily available, for 150-200 baht per day, seasonally variable. Hua Hin is flat, and bicycling is a good way to get around. Rentals are available, also from hotels, but are not as prevalent as motorbikes.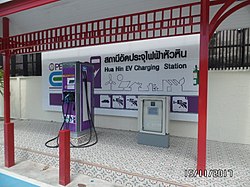 EV charging station, Hua Hin Provincial Electricity Authority

phone: +66 32 512 215

address: 2/7 Phet Kasem Rd

If you have hired an electric vehicle you will find that charging stations are uncommon. There is one here. It's an ABB charger with Menekes Type 2 plug, CHAdeMO, and CCS, all non-networked. There is also a dual home-style outlet for 230 V AC charging.
See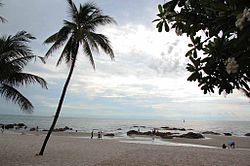 There is only one, long beach:
Hua Hin Beach
(ชายหาดหัวหิน
Hat Hua Hin
). This runs from the Hilton Hotel six kilometres south to a headland where a Buddhist temple clings to the rocks. Fine white sand, resort hotels and many water sports opportunities lend the resort its distinctive ambiance. At the south end of town, the hill of
Khao Takiab
interrupts the beach. On the other side is a lovely swimming beach with a view of Khao Takiab's south face. Just a little further on, Suan Son Beach is owned by the Thai army but is open to the public. Notable for the tropical sea pines lining the shore.
Parts of the beach closer to the town may have greenish water, in this case continue walking down the beach where the water appears cleaner. There is an ample supply of deck chairs along the beach, although many places charge around 100 baht for their hire. Deck chairs that are part of a beachside cafe may be free, on the assumption that you will buy food or drink.
Hua Hin Arts and Crafts CentreIt has a collection and exhibition of works of contemporary Thai artists, as well as old furniture and many pictures of Hua Hin in the past.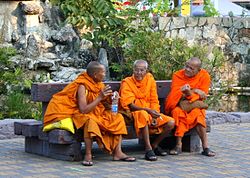 Hua Hin Railway StationThis is Thailand's most beautiful train station of which the local people are very proud. The wooden building used to be a royal pavilion in Sanamchan Palace, Nakhon Pathom Province. It was rebuilt in Hua Hin in 1968.
International Cricket SixesHeld at the Dusit Hotel, the dates change each year, but the event coincides with the Thai holiday of Songkran and the Easter holiday in April.
Khao TakiapAn imposing hill with Buddhist temples and a commanding view of the resort, particularly early in the morning. A local bus service runs from Hua Hin to Khao Takiap. Khao Takiap is one of the highest areas in Hua Hin. From the top, you will see Hua Hin and also nice beaches.
Klai Kangwon Palace

phone: +66 32 511115

King Rama VII commanded the Klai Kangwon Palace to be built in 1929. This Spanish-style summer palace faces the sea and dominates an extensive ornamental garden. It is where the Thai royal family still customarily spend the hottest months of the year, which are usually Mar-Apr. The palace is open to the public when the royal family is not in residence.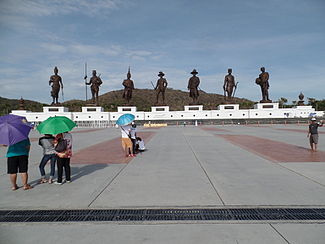 Rajabhakti ParkRajabhakti (pronounced rat cha pak) Park is meant to honor past Thai kings from the Sukhothai period to the current Royal House of Chakri. It was built by the Royal Thai Army, with funds donated by the public and private sectors. Princess Maha Vajiralongkorn and Princess Bajrakitiyabha officially opened the park on 26 September 2015.

The park covers a total area of 222 rai, or . It consists of three main sections. The first section, covering an area of five rai, or , features the giant statues of seven kings, whose achievements are well-recognized. The seven kings made great contributions to the country in each period of Thai history. They include King Ramkhamhaeng (1279-1300) of the Sukhothai period, King Naresuan (1590-1605) and King Narai (1656-1688) of Ayutthaya period, King Taksin (1767-1782) of the Thonburi period, and King Rama I (1782-1809), King Mongkut (1851-1868), and King Chulalongkorn (1868-1910) of the Rattanakosin period. Each statue is made of bronze, with an average height of 13.9 m. They were designed by the Fine Arts Department.

The second section is a multi-purpose plaza, covering 91 rai, or . It will be used for major ceremonies, performed by the Royal Thai Armed Forces, such as military parades, and for welcoming foreign dignitaries

The third section includes a museum featuring Thai history, especially the biographies and achievements of the seven kings, from the Sukhothai to the Rattanakosin periods. The museum is at the base of the statues.
The Hua Hin Championships is a tennis tournament held in November that is part of the men's ATP Challenger Tour along with a women's tennis tournament that is part of the WTS 125K series. These two events are part of the second level of the official men's Association of Tennis Professionals and Women's Tennis Association systems. These worldwide events allow the best lower-ranked tennis players not yet eligible for the ATP World Tour or the WTA Tour to advance their standing. On court you will see playing professional tennis players from the region, in this case Asia and Australia/New Zealand.
Nature
Khao Hin Lek FaiKhao Hin Lek Fai, or Flint Mountain, is 162 m high and is accessible by a road. On the mountaintop, there is a public park and scenic spots from where the scenery of Hua Hin and its surrounding area can be seen.

Khao TaoBungalows available.

Namtok Pa La-u

phone: +66 32 459293

An 11-tier scenic waterfall in a perennial forest in Kaeng Krachan National Park. Visitors can take a songthaew from Hua Hin to this waterfall. The best time to visit is from Nov-Apr. Camping in the park is permitted, and a tent can be rented at 250 baht per night.
Sam Roi Yot National ParkWith an area of 98 km², it is renowned for its limestone mountains, mangrove swamps, beaches, and several species of local and migrating birds during the cool season. There are many ridges with the most popular being Khao Sam Roi Yot with 300 peaks.
Some attractions in the park:
Spirit Houses of Brassiere BeachAccording to Thai folklore, spirit houses were built to appease the spirit of a fisher's daughter who was once torn to pieces, with her breasts falling into the sea. She was killed because she was desired by too many men. To this day, the locals hang bras on the spirit houses to bring good luck.
Hat Laem SalaA beach. The well-known cave, Tham Phraya Nakhon, has a large hole in it so sunlight shines through, and this allows plants to grow. There is Phra Thi Nang Khuha Kharuhat in the cave which is a Thai-style pavilion. It was first built during the reign of King Chulalongkorn before being dismantled and reconstructed here. You can hike approx. 1h to the cave directly from the parking lot (you will be offered a boat for 400THB which saves you about a third of the hike). There is a viewpoint on Khao Daeng which is 400 km from the park office and Ban Khao Daeng. The latter offers boat trips to watch wild birds (a boat trip means that a bored local drives you around and doesn't say much).
Hat Sam PhrayaA lovely beach with a line of pine trees. Accommodation available.
Tham KaeoA cave with an abundance of stalactites and stalagmites. Oil lamps can be rented at the nearby village to aid in exploring the cave.
Tham SaiA cave which can be explored, and oil lamps can be rented in the nearby village.
Further afield
Dan SingkhonIn Khiong Wan sub-district, the Thai-Burmese border pass.

Khao Hin Thoen Stone ParkThere are nice narrow walks leading out to a wide rocky landscape on a mountain top with scenic views of the town.

Ko SingtoNamed after its shape. It is a popular island for diving and snorkelling, and offers visitors the chance to explore the Hua Hin and Khao Takiab shorelines.

Wa KoThis beach has been of historical importance since the reign of King Mongkut when he viewed a full-moon eclipse there. A long atmospheric sandy beach fringed by pine trees.

Suan Son Pradiphat BeachNice beach, owned by the Thai Army.

Wat Huay MongkolWas home to the immensely popular monk Luang Pu Thuat, famed for his "miracles". Commissioned by the Queen of Thailand, Wat Huay Mongkol houses the largest statue of Luang Phor Thuat in Thailand in a park-like setting.
Do
Festivals
Hua Hin Jazz FestivalThe popular event attracts world-class jazz musicians from Thailand and all over the world. Annually, in June.
Date for 2018 : 17 - 19 May

Hua Hin Vintage Car RallyHoteliers, the Vintage Car Club of Thailand, and the Tourism Authority of Thailand annually sponsor a parade of vintage and classic cars starting at the Sofitel Central in Bangkok and ending in at the Sofitel Central Hua Hin Resort. The cars, with drivers and passengers dressed in 1920s attire, make the 225 km promenade in December every year. The festivities culminate with a 1920s party at the Sofitel, which appropriately is a Victorian-style structure built in the 1920s.

Thailand International Kite FestivalHelf during Mar-May every other year and features stunt kites, big kites, little kites, high-tech kites, traditional Thai kites and displays of international kites. Visitors also enjoy a variety of opportunities for shopping, sightseeing and simply having a good time.
Golf
Hua Hin and its surroundings are a golfer's paradise with at least seven courses within a 30 min drive. There are also two brand new golf courses under construction. Most courses offer transportation to and from the course. The town hosted its first Asian tour event in 2009 at the Black Mountain course, while other first class courses in easy reach include Majestic Creek, Royal Hua Hin, Banyan, Palm Hills, Lake View, and Springfield. There are several driving ranges.
phone: +66 80 891 4973

Book tee times for every golf course in Hua Hin.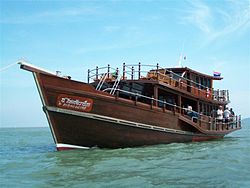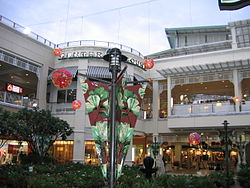 Massage
Traditional Thai massage is aimed mostly at extracting money from your wallet. Claims for its holistic approach to health by enhancing physical, emotional, and spiritual states are mostly hogwash. The majority of massage places are fairly dumpy except at the high end, do not have soothing background music, nor the scent of Asian incense.
There are over 200 massage shops in Hua Hin. Most have identical prices. Most hotels in Hua Hin offer massage services. On Petchkasem Road next to the Golden Palace and the Royal Palace one can be massaged by good, professional blind masseuses. This is a royal sponsored project, although little English is spoken.
Massage prices in the tourist area near the Hilton Hotel average about 300 baht per hour. Massage shops in the town proper are cheaper for equivalent massage, as low as 200 baht per hour.
Thai Massage for Health by the Blind

phone: +66 81 944 2174

Traditional Thai massage, oil massage, foot massage, herbal massage.
Mountain biking
Wall Ride DH Track

phone: +66 89 201 7782

Smooth, flowy yet technical downhill single track constructed by local aficionados.
Spas
Spas in Hua Hin offer treatment suited to a range of budgets. Treatments includes both traditional remedies and modern techniques. Facilities at spas in Hua Hin may also include a Jacuzzi and steam bath.
Many spas in Hua Hin also offer traditional Thai healing treatments. There is also alternative treatment such as Reiki. Resorts offer many detox programs. The most popular treatments are chi organ massage, karsai genital detox massage, deeper skin detox, and herbal skin detox.
Other
phone: +66 32 900 971

address: 69/19 Soi Moo Ban Khao Tao

On Hat Sai Noi, one of the nicer little beaches in the area. Charming resort. Offers an attractive package for day-trippers: 300 baht per adult, 150 baht for kids 4-12 for use of the pools, a couple free drinks, towels, Wi-Fi. Shuttle from Market Village to hotel and back four times daily. German-run and it runs like clockwork. Restaurant on premises and two others adjacent. Free Wi-Fi. Hotel guests get free breakfast for two, welcome drink. Pet friendly.
Elephant camps and trekking can be found just west of town.
Fishing and eco-cruises can be done both at sea and inland.
Fitness and martial arts can be practiced either in gymnasiums around town or in the top hotels.
Karting can be enjoyed at the karting track near the airport. The 700 m circuit has a banked curve for speed, floodlighting, beer garden, and catering.
Kite-boarding is a popular in Hua Hin. There are several schools giving lessons and tuition with equipment for hire. Conditions are good from Jan-May as thermals blow in the afternoon at 14-20 knots. The water is shallow, can be choppy and has a beach break. Hua Hin has very good kite boarding conditions with shallow, warm waters. There is a northerly east wind from October–January with wind ranging from 15–25 knots. From February–May Hua Hin has a southerly thermal wind that gusts to 15–20 knots in the afternoon. There are good conditions for kite surfing in both of these seasons.
Pony rides on Hua Hin beach
Walking and cycling are popular in Hua Hin thanks to the mostly flat terrain and clean gulf air.
Water sports in Hua Hin include swimming, banana boat rides, water skiing, jet-skiing, sailing, windsurfing, para-sailing, kayaking, snorkelling and scuba-diving.
Learn
Thai cooking
A few Thai cooking schools have sprung up in Hua Hin where tourists can learn the art of serving up their favourite Thai dishes such as pad Thai (Thai-style fried noodles), tom yum kung, Panang curry with beef and chicken and cashews. Courses vary in length from just a single day to a few. Courses are available at most of the large hotels. Ask around.
Thai language
TLC: The Language & Culture Training Centre

phone: +66 32 533 428

address: 83/14 Phetkasem Rd, Suite 302-303

TLC offers English and Thai language classes, either individually or in class settings. Assistance with educational visas is offered.
Buy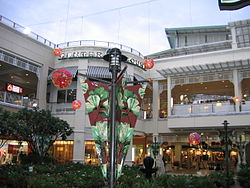 Shop at the
night markets
. Things that you can buy range from T-shirts to antiques. A T-shirt will cost you around 300 baht. It is also a great place for contemporary art handicrafts, hand-woven printed cotton, silk fabric, silk weaving, embroidery, baskets, pottery, wood carvings, gemstones, and jewellery (including sapphires and rubies). Haggling is mandatory to get the best prices possible.
There are two night markets. The better known is in the middle of Hua Hin, and is rather tourist-oriented. The one the Thais favour is known as the
Grand Market
because its in the parking lot between Grand Hotel and San Paulo Hospital. It is more diverse and interesting, but does not operate M-Tu. For local handicrafts, the
Hua Hin Bazaar
, about 100 m west of the beach, should be your first stop.
Only on Tuesdays is the
Pae Market
near the Royal Hua Hin Golf Club. It's a good place to get the feel of a traditional Thai market.
Cicada MarketOpen-air market at the south end of Hua Hin.

Golden Place

phone: +66 32 514 400

address: 5/15-16 Phetkasem Rd

Small shop that focuses on product from royal projects (it is adjacent to one of the monarchy's palaces). See a limited selection of meats, and vegetables, but lots of fruit and Thai snacks of every description. The cosmetics section is great: no Western name brands, just lots of herbal products made in Thailand. Small wine and beer selection and every other kind of drink. Salad bar. Great to visit just to wander around and see the unusual offerings. Prices are reasonable.

Hua Hin Ham Bacon & Meat Company

phone: +66 32 513 144

address: 2/38 Soi 41

British-run makers of hams, bacon, sausages, pies, burgers. Importers of beef, lamb, pork, fish, veg, grocery items. Their products are sold in many of the shops catering to Westerners in Hua Hin and beyond. Their spotless little shop sells all their meats and pies, as well as a good selection of British and continental foods ranging from pickled eggs to Bisto to olive oil. During holidays you can order cooked turkeys, hams, and other seasonal meats from them.

Nightly Street MarketA great place to eat. There is a market devoted primarily to tourist shops along Dechanuchit Rd. This is a favourite venue for shoppers, with opportunities for shopping, enjoying seafood cooked on the spot and glimpsing local lifestyles.

phone: +66 32 511 272

address: 226/3 Phetkasem Rd

Combination grocery/electronics-home appliance store. Food portion has restaurant, bakery, and lots of take-out prepared foods. Good salad bar and prepared meals. No alcohol.

phone: +66 32 532 100

address: 218/1-4 Petchkasem Rd

This Westerner-oriented supermarket chain has 32 stores throughout Thailand. This is one of two in Hua Hin. Imported and Thai foods. Has extensive frozen foods, liquor, and a butcher shop. Prices seem to be higher than at Hua Hin Shopping Mall (cheapest), and Gourmet Market (in Bluport).

address: 17/139 Soi Moo Baan Borfai

This Westerner-oriented supermarket chain has 32 stores throughout Thailand. This is one of two in Hua Hin. Imported and Thai foods. Has extensive frozen foods, liquor, and a butcher shop. Prices seem to be higher than at Hua Hin Shopping Mall (cheapest), and Gourmet Market (in Bluport).
Bookstores
The Blue and Yellow Book Exchange

address: 114/23 Phetkasem Rd

Small shop chock full of (disorganized) paperbacks in major European languages. Mostly vacation fiction (Jack Reacher; Clive Cussler). Not cheap. Will accept exchanges for credit.
Computers
phone: +66 32 520 177, +66 86 600 6694

address: 60/22 Soi Mooban Bohfai

The best computer shop in Thailand? Mostly mail order, but can turn orders quickly. Orders can be picked up on premises. Excellent support in excellent English. Highly recommended.
Foreign exchange
Twelve Victory Currency Exchange

address: Market Village

Three locations in Hua Hin: this one in Market Village, one near the Hilton Hotel, one at Bluport. Fast and friendly service. Make sure you have your passport.
Shopping centres
Bluport Hua Hin Resort MallHua Hin's latest shopping centre, opened in October 2016. Shops, banks, restaurants, cinemas, impressive supermarket with many Western items. The shops here are little more than kiosks for name brand merchandise at full list prices attended to by bored salespeople. Except for the cinemas and the supermarket, you may be better off at Market Village, down the road towards town centre.

Hua Hin Shopping MallThis place is inaptly named. It does not look like a shopping mall, but it is a collection of small vendors selling clothing, watches, shoes, and also a largish supermarket. It's not slick at all, just a Thai supermarket and jumble sale right in the centre of town. Shopping there is a blast, as you never know what you will find next. Not much for vegetables, and the meats are frozen, but a good assortment of packaged Thai and Western foodstuffs. Prices probably the lowest across the board of all the supermarkets listed here. Ground floor: supermarket and clothing, etc. Second floor: housewares and clothing. Third floor: mobile phones and computer stuff.

address: Soi Hua Hin 88/1

Anchor stores are Tesco-Lotus Supermarket and Homepro. Judging from the crowds, this is the most popular shopping mall in Hua Hin.
Souvenirs
Souvenirs from Hua Hin include accessories from coconut shells, printed fabric in traditional Thai patterns, brooms, utensils made of sisal fibre, bamboo woven products, as well as fresh and preserved food.
One of Hua Hin's most renowned local products is
pha phim khommaphat
or printed cotton, a typical product of Hua Hin which is sold by the metre. The finished khommaphat print is colourful and can be turned into shirts, handkerchiefs, wraps, even toy elephants or fish, as well as decorative pieces such as pillows, bags, fans.
A large variety of other cotton products are also obtainable, such as place mats, tablecloths, and pillowcases.
Baan Khao Tao Handicraft CentreFor hand-woven cotton go to Ban Khao Tao. It was founded in 1964. In 2003, the centre's works were registered as the province's leading OTOP (handicraft) product. Hand-woven cotton is offered for purchase in different forms, such as in the Yok Dok print, sarongs, even large items like bedsheets.
Eat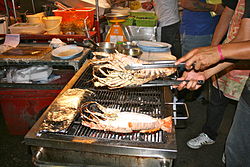 There are plenty of eating options around Hua Hin. Those close to the beach and atop Khao Takiap are touristy, while some good local options can be found on Phetkasem Rd along the way to Khao Takiap. Hua Hin is famed for its delightful fresh seafood which can be found in abundance at the night market, restaurants, and hotel restaurants. Naresdamri Road is a fine place for great inexpensive restaurants while serving up romantic sea views. Some hotels offer buffets consisting of open cooking stations, including seafood BBQ, and also offer live entertainment like traditional Thai music and dancing.
This area is the site of the Hua Hin Fishing Harbour and in the early morning, seafood can be purchased (its provenance is unknown as the Gulf of Thailand is increasingly fished out).
Moreover, there are numerous dining spots serving Western, Indian, and Japanese food.
For cheap eats, check out the night market or the Grand Market. Budget tourists having problems with the local fare will be happy to know that at the Tesco in the posh Market Village mall, there's street-style Thai food with modern fast food hygiene and air-conditioning: 25-70 baht, and good coffee for 10 baht.
Baan Khun Por Food CentreThe name literally translates as "Pa's House food centre". A jumble of permanent food stalls selling inexpensive food of every variety: seafood, hamburgers, Isaan food, desserts, fried chicken, and much else. Seating is at open-air tables. There are also bar stalls selling beer and cocktails. The place is thronged with Thais every night, probably for good reason, making it sometimes difficult to find a table.

German Restaurant and Bakery

address: 4/117 Soi Hua Hin 98

It's always a good sign when local restaurants buy their bread from your bakery. That's the case with this place. Good assortment of breads and an excellent menu of breakfasts and luncheon dishes. No Thai food. Free Wi-Fi.

Happy Pig Restaurant

address: 10/133 Soi Hua Hin 94

Family-restaurant, European and Finnish food, barbecue, meatballs. Unfortunately, no "non-smoking" area.

phone: +66 81 174 4647

address: Hua Hin Shopping Mall, Hua Hin Soi 100, 74/2, Petchkasem Road

Innovative and healthy meals. Pleasant decor. Friendly staff.

Mirabelle

phone: +66 32 826 150

address: 34/199 Soi Hua Hin 94

Cute, clean little French boulangerie-patisserie. Also sells French food imports: cassoulet, mustards, pates, foie gras, wines, Calvados. Not cheap, but these things are not widely available.

Morning Bread

address: Soi 94

A blessing for early risers, Morning Bread opens early for Thailand, at 07:00. Good breakfasts, not particularly cheap. Also, bakery with respectable selection of baked breads and muffins.

The Social Salad

address: 1/8 Soi 55 (Chomsin Rd)

Mostly a Western-style salad place (with very good salads) but also serve meat in such things as fried rice. Good staff, nice surroundings. Just in from the waterfront.

Say Cheese Restaurant & Guesthouse

phone: +66 32 530341

address: 6/4 Amuaysin Rd (Soi 74)

Terrific bar and guesthouse run by the Dutchman Jeroen (Jerry) and his Thai partner. Great Dutch and Thai food, reasonable prices, and international favourites as well. Free Wi-Fi. Backpacker guesthouse on the premises. Clean to a fault, very well run, and a good venue for sports on TV.

Tops MarketIt turns out that Tops is a good place to get breakfast. It may be the cheapest in Hua Hin. For 89 baht you get two eggs, bacon (good bacon), ham and a hot dog (7-11 quality), a slice of bread, coffee and decent orange juice. Tops also has a full menu of Thai and Western food, also at good prices. The adjacent coffee bar is also a good deal: a hot mocha is just 25 baht.
Drink
Coffee
phone: +66 2264 4354

address: 33 Naresdamri Road

Part of a coffee chain. Very popular with travelers. Airy and bright with outside seating. Good food and reasonable coffee, but lacking the character of an indie cafe

Patty's Corner

phone: +66 82872 2534

address: Railway Plaza Today

Nice calm spot run by Patty and her sister. Good selection of coffees, teas, beers, and lots of delicious desserts. All at good prices. Good English spoken.

phone: +66 32 860 559

address: 47/2 Soi Hua Hin 57

A clean and bright cafe with a small number of outdoor seats. Excellent breakfasts, good coffee and friendly, amenable staff.
Alcohol
As of February 2019, bars close at 02:00 in Hua Hin. Subject to change depending on the mood of the government.
Raucous nightlife can be found in the little quarter just inland from the Hilton Hotel. The warren of small streets around Dechanuchit Rd and Soi Bintabaht teems with bars, restaurants, and massage parlours. This area is heavily frequented by tourists.
A second street with lots of beer bars and hostesses is Soi 80, on the west side of Rte 4. It's mostly patronised by resident expats.
Bluestation Country PubVery popular with the locals, but nearly unknown to tourists. The house band is excellent, playing all Thai country (Peu Chiwit) songs. Before 22:00 there's an opening act that some nights (but irregularly) consists of a duo of a Thai on guitar and a farang on accordion, doing all Thai songs.
El Murphy'sThe place for live music. This Irish bar with a Mexican slant is the nightly home of Hua Hin's own Stonehead Band. These boys have been rocking Hua Hin for more than 15 years with their great rock and blues classics. Sometimes there is an early opening act. Free Wi-Fi. This place also has terrific food.
Luknam Country PubLocals and foreigners alike frequent Luknam. Live music every night. Music is Thai pop and country with some Western songs mixed in. Music begins and 22:00 and goes till late.
White House Bar

address: Soi 80

Nice, spacious bar run by Kun Sen and her Norwegian husband, Ocean. Good pool table, good TVs on which to watch sports, mainly European football. Good bar hostesses who can kick your butt at pool (free).
Sleep
Budget
Hua Hin is relatively expensive for accommodation, with few options below 400 baht. The best area for budget rooms seems to be around the corner from the Hilton Hotel, on the street parallel to the water.
phone: +66 86 206 2455

Laila Food And Drink Guesthouse

phone: +66 32 511 917

address: 178/55/56 Soi 80

In a quiet street but only a ten minute walk from the beach and even closer to the railway station, Laila offers clean, good sized double rooms with air-con, fan, fridge and free Wi-Fi. Bunks are four to a room with modern beds and air-con. There is a good on-site restaurant and a nice chill out terrace in front.

phone: +32 511 816

address: 108 Naresuan Road

Small but clean rooms. Excellent location smack in the center of town and near the beach

Rooms@102

phone: +66 80 4337113

address: Soi 102

Includes air-con and TV, fan, hot water, Wi-Fi.

Sukwilai Hotel and GuesthouseUpscale rooms available in the main building. Guesthouse is opposite some bars playing loud music until 01:00.

Tientong

phone: +66 89 2249353

address: 226/107 Petchkasem Rd

Rooms with private baths. Includes high-speed Wi-Fi (if it starts working slow, just reboot the router). Located downtown at end of secluded street near market. Friendly staff. Nice views of hillside from communal balcony. 10 min walk from beach.

Victor Guesthouse

phone: +66 32 511564

address: 16 Naresdamri Rd

Sixteen rooms in a Thai traditional teak guesthouse in the heart of Hua Hin, close to beaches, restaurants and night life. Family suites available. Includes air-con, LED TV and DVD in all rooms. Fan, hot water, Wi-Fi, 24/7 security and friendly staff in a relaxed atmosphere.
Mid-range
phone: +66 32 547603

address: 17/99 Soi 23

Quiet, spotless little place just off the main road. Charming little restaurant on-site. Run by affable Thais. Free (good) Wi-Fi.

phone: +66 32 533 549

address: 178/201 Soi 80

Good location in Hua Hin's second tourist bar area. Clean, basic rooms with air-con and Wi-Fi. 7-Eleven adjacent and nearby restaurants abound.

Chom-Haad Guesthouse

phone: +66 86 803 1796

address: 178/175 Soi Hua Hin 80

Nice rooms, on a quiet road with lots of guesthouses. Nice fresh-looking furniture in bright colours.

phone: +66 32 533778-81

address: 120/22 Soi Huahin 78, Petchakasem Rd

Fifty comfortable guest rooms each with a private balcony overlooking the green hills beyond; rooftop pool, sundeck, Internet stations, restaurant and a free shuttle service to Hua Hin Beach, Hua Hin Market Village, and Hua Hin Night Market.

phone: +66 32 599 333

address: 217 Moo 4 Phunoi, Sam Roi Yot

Beach resort for families.

Hotel PananchaiA basic hotel with breakfast, although this is only a couple of small slices of toast and jam, with a cup of tea or coffee. The hotel has air conditioning and TV. The rooms are quite small. There are restaurants nearby. The beach is 300 m away and all the tourist restaurants are close by.

Nicha Suite Hotel

address: 4/125 Soi Hua Hin 98 Nongkae, Petchkasem Rd

Clean and modern, with friendly and helpful staff. Breakfast included. The rooms have large flat screen TV with plenty of channels, and there are tea and coffee making facilities provided. No lift.

phone: +66 32 533 778-81

address: 79/9 Petchkasem Rd

Small hotel within a few minutes walk to the beach, restaurants, and convenience stores. The rooms are well-designed with a simple, cosy and modern style with flat screen TV, en suite bath, and free Wi-Fi.

phone: +66 32 533 555

address: 8/5-7 Soi Kanjanomai, Poolsuk Rd
Splurge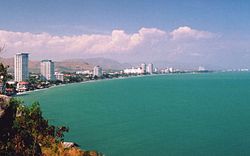 phone: +66 25 148 112

address: 183 Moo 4, Paknampran, Pranburi

A beautiful and relaxing beachfront complex of 22 luxury sea-facing villas, suites, and residences.
phone: +66 32 520 250

address: 43/1 Phetkasem Beach Road

They have used Thai artwork in their interior designs and the Landscape gardens are designed by Bill Bensley. Guests can take fruit carving , yoga or cooking classes. Has 187 rooms and suites.
address: 33/15 Moo Bann Huadon, Petchkasem Rd, Nongkae
Chiva-Som International Health Resort

phone: +66 32 536 536

address: 73/4 Petchkasem Rd

One of the best destination spa resorts in Thailand. Very private. Pricey, but the quality is the best.
Chomview Hua HinOn the beach with beachfront swimming pool. Nice, not big, but cheap, clean.
phone: +66 32 442789

address: 1446/23 Petchkasem Rd (km221)

A small luxury beach resort on the beach between Cha-am and Hua Hin, with only 24 villas and rooms, all with sea view and charmingly decorated. Excellent food and services.
address: 451 Hua Hin, Huay Mongkol Rd. Hin Lek Fai

Resort with private pool.
phone: +66 32 513670

address: 110/1 Naresdamri Rd

Sparkling clean, accommodating staff, great location. Has a terrific little restaurant on the ground floor. Air conditioning, cable TV, free Wi-Fi, minibar, convenience store open until 01:00 adjacent. Just far away from the bar scene to offer 2 min access but quiet ambiance.

Haven Hua HinBoutique resort.
address: Hua Hin Soi 9, Petchkasem Rd
phone: +66 32 521234

address: 91 Hua Hin-Khao Takiap Rd

204 rooms and suites. The hotel is on 12.5 acres of tropical landscaped gardens on a 200 m long beachfront. The Barai Spa is on-site.
Intercontinental Hua Hin Resort

phone: +66 32 616 999

address: 33/33 Phetkasem Rd

Has a beach wing and a Bluport wing. Everything you would expect from a luxury resort and excellent location.
phone: +66 32 655 211

address: 144/7 Nongkae-Takieb Rd

On the beach, relaxing atmosphere, free Wi-Fi.
phone: +66 87 0265515

address: 9/21 Moo 5, Pak Nam Pran Beach

Spa, swimming pool, and sea view rooms.
phone: +66 32 537 100

address: 4/44 Moo Baan Takiab Rd

Luxury hotel, resort, and spa with seaside view at Hua Hin Beach. It has a seafood restaurant and a beachfront bar and lounge.
Renting a house for a long stay
If you're staying for a month or more, then Hua Hin has great options. The price for renting a nice villa with private pool can be as low as 20,000 baht. Houses have modern furniture and are ready to move into. Best way to find a house is to go to realty agencies around the Hilton Hotel. They pick you up from your hotel and show options for your budget and taste. Best strategy is to contact by them email a week before, so they will make a selection beforehand.
Cope
It would seem that if you are not Thai, you are viewed by the Thai police as a walking ATM. Should a cop be short of beer money and see you not wearing a helmet while on a motorbike, you are likely to be stopped and shaken down for cash. The police box at the
SE
corner of Soi 61 and Phetkasem Road seems to be where they send officers who are short of cash. The cop on duty will often signal
farang
to the roadside for some infraction, often trumped up, or for a sobriety test. Most of the time, you will pay cash on the spot, 200 baht and up, to be allowed to go on your way. Another danger spot is Phetkasem Road between Sois 67 and 69. There is a pedestrian bridge across the road there that affords the cops some shade, plus a Family Mart so that they are never short of cold drinks. At this spot they stop all vehicles, usually in late morning, to check for driver's licenses or proof of rental or passports or whatever else they need to have you pay on the spot. The good news is that this roadblock does not operate when is is too hot, rainy, on weekends or at hours requiring the payment of overtime.
Immigration
Hua Hin Immigration (Main office)

phone: +66 32 520 617

address: 439 Moo 1 Thap Thai

The office moved to an inconvenient locale in February 2019. For simple matters, see the Bluport office listing. It may be more convenient.
Hua Hin Immigration (Bluport office)

address: Bluport Mall

A "one-stop service center" that handles minor matters like tourist visa extensions, reentry permits, and 90-day reports.
Immigration Photos

phone: +66 32 513516

address: 87/14-15 Phetkasem Rd

Immigration will require passport-type photographs for some services. This is the place to get them. Six 4 by 6 cm photos, 200 baht.
Legal
phone: +66 84 881 8396

address: Unit 1-2 @Makro Food Services, 58/164, Soi 4, Phetkasem Rd

Small but excellent legal office presided over by Ms Parichat Martin ("Mod"). Handles immigration issues, property matters, legal documentation. Mod speaks excellent English and provides fast and competent service and lots of good advice.
Postal
Thailand Post

address: Soi 61, Hua Hin 77110, Thailand

There are at least two post offices in Hua Hin: one in town centre on Soi 61 and a larger one adjacent to the Roong Reuang Coach Terminal about 7 km north of town on Phetkasem Road. The central office has a Poste Restante window, so if you need to have mail sent to you in Thailand this is a possibility. The larger of the two post offices handles bulk shipments like motorbikes. There is also a commercially-operated postal service on the third floor of Market Village at the east end of the building (nearest Phetkasem Rd).
Mail Boxes etc

phone: +66 99 363 2392

address: Bluport Mall

UPS services; mailboxes; postal services; freight; faxes; custom packing; packing supplies.
PS PostCommercial mailing service provides most, if not all, of Thailand Post services.
Medical and dental
Perhaps due to the population of aged foreigners, there are two large private hospitals in Hua Hin, both on Phetkasem Road. Medical and dental clinics are not hard to find on the main road also.
phone: +66 32 616-800

address: 888 Petchkasem Rd

Has a dental clinic as well as most medical specialties except dermatology. Drugs very expensive.
Hua Hin Hospital

phone: +66 32 523 000

address: 30/2 Phetkasem Rd

Thai government hospital, not especially geared to foreigners. To use it, best to have a Thai accompanying you. Appears to be the largest hospital in Hua Hin, certainly the busiest, probably the cheapest.
phone: +66 32 532 576

address: 222 Phetkasem Rd

Cheaper than Bangkok Hospital and seemingly as good. Has a helpful German physician who hangs around the lobby helping foreigners with medical advice and language support.
Hua Hin Central Lab

phone: +66 32 513 524

address: 34/23 Phetkasem Rd

Small, usually empty, medical lab clinic. The can analyse your body fluids for HIV and other STDs, liver function, pregnancy, hepatitus, and a bunch of other indicators. Much cheaper than going to a private hospital. Results in several hours or maybe a day.
phone: +66 99 145 9949

address: 256/6-7 Soi Hua Hin 94/3

It is surprisingly difficult to find a good dental clinic in Hua Hin. This one, named for its lead dentist, Dr Nana, is new (2017) and modern. Dr. Nana, after her Thai dental training, studied at New York University for a year specialising in implants and crowns. She also did a stint at the University of Frankfurt. Her English is excellent and she speaks some German as well. Equipment: state-of-the-art. Prices: competitive and reasonable. Staff: friendly and accommodating both in Thai and English. Cleaning, 750-1,500 baht; root canal, 6,000-10,000 baht; crown, 8,000-13,000 baht; inlay, 10,000-15,000 baht.
Reading matter
There are a number of English-language publications, offering a variety of styles, as well as information and entertainment. Long-time visitors to the town will have been familiar with the free monthly
Hua Hin Observer
magazine found around the town, but in Jan 2010, this became an on-line-only publication. Another monthly publication is the
Hua Hin Today
newspaper which can be a little dry for tourists, as it contains plenty of local government and local dignitaries news along with details of the latest infrastructure projects and housing developments. Its on-line presence is more of a portal for international news and selling property than a local site. More of interest to tourists is the widely available free weekly
AWOL newspaper
, which is a mixture of entertaining true and not-so-true stories, typical tabloid content such as a page 3 girl and sports coverage, and major local news stories.
AWOL's
website includes a discussion forum, free classifieds and all their back issues to download. The longest established local Internet forum is
Hua Hin After Dark
which is a valuable source of information for both tourists and expats alike, although its slightly cliquey attitude can be off-putting, and discussions can often turn into playground squabbles.
There are a number of other printed publications and Internet sites relating to Hua Hin, but they are mostly concerned with selling or renting property, or promoting another local business. There are also a couple of non-English language publications with a small distribution.
Recycling electronics
Bluport Shopping MallA kiosk outside Bluport in the parking garage accepts batteries, light bulbs, cell phones, fluorescent tubes, aerosol containers. Next to it is a bin for soi dog food donations.
Surveillance
Thailand is rapidly becoming a surveillance state. CCTV cameras are being installed at a rapid pace. To send a package, purchase a bus ticket, SIM card, or hotel room you will need to produce a passport. As of October 2019 coffee shops are required to keep a log of all web browsing done on their premises for 90 days.
Go next