Huacachina
Huacachina
is a village in southern Peru, an hour away from the Pacific coast. The town is a collection of resorts and restaurants around a blue-green laguna surrounded by huge sand dunes. An antique image of the town is featured on Peru's 50 soles bill.
Its interest to tourists is three-fold: the novelty and beauty of a dry desert with huge sand dunes, the opportunity to sand board, and riding in four-wheel-drive dune buggies that run up and down the dunes at break-neck speeds. The village depends entirely on tourism, and most visitors are foreign tourists.
Hotel El Huacachinero

phone: +51 56 217435

address: Huacachina 11000

Reputed restaurant (supposedly the best in Huacachina), but as with most things in the oasis, a tad overpriced.
Understand

Legend says that every year a mermaid living in the laguna takes one man. The inability of some Peruvians to swim seems a more likely explanation of the yearly drownings. Other people speculate that the cause of the frequent drownings is that swimmers' muscles cramp when the warm water on the top of the oasis mixes with cooler water below.

Get in
Getting to
Ica
is possible from Lima, as most bus companies including Cruz del Sur and Soyuz have frequent trips along the route.
Public buses travel from Lima to Ica or Cusco to Ica. Once in Ica, find a local taxi to take you to the oasis of Huacachina.
Huacachina Tours
is the only direct bus to Huacachina. Their buses go from Cusco to Huacachina and Lima to Huacachina. They also have the necessary license to enter the oasis, so you can avoid the hassle of taking a taxi from Ica. 
This oasis is a few kilometers from the bustling city of Ica. There are no municipal bus routes to Huacachina, but it is very easy to find taxis during the day (S/10 (
soles
) one way) and at night (S/12-14 one way). Choose a registered licensed taxi at all times in Ica; they should have an official rooftop sign and driver's documents on the dashboard.
Get around
The town is extremely small, and visitors can walk from one end to another within a few minutes.
Taxis are used to travel from Huacachina to sites in Ica, and moto-taxis can be used within Ica to affordably travel to locations that are too far too walk. Most taxis charge S/2½-3 for trips from one location in the city to another. Most taxi-motos charge S/1.50, making it a very cheap way to get around.

See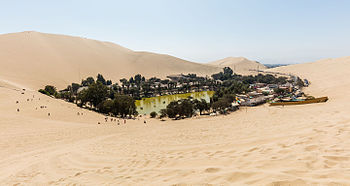 Tours of the bodegas and wineries: in Ica there are many different bodegas and wineries that produce pisco and sweet red wine. These bodegas range from the small family-run artesanal bodegas to huge industrial bodegas that supply the entire country with pisco and export to Europe and the US. Perhaps the best artesenal bodega is Catador and the best industrial bodegas are probably Tacama and Vista Alegre. If you are travelling with Peru Hop, a free visit to Catador bodega is included.
Watch the sunset from the rim of the dunes. Amazing colours and views. You although can walk up for the sunrise but be careful as no marked paths for walking up.
There are two museums in Ica.
Do
The Lagoon: At the lagoon you can hire paddle boats or row boats. It's also possible to swim in the lagoon.
Walking to the top of the dunes: Soak up the views at top of the sand dunes for a rewarding, yet exhausting experience. It will take up to an hour, depending on fitness (and which dune you pick!) The views of the lagoon and village are spectacular, as are views of the rolling sand dunes on the horizon. Take a camera, plenty of water and a scarf or something to protect eyes and camera equipment from the windswept sand at the top. It is particularly beautiful at sunset.
The following activities are best done as part of an organized tour. There are many reputable agencies in Huacachina.
Sandboarding: It's the "hot" version of snowboarding. On the streets you can rent a board for a few soles. Wax (cera) is essential for velocity, so ask for a piece to go with your board. Due to differences between sand grains and snow, snowboarders may be disappointed with the pace of sandboarding and the increased difficulty of maneuvering the board. Most non-athletic tourists eventually end up riding the sandboard like a sled, face-down on their stomach. This allows for a very simple, and very rapid (sometimes dangerously so) descent of the dunes.
Dune buggy rides: Considered by many to be the most exciting activity in Huacachina, fans of adventure sports and rollercoasters will find that taking a dune buggy ride is an essential component of a trip to southern Peru. Rides are offered by most hotels and hostels, usually for around S/50 (price for dune buggying and 6 steep slopes of sandboarding with Peru Hop - May 2019), although in the low season this price may be negotiable (street vendors are prepared for dune buggying + sandboarding for around S/25). Most dune buggy tours are two hours long, which includes approximately one hour of sand boarding (check the number of slopes prior to booking). The late-afternoon tour, usually starting at 16:00 or 16:30, is probably the best time of day to take a tour as the sun is bright enough to illuminate the landscape but no longer bright enough to cause sunburn, and sometimes drivers will take passengers to look-out points to observe the beautiful desert sunset.
All-terrain vehicles: Quads, (called cuatrimotor in Spanish) are a type of four-wheeled all terrain vehicle that resembles a tiny jeep but is the size of a golf cart. Desert Nights hostal rents these vehicles, and offers tours. They cost US$40 per hour.
Swimming pools: Bring your swimming suit because many hotels and hostels in the area have swimming pools.
Buy
Near the entrance to the Huacachina promenade are kiosks that sell souvenirs, jewelry, t-shirts and other touristy knicknacks. Others sell tasty jams made from fruits in the area (such as mangos, figs, or guanabana) and some liqueurs from Ica such as pisco and wine. Apart from these small shops, there are only tiny convenience stores. Virtually all items are more expensive than when purchased in Ica.
The only ATM in the town is at the Carola Lodge. It frequently is out of cash. Ica, a few kilometers away, has a number of ATM machines, and money-changers who will convert your dollars into soles and vice versa in exchange for a small commission.

Eat
Huacachina's many restaurants are overpriced compared to typical Peruvian prices.
The Casa de Avinoam, a restaurant in the Carolas del Sur Hostal, has delicious thin-crust pizzas. Pizza prices range from about US$6 for a personal pizza to $15 for a large family-sized pizza.
The restaurant at Desert Nights Youth Hostal is quite popular too.
For those craving tasty ethnic food, head to Bamboo Cafe, in a small lot in between Carola del Sur and Hosteria Suiza. They serve a flavorful Thai curry, decent falafel (popular with the Israeli and Arab travellers), and other ethnic and Peruvian dishes. The Bamboo Cafe is also a great retreat for those who have been travelling for months and are in need of a bacon butty with brown sauce, marmite or a full English breakfast.
In
Ica
, there are quite a few decent restaurants.
Drink

Like just about everything else, the alcohol is overpriced in Huacachina.
Most of the larger hotels have their own bars, including Casa de Arena and Huacachinero. One of the only bars that is not associated with a hotel is Da Silva House, beside the Casa de Arena hostel. Cocktails here cost between US$3 and $5, and the owner prepared many types of mixed drinks and cocktails.
Many visitors to Huacachina decide to visit the wineries and pisco bodegas in Ica. These wineries grow their own grapes, crush them, and convert them to wine or pisco. They will show you their vineyards, their fermentation machines and wine-making process, and then give you a small sample of their products. You are of course encouraged to then purchase the wines and piscos. Many of these tours are free (the bodegas make their money from wine sales), but your taxi driver or tour guide will charge you to take you around to various bodegas.
During late February and early March is the grape harvest when grapes are crushed by foot. Visitors are encouraged to take off their sandals and shoes, wash their feet, and then help crush the grapes. While perhaps not the most hygienic method of alcohol preparation, this is a very popular activity.
Bodegas are split into two categories: artesenal and industrial. Artesenal bodegas are small, family-run operations that only produce a small amount of wine or pisco. Industrial bodegas produce large quantity of product that is intended for national distribution or international exportation.

Sleep
Casa de Arena, extremely popular backpacker resort with swimming pool, restaurant, bar and small dance club. Rooms are plain, the service impersonal, and like most 'party hostels', it's noisy. Great buggy and sandboarding tours that net discounts on room prices. Dorm rooms are S/20 per person for the 18-person dorm room and S/25 soles per person for the small 4-person dorm rooms. A shared 2- or 3-person room is S/25 pppn. Bathrooms are shared. Private rooms with private bathrooms are also available, and tend to cost between S/30 and 35 per person. No internet. Also, service is really bad, the disco plays until 03:00, and the walls are paper thin.
Carola Lodge, also known as Casa de Arena II, is also a popular budget option. Owned by the same businessman as Casa de Arena, this hostel is larger but quieter. It has a small wading pool rather than a full swimming pool, and it doesn't have a discoteque. However, it does have a restaurant that has great thin-crust pizza and plays music and videos.
Desert Nights is a good budget option. It is a hostel that is near the entrance to Huacachina and is owned by an American-Peruvian couple. It is well-liked because it is clean and affordable. It has a restaurant with tasty food. However it lacks a discoteque and swimming pool. This is the only Hostelling-International youth hostel in the area. The Wi-Fi is very good. However, the male waiters are aggressive about hitting on women travellers, even coming in the dorm rooms to 'chat'.
Las Dunas Hotel is a very upscale hotel in a quiet neighborhood about seven minutes ride from Huacachina. It has huge swimming pools, large lawns, and llamas and alpacas that roam around the grounds. It is the most expensive hotel in the area.
Hotel Mossone is an upscale and expensive hotel in an old colonial hacienda in Huacachina, with views of the oasis. Prices here are decidedly geared towards foreign tourists, as room prices range from US$80 to $150. The hotel features its own swimming pool and restaurant. It is probably not the best option for backpackers or young people who might find the social scene there to be lacking.
Hostal Salvatierra is a backpacker hostel that has seen better days, although it remains a bargain for tourists looking to save money. Private rooms often cost as little as S/20 per person, although the rooms are old and grungy. The hotel has its own pool Like most resorts and backpacker hostels, they offer dunebuggy tours and wine bodega tours.
Hotel El Huacachinerois a popular budget hotel that is similar to, but more upscale than, the Casa de Arena hostal. The facilities, rooms, and swimming pool are nicer. The price is slightly more expensive. Huacachinero doesn´t have a discoteque, and often is less crowded than the Casa de Arena. The hotel restaurant is reputed to be one of the best in Huacachina.

phone: +51 56 222256

A grungy old backpacker hostel with basic worn-out rooms but a decent bar, swimming pool and helpful staff.
Go next

Taxis leave Huacachina at all hours of the day and night. If you plan on leaving the area in order to go to Lima, ask the driver to take you to the bus station for Soyuz (S/32 for the "VIP" bus) or Cruz del Sur (more expensive but nicer). If you are going to Arequipa, options are Cruz del Sur and Cial (the budget option).
Peru Hop offers direct buses daily between Huacachina and Lima, Nasca, Arequipa or Paracas rather than into the nearby city of Ica.