Huangzhong
Huangzhong
(湟中;
Huángzhōng
; Tibetan:
Tsongkha
or
Lushaer
) is a town near
Xining
,
Qinghai
Province.
Understand
Huangzhong is about 28km southwest of Xining, and although small, it is very important to Tibetans. This is the birthplace of Tsongkhapa (Je Rinpoche), the founder of the Dalai Lama's Gelukpa (Yellow Hat) order, and it is the site of Ta'er Si Monastery, one of the six greatest Gelukpa monasteries. There are many Han and Hui in the town itself but the area around the monastery is full of tourists mingling among the throngs of Tibetan pilgrims who flock to the site from across the Amdo (Eastern Tibet) region.

Get in
Bus leaves from Xining Gymnasium (体育馆; Tǐyùguǎn) every half hour throughout the day til evening. The bus takes about one hour to travel to Huangzhong.

See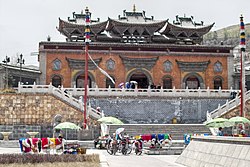 Kumbum MonasteryPerfectly situated and beautifully appointed throughout the monastery with frescoes and murals. Butter sculptures, frescoes and padded embroidery are the three treasures of the monastery. Kumbum means A Hundred Thousand Buddha Images in Tibetan, and it is one of the six great Gelukpa monasteries boasting enormous influence in both the religious and secular life of the Amdo (Eastern Tibet) region. The present 14th Dalai Lama studied at this sacred site.
Do
Four Summons CeremoniesFour times annually with large visits of pilgrims, sunning a large portrait of Buddha, butter sculpture shows and Buddhist philosophy debates (provided you speak Tibetan).
Eat
To the left and downhill from the entrance to Ta'ersi there is a small area of tourist shops and a scattering a traditional Tibetan restaurants.

Drink
Here, you can buy yark acidophilus milk, only ¥2 per bottle, the taste is very good.

Sleep
Kumbum HotelTibetan-style guesthouse popular with pilgrims.

Ta'ersi HotelWhere most tour groups end up.
Go next
The bus station is about 2-3km down the road from the monastery towards Xining. Bus 909 goes to Xining directly. During the day many taxis wait near the entrance to Ta'er Monastery and will leave to Xining only when full. In the evening, taxis wait down the street across from Huangzhong County Hospital. They should not charge much more than ¥50-60 for the trip, so expect to pay about ¥15 per person.