Huaraz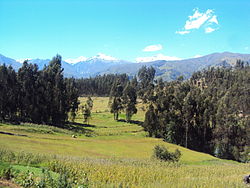 Huaraz
is a large town in the
Cordillera Blanca
region of
Peru
's
Central Sierra
.
Understand
Huaraz stands tall at 3100m; travellers from
Lima
might need a day or two to acclimatize to the change in atmosphere. See
Altitude sickness
for advice and more information.
July is a good time to visit the region; the temperature is perfect for walking and the sky is free from clouds and rain. It's also a good time as the July period has many of Peru's annual event celebration dates. The town puts on a tremendous night of entertainment each year for most of the days, featuring live music and more. Well worth a look if you are in the region.
A town of 100,000, it blends a mix of modern and native culture. The town has many markets and shops catering to tourist needs and local needs. The food markets are especially interesting and are a great starting point for getting supplies for expeditions. Be sure to shop about before purchasing/hiring (especially for mountaineering gear) as often a better price can be found elsewhere with a bit of bargaining.
The town has many places offering cheap internet access; although a bit slow, the connection is usually reliable. The town has a big post office and a few banks. Huaraz also has a mix of old and new restaurants offering a variety of dishes.
Cuy
(guinea pig) is a regional dish; perhaps something to say one has tried but not something to make a diet of! There are a few night clubs and many bars open late. Common sense would advise people not to travel alone at night, but one feels safe in the city where the locals were very willing to help out where possible. Like many places in Peru, it's not wise to take much money with you at any one time if you can possibly avoid it.
Get in
Huaraz is approximately 8 hours coach drive from
Lima
; it's simple and a reasonably cheap and reliable service. Movil Tours, Ormeño, Cruz del Sur and CIAL are most frequently recommended bus companies.
When you arrive you will find out that ´captadores´ are trying to bring you to lowly recommendated hostels and places. They spread bad words about the hostel you are willing to go to. Do not believe any of these popular phrases like: that hostel is always full, that hostel is far away. Especially at Cruz del Sur it is tough to leave. These 'captadores' get commission for each night you stay at the place that they recommend.
There are several daily buses to and from
Chimbote
&
Trujillo
.
Movil Tours
&
Transportes Linea
are the best (US$14, 7 hours to Trujillo), followed by Chinchaysuyo & Comite 14, all of which only travel by night, & continue to Trujillo.
All night buses travel on the tar sealed road from Huaraz to Pativilca (
Caral
is near there) to the Panamerican Highway, midway between Trujillo & Lima.
Transportes Linea
, America Express & others run from Trujillo from 06:00 or earlier to catch the 8-8.30AM bus of Turismo Huaraz & Yungay Express from Huaraz via Caraz & the spectacular Cañon del Pato. It's a rough 8-hour bus ride, the buses are basic for the unsealed road (Caraz to Chimbote) and may be overcrowded between Caraz & Huaraz. The views are stunning. Price is around S/25 (
soles
). If you have your own vehicle, obtain permission (and confirmation of entrance times if maintenance is in progress) from Proyecto Chavimochic in Trujillo (Telefax +51 44 272286) or Viru to leave the Panam (485 km north of Lima) via the well kept Brasileiros maintenance road alongside the canal to the north bank of the Santa River to Cañon del Pato. It is possible to cover Trujillo to Caraz in 5 hours (and photo stops) on this straighter, smoother road. Almost 40 tunnels are large enough for all but the largest tourist buses.
There are also day buses between Huaraz &
Chimbote
via the Callan Pass, Pariacoto &
Casma
(for
Sechin
). Longer, rougher & not quite as visually stunning.
Every 20 minutes or so
combis
leave Huaraz for
Caraz
visiting
Carhuaz
and
Yungay
on the way.
Get around

In Huaraz, taxi's are cheap and fast for getting about the town.
Be wary of dubious taxi drivers and cabs. Peru does have a problem with taxis in some places, and tourists have been known to be mugged or assaulted in them. Women should be careful not to travel alone, especially in taxis and especially at night. Huaraz is, however, a comparatively safe city — for men and women — and is easily maneuvered by the seasoned traveller, particularly those who can speak Spanish. However, just as in any part of Peru, staying aware of your surroundings and avoiding potentially dodgy situations is advised.
Also if you need to rent a car to go out of the city, are a variety of companies that make this service, the most prominent being Andes Renta Car Huaraz. www.archuaraz.com You can contact trough email alquilercamionetas@gmail.com or call +51 43422423 or 943626780 in order to get information about the cars, trucks, prices, etc.
Andean Rent a Car offers a good service with a drivers that know the routes.

See
Movies. Travellers hankering for a new release in a movie theater will be disappointed to learn that there is no movie theater in Huaraz. Approximately a decade ago there was a functioning theater but it shut down due to low profits. There is sometimes the possibility to watch movies at Mi Chef Kristof where Huaraz Satyricon shows movies (often new releases) on their large screen in the cafe, for S/5. Free popcorn is included with the price of admission. Huaraz Satyricon also screens the mountaineering classic "Touching the Void" (which was partially shot in the Cordillera Blanca, and dramatizes a now-legendary mountaineering trip).
Archeological Sites. Within walking distance of Huaraz is the Wari ruin of Wilcawain. Monumento Nacional Wilcahuaín is a small Wari tuin that dates bakes to 600 to 900 AD. This temple complex is virtually undamaged, providing a unique opportunity to see a complete pre-Columbian building in Peru. It is an imitation of the temple at Chavín, in the Tiahuanaco style. Wilcahuaín means 'grandson's house' in Quechua. The ruin was originally filled with mummies who were kept dry by using a sophisticated ventilation system. It is not only interesting in itself but can be visited on a great acclimatization hike that leaves right from town. It is easiest to take a combi there (uphill) and walk back via an old Incan trail (approximately 2 hours).
Huaraz is also the departure point for tours to see
Chavín de Huántar
, the center of a cultural and artistic revolution in Peru that took place between 600 and 300 BCE. Museums in Huaraz contain many fine examples of Chavin sculpture and older Cupinisque pottery.
Puya RaimondiPuya Raimondi are the biggest pineapple (bromeliad) plants of the world. They bloom with 50-75 years once for 9 months with 8,000-10,000 niches and a flower altitude of up to 10 m height, then they die. They grow between 3500 and 4700 m altitude.

The Museo Regional de Ancash, The Museo Regional de Ancash houses the largest collection of ancient stone sculptures in South America. It gives information about all the cultures that have inhabited the Cordillera Blanca region. It is small but interesting, it has a few mummies, some trepanned skulls (an ancient form of surgery involving cutting into the skull) and a garden of stone monoliths from the Recuay culture (400 BC to AD 600) and the Wari culture (AD 600 to 1000). A pottery collection, textiles, and metal works cover the Wari, Chimú, and Inca cultures.
Do
Find the practical map guide in most of the bars or laundries.
Trekking - The region is a trekkers paradise; it features breath taking views and an escape from the hive of people seen in other famed trekking locations like the Inca trail. Although one could do it on ones own, it's advisable to get a guide and run it through a specialist company. There are many companies offering these services. The House of Guides (Casa de Guías) offers professional free information, and maps for a price. They have a check in/check out book which it's advisable to sign, especially if travelling without a guide.
Explore Huascarán National Park: Visit nearby Laguna Churup, Laguna 69, Laguna Parón or complete the challenging, multi-day Santa Cruz Trek.
A homestay in Vicos or Humacchuco, When you are interested in some alternative form of spending your trip in the region of Huaraz it is a very good idea to do a homestay in Vicos or Humacchuco. Vicos (1 hour from Huaraz) is an authentic rural community,which gives visitors the opportunity to learn about its Andean culture, livingin harmony with its environment. Vicos has seven guest houses next to the houses of host families who will assist you during all the activities. Possible activities are; helping the family with theirdaily activities like baking bread, harvesting honey, fishing or grazing with the animals, helping the family on their farming lands, visiting local craftsman, hiking through the fields while visiting the ruins of the Huari and Recuay while learning about medicinal plants, or hiking for a full day to high-altitude lakes and glaciers and enjoying the views with the Cordillera Blanca at the background. Humacchuco is another community which is a little bit farther away (2 hours from Huaraz). Humacchuco has six guest houses next to the houses of host families like in Vicos. Also here it is possible to help the families with their daily activities and learn about their culture. Besides this Humacchuco also offers wonderful hikings to Lake Llanganuco, Lake 69, Maria Joséfa and a hike to the valley of Huaytapallana. To organize a homestay in Humacchuco you can either contact the Mountain Institute in Huaraz or call one of the families. You will find a phone number on the website. Note that only the second one is up to date for now, but they plan to update the website soon. In case you try to contact them via e-mail, it might take some time until they answer as there isn't any internet in the village. It would be good if you spoke some Spanish, and if not, organize a translator as the families don't speak English. You get to see the main sights in the Huascarán National Park and share the daily life of rural Andean families.
Visit parks and squares, When the weather is good visit one of the nice squares (Plaza de Armas, Plaza de Belen) or parks (Park at Iglesia San Francisco). Just sit down, enjoy the nice weather with a good book or just to watch people.

Laguna WilcacochaAlthough the lake is little more than a weed-choked pond, the ease of access makes this a popular acclimatization hike. Take a 15 min collectivo, letter E or number 10, from Mercado Central on the corner of Hualcan Street and Raimondi (S/1.5). Ask to stop in Chiwipampa, "Puente Santa Cruz". From the bridge, the trail is and of elevation to the lake and is marked by blue arrows. The laguna is very small, but there are good views of the Cordillera Blanca range. 1½-2 hr of walking to the lake, 1 hr to get down.

Laguna Antacocha, same trip as laguna Wilcacocha, but a bit further (30 min, about S/2.5, get down just before to enter Recuay).

Mirador de RataquenaA 45 min walk to a lookout above the city. The trail starts near the cemetery and continues past the mirador but there have been cases of robbery so don't bring valuables.

Go to the foot of Huascaran, the biggest mountain in Peru, 6768 m. Take a combi to Mancos (S/5), then to Musho (S/2.5) where the path begins. But there are several ways and no indication, so don't go if you haven't good information or a guide. About 4 hr to go to the Refugio, and 2 hr more to the first snow.
Go to the Therms of Monterrey, directly in combi from Fitzcarrald street (S/1). Or walk from Wilkawain's ruins (by combi, S/1.30, 20 min), by the football place, go up the steps then follow straight, 1½ hr. You have a nice view on Huascaran. The entrance to the therms is S/3.50, for the public swimming pool or private bathtub. Warm !
A good place to see is Hatun Machay or stone forest, very impressive. Some climbers come there and sleep in the Refugio (30 S/night) or in their tents (20 S/night). You can rent material in Huaraz. Bring your food and water. Get a combi to Catac (3,5 S) then a taxi collectivo to kilometer 131 (5 S) direction Conococha, where the path begins. Walk up 2h, easy. At the end you have to choose, take left. You have to pay 5 S the entrance for one single day. Get down 1h30, you can try hitch hiking to come back.
Buy

At the Plaza de Armas there is an Artesania Market with a broad offer of nice souvenirs, bags, jewelry and clothing. Defenitely worth a visit. Furthermore there are some nice shops on the Av. Luzuriaga as well. The big market with food and a lot of small shops selling everything you can think of is situated at a street which goes parallel to the Av. Luzuriaga.

Eat
Mercado central. On the second floor you can indulge in a true Peruvian set meal of soup, rice and chicken and limonade. All for S/2.50. The first floor is good for stocking up for your trek. Second stair, try the Comedor vegetariano.
Try a delicious and cheap (S/5) Ceviche in the restaurant Delfin, Gabino Uribe street near from the main plaza.
A S/10 buffet to have lunch in the nice Cafe 13 Buhos, near from the Casa de guias.
Tasty ice cream in Samuel's (S/1.5 the cornet), Luzurinaga street.
Chifas, there are several in town. Their dishes are cheap and feed two. And in contrast to Peruvian cuisine they tend to sneak in some veggies. Chifa is a blend of Chinese and Peruvian fare, especially popular in Lima but widely available throughout the country for cheap. Buyer beware. Just make sure it's hot!!
La Brasa Roja, Luzuriaga 919. Great place for meat lovers, highly recommended (and frequented) by locals. Slightly upscale. The roasted chicken (S/9.50) and the burgers (S/10) are best value for money. Large portions.
Fuente de Salud. Very cheap, very tasty vegetarian food. Highly recommended for vegetarians and those who are feeling the effects of traveller's diarrhea.
Siam de los Andes. A traditional Thai restaurant in the middle of small-town Peru, serves up delicious curry and stir fry dishes. S/15-50 per meal.
Creperie Patrick, Av. Luzurriaga 422. A well-known restaurant that serves up many different styles of sweet or savory crêpes, Creperie Patrick is also known to be relatively expensive: S/25-50 per meal.
Mi Chef Kristof, Parque del Periodista (through the last passage on the right side of the first block of Av. Luzuriaga going north from the Plaza de Armas). Great restaurant where Chef Kristof will prepare amazing meals for you. The Peppersteak and the homemade pastas are a little bit more expensive than elsewhere in town but are a real treat.
Jirón José Olaya, Jirón José Olaya is the only street that remained intact through Huaraz' various earthquakes. It gives a good indication of what the town once looked like. On Sundays there is a street market where the local population sells regional foods. Sit down at one of the little "restaurants" and enjoy your Picante de Cuy.

Café Andes

address: José Antonio de Sucre 817

This café almost delivers to its slogan, "barato y bueno," by serving delicious cakes for S/2-4 per piece. Only avoid ordering coffee as you will get hot water and coffee concentrate.

El Rincon de Jose

address: Jr. Jose de la Mar

Quick, friendly, tasty, cheap!
Drink
There are several bars clustered around
José de la Mar
and
Cajamarca
to still your thirst.
El Tambo, 2 blocks from Plaza Ginebra. Popular weekend club (slow on Thursday) that plays mostly salsa with short sets of house, reggaeton, and American music. It has a tree and wood theme.
Cafe Andino, 2 blocks from the Plaza de Armas, closed Mondays and January/February. Delicious espresso and other coffee beverages. Can buy beans too. Excellent selection of books to borrow (with deposit), and good magazine selection to peruse while there. Loud, familiar music (Marley, Grateful Dead). Friendly, accommodating staff. Great atmosphere. Free WiFi. Expensive, but good and healthy gringo food.
California Café, Jr. 28 de Julio, 568. Café with a big book exchange, also doubles as library. The Californian owner organizes ultimate frisbee matches every Friday. Just drop in at around 13:30 (Dry Season, April–November) or 10:00 (Rainy Season, December–March) if you're interested. One of the house specialties is their mixed fruit smoothie, called Surtido. This cafe also serves roasts its own coffees and is an ideal spot to hang for a few hours when first getting into town. Try their sandwiches, made to order with lots of variety. Also has free WiFi.

13 Buhos Bar

address: Jose de la Mar & Simon Bolivar

The owner, Lucho (who bears an uncanny resemblance to George Clooney), brews handcrafted ales, although he can be a bit pushy in trying to get customers to buy drinks. Typically there are a few varieties on offer: a dark hoppy stout or porter, a red, and a fresh lager that when muddled with yerba buena is delicious. Reviews are mixed: some people love this place, others swear that it should be avoided.
Sleep
phone: +51 43456169

address: Avenida Raymondi 510

Hostel and tour agency run by three brothers. Noisy due to location (close to market on the main street) as well as guests (full of backpackers), but quite clean with kitchen, dining area and patio.

phone: +51 43428896, +51 01 945927440 (mobile)

address: Jr. Ladislao Meza no 112 Barrio de San Francisco

This very neat family-run place is a 5-minute walk from the center, but totally tranquil. Breakfast and Wi-Fi included. You can rent equipment from them and order tours. They can pick you up from your bus station - just ring them on arrival; you will pay S/3 for standard taxi fee.

phone: +51 43-422529

address: Julio Arguedas 1242, Soledad

Five blocks from the Plaza de Armas. Rooftop terrace with good view of surrounding mountain where you can get served breakfast (coffee, freshly squeezed orange juice, toast included in room price). Wifi internet, TV with small DVD collection, stacks of magazines, kitchen to use, really clean.

Hostal ChurupLocated 5 minutes walk from the center of town, this hostel offers an excellent service to travelers, including secure storage of luggage, breakfast, free wireless internet, and washing facilities. Family run, they are helpful and offer lots of useful advice on travel and trekking. Prices range from S/25 (dorm excl. breakfast) to US$32.

El Tambo, Av. Confraternidad Oeste #122 (well hidden on the opposite the stadium: there's a little street, at the end turn right, go through a private looking gate, turn left: there's a high but small door to your right). Fine hostel close to the bus terminal and four blocks from the center. It offers free internet, laundry service, kitchen use, communal area with cable TV and DVD included in the price. Very very kind owner, happy to provide help in choosing tour operator, etc. Low-season price S/10 pppn.

Hospedaje La CabañaSucre 1224, 5 minutes walk from main square of Huaraz. Helpful, friendly, family-run guest house from US$4pppn. S/40 for a double room w bathroom. wifi and (basic) kitchen facilities.

Steel Guest House HuarazAlejandro Maguiña 1467, 10 minutes walk from the city centre. Internet, kitchen for guests, private parking, sauna, great view of the city and the mountains, pool table, book exchange, etc. Affordable pricing.

phone: +51 43 422588

address: Urb. Avitentel. MZ D lote 1

6 to 15 min from the main square and located in safe and quiet part of Huaraz. The owners can be strange and even cold at times, but this is a bargain basement hostel and they will definitely help you if you ask. Don't be put off by any chilly exteriors, rooms and bathrooms are clean and hot water works reliably. The price includes continental breakfast with different extra (tortilla, juice, ...) every day. Breakfast starts at inconvenient 08:00, so you will miss it on days when you start early for a hike. They have also laundry service, free tourist information, mountainbikes, free kitchen facilities, book exchange, bbq, mini cinema + dvd (free to use). They have free Wi-Fi at reception and computers with Internet for S/1 per hour. Just call and they pick you up for free from the bus station.

phone: +51 43 422230

address: Jr. Juan de la Cruz Romero 638

Friendly, quiet, family-run hotel that nonetheless offers privacy. Good value for rooms - a double (2 persons) costs S/40, including cable TV, hot water, WIFI services, modern. Rooms on the street have floor-to-ceiling windows.

phone: +51-43-421694

address: Jr. Julio Arguedas 1263, La Soledad

Located in Huaraz´s La Soledad neighborhood, this hostel is great for those looking for more comfortable surroundings. There is an in-house restaurant that operates from 08:00-22:00 and serves a decent breakfast. They also have great views of the mountains from the 3rd floor terrace. There is also a patio on the 2nd and 1st floors. There are also several common areas, including one on the first floor that is particularly spacious. Complimentary internet and wifi is available. Central Huaraz is less than a 10-minute walk away. There is a plaza in front of La Soledad Church, which is a half-block away.

phone: +51-43-426960

address: Jr. Italia 1124

A small hotel situated on the upper side of Huaraz City. All rooms have ensuite facilities. Some rooms have mountain views. There are various terraces that allow views of the surrounding peaks. Staff are friendly and helpful. Hotel is always neat and clean. Breakfast included in the price. The restaurant is open in the evenings for drinks and meals. Computers and WiFi available for internet access. Useful place to stay when exploring the surrounding areas.

phone: +51 221 265

address: Jr. Agustine Mejia 797

Monkeywasi is a small, friendly hostel for climbers, trekkers and backpackers.
Stay safe
Eating. Be careful as to what you eat as it is almost certain that you will get food poisoning and/or diarrhea at some point during your travels in Peru. Being pro-active can limit your exposure:
Avoid drinking un-clean water
Be picky about what food you eat and ensure that it has been cooked properly. What might appear to be well established restaurants can be just as bad as street traders when it comes to food hygiene.
Hot food is the best food. Make sure everything has been cooked thoroughly and be sure to chew your food. It will help aid digestion at altitude.
Sunscreen. Since Huaraz is physically and visually far from the Pacific Coast beaches, it may not occur to casual visitors to buy and use sunscreen. For those people who are planning on trekking into the mountains, or doing mountain climbing, sunscreen is a vital resource. The thin air and high altitudes increase the effects of UV penetration.
Armed robberies of tourists are fairly common, even more so on Sundays.
Go next
Trujillo. At least 2 bus companies (Movil and Linea) provide overnight service to Trujillo. The trip takes about 7 hours. The busses may not be equipped with air-conditioning, so it may be a hot ride. It's a rocky, fast-paced trip through the mountains.
Yungay Express (07:00), Turismo Huaraz & Huandoy (09:00) pass through Caraz 2 hours later & the spectacular Cañon del Pato to Chimbote terminal terrestre, where you can change for Trujillo.
Caraz. Minibuses leave frequently and the trip takes about one hour.