Huascarán National Park
Huascarán National Park
is in the
Central Sierra
region of
Peru
. It's inscribed on the
UNESCO World Heritage list
.
Understand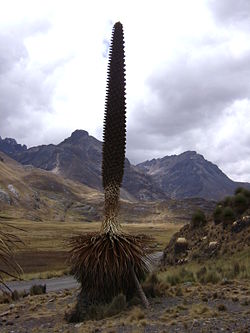 History
Portions of the park were first protected from logging and hunting in 1966. In 1975 the Peruvian government formally established the park at its current size of . The park was designated a in 1985.
Landscape
Located in the middle of the Andes, the landscape is mountainous. The park is named after its highlight, Huascarán, which at 6,768 m over the sea level is Peru's highest mountain. A total of 663 glaciers are located in the national park.
Flora and fauna
Animals in the park include jaguars, cougars, tarucas (north Andean deers), vicuñas and tapirs. The most iconic plant of the park is the puya raimondii, which may grow to heights of over 10 m!
Climate
Rainy season lasts from December to March with frequent thunderstorms and temperatures ranging from to . Dry season is from April to November with sunny days and cold nights. Expect temperatures between and .
Get in
Fees and permits
Do
Laguna ParónThe largest lake in the Cordillera Blanca, located 32 km east and above Caraz at an elevation of . It is surrounded by snowcapped mountains including Artesonraju, rumored to be mountain depicted in the Paramount Pictures logo. Despite being located in the park, the park entry fee does not apply; instead, you pay S/5 (2019) to the local community.

From Caraz - It is about a 2 h drive to the lake. There are no collectivos going all the way, however, taxis can be hired for S/120 (2019) including the return trip and two hours at the lake. If you are in good shape you may try mountain biking or, for an easier time, hire a taxi one way (S/100 - 2019) and bike back.

From Huaraz - All day tours with several stops cost S/50 (2019), not including food or entry to the lake.
Trekking
Laguna 69Laguna 69 is a blue alpine lake at an elevation of . It is a popular day trip from Huaraz and can be done self-guided or through a tour company. The trail starts at a site called Cebollapampa and ascends over to the lake. Most hikers reach the lake after 3 hours though it's possible to take longer if you aren't acclimatized.

Tour from Huaraz - There are several companies offering tours for S/30-35 (2019). Most tours leave at 5AM and return around 7PM with several stops along the way. Not included in the price is park entry or food.

Self Guided - There is a collectivo in the morning leaving from Yungay (S/15 - 2019), which is about 1½ hours from Huaraz. It's also possible to get a shared taxi from Yungay (S/40 - 2019).

Laguna ChurupHike along a well-marked path to a lake above Huaraz. This moderately difficult hike ascends over to the lake. There are good views of Huaraz from the trail and views of Mt Churup from the lake. The final section involves scaling a 9 m rock wall using fixed ropes. Energetic hikers can continue along a short trail to the smaller Laguna Churupita. 3 h to the lake, 2 h return.
Take a 40 min collectivo to the trailhead at Pitec (S/10). Upon return, if you can't find a ride from Pitec, walk 40 min to Llupa; ensure you arrive before 3PM.

Santa Cruz TrekThe Santa Cruz trek is a challenging multi-day hike that climbs over a pass.
Sleep
Lodging
Camping
Backcountry
Stay safe
Much of the park is located at very high altitudes. Take precautions when ascending to avoid
altitude sickness
.
Weather can be unpredictable, and snow or rain are possible throughout the year. Ensure you have waterproof layers and appropriate warm layers during
cold weather
.
Due to the high elevations, snow may be encountered year around. Wear sunglasses with UV protection to prevent snow blindness and practice
snow safety
when crossing terrain exposed to avalanche risk.