Huayna Potosí
Huayna Potosi
is a mountain and National Park in the
La Paz Department
of
Bolivia
. It's about 30 km north of La Paz and the mountain reaches 6088 m above sea level. About 1000 climbers make it to the summit every year, and it is said to be an "easy" peak. Base Camp and the obvious entry point for treks in the park is at Zongo Pass 4700 m, on the way to Zongo.
Rock Camp
at 5130 m offers great views and is the place from where climbers make their ascent of the peak.
Understand
History
The mountain was first climbed in 1919 by Germans Rudolf Dienst and Adolf Schulze.
Landscape
Snow covered "nevados" contrast a crisp blue sky in front of the sea of clouds hiding The
Yungas
in the east, while the outskirts of
El Alto
on the
Altiplano
stretches towards
Chile
to the west. Glaciers has made the ground on the mountains rocky and the beautifully green dammed lakes in the Zongo Valley adds color to the landscape.
Flora and fauna
Domestic llamas, sheep and alpacas digest what little plants survives at this altitude. Birds in all sizes are abundant and condors make spectacular moves in the wind. A surprising colony of mice thrive among the rocks in Rock Camp.
Climate
Winters are sunny and dry, summers wet and more cloudy. Although snow can fall at any time and season. Winter is the main climbing season.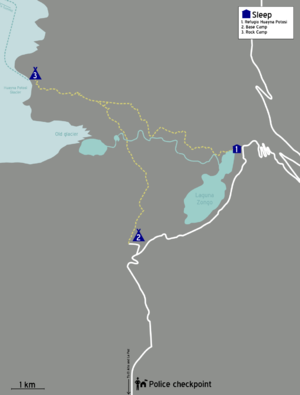 Get in
By bus
Buses to Zongo Pass
depart from Plaza Ballivian in El Alto daily. A minibus leaves at 05:00 and a supposedly larger bus departs at 06:00. Green micros cruise central La Paz and terminates at Plaza Ballivian. Jump off either at "base camp" before Lake Zongo, or at the Refugio Huayna Potosi 2 km further on at the end of the lake.
By taxi
From La Paz it takes 1½-2 hours and drivers will try for Bs. 400 to start with. They should be able to go for under Bs. 200. Cheaper rides from Plaza Ballivian in El Alto, see below.
From El Alto it takes 1½ hours and costs around Bs. 100 after bargaining. Green Micros takes you from central La Paz to Plaza Ballivian in El Alto.
Fees and permits
Bring copies of passport or remember your document's number, as there is a police check at the turnoff to Chacaltaya. Police ask for Bs. 2. Another checkpoint is 5 km before Zongo Pass. Drivers are held for 5 minutes by police and are sometimes charged Bs. 5. If you are not keen on organizing the trip yourself, go to an authorized operator.
Ex. Topas Bolivia (http://www.topas.bo/climbing/clhp02-uk.htm )

Get around
By foot
There are two starting points for ascending to Rock Camp.
From Base Camp a very clear path traverses a couple of kilometres to the moraine ridge.
From the refugio a obvious path takes you over the dam and up the moraine ridge.
From the moraine ridge the steep path of gravel and larger rocks leading to Rock Camp can be a scary surprise for the unprepared. Ascending is OK, even in sandals, but beware of the descent. The path is more difficult to follow going down and you can easily find yourself at very steep sections. Memorize the turns going up and do have good shoes with you. Ascent from the refugio or Base Camp takes about four hours, the descent takes two hours.
See
The views of neighbouring mountains from Rock Camp is great, and it's a nice place for relaxing, especially between 11:00 and 16:00. when the sun is up and heats the rocks. At about 16:00 the sun disappears behind the mountain and it turns bitterly cold.

Do
Climbing on the normal route is straightforward. Bring glacier travel kit (rope, slings, harness, karabiners or special devices for crevass rescue), crampons and one ice axe. Most people rope up on the glacier and better safe than sorry, but the hundreds of climbers each year make a very clear path around the obvious crevasses. A steeper section at about 5600 m may require rope and rappelling experience, as do the last part of the climb to the top. The French Route requires more skills and two technical ice axes.
Skiing or snowboarding Huayna Potosi is quite doable but the glacier may be icy on the lower sections. Memorize the obvious crevasses on the way up and keep close to the path. Skis are available in La Paz, but is of poor quality, ask around in tourist agencies.
The making of hot chocolate or equally hot Tomato Soup is an essential activity for those hours after 16:00 when the sun is obscured by the mountain. Stock up on ingredients in La Paz and practice the procedure carefully before setting out.
Eat, drink and sleep
Lodging
Refugio Huayna Potosi

phone: +591 2 74 00 45

offers accommodation, meals. The Altamirano family, +591 71 55 77 37, who runs "base camp" is building a competing refugio, completion and pricing of which is unclear.
Camping
Base campThe Altamirano family provides unpurified water and a wooden sign stating the altitude (4700 m). They also sell the odd beer for double the price in La Paz. This is the best place to pitch your tent if not ascending to Rock Camp right away.

Rock CampPrevious campers have put great effort into the making of flat spaces, mainly of consisting of flat rocks and gravel. It's a fine place to camp, though sleeping can be a problem because of the altitude and as climbers get up at 01:00 to get to the summit at sunrise. Bring all food from La Paz (pasta is not recommended at this altitude, as the low boiling temperature turns it into an unappealing wheat porridge). Rock Camp is right by the glacier and water while there is acquired by melting snow.
Warning
(Sep 2009): some tents and gear have been stolen while their owners were ascending the summit.
Stay safe
Bring a warm sleeping bag and a good tent. Night temperatures in winter drops to -15ºC or even lower. Good boots are necessary for the descent from Rock Camp. Try to remember exactly which way you took and which turns you made going up, as it's harder to find your way going down and you might end up with a couple of metres of rock climbing ahead of you if taking the wrong path (not a desirable prospect with a heavy backpack). In Base Camp, make sure your food is kept sheep proof. In Rock Camp, make sure your food is kept mice proof.

Go next
By bus
Catching a bus from Zongo Pass will not be a problem.
remember: Buses who enter the Zongo valley in the morning should return in the afternoon, there is no other exit. They might be full of passengers and goods, but will take you. Try to ask at the refugio or at Base Camp for schedule.

Hitchhiking
Hitchhiking is often your only budget choice when getting back to La Paz/El Alto, but there is little traffic. Llama shepherds say it is easier to walk 4 km to the police checkpoint, and hitch from there. Drivers ask for about Bs. 15 per person for the ride. Be sure to have camping equipment if stranded.

Taxi
The Altamirano family at Base Camp and the refugio Huayna Potosí can call a taxi for you. The cost is Bs. 150 to 180.