Huehuetenango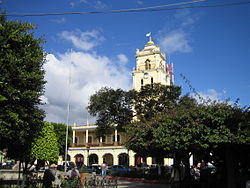 Huehuetenango
(often shortened to
Huehue
)is a city in the
Western Highlands
of
Guatemala
. The last big city in Guatemala before you reach the Mexican border, or the first major settlement when arriving from. Not many tourists stay over, but it is a great city to stock up on supplies, Quetzales and other city needs.
Understand
Huehuetenango has a predominantly Ladino population, with many colourful Maya villages around it.

Get in
By bus
The is located 2.5km southwest of downtown in Zona 4 along 6a Avenida. From here a number of companies operate chicken buses, mini-buses and/or vans (colectivos) to ply the same routes to various places in the
Central
and
Western Highlands
such as: Cuatro Caminos (every 15 min, 1:30 hr, Q20); La Mesilla (Mexican border) (every 15 min, 2hr30, Q20 by Transportes Los Verdes); Quetzaltenango (Xela)(every 30 min, 3 hrs Q20); Todos Santos Cuchumatán (every 30 min, 2 hrs Q20); Soloma (every 30 min, 2 hrs Q25); Gracias a Dios (Mexican border) (every 30 min, 5 hrs Q50); Coban (7 hrs, Q40); Barillas (6 hrs, Q50); Sacapulas (2 hrs, Q20); and Santa Cruz del Quiché (2 hrs, Q20). Note that information is not posted in any coherent fashion and it is best to inquire locally around the bus station or in the adjacent market. Local city buses (Rt 11
Terminal-Centro-Calvario
) into town are a block or two east at while the taxi stand is on the other side of the market building, east of the bus station lot.
From Guatemala City, Antigua, Panajachel:
If going to Antigua take the bus going towards Guatemala City and get off at Chimaltenango to transfer to another bus going to Antigua and Esquintla. To get to Panajachel get off at Los Encuentros and take another bus going downhill (south).
phone: +502 7764-5775, +502 7768-1566

address: (office) 8a Calle 8-70 Zona 1, Colonia Santa Eliza, Calzada Kaibil Balam

Direct first class/pullman bus towards La Mesilla (Car Wash a 100 Metros de la Vueltamina, Carretera a Huehuetenango) in one direction and to Guatemala City in the other (16 Calle 10-03 Zona 1), 5-6hrs to Guatemala City. Passengers transfer in Guatemala City to continue north towards Santa Elena near Tikal.

phone: +502 7765-7985, +502 2439 4911

address: 10 Av 9-12, Zona 1

Direct first class/pullman bus towards La Mesilla (Km 330 Aldea Valparaiso, La Democracia) in one direction and to Guatemala City in the other (Calzada Roosevelt 37-47, Zona 11), 5-6hrs to Guatemala City

Transportes Valesquez y Zacaleu Futura

phone: +502 7764-2145, +502 2473-5081

address: (office) 6a Calle 9-48, Zona 1

Second class pullman bus/coach towards Guatemala City (Calzada Roosevelt 9-34, Zona 7), 5-6hrs to Guatemala City from the Central Bus Terminal SW of town. Multiple stops along the road in older Marcopolo and Mercedes coaches.
To Coban and Barilla via Soloma and San Mateo Ixtatán:
There's another stop at a gas station in El Calvario on the corner 1a calle and 1a avenida, four blocks northeast of El Parque Central
By car
Get around
The city center is small enough to get around on foot, but you can catch a local colectivo downtown to get to the bus terminal 2 km out of town.

See
ZaculeuMaya ruins restored by the United Fruit Company in the 1940s. This was the fortress-capital of the Mam Maya, besieged by the Spanish for months in 1525. There are food stalls outside selling chorizos, tortillas, and beef etc.

ChiantlaThis little town on the northern outskirts of the city was the base for Spanish silver mining in the region. The church is a famous pilgrimage destination, due to its image of the Virgin Mary, known locally as the Virgen de Plata (Silver Virgin).
Buy
The city is a great place to stock up on supplies in the pharmacies, and there are lots of banks. Banco International, next to Hotel Mary (doesn't have an ATM, but does change dollars). It has more offices over town, some of which have an ATM. Furthermore there are lots of 5B ATMs.

Eat
There are lots of local eateries with deep fried food or tacos (3 for Q10) which won't hurt your wallet too much around the park.
Restaurante Las Palmeras, local and comfort food (hamburgers), good prices and a great view over the main square at sunset.
Cafe Museo (mon-sat 7am-10pm, sun 2-9pm), great hangout spot with great coffees, chocolate and a wide menu on food. They offer WiFi too, which in this town is a big plus.
Near the bus terminal is a market with food and a supermarket (Despensa Familiar), further up towards the Interamericana you can find a big shopping centre named Pradera Huehuetenango, with a McDonalds, Pollo Campero and a Maxi Bodega supermarket.

Sleep
Near the bus terminals:
Hotel del Prado

phone: +502 7764-9251

address: Calzada Kaibil Balam, Zona 5, Canton San Jose

Hotel California

address: 3ra. Ave 4-25, Colonia Alvarado, Zona 5
Downtown:
Hotel Mary

phone: +502 7764-1618

address: 2a Calle 3-52

Comes with light and clean rooms with ensuite bathroom.

phone: +502 7762-7775

address: 6a Ave 1

Luxury hotel in the downtown area with onsite parking.
Connect
There are some internet cafes around town.

Go next