Hui'an
Hui'an
is a suburban area and industrial town on the east side of
Quanzhou
.
Understand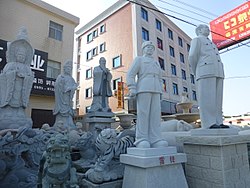 Administratively, Hui'an is a county in Quanzhou prefecture, and the term "Hui'an" can refer either to the entire county or to the county seat (officially known as Luocheng Town 螺城镇). The area is a mixture or urban and rural. County population is around a million, and about 300,000 of those are in the main town.
Hui'an County is famous for the peculiar way the locals would traditionally build their houses: instead of using bricks and tiles (like most of China), adobe (as can be seen, for example, in the
tulou country
in south-western Fujian), or irregularly shaped stones, Hui'an builders would use long, narrow rectangular blocks of locally mined granite. Both building walls and its roof could be constructed out of such blocks; in addition, similar stone blocks would be used to build storage sheds, temples, retaining walls, bridges, and even fences. Although this technique can be found elsewhere on southern Fujian coast as well, it is Hui'an County where it can be seen most commonly. While cheaper modern building materials are extensively used today, beautiful buildings and structures created using the traditional technique can still be found in many towns and villages around Hui'an, in particular inside the walled town of Chongwu.
These days, Hui'an craftsmen have turned their stoneworking skills to serving the national market. The entire 25 km long road from Hui'an county seat to Chongwu (county road X308) is lined with stone statue firms, their wares - statues of Buddha and Boddhisatvas, Confucius and Mao Zedong, dragons and elephants, as well as garden sculptures - filling their front yards. Other statues are installed along the road permanently.
Another industry extensively present in the county is footwear manufacturing.
Get in
By train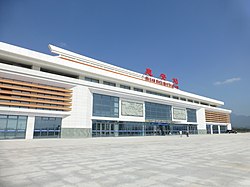 Hui'an Railway Station
Hui'an Station on the Fuzhou-Xiamen high-speed railway is 8 km north-west of the Hui'an county seat (the main urban area) and 33 km northwest of Chongwu (the most popular destination). Although comparatively few trains stop at Hui'an (a train every 1-2 hours in each direction), fast trains make the Chongwu a convenient destination for a weekend trip from Fuzhou or Xiamen; some direct trains from more Shanghai or Shenzhen stop here as well.
There is a frequent local bus service from the train station to downtown Hui'an, and some buses to Chongwu as well.
By bus
Hui'an is on the main highway going north from Quanzhou to
Putian
and
Fuzhou
and not far out of Quanzhou. There are plenty of buses (especially from places like Quanzhou), but not all long-distance buses stop in Hui'an; some just fly past on the limited-access divided highway.
Chongwu has direct bus service to Quanzhou as well.
See
The most scenic area in the county is
Chongwu
, an old walled town with beaches.
Fishing villages on the rocky peninsulas east of Chongwu.
Stone statuary factories.
Luoyang Bridge, on the border with Quanzhou (see in
Quanzhou#See
).
Buy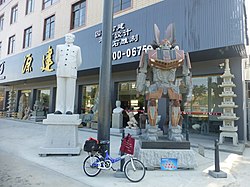 Stone sculptures of various sizes are available from numerous stone carving businesses. While most statues would require a truck to transport, some businesses have shops that offer more portable statuettes.
Besides fresh seafood, dried fish, mollusks and seaweed are available for sale at Chongwu's market. (If you intend to take any dried seafood out of the country, be aware of the relevant quarantine regulations of your country).