Hvar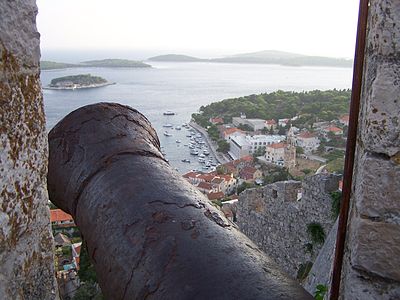 Hvar
is an island off the coast of
Croatia
.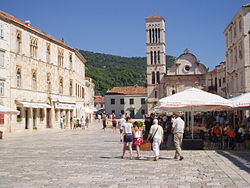 Gently rolling hills painted a brilliant purple by the fertile flowers, lush vineyards nestling at the foot of ragged mountains, gorgeous beaches with tiny inlets and secluded coves, luscious restaurants, boutiques, and a vibrant nightlife amidst the medieval streets of Hvar Town are just a few of the treats to enjoy on this dream of an island.
Imposing fortifications hover above the fluid blend of grey stone and orange cascading roofs. The remains of walls built by a long list of invaders descend towards the wide promenade edging the brilliant blue sea and the quaint fishing harbor. Marble streets reveal one of the largest squares in Dalmatia, Trg Sveti Stjepana, the prized Cathedral of St. Stjepan, and the Renaissance theatre.
Hvar Town may be the most stunning town on the island but
Stari Grad
, the oldest city in Croatia, Jelsa, as and smattering of small villages dotting the coast or nestled in the lush interior are well worth a visit.
Understand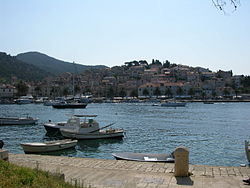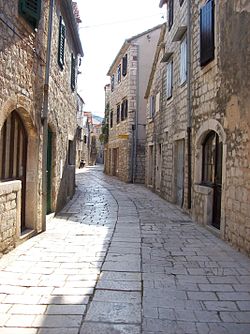 Island Hvar and especially and the neighboring historical town of are among the most popular destinations in the Adriatic.
The area of
Starogradsko polje
(
Stari Grad Plain
) is an distinctive example of agricultural development by the ancient Greek colonists who settled on the island in the 4th century BC. For this reason this area is included in the
World Heritage List
During the season (May to September) it can be very busy, especially during August when large numbers of Italians visit. Hvar was relatively cheap, without an extensive tourist infrastructure, and it attracted a lot of young people. However, this is changing as large five-star hotels are being built and the standard of living in Croatia is rising.
Get in
By either car ferry (approx. 2 hr), arriving near Stari Grad or fast ferry (a hydrofoil) (approx 1 hr) to Hvar City from Split, services operated by Jadrolinija. Buses operate to bring people to and from the ferry through the island (12 kn to Starigrad, 25 kn to Hvar City (April 2009)). As buses fill, late-coming passengers are often required to stand in the aisles during the entire bus journey.
Jadrolinija also brings you from Hvar town to Vela Luka (Korčula) and to the island Lastovo, and from Sućuraj in the east of Hvar to Drvenik (mainland).
Blueline operates fast ferries from Hvar town to Split. The car ferries run most regularly (approximately three per day and more during the high season (May to September) and call at Stari Grad. The fast ferries run less frequently but also operate to and from Hvar town. There are also ferries to other destinations, most notably Italy.
Get around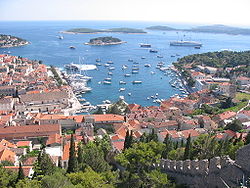 Buses meet the car ferries at Stari Grad and run to various destinations such as Hvar town. Don't take taxis from the ferry port, they're a rip-off.
You can easily rent a car for about 350 kn a day if you wish to explore other parts of the island. The rental agencies have firm policy of a minimum of one day rental (no hourly rentals). You can also rent a scooter or moped for about 250 kn a day. There are hourly rates for the mopeds and scooters. The roads on Hvar can be steep and windy and there are no guard rails, so be careful especially if riding a rented moped which is old and has already done tens of thousands miles.
There are only 2 petrol stations on the island: in the town of Hvar and near Jelsa. From Securaj to the nearest petrol station on the island is approx 50 km.
There is a convenient water taxi that will take you directly from Stari Grad harbour to the ferry for 15 kn.
See
Hvar (city) and surroundings
History
The Town Square in Hvar is among the most beautiful and the largest in Croatia. The square measures 4500 m², and the town has developed around this square, starting north of the square in the 13th century and then circling to the south of the square in the 15th century. There is also a fortress at the top of the hill with walls that encompass parts of the city. It's an easy walk, although uphill, to the fortress. It's worth the trek however because of the wonderful views you have of the harbor and surrounding areas. Don't forget to bring your cameras. There is a small eatery in the middle of the fortress where you can purchase drinks and snacks.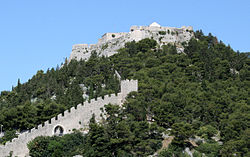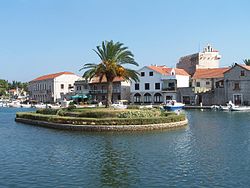 Architecture
The Cathedral of St. Stephen dominates one end of the Town Square, and was built during the 16th and 17th centuries. The bell tower of this cathedral is four-stories high, with each level more elaborately decorated than the last. The cathedral was built over an existing cathedral that was destroyed by the Turks. Parts of this older cathedral can be seen inside the church, but most of the interior was rebuilt.
The arts
Unique ceramics decorated with spiral ornaments in red, yellow, brown, and white were found at a Neolithic archeological site, Grapčeva špilja, near Hvar Town. Since such ornaments and engraving methods have only been found on the island of Hvar, archeologists have named this kind of Neolithic art "hvarska kultura" (Hvar's Culture). The island of Hvar also has the tradition of making lace, but from the threads of agava leaves. Nuns from the Benedictine monastery in Hvar are masters of this unique craft.
Hikes and walks
Take a water taxi to the nearby Pakleni archipelago, where secluded strands of white sand, hiking trails and pine groves await. Or hike for 2 hours along the Hvar's southern cliffs from Dubovica to the winery of Zlatan Otok for a late lunch, a swim and a boat ride return to Hvar Town.
Scenery and nature
One visitor describes Hvar as "beautiful, crystal-clear blue sea, big green hills, clean air and lots of old stone." At sundown a stroll up old lanes from the square in Hvar Town leads up to another lane which, high above the others is extremely attractive and shouldn't be missed.
Religion and religious sites
The Bishop's Treasury, adjacent to the cathedral, contains silver vessels, embroidered Mass robes, numerous Madonnas, icons dating from the 13th century, and an elaborately carved sarcophagus.
Humac
Humac
address: Humac, Jelsa
Humac is an old, now mostly uninhabited hamlet with a history dating back centuries. It is home to simple houses made of stone, some with foundations dating back to early Stone Age. In between and around the houses are typical fields (amongst others of lavender and wine), some of which are still worked on, some of which seem deserted. It is a prime example of local building and farming history. During the last few centuries, people moved to live elsewhere while the village has still been used for agriculture and keeping cattle.
Recently, parts of the village are being restored and there seems to be a small museum with ethnografic objects (closed at the time of the author visiting, hence no details).
Located at 350m above sea level, the village also offers some magnificent views over the fields and the sea.
See:
the many stone homes and ruins
church of St. John and St. Paul
fields

address: Humac, Jelsa

a typical Dalmatian cave with stalactites and stalagmites, where archeological findings, especially engraved and colored ceramics, have been made and prove neolithic settlement of the island
Do
Rent a boat (5 horse power) for about 350 kn a day and explore the
Pakleni Islands
on your own. You can rent boats right in the main square in Hvar town. The islands are very close and make for an amazing adventure. Take a picnic or a bottle of wine. The boat can be anchored anywhere around the islands or tied to the rocks.
Rent a scooter for 250 kn a day and go around the island. There is lots to see and many interesting stopping points.
There are also frequent water taxi that go the
Pakleni Islands
that run every half hour or so.
Climb up to the Španjola Fortress. Enjoy the magnificent view of Hvar town and the Pakleni Islands, and pick up Italian radio on your mobile phone or main local Megamix Radio Hvar radio station .
Go dancing at Carpe Diem. This is not to be missed. The DJs are usually on the international circuit and the energy is high.
phone: +385 91 1543072

address: Obala bb

Offers sailing, sea kayaking, hiking, rock climbing, cycling.

phone: +385 98 1723932

address: Jelsa Hvar

Great things to do for families, stag party, kids, and groups of friends. Offers paintball, splatmaster, cageball,beach volleyball, badminton, human table football, archery, bocce, giant boxing.

phone: +385 98 405 551

address: Fabrika 27

Day trips from Hvar to nearby island by RIB boats, offroad tours on the island of Hvar
Buy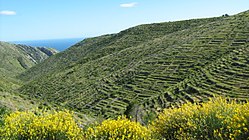 Hvar is known for its lavender, you can see it blooming in the summer over large areas. Don't forget to purchase bunches of lavender or lavender oils in beautifully painted glass bottles the lingering fragrances will remind you of the lovely time you spent on the island of Hvar.
phone: +385 21 718 438

address: Pjaca

Contemporary art and craft gallery presenting local art as well as artist in residence concept. Moderate prices and high aesthetic standards, unique and interested. Open all year.
Eat
The local grilled squid with olive oil is wonderful, as is the cucumber salad.
Hvar Town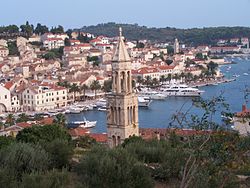 phone: +385 21741485

address: Burak 3, Zdrilca

Great seafood and a good view over the bay.

The Golden ShellJust off the main square near the main arrival port of Hvar is the Golden Shell, a small restaurant recommended as the best by the locals. The eating area is outdoors under a lovely vine roof, and if you are lucky you may be offered a measure of the home brewed fig brandy. Be careful, it's extremely strong but the locals recommend one a day to keep you healthy. The delicious national dish of Croatia is available, rabbit in fig sauce, and the rabbit and potato with peanut sauce is also highly recommended.
Pakleni Islands
phone: +385 21 742480

address: Sveti Klement, Vlaka

Beautiful little restaurant in a garden of fig and mandarin trees. They make their own wine from the vineyards next to the restaurants, the fish they catch in the nearby water. If you order a desert of fresh figs, they will pluck them from the trees around you.
Jelsa and surroundings
phone: +385 91 523 9463
address: Humac, Jelsa
Iin between of traditional houses and fields, this restaurant takes you out into a scenic and romantic atmosphere (there is no connection to running water and the electricity grid). You will have a straightforward menu of traditionally prepared dishes, many of them made in an old style oven. Good meat and also some vegetarian options. Some dishes need to be booked in advance. Certainly worth a visit, although somewhat off the main paths. Only reachable via phone (no messages or emails).
Drink
address: At the end of the riva

It's all big cushions, sofas, hammocks and mood lighting. Drinks leave something to be desired. It's a real shame, because it's the perfect spot to drink cocktails, but they make them with flavoured syrups instead of fresh fruit, and they all taste like bubble-gum.

Prsuta Tri

phone: +385 98 9696193

Good vine bar, has cheese, olive, and prosciutto.

Teraca

address: Placa

Friendly small bar with an amazing view over the square and harbour.
Sleep
At every ferry arrival, a bunch of people offering private accommodation will show up.
phone: +385 977 942 942

address: Vitarnja, Jelsa

Welcoming house in Jelsa, 30m from the sea, low prices. 5 apartments (2+1, 4+2, 4+3 persons), ground or first floor. Nice mediterranean garden, balcony or terrace for guests, WiFi, grill, pets welcome.

Anna

phone: +385 917303517

address: Buzolic Tonci & Anna Glavica bb

Friendly and clean apartment just up the steps from the main square.

phone: +385 21 773 250

Two air-con double room apartments, one air-con studio-apartment, and two rooms.

phone: +385 21 741 683

Ten minutes walk from center of town and 20 meters from the sea.

Apartments Komazin

phone: +385 91 601 9712

Nice seaview apartments for 2, 3, 4 and 5 persons.

phone: +385 21 735 393

phone: +385 91 1543072

address: Jelsa bb

Great location in very centre of Jelsa on Hvar island. Nice clean rooms with private bathrooms.

phone: +385 911 18 12 74

Dates back more than 400 years and is traditionally constructed from local stone. It is a spacious two floor apartment in quiet surroundings, located in the historic centre of Hvar Town.

phone: +385 98 921 04 32

address: Donja banda b.b.

Accommodation for 4-5 persons in old stone completely renovated house, 20m from sea. The available apartment takes the first floor and the attic; 70m2 large.

phone: +385 21 741-676

address: Antica Ćurin, Sv. Katarina bb, Hvar Town directions=

Very clean and nice apartments with bathrooms and balconies. The top floor balcony has an amazing view over Hvar and the Pakleni Islands.

Aprtments Hackl

phone: +385 21 741514

Nice quiet place.

Luka's Lodge

phone: +385 917 347 230

Nice location away from the noise, but within easy walking distance of beaches, restaurants, main promenade.

phone: +385 21 717916

address: Bukainka bb

Nice villa with stunning view, swimming pool and air conditioning.

phone: +385 21 741 183

address: Ivana Vucetica 16

Apartments for 2 to 4 persons, direct sea view, 20 m from sea.

phone: +385 98 265 434

Nice view. Has a seawater pool and fitness room.
Go next
The beautiful, unspoilt and popular naturist islands of Jerolim and Stipanska are accessible by taxi-boat from Hvar town square. As of August 2010, the main beaches of the island are used predominantly by clothed bathers (the majority of island visitors), while the small rocky coves are used by a mix of clothed and naturist bathers.