Hveragerði
Hveragerði
is a town in
South Iceland
.
Understand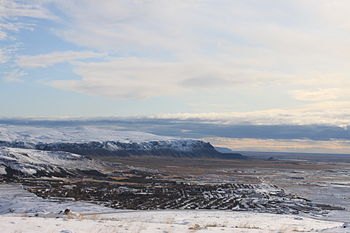 Hveragerði is uniquely located in a geothermally active area. Its name is derived from an Icelandic word for hot spring - hver. The hot springs are the main tourist attraction and they also provide heat for local famous greenhouses which are used mainly for flower production.
The tourist information office is placed in the shopping center Sunnumörk, Sunnumörk 2-4, Hveragerði with business hours 8:30-17:00 on weekdays, 9:00-14:00 on Saturdays and 9:00-13:00 on Sundays between June 1 and August 31. In low season it is open on weekdays 8:30-16:00 and Saturdays 9:00-13:00, and closed on Sundays.
Get in
Hveragerðiis located 45 km from
Reykjavik
and can be easily reached by car along the Route 1.
Bus number 51 from Reykjavik is an alternative. It leaves from Mjodd bus station and the line schedule can be found here: .
Get around
In Hveragerði everything can be reached on foot.

See
Geothermal parkIn Geothermal park visitors can explore hot springs and mud pools and the use of geothermal energy is demonstrated. As a bonus, geothermal bread is baked using the Earth's heat and eggs can be boiled in hot steam.

Exhibition The Quake 2008

address: Sunnumörk 2-4, Hveragerði

A powerful quake hit south Iceland on May 29, 2008. The exhibition is devoted to this event in Hveragerði. For a closer experience, visitors can try an earthquake simulator. A fissure created by another strong quake a long time ago can be explored through the glass in the floor of the information center located in the same building.
Do
Laugaskarð swimming pool

phone: +354 483 4113

address: Laugaskarð, Hveragerði

Take a bath or swim in a geothermally heated outdoor swimming pool. It is open all year round.

Hike & soak, ReykjadalurFor a pleasant outdoor experience take a hike to nearby Reykjadalur area located north uphill from Hveragerði. Get informed in the tourist office where maps with marked trails and distances are available. The trail leads towards a highly thermal area with plenty of steam and hot water coming up through the ground. Beware, some springs and pools are really hot. After about an hour hike a bathable warm stream can be reached and you can enjoy a dip where hot springs join the stream. , , . A map of trails can be downloaded from .
Eat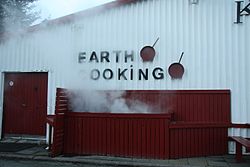 address: Breiðumörk 21

The restaurant specializes in Icelandic traditional cuisine and earth cooking. This method of cooking and baking using natural geothermal steam is unique in Europe.
Connect