Hyden
Hyden
is a small farming town in the
Wheatbelt
of
Western Australia
that is justifiably overshadowed by its better-known attraction,
Wave Rock
.
Understand
With a population of only 281 (according to the 2006 census), Hyden is a very small town. In addition to tourism, Hyden's economy mostly revolves around agriculture. As the name of the region suggests, wheat is the most important crop, and cattle and sheep are also raised locally. Due to its location in inland Australia, temperatures vary from hot in January to temperate in July with a just a few days of rain each month.

Get in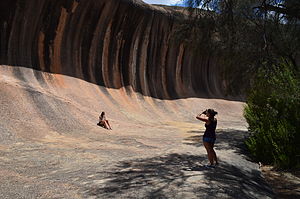 Hyden is 340km from
Perth
on the Brookton Hwy, via
Brookton
,
Corrigin
and
Kondinin
. Many people visit as a day trip from Perth, though the length of the drive necessitates an early start.
From anywhere else in the South West you could easily reach it via
Merredin
in the north,
Albany
in the south and
Norseman
in the east.
There's an airstrip just north of the Wave Rock. Though there are no commercial flights there, it's an option if you're flying your own plane. The landing fee is $10/passenger, pilot free of charge.
Get around
The town centre is around Marshall and McPherson Streets.
Wave Rock and the adjacent sites is 4km out of town. To get there, head east along Marshall St to Lovering Rd, then turn at Wave Rock Rd. The Humps are a further 18km down Lovering Rd.

See
The main attraction is indisputably
the wave
and many come only to see that, but if you have a little more time and want to make the long trip worthwhile, there are a few other spots of at least equal interest.
The HumpsA large granite mound connected underground to the other one closer to Hyden. A walk trail runs up and around the monolith with interpretive panels explaining geological and botanical features you may otherwise just walk past. Scattered along the trail are huge rocks, weathered into fantastical shapes that create an otherworldly feel, especially early or late in the day, that gives impression of why this place held great spiritual significant to the local Aboriginal peoples.

The Lace Place - Lace Museum

address: Wave Rock Rd

Lace aficionados will be overwhelmed by the largest collection of lace in Australia. Samples from the early 1600s to modern work are displayed, though the small lacy piece of Princess Diana's wedding dress could be of greatest interest to most.

Mulka's caveA small cave at the front of the Humps that, according to Aboriginal legend, was the home to a giant cross-eyed man who had a taste for human children. Its said that his huge hand prints can be seen on the cave's ceiling, though you may have a hard time finding them among the numerous conventionally-sized hand prints and stencils put there by ordinary Aboriginal people over the past 10,000 years or so.

Wild flowersFor a few months a year wild flowers emerge take over the countryside and offer the most beguiling array of shapes and hues like an eruption of fireworks in ultra slow motion. Many of the flowers are small and transient, adding their dot of colour for a brief moment to the overall ebb and flow of the season. The best time or place to visit is hard to define as the blooms don't follow a consistent timetable.

Wave Rock Wildlife ParkA park with various Australian animals such as kangaroos, parrots, koalas, black swans and emus.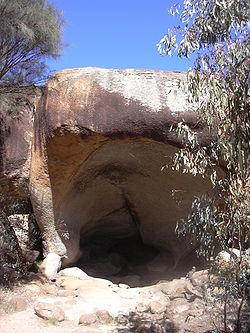 Wave Rock
Hyden rock, where and the are located, emerges out from the utterly flat surrounding farm land 4km outside of town. The iconic 14m high 110m long curving granite face of Wave Rock has borne 500 million years of erosion to take its present form. Some say that it's only worth spending 15 minutes there before the novelty wears out but really you could realistically spend twice that if you arrive in the early morning or late afternoon and watch the colour of the rock change with the movement of shadows. A 3.6km walking track leads up over and around the rock. The most attractive part of trail runs along the rock edge to the left of wave rock and links up with nearby
Hippo's Yawn
. This cave resembles a hippo with mouth agape.
Entry to all the sites is
free
, though there's a
$7 parking fee
for the carpark right in front of Wave Rock (to the left of the caravan park entrance). Frugal travellers can
park at The Breakaways
, just below the town dam and walk 200m to the wave or
park at the Hippo's Yawn
and walk about 1km to the wave for free. It's a nice walk too.
Do
Eat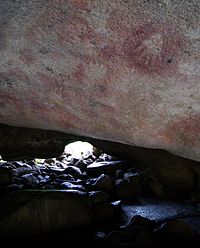 Hyden doesn't have any independent restaurants other than those attached to accommodation. The Hyden Motel has all three - The Bush Bistro, The Gimlet and The Sandalwood - though none have inspired anything more than disappointment in most diners. In addition, there's the Country Kitchen at the Wave Rock Visitor Centre.
Hyden Bush Bakehouse

address: McPherson St

Some travellers speak effusively of the pies and pastries though others can't taste what all the fuss is about. Nonetheless it is your only chance for a fresh baked pie or pastie though you will have to get here early as they only make small batches that sell out quickly to those in the know.
Self Catering
Given the dearth of decent eating options, foodies might be better off going DIY for dinner.
Hyden IGA

phone: +61 8 9880 5272

address: Marshall St

A small selection of fresh fruit and vegetables and a far wider range of frozen and canned goods.

Hyden Trading Company Supermarket

address: 27 McPherson St

Another supermarket with the type of name that makes you think that if they don't have it, you don't need it.
Drink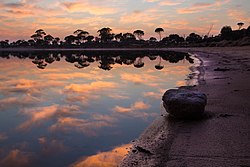 Hyden is one of the few country towns without a pub. The restaurant at the Hyden Motel has a bar if you just want a drink. The motel also has a bottle shop for take away alcohol.
The Hyden Bush Bakehouse is only place in town with a proper coffee machine.
Sleep
Many travellers complain that accommodation options are limited, uninspiring and overpriced. Travellers who are including Hyden on their itinerary might want to plan their stay at a nearby town.
Wave Rock Caravan Park

phone: +61 8 9880 5022

address: 1 Wave Rock Rd

A ring of sandy caravan and tent sites around a central ablution block. The campers kitchen only offers a fridge, kettle and microwave - not very useful.

phone: +61 8 9880 5052

address: 2 Lynch St

The decor is stuck the 1970s but many feel the price is beyond today's standards. The 57 units and 3 suites are the only place of its class in town.

address: Wave Rock Rd

Fourteen two bedroom brick cottages with kitchen. One has a disabled accessible bathroom. Lake Magic is either full of water or a dry salt lake depending on the season. Some find the barren surroundings hauntingly beautiful or just plain creepy.
Go next
Norseman - The 300km Granite and Woodlands trail heads into the open bush, past salt lakes, gnarly granite outcrops and old mining grounds between the Wheatbelt and Goldfields-Esperance region.
Hopetoun - Languid seaside town on an endless arc white sand beach.
Fitzgerald River National Park - Scabrous headlands, primordial granite peaks and the most botanically diverse region in the state.