Hyder
Hyder
is a small place with less than a hundred inhabitants in
Southeastern Alaska
.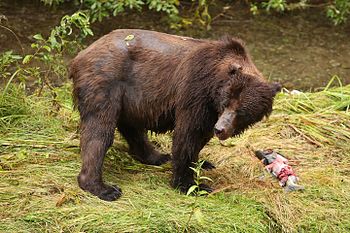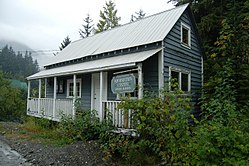 Understand
Hyder has a colorful history as wild west mining camp and border town that took advantage of its unique status as an American territory between the Canadian mainland and several Canadian mines that could only be accessed via Hyder. In its heyday Hyder was filled with saloons, ladies of the evening, gambling and all manner of other sin because it was just across the border and therefore out of reach of the Canadian Mounties and a long way from any American law enforcement presence.
The portion of Hyder built over the water and abandoned as mining activity declined burned down in 1948. Today the town is now only about one block long and it and starts right at the unguarded American border. Therefore, Hyder represents an unusual opportunity for travelers to visit
Alaska
,
USA
legally without a US visa.
Canada
, however, does guard the border and visitors with inadequate Canadian visas or passports often get temporarily stuck in Hyder until they can get the right immigration documents. If you are visiting Canada on a single entry visa do not go to Hyder (or elsewhere in Alaska) as you may not be allowed back into Canada without getting a new visa.
As the easternmost town in Alaska and the closest and most accessible point in Alaska by road to the Lower 48 States, Hyder is a popular place to "collect" Alaska as a travel destination.
Hyder is notable for being the only place in Alaska not to use the +1-907 area code, instead using
British Columbia
's +1-250 area code. Unlike the rest of Alaska, Hyder unofficially uses the Pacific Time Zone like most of British Columbia and the US West Coast States. The preferred currency is Canadian (except the U.S. Post Office, which insists on American currency). Hyder's nearly 100 residents observe Canadian holidays, send their children to a Canadian school, and if they call the police will find that a Canadian Mountie will respond. BC Hydro supplies the electricity from Canada. Hyder and Stewart share a mutual international Chamber of Commerce.
Get in
Hyder is located at the head of the Portland Canal, a 130-mile (210 km) long fjord which forms a portion of the border between the U.S. and Canada at the southeastern edge of the Alaska Panhandle. Portland Canal is the second longest fjord on Earth.
Other than via a private boat or float plane, the only way to get to Hyder is by road via
Stewart
, BC which is 2 miles (3 km). The AMHS ferry that used to connect Hyder to
Ketchikan
stopped running in the 1990s, leaving the only public transportation between Hyder and the rest of Alaska the
Taquan Air
float plane that arrives twice a week with U.S. Mail.
Get around

You can walk around the whole town in minutes. The bear and eagle viewing area is a bit of a hike.

See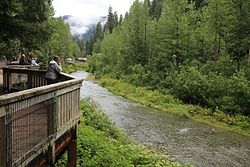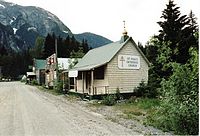 There is a bear viewing platform at Fish Creek and plenty of bald eagles to see. The bear viewing is popular during the Salmon run, when hundreds of fish will be in the creek.
See the metal border monument at the border control station. There is also an interesting Russian Orthodox Church to see hearkening back to the days when Alaska was Russian soil. Scenery in the area is spectacular.

Fish Creek Wildlife Observation SitePark with salmon stream and bear viewing platform.

Old Stone StorehouseStorehouse erected by Captain D. Gillard in 1896, on US National Register of Historic Sites.
Do
Hyder is accessible by highway from Stewart, British Columbia, which connects with the British Columbia highway system. Hyder became popular with long distance motorcycle riders in 1998 when author Ron Ayres set a record of riding to the contiguous 48 states in six days. Ayres went on to add to the 48 state record by continuing on to Hyder, Alaska to establish a new 49-state record of 7 days, 0 hours and 20 minutes. Ayres named the new long distance ride the "48 Plus" and the 49-state ride became popular with members of the long distance motorcycle riding Iron Butt Association. An annual Hyder-Seek gathering (1998–2012) brought long-distance motorcyclists who travelled from all over North America each Memorial Day weekend.

Buy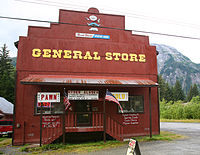 Border Bandit

phone: +1 250 636-2317

address: Main St.

Local grocer.
Eat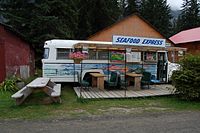 phone: +1 250 636-9011

Surf and turf, halibut, shrimp, scallops, salmon, chowder, burgers, corn dogs.
Drink
The bar in Hyder is the other big draw, famous for offering a drink with a pickled toe in it. A real taste of the wild west, Alaska style. The bar is the only place to eat. Drinking age is 21 in Alaska and 19 in British Columbia.
Glacier Inn

phone: +1 250 636-9248

Interior papered in signed dollar bills, seasonal restaurant, drink a shot of 150 proof alcohol to get 'Hyderized'.

First and Last Chance Saloon
Sleep
phone: +1 250 636-9006

Two campsites, one for RVs, second for tenters. Laundromat, pay showers, free WiFi, fire pits and dry pavilion.

Grandview Inn

phone: +1 250 636-9174

address: Hyder Ave.

phone: +1 250 636-2393

address: 505 Main St.

Three rooms, WiFi, satellite TV, BBQ. No pets or kids under 12.

phone: +1 250 636-9006

address: Premier Ave.

Hotel with seasonal restaurant (Mexican cuisine, burgers, pizza and seafood), bar, gift shop. Free WiFi.
Connect
There is a US Post Office on Main Street in the Hyder Public Library building.
Fax/copy service is available weekdays at the Government Agent office in the Stewart BC court house.

Go next
Stewart - The gateway and only way out of Hyder by land. The road to Premier Mine, BC is a dead end.