Hyderabad (Pakistan)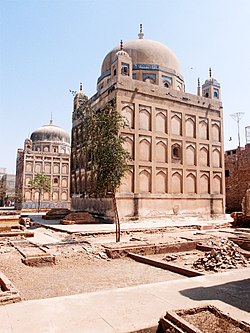 Hyderabad
, population 1.7 million, is the second largest city of
Sindh
province and the 8th largest city in
Pakistan
. Lying along the River Indus, it is rich in culture, traditions and history. It was the capital of Sindh for many centuries, and used to be known as the
Paris of India
, due to belief that streets of the city were washed every morning with clean drinking water from the River Indus. Hyderabad is now an important commercial and cultural center, and serves as a transit between the rural and the urban Sindh. Noteworthy sights in Hyderabad include the tombs of the Kalhora and Talpur rulers, two royal fortresses, and the miles-long bustling and colourful Shahi Bazaar.
Understand
History
Hyderabad's early history dates back to a small fishing village on the River Indus known as Neroon Kot, named after its local Sindhi ruler Neroon.
Later, Hyderabad was founded in 1768 by Kalhora ruler Mian Ghulam Shah Kalhoro on the ruins of Neroon Kot and the city was made capital of Sindh. It started to expand, progressed and flourished, and obtained the nickname of Heart of the Mehran as the Kalhora ruler Mian Ghulam Shah was said to have fallen in love with the city. After the death of the last Kalhoro ruler, the Talpur dynasty conquered the region. The city expanded, progressed and flourished more under the Talpur rulers. Talpur rule lasted until 1843, when the British colonial empire conquered the region, making the city into part of the Bombay Presidency of the empire.
After the independence of Pakistan in 1947, the minority Hindus and Sikhs migrated to India, while the Muslims refugees from India were settled in refugee camps in Hyderabad. Nearly all Hindus of Hyderabad left for India due to better socio-economic prospects in India. The massive migration of Muhajirs into Pakistan after the independence of Pakistan in 1947 raised the population levels of the city to an extreme. The late 1980s saw a black period in the history of Hyderabad, as riots and violence broke out between the Muhajirs and Sindhi nationalist parties, due to which the social fabric of the city was damaged. Until 1955 the city of Hyderabad served as the capital of Sindh province, which was later dissolved and Karachi was made the capital of Sindh.

Climate

Hyderabad has a relatively mountainous climate, somewhat more pleasant than other parts of Central Sindh throughout the year. Summer and winter are the two main seasons, while spring and autumn are very short. The period from mid-April to late June is the hottest time of the year with temperatures as high as 48.5 °C. Winters are usually warm, around 25°C during the day time and often below 10 °C at night, and are the best time to visit the city. The highest ever recorded temperature in Hyderabad is 48.5°C in 1991, while the lowest is 1°C in 2012.

Get in
By car
Hyderabad is connected with rest of Pakistan through National Highways # N-5 and # N-55 (the Indus Highway). Travellers coming from the north of Pakistan, usually prefer to come via the N-5, whereas travellers coming from the north-west of Pakistan prefer to use the N-55. Hyderabad is connected with Karachi both via a highway and motorway but travel by the M-9 motorway (Super Highway) is preferred. It's 150km long and the journey take about two hours.
By bus
Plenty of air-conditioned and non-air-conditioned buses and vans run to Hyderabad from other major cities of Pakistan. A journey from Karachi cost around Rs 200 (non-air-conditioned) or Rs 250 (air-conditioned), whereas from Sukkur the price is Rs 500 (non air-conditioned) or Rs 700 (air-conditioned).
By train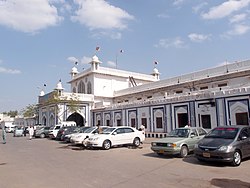 Hyderabad is served by as well as nearby and has railway connections with almost all the major Pakistani cities and towns. Most trains travelling between Karachi and rest of the country make a brief stop at Hyderabad. Hyderabad station is a major railway junction - the largest and busiest station in Pakistan besides Karachi.
If you're travelling from northern Punjab with both speed and comfort as a priority, the Karakoram Express is one of the best choices. This train runs daily non-stop between
Lahore
and Karachi and is faster than other trains, taking less than 20 hours travel time, because it makes only a few stops, whereas other trains make stops at every major station along the route and are usually delayed as well. The Karakoram Express has both economy and air-con class accommodation. A ticket (berth) on the Karakoram Express in air-con class will cost not more than Rs 5,000.
Other than that, plenty of trains (both economy and air-conditioned class) run from Lahore as well other major big cities such as
Peshawar
,
Faisalabad
,
Multan
,
Quetta
, and
Rawalpindi
on a daily basis. But expect them to be slower, as they make stops at every railway station along the way. Tezgam or Shalimar Express have air-conditioned class so are best preferred for travellers from Punjab; other air-conditioned class trains are Khyber Mail for travelers from Peshawar, The Bolan Mail is recommended for travellers from Quetta, although this train calls at Kotri railway station.
Get around
Transportation is by private car, taxi, or rickshaw.
Unlike in
Karachi
, black and white taxis do not operate in Hyderabad. Taxis are generally private cars and operated by taxi companies, so they cannot be hailed on streets, since distinguishing between a taxi and a private car may be difficult. You can ask at a hotels to arrange a taxi, or call the taxi company offices. These taxis are usually air-conditioned, modern and clean fleet which makes them the most comfortable, luxurious way to navigate around the city of Hyderabad especially in the blistering hot weather of Summer.
Rickshaws provide cheap and quick transportation within the city. Shared rickshaws, which are somewhat different from a traditional motorcycle rickshaw, are another option.
There are plans for metro bus and train systems to be built.
See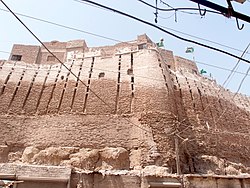 Pakka Qila

address: Makki Shah Rd

Pakka Qila ("strong fort") was built on one of the three hills on which the city was built by the Kalhoro ruler Mian Ghulam Shah Kalhoro during the 17th century. Though today the massive historic fort is badly maintained and deteriorating, it still is the most notable landmark of Hyderabad, and a must-see from outside at the least. Most of the area inside the compound is inhabited by refugees from the 1947 population exchange. The construction of the fort was begin in 1766 AD and completed by 1768. Later, the Talpur rulers conquered Hyderabad and settled inside the fort, until they were defeated by the British in 1843. The main gate of the fort is still there for visitors to see and take photographs. The fort was built using fire-baked bricks giving it the name of the strong fort.

Kacha Qila

address: Makki Shah Rd

This fort was built in 1768 by the same Kalhoro ruler who built Pakka Qila. However, it used unbaked clay bricks, as opposed to fired baked bricks which which Pakka Qila was built. Thus the name Kacha Qila which means "weak fort". The fort is now in a very desolated state. Today, most people head to the fort to visit the shrine of Makki Shah built on the hill of the fort. Both the Pakka Qila and Kacha Qila are deteriorated and in a desolate state now, but they are good examples of early modern fortifications.

Rani Bagh

address: Qasimabad

This popular local recreation spot was built in 1861 and named after Queen Victoria of England ("Rani Bagh"="Queen's Garden"). The park includes Eidgah (an open-air mosque with beautiful pink minarets for the annual Eid prayers), a zoo, lawns, children parks, jogging tracks, and a place with many eateries and food kiosks. The zoo contains a limited selection of animals (monkeys and crocodiles, but no lions or bears), as well a large fishing pond. It is quite run-down by international standards.

Institute of Sindhology Museum

address: University of Sindh, Jamshoro

founded in 1962, it is one of the major resources on the history of Sindh and was the first research institution of its kind, and brought Sindhology to the forefront of international research. It has dioramas which display many aspects of Sindhi history, heritage, music and culture. Some very interesting dioramas depict the lifestyles of the desert tribes of Thar and Kohistan. The museum has archaeological, ethnological, ethno-musical, photographic, coins, Indus-painting, and general sections. Artifacts on display in the museum represent the history and demography of the region. The collections contain archaeological material, wood-work, thread-work, metal-work, leather-work, pottery, jewellery, coins, armaments, photographs, and paintings that have been collected since the 1970s. A special gallery contains portraits of prominent personalities.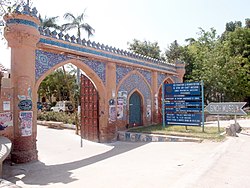 Sindh Museum

address: Qasimabad

A quite large museum has many nice items on display in large halls which depict the history and heritage of Sindh and Indus Valley Civilization. Items and artefacts from various ruling periods of Sindh, including Sama, Soomra, Kalhora and Talpur periods are showcased in the museum. Museum have plenty of galleries where replicas of people belong to different occupations placed showing their daily life.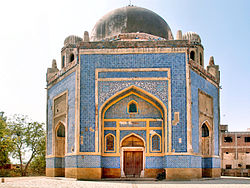 Tomb of the Mian Ghulam Nabi KalhoroThe large and beautiful tomb of Kalhora ruler Mian Ghulam Nabi Kalhoro decorated with tiles is well preserved, although its dome collapsed and has now been replaced by a flat roof. The Kalhora dynasty ruled Sindh from 1701 to 1783.

Tombs of Talpur Mirs

address: Hirabad

A complex houses numerous impressive royal tombs of ruling Talpur dynasty, who ruled Sindh and some other parts of Pakistan from 1784-1843.

Navalrai Market Clock TowerAn impressive tower overlooking the Shahi Bazaar. Built by the British in 1914.

Badshadi BungalowPalace of the Talpur dynasty, constructed in 1863.
Buy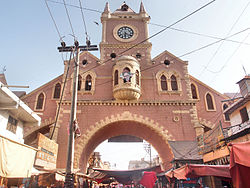 Hyderabad is one of the largest bangle producers in the world.
Shahi BazaarA several kilometre long narrow lane bazaar. Shahi comes from the word 'Shah' meaning 'king', as the bazaar was first established by Kalhora ruler who, when he changed the capital of Sindh from Khudabad to Hyderabad, persuaded many traders to come and start trading at this bazaar. It extends from the gate of the Pakko Qilo Fort in the south, to the Naval Rai Clock Tower. Plenty of souvenirs, handicrafts, embroidery and jewellery shops can be found here at a range of qualities and prices. Many shops also sell Ajrak and Sindhi caps. Resham Gali Bazaar branches off the side of Shahi Bazaar.

Resham Gali BazaarAnother street market, focusing on women's clothing and jewelry.

New Hala Handicrafts

phone: +92 22 2613096

address: City Gate

A large shop dedicated to quality handicrafts and souvenirs of Sindh especially Ajrak and Sindhi cap at affordable prices.
boulevard mal hyderabad,
auto bhan road,
jama cloth 8 no hyderabad.
gala and sabzi mandi hyderabad.
Eat and drink
Western food franchises such as KFC, McDonald's and Pizza Hut exist in Hyderabad.
phone: +92 22 381202

address: Autobhan Rd

An upscale restaurant with nice ambience. Menu consist of Pakistani, Bar B Q, Chinese and Continental dishes.

De Gravity

phone: +92 22 3821349

address: Main Autobhan Road, Latifabad,

A fine dining sophisticated restaurant cum cafe with some very elegant menu consist of continental main courses. Popular with youngster especially during weekends and on especial occasions.

Midway Hill Restaurant

phone: +92 22 2610205

address: National Highway

A economical restaurant serve some delicious Pakistani food.
Hyderabad Darbar hotel,
A One Snacks BBQ Resturant,
piato
village hotel,
sabzazar hotel,
Salateen Restaurent,
roof top hotel,
Bombay bakery,
shah latif bakery,
Al rahim resturant hotel,and many more
Sleep
Budget
There are many cheap lodgings and hotels at affordable charges scattered outside and near the Hyderabad train station.
Hotel Paradise

phone: +92 22-2731772, +92 22 2731773

Has free WiFi and only non-airconditioned rooms.

Al-Zaib Hotel

phone: +92 22 231833

Has both non-airconditioned and air-conditioned rooms.

Al-Sadaat Hotel

phone: +92 22 2731739, +92 22 2731811

address: Station Rd

Has both non-airconditioned and air-conditioned rooms as well Free Wifi in rooms.

Taj Hotel

phone: +92 22 2731706, +92 22 2731840

Has only non-airconditioned rooms.

Hotel Rainbow

phone: +92 22 2731936

Has only non-airconditioned rooms.

Hyderabad Hotel

phone: +92 22 2731857

Has both non-airconditioned and air-conditioned rooms.
Mid-range
Hotel Faran

phone: +92 22 2780194

address: Saddar

hotel with some 40 rooms. Rooms are equipped with air-condition, cable T/V , fridge and other basic amenities.

Hotel City Gate

phone: +92 22 2611677, +92 22 2611744, +92 22 2611197

address: National Highway, Jail Road

A centrally air-conditioned hotel with some 25 rooms. Rooms are equipped with air-condition, cable T/V , fridge and other basic amenities.

Hotel Ritz

address: Sadder

hotel with some 10 rooms. Rooms are equipped with air-condition, cable T/V , fridge and other basic amenities.
Splurge
phone: +92 22 2781903 4

address: Thandi Sarak

An upscale hotel with some 50 air-condition rooms in different styles, 24 hour room service and several restaurant options, including Pakistani dishes but also an in-house Pizza Hut.
Go next