Hydra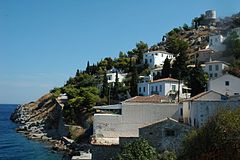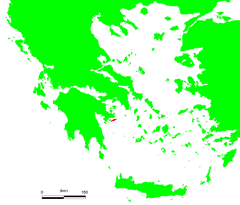 Hydra
(
Greek
: 'Υδρα
Ydra
or
Idhra
, pronounced "EE-thra") is one of the
Saronic Gulf Islands
in central
Greece
.
Understand
Hydra is deservedly one of the most popular day-trip destinations from
Athens
. The port of Hydra has a scenic location in a deep harbor, with whitewashed houses rising on the hills on both sides from an azure blue sea. An enlightened policy of development has meant that there are absolutely zero high-rise houses, cars, or motor-bikes the only internal combustion vehicles on the island are the few city-owned trucks and a fire truck -- and while the main port boulevard is packed full of tourists in season, only a few minutes away are quiet back alleys with nary a soul, and many of those visitors are day trippers, leaving the town relatively peaceful by night.
Incidentally, the name has nothing to do with the nine-headed monster of Greek legend; instead, it's an abbreviation of
Hydrea
, or "spring". The spring has long since run dry, but the name remains.
Orientation
All hydrofoils and catamarans dock at the center of the north side of the island at the eponymous port of Hydra. Practically everything of interest to the visitor is on the waterfront, in the few main streets behind the harbor, or along the main road that follows the coast or within a block or two of it. If you head west for about a kilometer, past a little headland, you'll reach the neighboring, far less touristy village of Kamini.
Get in

There are frequent boats between
Piraeus
and Hydra. You can opt for either a slow car ferry (around 3 hours) or a fast catamaran (1.5 hours). As of 2019,
Hellenic Seaways
appears to be the only online bookable option with up to half a dozen daily charging €29.50 one way. Due to the popularity of Hydra, it's possible for some of the Hellenic Seaways boats, which are small, to sell out during peak periods, especially the ones at the most convenient hours. Tickets for all boats may be bought from agencies at the harbor.
Get around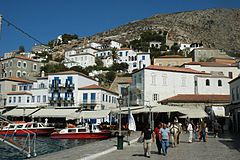 Motorized transportation is forbidden on Hydra. Getting around the town center on foot is easy enough, but for going elsewhere the only options are by donkey or boat taxi, both of which congregate at the center of the port. For the boat taxis, there's a sign (in Greek only) listing fixed fares for popular destinations, ranging from €9 for the short hop to Kamini to €120 for a circuit around the whole island.
See
Cathedral of HydraSpot the belltower to find it, with a small "Ecclesiastical Museum of Hydra" sign pointing the way inside. Opening hours for the interior and the museum are rather more erratic than stated, but the courtyard is always open and worth a peep. The cathedral's interior is gorgeous, with hundreds of gold and silver icons and other elaborate Orthodox decoration. There's also a small museum on the second floor, which displays a variety of historical religious objects, textiles, bejeweled vestments, and other treasures. Entry to the museum costs about €4.

Hydra MuseumSmall but reasonably well-presented museum on the seafaring ways of the Hydriots and their disproportionate contributions to Greece's many wars. Notable exhibits include the embalmed heart of Admiral Andreas Miaoulis and the sad story of patriot Kouroulis Michalis who, we are informed, "died of sorrow caused by the renewed enslavement of his homeland" in 1832.

Some old Hydriote mansions have been restored as museums illustrating the traditional life of Hydra's splendid past; they are usually listed on island maps available locally.
Do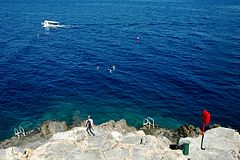 Hydra doesn't have much in the way of sandy beaches, but there are plenty of smooth rocks and pebbly bays for sunbathers. The water is clear and local daredevils show off by diving off the cliff on the road to Kamini — don't try this unless you know what you're doing!
The only good swimming spot within easy access of town is the rocky shore called
Spilia
in the Kamini district on the west edge of town; just walk along the main coastal road leading west for about twenty minutes, and it's just past the large cafe-bar. This area isn't really a "beach" but a rocky area which has been slightly developed by the addition of a few stairs and level places in the rocks which are good for sunbathing. To swim, you need to climb in and out of the water via some rather primitive ladders set in the sea wall (and beware of sea urchins on wall,) which might be difficult for some people. The water, however, is clean, and usually calm except when a boat sails by close to shore. The view is beautiful.
Another twenty minutes further west is
Vlihos
, a pebble beach featuring €3 chair rentals. Two idyllic tavernas are only moments away. Vhilos is a short €3 water taxi ride away, but the 45-minute walk from the main port of Hydra is breathtaking and well worth the extra time.
Buy
Hydra has a bit of a reputation as an artist's haven, and there are plenty of galleries around.

Eat
Hydra offers many restaurants. Most prominently feature seafood, but little asterisks in the menu note that pretty much all of it is actually imported frozen from far away. Only a few restaurants offer local fish, and they charge accordingly.
Pirate barAt the far right side of the port. During the day it operates as a cafe offering a variety of coffees and snacks including fresh salads, brushcettas, sandwiches and a small selection of main courses and desserts. The homemade gnocchi with bacon and sage and fresh lemon cheesecake are just heavenly. Free wifi.

To Kryfo LimaniSmall taverna with an interior open courtyard with very good, somewhat innovative traditional Greek dishes.

Xeri Elia Douskos TavernaThis taverna seems to have three names: "Douskos," "Xeri Elia," and the English translation of the latter, "The Dry Olive." The food is traditional standard taverna fare, and prices are reasonable for Hydra, but the restaurant's real attraction is the huge, shaded outdoor square where most of the tables are located, making it a pleasant and atmospheric place for a leisurely lunch, when it is usually fairly quiet. In the evenings it's more lively and crowded. Many evenings in season there is live Greek music, usually played by an ensemble of the sort which is often described as making up in enthusiasm what they lack in polish.

Psaropoula

phone: +30 22980-52630

Unassuming little harbourside eatery that offers fresh seafood in a glass case for those who can afford it, and pretty good home-style Greek grub for the rest of us. Avoid the set menus, instead try the excellent moussaka.
For a more local experience, head down to Kamini, which has a few distinctly unhip tavernas populated mostly by grizzled Hydriots.
Kondylenia

address: Kamini

Kondylenia has lovely, breezy views of the Saronic Gulf and Peloponnese. Sunsets are fabulous, the food is excellent, and the staff are wonderful. Open year round, but with a limited menu in winter.

Pirofani

address: Kamini

Nestled in Kamini valley, Theo's been serving a delicious alternative to traditional Greek food in an outdoor taverna-style atmosphere for nearly 15 years. Open from Easter until mid-October.
Drink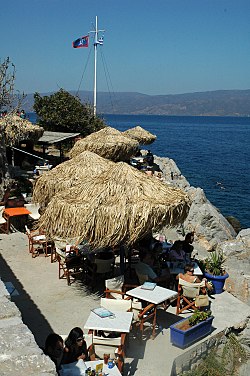 SpiliaPerched on a cliff at the edge of town, this spot has guaranteed breezes and great views of both the port and the bikini babes splashing in waters below. Draws a youthful crowd with a full selection of coffees and cocktails and easy access to the rocky bay.

On the picturesque Harbor are a number of cafes, most of which serve ouzo and other drinks as well as coffee.

Christina's

phone: +30 22980 53516

address: Kamini

Do not miss the opportunity to visit this taverna and taste the traditional Greek dishes.
Sleep
There are plenty of small hotels and guest houses in Hydra Island for those who don't want to limit their visit to a day trip. Note that some Hydra accommodations may be accessible only by climbing stairs, so if this is a problem for you, ask when booking.
phone: +30 22980 52395

address: Hydra Island - 18040 - Greece

Guest House 70 meters away from the harbor with a fridge a TV and A/C in every room. Also every room has a private balcony with view (something you won't find that often in Hydra due to the strict building code).

phone: +30 22980 53453, +30 22980 53454

address: Hydra 180-40 Greece

Attractive island atmosphere at this moderate/upper priced hotel makes it one of the better choices in its category. Open May - October.

phone: +30 22980 54049

address: Hydra Island - 18040 - Greece

Well located hotel run by a helpful and friendly couple, more modest in its appointments than many Hydra hotels but also less expensive; in addition to standard rooms there's a studio with kitchenette.
Connect
The island has several free Internet cafes in the harbor.

Stay safe
The flip side to Hydra's environmentally friendly transportation policy is the presence of large amounts of what might be termed "donkey exhaust", so watch your step when walking around.

Go next
The nearest mainland regions are
Attica
and
Peloponnese
. Many ferries stopping in Hydra continue on to
Spetses
island, just 30 min away.