Hyogo
Hyōgo Prefecture
(兵庫県
Hyōgo-ken
) is in the western
Kansai
region of the main
Japan
island
Honshu
.
Understand
When Japan's prefecture system was inaugurated in the first years of the Meiji era, most of the modern prefectures were made out of one or two of the old Japanese provinces (Hiroshima was once the provinces of Bingo and Aki, Nara was once the province of Yamato). Hyogo, however, inherited three whole provinces and sections of two others. These include:
While these provinces no longer exist in any administrative sense, they came in to Hyogo with distinct regional dialects and identities. This combination has made Hyogo one of the most geographically and culturally diverse prefectures in Japan, and the only one to span the width of the central island of Honshu.
Cities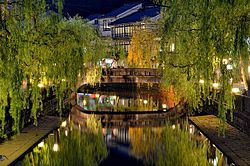 - The prefectural capital, a cosmopolitain port city with an international flavor
- Busy seafood market and the world's longest suspension bridge
- Home to Japan's most beautiful castle
- Home of Koshien Ball Park and The Melancholy of Haruhi Suzumiya
- Famous for its all-female theater productions and Tezuka Osamu Museum
Other destinations
- Historic hot spring within easy striking distance of Kobe
- Onion farms and large bridges to Shikoku
Get in
By plane
The prefecture's only significant airport is
Kobe Airport
(
UKB
), serving a limited variety of domestic destinations.
Adjacent Osaka Prefecture's two major airports offer many more flights: Kansai International Airport (KIX) is a major international hub, and Osaka Itami (formally Osaka International Airport, ITM) is Kansai's busiest and best served domestic airport. Both have convenient transportation links to Hyogo – Itami is only 40 minutes away from downtown Kobe by bus.

By train
By bus
See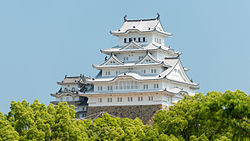 Japan's Belly Button Park (日本のへそ公園 Nihon no Heso Kouen). This park in Nishiwaki city is considered to mark the geographic center of Japan, which is locally called its belly button. There is a large monument to the belly button, and the park is also home to a children's science museum. If you go in they will eagerly make you watch their planetarium show and then let you use their massive telescope. The actual geographic center is not in the park, but down a hill, past the 日本のへそ公園 train station, through a small tunnel and along the Kakogawa river. Don't miss the charming art gallery next to the train station.
Himeji Castle. One of Japan's best castles, a 5-year renovation was completed in 2015.

Takeda CastleThis castle in Asago is famed for the gorgeous view of the surrounding area from the ruins giving it its nickname "Castle in the Sky".
Meditation. Antaiji (安泰寺), Kutoyama, Shin-onsen-cho, Mikata-gun. Homepage: antaiji.dogen-zen.de . This is no guest house. Antaiji is a monastery in the Soto Zen school. It was founded in 1923, and made famous as a place for serious meditation and simple living by Sawaki Kodo Roshi and his student, and later abbot, Kosho Uchiyama Roshi. Many foreigners have practiced at Antaiji, and it continues to welcome serious overseas trainees for short and long term stays.
Go next