Ia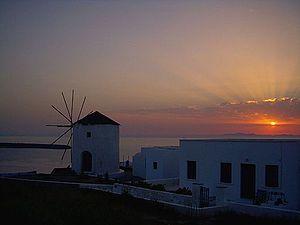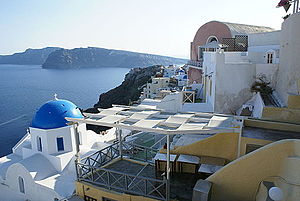 Ia
(or
Oia
) is one of the two towns on
Santorini
island in
Greece
.
Understand

Ia (Oia spelling in Greek) is a picturesque town beloved by artists and the tourists alike.
Being a destination for all those cruise ship passengers the town is very busy in the afternoons.
It is far better to arrive in the early evening, allowing plenty of time to meander, shop and take photographs, then have a relaxing meal in a Caldera restaurant while watching one of the most beautiful sunsets. Be sure to occupy your seat in advance, though: the western side becomes heavily crowded in the hour preceding sunset.
The full flavour and spirit of the town (and the island) can be enjoyed only after staying for several days.
Ia overlooks two sides of the sea: western with Ammoudi bay, eastern with Armeni bay; only the western one faces sunset.
Ia is a popular place for shooting local TV series, sometimes at night.

Get in
Easily reachable by bus from the central bus station in
Fira
.
The road to Ia is not for the faint hearted! The bus driver seems to derive great pleasure from scaring the living daylights out of his passengers and a word of warning about the conductor... always have the correct fare or be prepared to face his wrath! The bus fare is very inexpensivenot more than €3 per person.
Taxi from port in
Thira
costs around €20 per group; €25 if you don't want driver to take people from other groups into the car.
Road between Fira and Ia is meandering -- keep in mind if you choose between taxi and a rented car when you arrive exhausted after a ferry.
Get around
Most parts of the village is reachable by-foot only; even garbage is taken away by donkeys. Donkeys can be rented on the staircase connecting Armeni bay to Ia, a useful tip for those full with fresh seafood from a tavern. In addition, at least six companies offer car and scooter rentals. Sailing is another popular option.
Renting a car
Auto Europe is not flexible enough to rent a car for extra half a day (at least, it wasn't in Oct 2001)--always operates with full days, despite low season.
Drossos: one of the largest selections of cars on the island (esp. cabrios); Russian-speaking owner Zurab. Owner may be gaming you with driver license restrictions for pushing towards more expensive options.
See
Ia is a very picturesque town. Spend at least half a day exploring the town by meandering up and down paths and staircases. Along the way you'll see interesting architecture and breathtaking views of the caldera.

Do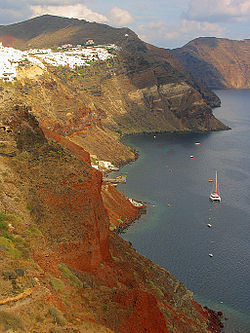 phone: +30 22860 71504

address: Oia

Professional massages in the unique cave style treatment rooms. The special Sunset packages include massages in the cave and then viewing from the Terrace to the Oia sunset with a bottle of bubbles. All booking is online.
Buy

If Ia and Santorini are but one stop on your journey, you may want to wait to purchase souvenirs. If you will be heading back through Athens on your way home, wait to purchase souvenirs there: they will be less expensive and you will not need to have the extra burden of carrying them around with you.

Eat
Lotza tavern. Large souvlaki; tzadziki is bit too hot. Potato salad may be without declared beetroot, but rich in mayonnaise. White salad is with tuna.

phone: +30 22860 71413

Pro: The View with excellent food. Two small intimate terraces for the most romantic, candlelight dinner on the island. Mediterannean dishes served atop the cliffs in Oia overlooking the sea and caldera. Some reviews say the best cuisine in Greece with the view as an extra bonus. Charming interior seating in cave style setting. Contra: Reservations are hard to come by with seating times for dinner not so flexible. Ask your hotel reception to book or try via an email to the restaurant. Romantic evening for the island save it for your special night..
Ambrosia & NectarThis popular Oia restaurant sadly closed in 2012.

NikosVisit for souvlaki. Order the kalamaki with pita

RokaOne of the best places to eat traditional home-style Greek food. The staff make you feel like long-time friends. You shouldn't miss it if you come for the sunset to Oia.

Slow FoodOpen 18-23. Pro: High-flying cuisine: some local-inspired dishes, otherwise international. Great place for romantic dinner. Waiters are well-trained and speak English very well. Amusing thing: once you're done with meals, waiter picturesquely sweeps away grit into a small scoop.Contra: The only sort of tea available proves Lipton Yellow Label. While regular wine is served in an ice bucket, no napkin around the bottleneck is used. During a medium-load evening waiters may forget to bring the dessert you ordered. You may need to ask twice if you want to take the rest of wine bottle with you (at least if the wine is €29 and the bill for two is €110); you are not offered any plastic bag so you leave with a bottle in hands.

Ammoudi Bay Tavernas. There are three tavernas (side by side--difficult to distinguish between) in Ammoudi bay serving fresh grilled seafood. This is possibly the best place for enjoying dinner and a sunsent in Ia. The food is okay, albeit a little overpriced. Alternately, you can enjoy an even better view of the sunset if you walk past the tavernas and continue on towards the swimming area. Along the path, where you have a clear view of Ammoudi Bay and the direction the sun sets, is an ideal place for snapping great sunset pics. But, if you don't mind paying a premium for a seafood dinner, the tavernas are quite charming.
Try the famous "Souvlaki and Singing" competition near the Church (on the right, down the steps, through the door) every Sunday night at 9PM organised by Stelios. Entry is €10. Songs by famous Greek singers, such as "Sexy Back" and "Wake Me Up Before You Go Go", are sung all through the night with endless amounts of souvlaki being served up.

phone: +302286071424

address: Oia Caldera cliffs

Schedule Your Table in Our Restaurant in Oia village.
Our team are proud to introduce that Vegetation Restaurant in Oia has actually lately wrapped up the project of an extensive restoration from its interior and exterior space.
The brand new present day appearance of our areas follows an extra minimal-traditional Cycladic technique in design type, coming with new Specialist & Modern cuisine as well as building information.
At the Patio, all the site visitors can enjoy the relaxing environment, on a dining table ignoring the Caldera and also appreciating our wonderful food creations, drinks or coffee.
We are expecting offer our visitors at our Brand new renovated facilities, but regularly providing the New Food items & Red wine Food selection of "Flora Restaurant in Oia" and also the familiar cozy friendliness our team constantly use to You at Santorini island in Greece.

phone: +302286071038

address: Oia Caldera cliffs

We Can answer any questions you have about Our Restaurant in Oia Santorini and to organize together a beautful Dinner for you and your Friends
Just contact us for your Reservation in our Restaurant in Oia village.
Drink

A number of vineyards on Santorini produce great wines. Sample the local wines when possible!

Sleep
The village has a variety of accommodation options. Cave style houses updated with modern features, cliff side houses that form a small hotel, mansions once owned by sea captains converted to luxury suites - are some of the unique features. Points to consider are if the accommodation faces to the sea, caldera and volcano; available terrace for breakfast or lounging, private terrace or shared; windows - as some of the cave houses may have small viewpoints; the location on the cliff as the stairs can be steep and not suited for everyone; and the regular factors: air conditioning, bathroom arrangement, bed style and comfort, services, etc. The protected village architecture and the cliffs restrict the building of swimming pools so there are very few offered on the caldera side. There's a public pool-bar offering views towards the sunset side of the island. If the accommodation has a terrace with the view to the sea, caldera and volcano then you won't miss the pool as gazing over the sea is the point here.
As of Sept 2005, no new hotels have been opened in Ia for a few years (only new rooms / caves etc. are added to existing hotels), so you're unlikely to enjoy the benefits of a newly opened hotel, as described in
Finding accommodation
.
Western side (sunset view)
Budget
Mid-range
Splurge
Eastern side
Mid-range
Splurge
Stay safe

If you plan to get around Ia beyond walking from parking lot to your room, please wear travel boots or sandals: most pavements are covered with cobblestone, and there are lots of stairs in the town as you walk around.
Be aware of the stray cats and dogs around town. It is unusual for them to become provoked, but not impossible.

Connect
Go next

Return to Fira/Thira and catch a ferry to your next destination. Crete (Iraklio) is a nice, short trip from Santorini: approximately 2 hours by ferry. From Crete (Souda, near Chania), you could catch an overnight ferry back to Piraeus to continue your trip on the mainland.