Ibaraki (Osaka)
Ibaraki
(茨木) is a city in
Osaka (prefecture)
. It is a suburban city of Osaka city and a part of Kyoto-Osaka-Kobe metropolitan area. Literally Ibaraki in English means Wild Trees or Thorny trees.
Get in
Ibaraki is a station on the JR Kyoto Line, served by local and rapid trains. From the shinkansen hub at Shin-Osaka, trains reach Ibaraki in an average of 10 minutes (¥210). From Kyoto Station, trains reach Ibaraki in about 30 minutes (¥450). Note that some trains from Kyoto may be classified as "Local" trains, changing to "Rapid" en route, but this does not affect trips to Ibaraki station.
The private Hankyu Railway serves a few stations in Ibaraki, the major one being
Ibaraki-shi Station
, about a kilometer east of the JR station. Most Hankyu trains on the Hankyu Kyoto Line stop here. Trains run from Osaka's Umeda station in about 20 minutes (¥260), and Limited Express trains run from central Kyoto's Kawaramachi Station in 26 minutes (¥310). To the south of Ibaraki-shi Station on the Hankyu is
Minami-Ibaraki Station
, which is a transfer point for the Osaka Monorail to/from Osaka Itami Airport.
Airport limousine buses run between
Kansai International Airport
and both JR Ibaraki and Hankyu Ibaraki-shi stations for ¥2000 (one way adult fare) .
Get around
Local buses connect the JR Ibaraki and Hankyu Ibaraki-shi stations (¥210).
Hankyu
and
Kintetsu
buses run from both stations to a wide range of locations in northern Osaka.
See
Kawabata Yasunari Museum of Literature

address: 2-11-25 Kamichujo

On display are about 400 items including books authored by Kawabata, his personal belongings, letters, manuscripts and calligraphic works as well as photographs and videos that shed light on the author's career.

address: 東奈良三丁目12-18

On display are artifacts belonging to the cultural history of Ibaraki such as bronze bells, earthenware, ancient documents, etc.
Do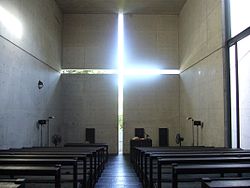 Church of LightIf you are interested in modern architecture you can't miss out buildings from Tadao Ando. The Church of Light was built in 1989. Telephone or email for reservations to see the church outside of normal worship hours and to confirm worship hours.

address: 大阪府茨木市松ケ本町8−30

Ibaraki is home to a Mycal shopping mall containing a Saty, Vivre, Warner Bros Cinema, Konami Sports Club and a wide variety of stores.
Eat
Most restaurants are located around the axis connecting the JR Ibaraki and Hankyu Ibaraki-shi stations.
Budget
Ramen Kiraku

address: 大阪府茨木市別院町4−16

Cheap small ramen restaurant run by two old women. Prices start from ¥250 for ramen.
Sleep
Most hotels in Ibaraki are business hotels in the neighborhood of JR Ibaraki station. Prices start from ¥6000 per room.
address: 大阪府茨木市松ヶ本町1-8

address: 大阪府茨木市駅前1-3-2

Ibaraki Central Hotel

address: 大阪府 茨木市西駅前町14-8

address: 大阪府茨木市中穂積1-1-10
Go next