Ibri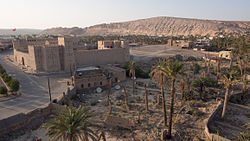 Ibri
or Wilayat Ibri is a big town in the Al-Zahirah region in the northwest part of Sultanate of
Oman
.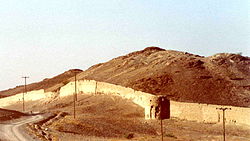 Understand
Omanis are extremely conservative people. Otherwise they are very friendly and helpful. They understand a little English because the schools teach some fragmentary level of English language.
Oman is not a rich country like
Qatar
and
United Arab Emirates
across the border. Omanis live a very simple life because their income is limited. Most of the people depend upon Agricultural income or help from the government. You can find some rich Omanis in the cities like
Muscat
and
Sohar
.
Get in
Ibri is 300 km from
Muscat
and shared taxis are easily available from Muscat.
Al Ain
, the Emirati border city, is two hours away by car.
The nearest airport is at
Muscat
, and there is no railway link.
Get around
Buses are a rarity in Oman. Taxis are the common mode of transport. Shared taxis are easily available between cities and even to small villages. They charge less than bus fare.

See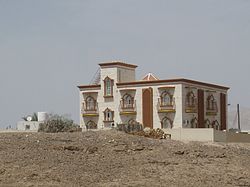 Forts and CastlesThe Wilayat of Ibri is distinguished by its archaeological landmarks including forts, castles, and towers.

Ancient town of BatThere are the remains of the town of Bat, which is the second archaeological site to be classified by UNESCO on the list of world heritage and culture sites, after the Bahla Fort in the A'Dakhliya district.

address: Ibri.

College of Applied Sciences

address: Ibri.

Qaboos Mosque

address: Near Bank of Muscat

As Sulaif Park

address: Near Oman Masoud School
Do
Visit the Bedouin

address: Biladhi Shuhoom village, near Mokhniyath town

Biiadi Shuhoom is a village without roads, telephones and other modern amenities. During the annual mountains floods, the village is totally marooned from the outer world and essential food supply is provided by helicopter. The villagae Bedouins are engaged in wheat cultivation, sheep rearing and there are plenty of wheat farms. You need a four-wheel drive vehicle to reach there. Since there are no fixed roads, you can drive across the mountains in an as-you-please manner. The sheikh provides water pumped from a wadi or mountain steam.

Visit the Ibri MarketIbri Market is famous for cattle and fruits.
Buy
Omani DaggerThe cute shaped Omani dagger is available in many sizes and they are made of different material.
Eat
European FoodAvailable in upmarket restaurants.

Omani FoodAvailable in ethnic restaurants.

Indian FoodAvailable in small Kerala restaurants.

Domino's pizz, Hafeet Road, +968 9420 4600

Arab World Restaurant

phone: +968 25 690192

address: Near HSBC Bank

Al Yahar Restaurant

address: Ibri-Hafeet Road

Near 'Shurtha' which means police station.

Golden Gulf Restaurant

phone: +968 9641 9500

address: Near Helipad
Sleep
There are two small hotels in Ibri.
Al Majid Hotel Apartments

phone: +968 9881 2784

address: Flat no.5
Stay safe
Summer temperature can rise up to 50 degree Celsius. Take the necessary caution.

Go next