Ii
Ii
(pronounced "ee"; Swedish:
Ijo
) is a municipality in northern
Finland
, by the Bothnian Bay, at the mouth of river Iijoki. It belongs to the Northern Ostrobothnia region.
The municipality has a population of 9,889 (31 January 2019) and covers an area of 2,809.23 square kilometres (1,084.65 sq mi) of which 1,256.69 km² (485.21 sq mi) is water. The population density is 6.23 inhabitants per square kilometre (16.1/sq mi).
Understand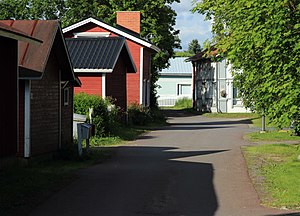 Ii is the shortest place name of Finland and one of the shortest ones in the world. Why not take a photo of one the city
signs
?
Get in
Ii is 35 km (22 mi) north from
Oulu
, which has rail and aeroplane connections. You can easily visit Ii while visiting Oulu, public transportation takes you to Ii in about an hour.
By plane
There are around 10 flights per day each way from
Helsinki Airport
to Oulu. A fully flexible return economy ticket might cost more than €200 but a non-changeable one-way ticket can go as low as €39 when bought months in advance. There are also some services from
Stockholm
.
You can take bus line 8 or 9 to the centre (every 15 min) and transfer to line 23 to Ii. Be sure to get an "ABC" ticket on the first bus, so that you don't have to buy that separately.
By train
Trains don't stop at Ii, the nearest station is in Oulu.
Oulu is on the
railway
main line between Helsinki and Rovaniemi. The day trains complete the journey from Helsinki to Oulu in about 6 hours, while direct sleepers take around 9 hours. The standard price is about €60 (€100 with a berth), if you book early there are offers for about half the price. The newest type of sleeper train carriages have a shower and a toilet in each 2-person cabin. As when going to Rovaniemi, you can also take your car with you on the overnight train. Train tickets are at their cheapest exactly 60 days in advance, as the advance tickets (
ennakkolippu
) become available at that time.
Citybuses A, B and C take you to the city centre core, where you can change to line 23 to Ii. You could also walk a kilometre to the bus stop "Pekuri P" and take bus 23 without transfer (during the day on weekdays you can also walk to the nearby bus stop "Linja-autoasema E", but Pekuri is the safer option if you are unsure) . For Ii you need the "ABC" ticket, which includes the citybus.
By bus
Coaches coordinated by
Matkahuolto
connect Ii to Helsinki, Kemi, Tornio, Rovaniemi and any other town, but they can be expensive.
From Helsinki the coach costs about €35. You can try to search for a bargain from the website of
Onnibus
, a cheaper bus company, though nowadays it has raised prices and is listed under Matkahuolto as well.
Coming from Oulu, you can also use bus line 23 of the
Oulu public transportation
. You need the "ABC" ticket (say that or just
Iihin
, "to Ii"), which is valid 80 min and costs €8.30/4.20 (children: 7–16 years). The bus goes via Oulu University. It runs hourly in weekdays, every second hour on weekends. The last bus from Oulu leaves at 21:15 on weekdays, at 22:15 on Fridays and Saturdays and at 18:00 on Sundays. The schedules change twice every year,
check
as needed (current update until the beginning of August 2019).
By car
You can arrive by a car to Ii along the E8/
E75
road either from
Oulu
in the south or from
Kemi
in the north. Ii is situated on the
main route to Lapland
so you can easily visit Ii quickly when going to Lapland by car.
Get around
By foot
The centre of Ii is really small and lots of places are easily reachable by foot.
By bike
Biking is the best way to get around in Ii. The Ruustinna route is an about 2.5km long culture route, fun to go with bike. You can rent bikes from
Oulu
and take them on the bus, although it costs 2€/bike.
See
Iijoen uitolle -statue

address: Takakatu

Old Hamina with beautiful wooden houses along two streets, Etukatu and Takakatu

Church of Ii

Environmental Art Park

Iijoki River4th longest river of Finland, Iijoki (lit. Ii river) is also one of Finland's most beautiful ones. It is also culturally important, since the famous finnish author Kalle Päätalo wrote a series named after the river.

Wanha Hamina museum area3 museums and one museum café open till 6/7pm every summer
Do
Ruustinna RouteRuustinna route goes through Old Hamina, Enviromental Art Park and finishes to KulttuuriKauppila. There are lots of artworks along the route.

Cross country skiing in Illinsaariyou can rent skis from Oulu (e.g. from Nallikari camping)

Old Hamina summer theatre
Buy
address: Sorosentie 2

S-Market, K market, R kioski

Iin kukkakauppaflorist
ATM's
Otto Ii

Otto Iin Autokeidas
Eat
phone: +358 50-439-4444

address: Ouluntie 370

Autokeidas, Hesburger, Kotipizza

Orient Kebab

phone: +358 41 3650661

address: Haminantie 6

A small, good pizzeria with friendly staff.
Drink
Sleep
phone: +358 8 817 3300

address: Haminantie 32, 91100 Ii

A cheap place to stay in the Oulu area, especially in the summer. The cheapest cottages are €39/night, while the biggest and the most expensive apartment is €130/night. Camping with electricity €20/night +€2/person. A scenic spot by the river 500 meters from stores and other services. In the wintertime, only the motel is available with cheaper prices. Accessible with Oulu public transportation, only about an hour bus drive away.
Stay safe
Ii is a really safe place, even safer than Oulu, although one should watch out for reckless drivers and teens with mopeds.
In the winter, beware of slippery and invisible "black ice" (i.e. moisture frozen on the asphalt). Don't go to the
ice of the river
if you don't have company (preferably a local who knows if it is safe or not)
Go next