Ijevan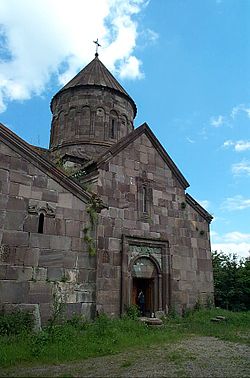 Ijevan
is a city in
Northern Armenia
.
Understand
Just 25 minutes north of
Dilijan
, Ijevan has a much different feel. More of a real town, built along a river, and less of the forested resort feel. The market along the highway is the biggest in the area, and very active. There are some really cool buildings, and nice parks and homes in town, with the river and cafes a great place to stop and enjoy the local scene. There is a Tourist Information office in town, though you shouldn't count on them having an English speaker on hand necessarily.
Get in
Minibuses run from
Yerevan
's northern bus station (3 hr, 1,500 dram, hourly), they pass
Dilijan
along their way (300-500 dram, 40 min from Ijevan). A few buses to
Vanadzor
(700 dram, 1.5 hr).
Shared taxi, taxi.
Get around
Walk, or grab a cab. One of the taxi services - Taxi "Larg" 374-263-34000.

See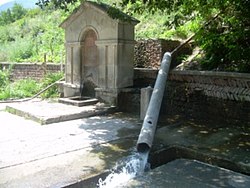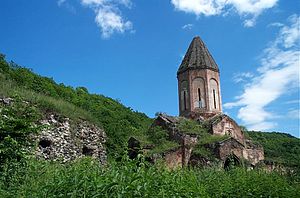 The town is very nice to explore on foot. Some cool old Soviet architecture, from the old hotels to the chess house are quite cool. Many old homes are of a very nice traditional style, and the river is quite good aside from the litter. There is even a sculpture park, an old ferris wheel needing repairs, and a semi-abandoned botanic garden. Aside from just exploring a bit on foot, there isn't much in the way of specific sites. It's just a pleasant town with some good places to explore in the region.
Ijevan church

Ijevan Local Lore museumSmall ethnographic museum.
In the vicinity of town
Makaravank Monastery

address: Achajur Village

The biggest monastery near Ijevan (if you count Goshavank as part of Dilijan's turf), this purple and green stone complex in the forest above the village is a popular spot for a picnic.

Yenokavan Canyon

phone: +374 263 3-14-65, +374 91 36-54-37 (Ijevan land line)

address: Yenokavan Village

This canyon is a like a time machine, where once you're past the top of the village, traces of modern life disappear. You are left with beautiful cliffs, forests, rivers, cascades, caves with deep carvings resembling Mayan or Aztec work, and a small camping area with a tree-house, a tiki-style bar, and other shelter made from the sticks and logs of the canyon. It's an awesome place where a guide will take you in, and set up your camping and food for you. Just call!

Srveghi Monastery

address: Srveghi Village

This red brick monastery is covered in the Shamshadin section surrounding Berd, but it's quite close to Ijevan.

Holy Mother of God Church

address: Voskepar

This 7th-century Armenian church in the ruined Azeri village of Askipari, is in Azerbaijan. Armenia now controls the territory now and the church is easily seen from the new highway, which is wholly in Armenia.

Misc. Churches around IjevanSome smaller and less significant or impressive churches in the area include the village churches of Gandzakar and Yenokavan, the smaller monastery or Moro-Dzoro near Lusahovit, and Ijevan's own smaller new church.

Gandzakar church
Kirants and Acharkut villages
Visiting the following monasteries can be done via Kirants and Acharkut villages, following the mud road through the lush forest along the river, you first come to the turnoff to Arakelots Monastery on your right, then to the bridge on to your left to get to Deghdznuti Monastery, then further past the bridge is Kirants Monastery. All three are well worth a visit, and combined it's an awesome day.
Arakelots Monastery

address: a few kilometers north of Ijevan near Kirants village

13th-century monastery. It was abandoned after Armenian genocide of 1915 and then blown up in 1960s. Today it's no more than ruins.

Kirants Monastery

address: 10 kilometers southwest of Kirants village

8th-century Armenian monastery.

Acharkut and Kirants Valley
Do
Ijevan Shuka (Central Market)Great farmers market. Fresh produce, dried fruits and nuts, local homemade fruit vodkas to taste and buy.
phone: +374 77 22-66-44

address: 9 Yerevanyan St.

Free wine tasting tours are possible to arrange here, but you need to call in advance. There is also a shop.

Ijevan Dendropark

phone: +374-94-525688

address: 88 Usanoghakan St.

Sculpture Park

address: Valansi St

Horse riding in Apaga resort (see #Sleep section)
Buy
The tourist information office sells some local handicrafts, from wood carving to small carpets. There is also a local wine factory you might be able to visit and pick up some wine from and some excellent homemade fruit vodkas called oghi that you can sample and buy at the farmers market along with preserves, dried fruit, nuts and honey.

Eat
There are a few places in town to get some food, near the market (shuka).

Drink
Same as the places to eat.

Sleep
phone: +374 77 203088

address: 45 Yerevanyan st.

Free WiFi, on-site bar, private parking. Rooms come with flat-screen TVs and private bathroom.

Hotel Mosh

phone: +374 263 35611

address: 3 Yerevanyan st.

8 moderately small rooms equipped with cable TV, computers and kettles. Some of the rooms have a separate seating area. Also some rooms have a private bathroom, others - only shared bathroom. There is a shared kitchen at the property. Probably, not the most perfect option.

Guest House Anahit

phone: +374 77 012274

address: 4 Tavrizyan st

Typical guest house with OK rooms that come with TV, seating area, Wi-Fi. Bathrooms are shared or private. Nicely decorated outdoor common area, fully equipped shared kitchen. Very high ratings on a booking sites.

phone: +374 93 191200

address: 2 Nalbandyan St

Simple, a bit smallish rooms are equipped with a TV, wardrobe. Hotel has a fully-equipped kitchen, luggage storage, ironing service and laundry.

Karimar B&B

address: 26 Tavrizyan st

WiFi.

phone: +374 10 25 31 41

address: 40 Ankakhutyan str.

It has adjacent bar and restaurant.

Geghetsik Rest-House

phone: +374 263 34603, +374 263 32195, +374 93 992202

address: Spitak Lakes territory

This building is on a hillside, looking out over a forested landscape. It is 5 km from Ijevan. Visitors can avail themselves of the many mountain hiking trails in the area. Amenities: The bed, wardrobe, chair, cold water, heating, bathroom, toilet , TV set(in some rooms) and 2 TV sets general in the lobby, hot water is also available at certain hours.
Out of town
phone: +374 77 004413

address: Yenokavan village, Apaga Resort

Upscale hotel located in the picturesque area near Ijevan with a superb views over nearby mountains. It consists of about ten detached houses with 22 rooms in total. Most of the rooms offer mountainous view, and all of them have private bathrooms. Hotel has sauna, restaurant, barbecue facilities, a stable with 45 horses. They organise horse riding. WiFi.

Park Village Lastiver

phone: +374-94-603010

address: Lastiver, Yenokavan village

Extremely bizarre hotel located in a forest, offering small cottages placed on top of a trees. Facilities are extremely basic (e.g. no electricity) but, hey, they literally allow you to live on a tree. Horse riding, cycling and fishing are offered by the owners.

Mayisyan Kamurdj Hotel

phone: +374 93 405242

address: crossroad of highway Ijevan-Noyemberyan and Ijevan-Berd

Surrounded by forest this hotel offers an outdoor pool, restaurant, garden, children's playground and a terrace. Big and decent rooms are all equipped with a flat-screen TV, air conditioning, refrigerator, private bathrooms.

phone: +374 263 3 21 01

address: Getahovit village

2-story house with 4 bedrooms, 8 beds, has 3 balconies with picturesque scenery.
Connect
Tourist Information office, or city hall.

Go next