Ikaria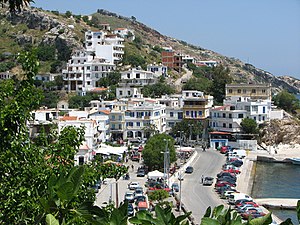 Ikaria
is an island in the North Aegean Sea and one of the
East Aegean Islands
. Ikaria is located west of
Samos
and south of
Chios
. Its capital is the town of Agios Kirikos. Tourism on Ikaria is unimposing for all and reflects an "Ikarian Balance" between nature, freedom, time, and development.
The island is world famous for being one of the five
Blue Zones
, places where people reach extraordinary high ages. The island has the highest population of 90 and older in the world.
Cities
, the capital town, built on a hillside
, the 2nd-biggest settlement, an intensely traditional village, also a main port town
has pleasant beaches and the majority of accommodations
Yaliskari
Christos Raches, the village that comes alive at 8 pm when all the shops open
Understand
The island will soon become nearly autonomous regarding energy consumption by using almost exclusively "Green Energy". The construction of the Pilot Hybrid Hydro-Electric Plant, the environmentally friendly power production plant using renewable energy sources in Europe, is expected to be completed in 2010 and provide 100% of the electricity in the winter months and 70% in the summer months.
The population is about 8,312 (census of 2001), with an area of 660km².

Get in
By plane
Ikaria can be reached year round by air and has an airport, located on the south eastern part of the island, 12km from Agios Kirikos village.
There are flights directly from Athens by
Olympic Air
(c. 35 minutes), and from Crete during the summer via SkyExpress.
By boat
Ikaria has 2 harbours, Evdilos and Agios Kirikos. There are daily ferry rides from the island of Samos (c. 2.5 hours). A weekly ferry via Nel Lines also runs in the summer connecting Ikaria to Limnos, Lesvos and Kavala.
Get around
You can bring a car using the boats, or you can rent one there. Bus services are infrequent. For example, services to Armenistis from Evdilos only run on alternate days. To explore the island, car or motorbike rental is necessary - although hitchhiking is really common for younger people to get around. There are several car rental companies in Armenistis, but in peak season you may have to reserve a hire car a few days in advance.

See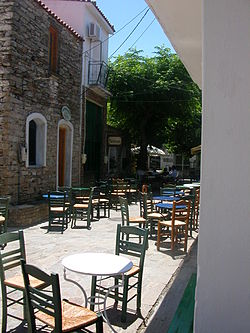 Beaches
For swimming, head to the beaches of:
Faros. This sandy-pebble beach is a popular weekend getaway with ideal swimming waters. Along the beach are various tavernas, bars/cafes and a small pier. Windsurfing and kayak rentals are sometimes available on the beach.
Xylosyrtis
Seychelles
Karkinagri
Nas
Other beaches
Agios Giorgis Beach, a remote sandy beach protected by a cove located at the extreme northern tip of the island. Access is via an unpaved road from Faros that ends in a footpath where beachgoers must then hike about 20 minutes to the beach.
Evdilos Beach (Kiparissi), located just before the city of Evdilos. This is a small, quiet sandy beach with clear water and no facilities. This beach is often visited by locals.
Museums
Ikaria has multiple museums which house objects from Classical, Hellenistic, Roman, and Byzantine time periods. The museums are free to the public and vary in open hours. The museums include:
Archeological Museum of Kampos
Archeological Museum of Agios Kikirkos
Folklore Museum of Perdiki
Folklore Museum of Vrakades
Do
Hot Mineral Springs

address: Therma

Approximately 10 minutes East along the coast from Therma is a cove where hot springs can be found in the sea. This can be accessed by a marked path. The start of the path is tricky to find - it can be found by heading up steps which appear to lead to a house. However, "trailblazing" in the direction of the springs will almost certainly lead to the path, which is clearly marked.
Sleep
Kirki's Rooms

address: Armenistis

Several rooms which all overlook the sea in Armenistis. Rooms are very pleasant and with a friendly owner.