Ikata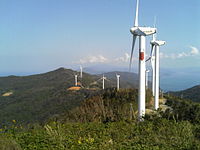 Ikata
(伊方町
Ikata-chō
) is a town in
Ehime
. It spans the mountainous Sadamisaki Peninsula, the narrowest peninsula in Japan. Ikata's breath-taking combination of mountain and ocean scenery makes it a wonderful place for a leisurely afternoon drive.
Get in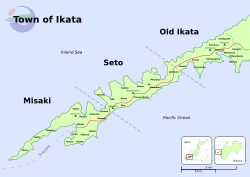 By car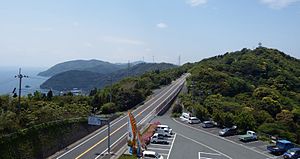 The best way to get to Ikata is by car. Bring your own, or rent one in
Matsuyama
or
Yawatahama
.
Take the oceanside scenic route: Take Route 378 south from Matsuyama along the beautiful Futami and Nagahama coastline. Take a right at the junction with Route 197.
Take the misty mountain freeway route: Take the Matsuyama Expressway south past Ozu, then get off and take Route 197 through Yawatahama and the rest of the way to Ikata.
By train
You can also get close to Ikata by train—just take an express on the JR Yosan line from Matsuyama to Yawatahama. From there you can hop a bus or take a taxi, but beware that taxis get quite pricey.
By ferry
If you're in
Kyushu
, you can also catch a ferry from either
Saganoseki
or
Beppu
,
Oita
, to Misaki Port at Ikata's tip.
Get around
Buses run the length of the peninsula, but car is still the number one way to go.

See
Sadamisaki LighthouseThis lighthouse stands at the tip of the peninsula, overlooking the Hōyo Strait. On clear days you can see across to Kyūshū. 1.8 km of hiking trails and a campground lay at its feet.

Seto Wind Hill ParkThis park is on top of a mountain in the Seto area. From it you can see many of Ikata's numerous windmills, spinning above the Inland Sea to the north and the Pacific Ocean to the south. Haikus about the windmills, submitted for Ikata's Windmill Festival, are on display in the park.
Do
Ikata Visitors CenterThis hands-on science museum teaches all about nuclear power with beautiful interactive displays and fun activities for all ages. The building is connected to the Kirara-kan, which houses an aquarium and sells souvenirs and local agricultural products.

Red Wing ParkNamed after Ikata's sister city, this park is home to Adventure Hill—a playground full of climbing nets, roller slides, and other exciting children's play equipment.

phone: +81 894-39-1160

address: 1289 Futami

A hot spring bathing facility and park. According to legend, a giant crab lives in the adjacent Kamegaike Pond. There is also a simple accommodation facility on the premises: ¥5,000 for 2 people (1 room).
Buy
Ikata has two roadside stations where you can buy locally-made goods. Ikata's mikan juice can't be beat!
Ikata Kirara-kan
Seto Agriculture Park
Eat
These restaurants are along Route 197.
Old Ikata
Maruma Diner (マルマ食堂 Maruma shokudō) - on Melody Line halfway down the hill from Yawatahama
Melody Cafe - shokudō & coffee, on Melody Line after the Kawanagata tunnel
Seto
Windmill Restaurant (風車レストラン fūsha resutoran) - Above the Seto Agriculture Park
DanDan - gelato (ice cream), local produce & Shionashi's famous Kintaro sweet potatoes - At the base of the Seto Agriculture Park
Pocket Park - Across the street from the Seto Agriculture Park
Hot Road - Next to the Ōku Observatory
Misaki
Marina-tei (まり~な亭) — A fabulous seafood restaurant in the Misaki neighborhood along Route 197. The head chef even appeared on TV's Iron Chef.
Drink
The Minatoura neighborhood has lots of
yakitori
(grilled chicken) and pub-style
izakaya
restaurants near the Ikata Town Office.
Kuishinbō

Yakitori Ichiban

Hibari

Sakae
Sleep
There are numerous
ryokan
-style Japanese inns in Ikata, but only one business hotel. The closest recommended hotel is the
Harbor Plaza Hotel
in
Yawatahama
.