Ikeda (Tokushima)
Ikeda
(池田), also known as
Awa-Ikeda
(阿波池田), is the town center for
Miyoshi City
in the central part of the island of
Shikoku
,
Japan
.
Understand
Located at the crossroads of central Shikoku on the banks of the Yoshino River and surrounded by lush green mountains, Ikeda has a long history serving as a commercial and travel hub for the region. For decades the products from the Iya Valley and outlying areas moved through here to markets elsewhere, travelling by boat down the river to Tokushima City and beyond, with the main cash crop traded out being tobacco. Reaching its heyday in the 1960s and 70s, Ikeda also became famed for its high school baseball team, and for anyone in Japan born before 1980, they will almost certainly have heard of how this obscure little town would repeatedly win and/or be the team to beat in the national championship.
Nowadays, Ikeda is a lot more subdued. The tobacco industry collapsed in the 1980s, and what was a large processing plant for the crop has now been rebuilt into the town's main shopping center. As the river has been dammed, boats no longer ply the route to Tokushima (though the lake created has a tranquil atmosphere), and its been decades since the local boys have won a baseball championship, having recently only qualified for the tournament very occasionally. The main shopping arcade which extends from the station is no longer bustling, and the large majority of shops and pubs there are either devoid of customers or simply closed up.
It remains the areas administrative center with banking, hospital, and various other residential services, and for the traveler it continues to be a transport hub for the region, though most people only pass through or just stock up on supplies here as the more remote valleys and mountain areas lack the stores Ikeda still has to offer (few that they may be compared to larger Shikoku towns).
Ikeda could also serve as a nice place to stay if you're looking for a central base and if wishing for a bit more in the way of restaurants, drinking, and shopping, but the real splendor of the region in
Iya
and
Oboke/Koboke
are still quite a bit farther out, and accommodation in those places may be more in line with your image of deep Japan.
Money and communications
Awa-Ikeda Post Office (JP)The JP has an ATM which takes foreign bank cards with an English-language display.
An
Awa Bank
is at the end of the arcade, though you may/may not be able to do a US dollar cash exchange.
Either one of Ikeda's two
Seven-11s
also take foreign bank cards with multi-language availability.
Get in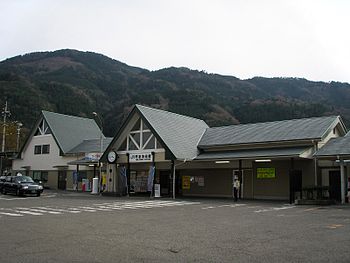 By train
Awa-Ikeda Station is along the JR Dosan Line , which slices across the heart of Shikoku from
Kubokawa
and
Kochi
through the
Oboke and Koboke
gorges in the south to
Tadotsu
,
Takamatsu
and then
Okayama
in the north.
From
Okayama
, a stop on the
San'yo Shinkansen
, Awa-Ikeda can be reached on the hourly
Nanpu
limited express service (90 minutes; ¥3510).
The JR Tokushima Line also terminates here, the trip from
Tokushima
taking about 70 minutes on the
Tsurugisan
limited express service (¥3240), or two hours by local train (¥1580).
There is no charge for these trains with the Japan Rail Pass.
By bus
From
Osaka or Kobe
,
Hankyu Bus
runs several a day from either city that go to the main
Awa Ikeda Bus Terminal
(阿波池田BT), located in the town center within the same parking lot as the
Frespo shopping center
(see "Buy"), and about a 3- or 4-minute walk to the train station. The trip to/from Osaka/Kobe takes about 4 hours and runs at about ¥4500. Discounts can be had if travelling round trip.
Long distance night buses from
Tokyo
stop at the Miyoshi Highway Bus Stop, which is located in neighboring Highashi Miyoshi-cho Town in the Mikamo district at the
Yoshinogawa Service Area
(aka "Highway Oasis") rest stop, about 15 minutes or so east of central Ikeda by car. This bus stop is called
Miyoshi BS
(三好BS) and is not a final destination, but rather a stop along the way with buses traveling between Tokyo and Kochi city. Tickets can be had for anywhere from ¥6000 to ¥12,000 (depending on day or seat style), and depart either direction around 9PM and arrive about 06:30. Online English language bookings can be found at the
JR Bus Kousouku website
(though sometimes English bookings on the site can be tricky, so you may end up to calling their English operator or write by email).
Other long distance bus companies also service the same route as well as to
Nagoya
and
Kyoto
(and/or via Matsuyama, not Kochi), but you would have to search/book in Japanese. If you have the skills to do so, one may be able to find slightly better prices.
As far as travelling locally from the Miyoshi Highway bus stop in the Yoshinogawa Service Area (
map here
), good luck, as its a bit tricky. Though there is a local bus stop for here (called "Oasis" オアシス) on the small concrete-enclosed regular road on the northern side of the rest area, transfer times are not very convenient for getting to/from the night buses (timetable in Japanese
here
). The first bus out leaves Oasis at 10:02, arriving at Awa-Ikeda BT about 20 minutes later. On the return, buses leave Awa-Ikeda BT at 18:35, getting you to the Oasis stop about 2 hours before the night bus departures (spend your extra time having a relaxing
hot spring bath
offered at the rest area here for ¥600, open till 18:00). Alternately, on a morning arrival with a night bus, one can easily walk due north from the rest area/Oasis bus stop along the small neighborhood road, and reach the larger RT 12 after about 5 or 10 minutes, then turn left for the first local bus stop about 200 m along (though you'd get on any Ikeda bound buses on the left side, the bus stop sign is on the right side, a bit before the first traffic light), with Awa-Ikeda BT bound buses passing by at 07:18 and 08:18 (but there are no extra bus options in the evening). The nearest train station is JR Tsuji, a 25 minute total walk in the westward direction from the rest area, first turning left a few minutes past the end of the rest area to go over the Rt 266 bridge, then turning right on Rt 192 for a further 1 km walk on this main road. However, if renting a car, Miyoshi Rental Car will do free pick up/drop off from the rest area (see "Get Around -By car" for car rental details).
There are four buses per day into the
Iya Valley
from Ikeda, though on weekends and holidays there are a few more buses that originate from JR Oboke Station. See "Get around" below or the Iya Valley page for details.
===By car===
Being in the center of Shikoku, Ikeda conveniently lies at the junction of National Roads
Rt 32
(north/south Takamatsu to Kochi) and
Rt 192
(east/west Tokushima to Matsuyama), which means that that one is very likely to pass through if traveling across the island.
Along the east/west
Tokushima Expressway
, the exit for Ikeda is named
Ikawa/Ikeda IC
and lies on the eastern edge of the central downtown shopping district. Just west of Ikeda, the Tokushima Expressway junctions with the Kochi Expressway (heading south) and then the Takamatsu and Matsuyama Expressways (for northern and western Shikoku)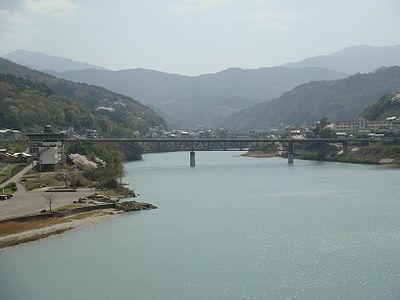 Central Ikeda is a few minutes south from the junction of Route 32 and Route 192 (the two roads overlap each other for about 3 km while passing the downtown area). From the highway's Ikawa/Ikeda IC head west (left turn at the intersection after the toll booth), then after 200 m, either turn left at the first light for the road through the center of the town, or continue straight on Route 192 westward along the river for about 5 minutes to reach Route 32 for Oboke and the Iya Valley.
Get around
By car
Having a car is probably the best way to travel the area as buses and trains can be infrequent, while also allowing for flexibility and incomparable access to the area's best sights (buses only go on the main roads). A car rental can easily be cheaper than buying multiple public transportation tickets, especially if more than one person is traveling together.
Rental car
There are only a couple of rental car companies in Ikeda, so depending on how you arrive, it may be best to secure a rental car from one of Shikoku's major cities or airports.
There is an Eki Rental Car of the JR group in Awa Ikeda train station, but you are not likely to be able to make a reservation in English. However, the staff at the tourist office just outside the station building may be able to help secure a car with their decent English. The Japan Railway (JR) Company car rental Japanese site is found here.
Miyoshi Rental Car is located just outside of downtown Ikeda and can do free pick-up or drop off to main access points such as the bus station, JR Awa-Ikeda station, or the highway bus stop. Prices for a small car start at ¥5,100 for the first day and ¥4,600 each day thereafter.
The car rental companies that you can make a reservation for in English is are listed below.
However, these have no office in Awa Ikeda station. Only the airports and major cities in Shikoku have these rental agencies:
Budget
has a unique and flexible option called
Shikoku Pilgrimage Passport
(四国巡礼パスポート) allowing 9-, 12-, and 15-day rental plans where you can either use all the days at once, or split the rental days into various trips within a one year period. Better still, with this plan cars can be picked up and dropped off at any Budget office in Shikoku or Okayama (on Honshu) for no additional cost. Nine day plans start at ¥37,800 for a small car. Though Budget Japan's website offers English service, the page for this option is in Japanese only, so for English it would be better to call and reserve by phone.
Bus
The main Awa Ikeda Bus Terminal (阿波池田BT) is about 150 m down the road from the train station (see the posted town maps in either place to know which way), within the parking lot of the
Frespo shopping center
(see "Buy" below).
From here buses radiate out through the area, with buses going to/from Iyaguchi,
Koboke
,
Oboke
, and the
Iya Valley
(see those pages for schedule details). For local buses bound for the Highway Bus stop (Miyoshi BS -for Tokyo night buses) see
here
.
(
Caution:
throughout 2018 many of the bus times and routes from Ikeda to Oboke and the Iya Valley have changed. Do not rely on any schedule printed before December 2018.)
Buses can be infrequent
, confusing, inconvenient, and expensive for groups. If going to the Iya Valley, a one way fare can run about ¥1300-1800 (or more if going deeper) per person, making it about ¥5000-7000 for two people just to get in and out, and it doesn't include further trips to explore the valley properly. Whereas a small rental car can be had for ¥5000/day, and is a much better option not just for price, but also convenience and accessibility.
See
Most of Ikeda's sights lie in the outlying areas, particularly just south of town in the gorge area of Oboke and Koboke, as well as the famed Iya Valley. For many, Ikeda is used as a starting off point for those places.
There are few sights in the town, but a couple blocks just after the end of the shopping arcade (past the Awa Bank) is the historic district (don't blink as you walk by, or you might miss it). There are a few restored buildings, a shop or two, and a
Tobacco Museum
in a pretty old house (with a small traditional Japanese garden) that highlights the once thriving tobacco industry of the area. On some weekends this area holds an outdoor flea market of local arts and food.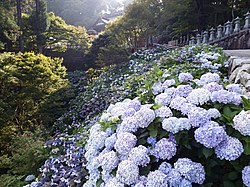 Unpenji Temple

address: On a mountain top along the Tokushima-Kagawa Prefectural boarder

This is temple 66 of the 88 Temple Shikoku Pilgrimage on a mountain top in the western part of town, near the border of Shikoku-chuo City (aka Kawanoe). To access, drive out westward from the town center on route 192 about 10-15 minutes, then follow the signs (in English) for the turn off on the right side. Drive a winding road up the mountain or park at the bottom of the mountain to hike the whole way (about 2 hours). Bring water if hiking. (Alternately, a cable car lift can be taken here from the north side of the mountain from Kanonji City in Kagawa Prefecture.) At 920 m, it is the highest temple of the 88 Temple route.
Do
Most people use Ikeda as a hub for going elsewhere. Food, drink, and gear can be stocked up here before heading out, as the more picturesque and adventurous areas around have only limited supplies available.
White water rafting The Yoshino River looks rather tame as it runs through town, but 20 minutes or so upstream the valley narrows considerably and the rushing torrent is famed for its rafting. For information on how to do so, see the Oboke and Koboke page.
Festivals
Awa-Odori The biggest festival in Ikeda is the annual Awa-Odori street dancing event held for three days each August 14-16 (may be a day either side depending on year). Though not nearly as big as the main Awa-Odori event held in Tokushima City at the same time of year, the Ikeda event is still lots of fun and the streets are full of performing dance groups decked out in costume. Festivities are held each evening starting about 6PM, with lots of street vendors and locals out in yukata. It may even be possible that you will be pulled in to participate.
Shikoku Sake Tasting Festival Held usually the third weekend of February, dozens of Shikoku's sake brewers converge in Ikeda to show off their flavors. The three local distilleries also open their doors to the public for tours/tasting. A great experience for any hard core sake aficionado, though expect lots of middle aged Japanese men getting their game on. Tickets at door are ¥2000. http://www.shikoku-sakematuri.com/ in Japanese (an English description an be found here)
Buy
"Frespo" Shopping Center

address: Sarada, Ikeda-cho, Miyoshi City

This large shopping center is in the same parking area as the bus station, and includes a substantial supermarket, ¥100 shop, drug store, clothes store, and a home center (hardware store). Some camping supplies can be found here. Most stores are open 09:00 to 21:00 (home center is open till 19:30).
A 24-hour
7/11
is just beyond the home center.
From the train station, a generally lifeless shopping arcade extends straight in front of it. There are few stores that sell anything here anymore, just some restaurants/pubs.
An Awa Bank is located at the end of the arcade, though you may/may not be able to do a US dollar cash exchange. A
JP
office (Japan Post) with an ATM that takes foreign cards is located about halfway down the arcade and then one and a half blocks to the left (when going from the train station). The 7/11 also takes foreign bank cards.
The "River Station" 川の駅 has a great
farmer's market
, butcher, and local product vendor as well as a couple restaurants. See the listing under "Eat" below for more details.
The best as well as cheapest
alcohol selection
(and dry-food store) in town is on Route 192 going west towards Route 32 (to Kochi), about 300 m from the 7/11 (not to be confused with the other 7/11 in the town center by the home center). It is in a yellow warehouse-looking building on the left (English sign says 'Liquor and Foods') directly across from the large 'Idemitsu' gasoline station. It could be easy to miss, but it's the first building on the left side of Route 192 after the 7/11.
Eat
River Station 川の駅 (kawa-no-eki) On the main road Route 192 (along the river) just east of the 7/11 and across from the police station Located in a pink/orange building with a curved glass-windowed second floor, it houses a large local vegetable market and butcher (best local stock in town), as well as two restaurants: upstairs has breakfast buffet and a variety of lunch and dinner options; in the basement is a slightly classier meat barbecue restaurant that's great for satisfying your inner carnivore.
A noodle restaurant is just outside the bus station.
In between the defunct shops along the shopping arcade that extends from the station are several small restaurants serving noodles, barbecue, rice dishes and other set courses.
The supermarket near the bus station sells
bentos
(lunch boxes).
Drink
If you find yourself stuck here for some reason, and most definitely in need of a drink, then it would probably be best to simply grab a six-pack from the supermarket or the 7/11 and just drown your sorrows on a park bench. But for a bit of social atmosphere in exchange for over-priced Asahi Super Dry, various places along the shopping arcade offer up a beer. There are also a few small bars located in the narrow blocks outside the end of the arcade just beyond the Awa Bank. Some have hostesses. The cafe/bar next to the Tobacco Museum is probably one of the only ones not exclusively filled with crusty middle-aged men. Coco Cross guesthouse also serves up drinks most evenings.

Sleep
COCO CrossThis newer guesthouse is in a renovated building about a 5-minute walk from the Ikeda Bus Terminal, or a less than 10-minute walk from the JR Awa-Ikeda station. Rooms are neat and tidy, offering either western beds or Japanese style sleeping. The building isn't much to look at from the outside, but its both quite affordable and super convenient if either passing through or basing yourself in Ikeda, and the staff make an effort to be accommodating. Lots of local travel info is available, and there's also a hang-out lounge, bar, and cafe as well. Rooms (single, double, triple, or family) run per person from ¥3700-4800 depending on room type and how many people.

Awa-Ikeda Youth HostelIt's over 5 km from the station in a temple area on the top (several minutes drive) of a hill. Overnight fare is ¥3000 + ¥1000 non-member fee. It is staffed by a lone caretaker who seems rather surprised to have a visitor. Arrange your travel so that you arrive before 18:00 at the station so they pick you up (a day's advance notice required), otherwise taxi costs ¥1800.

Business Hotel YamashiroFrom the railway station, go into Ekimae road, take the second side street towards the left, the hotel is near the beginning on the right-hand side. Single room with en suite bathroom ¥5000 per night.

Sushi-RokuOn the left-hand side of Ekimae road. Rooms are Japanese-style and the owners cannot speak English. ¥3500 per night, (English) breakfast ¥500.
Go next