Imatra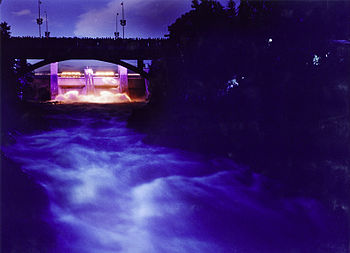 Imatra
(population ca. 30,000) is an industrial town in
South Karelia
. It is dominated by Lake
Saimaa
, the River Vuoksi and the Finnish-Russian border. Imatra's over 300-year-old history of busy tourism is greatly attributed to the attraction of the spectacular rapids of the river Vuoksi which have enticed many illustrious personas to visit the area throughout the ages. Visitors have included such people as Russian Empress Catherine II, Alexander Dumas Senior and Richard Wagner.
Get in
By car
Imatra is about 250 km northeast from
Helsinki
and the trip takes about three hours, depending on which of three most viable routes is chosen. The town is situated near the
Russia
border and you can cross the border at
Svetogorsk
just 7 km from Imatra.
By plane
Scheduled flights to the nearby Lappeenranta Airport (
LPP
) have been on and off at various times, so you may need to check its webpage for the current situation. There is also the historically significant Immola Airfield (ICAO EFIM) in the northern part of the town. Your best bet, though, would be to fly into Helsinki and travel the rest by bus or train.

By train
Trains between Helsinki and Joensuu stop at Imatra. The duration of the trip is about three hours and there are about ten daily departures. From Russia, it's a bit more complicated; get off at Vainikkala at the Finnish side of the border, take a bus to Lappeenranta and from there by bus or train up to Imatra.

By bus
Another alternative is to travel by bus. Timetables for normal intercity buses can be found at Matkahuolto's website. Also budget bus company Onnibus connects to Helsinki, Kouvola and Joensuu among others.

By boat
Lake Saimaa can be reached from sea through the Saimaa Canal.

Get around
Downtown can be covered by foot or bike. The city also has a small
public bus network
of six lines. The other alternatives are car and taxi.
See
In poetry
Imatra is even mentioned in the Kalevala, the epic poem of Finland (compiled from oral poetry in 1835):
"Three, the water-falls in number,
Three in number, inland oceans,
Three in number, lofty mountains,
Shooting to the vault of heaven.
Hallapyora's near to Yaemen,
Katrakoski in Karyala;
Imatra, the falling water,
Tumbles, roaring, into Wuoksi"
Imatrankoski RapidsThese rapids are Finland's first ever tourist attraction. The Russian Empress Catherine the Great and her retinue visited the rapids in 1772. Next to the rapids is hotel resembling a medieval knight's castle - the Imatran Valtionhotelli. The original name of the hotel was Grand Hotel Cascade d'Imatra.

Kruununpuisto ParkThe oldest nature park in Finland, occupying the area around the Imatrankoski Rapids, was founded in 1842 by order of Tsar Nicholas I.

Church of the Three Crosses
Do
Imatra Big Band Festival

Rock to the RiverRock festival.



Buy
You can find all sorts of small shops in the (along and next to Koskenparras street). If you prefer shopping malls, head to the , where you can find Rajamarket, Lidl, Citymarket and a new (as of December, 2018) Prisma.

Eat
phone: +358 5 476 1433

address: Koskenparras 4

100-seat upscale restaurant. Á la Carte menu consists of Finnish, French and Russian dishes. Fair selection of European wines and beers. During lunch hours Buttenhoff has business-lunch selection with salads, soups, main course and coffee included in the same price. During the summer months, if the weather allows, you can also opt for a table outside by the Koskenparras pedestrian street.

Ravintola Xiangfu

phone: +358 5 436 80

address: Tainionkoskentie 10, 55100

Chinese restaurant. Fast and cheap lunch offered on weekdays. Beyond lunch hours serves good Chinese style dishes, but prices tend to be a bit high.

address: Koskenparras 7

Really hungry? This restaurant at the pedestrian zone offers huge pizzas, steak and kebab servings that would feed three.
Sleep
Budget
phone: +358 10 666 5700

address: Kanavakatu 9

This new economy hotel is 500 meters from the famous Imatra Rapids and the center of Imatra town. Hotels motto is: Sleep and save. Very good breakfast, large rooms and sauna.
Mid-range
phone: +358 20 7100 500

address: Purjekuja 2

The old Spa Hotel and the new Promenade Hotel. Promenade Hotel offers good rooms for families. The spa department named Taikametsä (literally Magical Forest) has large swimming pools, saunas, whirlpools etc., from time to time with an artificial thunderstorm.

phone: +358 5 627 2200

address: Koskenparras 3

68 rooms with TV, minibar, hair dryer and free broadband connection."
Splurge
phone: +358 5-625-2000

address: Torkkelinkatu 2

The offputting name of the Imatra State Hotel hides a wealth of history: this castle-like hotel by the Imatrankoski rapids was built in 1903 for Russian nobility, and for several generations of Finns a suite here was the place to spend your honeymoon. Now privately run, the hotel was reopened in 2005 after extensive renovation and is, by Finnish standards, surprisingly cheap. Even if you don't stay overnight it's worth seeing from the outside.
Go next