Inca Trail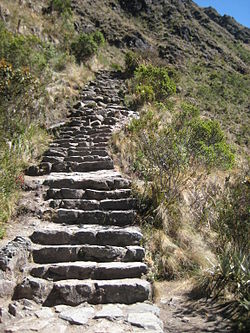 The
Inca trail
to
Machu Picchu
, the "Lost City of the Incas", is a world-famous trek in
Peru
. It's the best known part of the Inca road system, which was listed as a
UNESCO World Heritage site
in 2014. The hike takes you past staggering mountain scenery and many impressive Inca ruins, through ecosystems ranging from mossy forests to stark peaks. For much of the trail, you're walking on the very stone paths laid by the Incas hundreds of years ago.
Treks vary significantly in style, from budget backpacking to high-end glamping, but typically consist of 4 days and 3 nights on the trail itself. While the main route is fixed, timing and campsites vary. The trail requires reservations months in advance, and all trekkers must be part of a tour group, which includes porters and a guide. In addition to keeping you safe, organized, and on schedule, guides have extensive knowledge of the ruins, their history, and the variety of plants and animals that can be found along the trail.
Visits generally start from
Cusco
, the capital of the Incas. Due to the need to acclimatize to the altitude for a few days, the trek itself must be part of a longer trip, usually a few days in Cusco and the
Sacred Valley
; see
Inca Highlands
.
Understand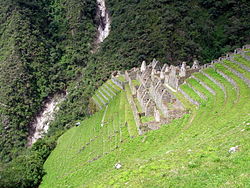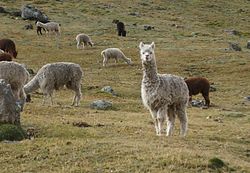 Many countries have mountain ranges with beautiful scenery and Peru itself is richly blessed in this respect with many other areas for hiking. However the scenery is only one of the elements responsible for the magic of the Inca Trail. Can there be any walk anywhere in the world with such a combination of natural beauty, history and sheer mystery and with such an awe-inspiring destination? The various Inca ruins along the way serve to heighten the hiker's sense of anticipation as he or she approaches what would surely find a place in any new list of archaeological wonders of the world - Machu Picchu. The ruins on the trail are all many times less crowded than Machu Picchu, and most are open for exploration without the ropes and blocked-off areas at your final destination. If you're lucky, you'll also see colorful flowers and birds, and possibly even other animals on the trail.
At the height of the Inca Empire, their road system was the most extensive transportation system in South America, stretching from what is now
Colombia
all the way to central
Chile
. The branching network of roads, many of them paved with stones, totaled close to 40,000 kilometers. Unfortunately, with the conquest of the Inca Empire by the Spanish in the 1500s, most of the roads have been destroyed or left to deteriorate. Many of the surviving portions are unmapped and little explored, but a few sections have been cleaned up and restored. The most famous of these is the Inca Trail, which allows you to walk in the footsteps of the Incas, on the same stone paths that they laid and used to get to Machu Picchu hundreds of years ago.
The trail is 45 km/26 miles from start to finish, but it feels like more: you gain and lose hundreds of meters of altitude multiple times, and much of the trek is above 3,000 meters where oxygen is noticeably thinner. Acclimation to the altitude is a must, and good physical condition advised. The journey winds through the valleys and hills of the surrounding area, taking you through the scenic landscape, from high alpine to cloud forests.
The trail is
physically demanding, but doable by any fit person
, barring specific health problems. If you have any concerns, check with a doctor. If you can walk and use stairs easily, you should be able to do it. No hiking experience is necessary, though the more used to hiking you are, the easier it will be. There are very few evacuations and deaths on the trail: the most likely risk is spraining your ankle and needing to be carried out. Many find the physical demands make the trip more rewarding, from the exertion and sense of accomplishment. If you are physically unable or concerned about your ability, you can also do a shorter 1-day or 2-day trek to Machu Picchu, take a less demanding trek like the valley trek to Machu Picchu, or go directly to Machu Picchu by rail.
The trail, particularly the descent, is ideally suited to
trekking poles
, which significantly reduce stress on your knees. Rubber tips are required, to protect the steps, and duct taping the tips on is highly recommended, otherwise they come off easily from impact or mud. You can buy new ones at home, rent good ones in town for cheap, or buy broomsticks, which are cheap and adequate, but not great. You cannot use local branches, as too many trees were being cut down, and these aren't much good anyway. Consider shock-absorbing poles to further minimize stress.
Many agencies operating from Cusco offer organised hikes along the trail, providing most of the equipment (tents, etc.) and people to carry it. Also, don't forget that the trail ends at Machu Picchu. Most Inca Trail hikers descend from the Sun Gate (Intipunko) at dawn and see Machu Picchu before the busloads of tourists show up around 10AM.
Meals on the trail
are often impressively delicious! If you're an experienced wilderness backpacker, you may be surprised by how luxurious the food is. Some tour companies can accommodate vegetarian, vegan, gluten-free, and other dietary restrictions.
The Inca Trail is part of the Machu Picchu Sanctuary, a protected area of 32,592 hectares, managed by the National State Protected Natural Areas Service, SERNANP. Every visitor must obey park regulations prohibiting littering, cutting or damaging trees, removing or damaging stones of ruins and the Trail, removing plants, killing animals, lighting open fires or camping in the archeological sites (Only authorized campsites can be used).
Porters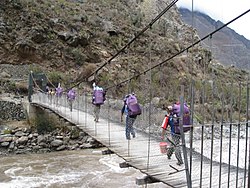 The trek is demanding enough without having to carry camping gear or clothes: use a porter (for camping gear) and a half (for change of clothes) and just carry your day pack. (This gives a job to a poor local farmer!)
The Inca Trail is one of the relatively few treks globally that features porters: pack animals are not allowed on the trail because their hooves damage it. Porters are local Quechua farmers, typically poor and uneducated, and this is a major source of income for them. Most will not speak English or even much
Spanish
; knowing a few phrases of Quechua is a nice touch; see
Quechua phrasebook
.
A guide is required, though porters are not, so you can backpack the trail, carrying all your own equipment. However, porters are widely used and recommended, since it's hard enough to hike with a day pack.
Porters need to arrive much earlier than trekkers, to set up camp, so please be aware of porters running past you and give way.
Beware of poor treatment of porters, notably inadequate equipment, food, or shelter, and excess loading: a heavily-loaded porter wearing plastic sandals is not tough, he is being exploited. Conditions have improved, but ill-treatment is still common, particularly on cut-rate treks. Please use an operator that treats its porters well, and consider learning more and getting involved in improving conditions. A recent documentary chronicling one year in the life of an Inca Trail porter,
Mi Chacra
, won the Grand Prize at the 2010 Banff Mountain Film Festival.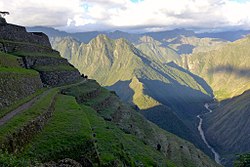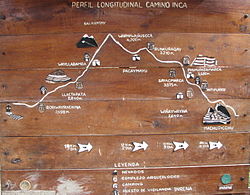 When to go
May is best – start of dry season, so dry, sunny, and lush vegetation from the rains, and before high season and depths of winter.
Weather is best May to September: fairly dry and sunny. June through August is high season (summer vacation in Northern Hemisphere), and hence books up far in advance, but is winter here (because Southern Hemisphere), so a bit cold at night. Thus, May and September are ideal. Fringe months of April and October are also OK, but more risk of rain. If hoping to see the sunrise, June and July are driest and best, but May and August (into early September) are often OK.
November to March are the rainy season, so avoid if possible: cloudy skies (worse views), and rain, which soaks you, makes the rocks slick, and runs the risk of landslides, both on the trail and on roads. Less crowded though. The wettest months are January to April, when roads are often closed by landslides or flooding.
The trail is closed in February to clean up the garbage left behind.
Weather on the trail year-round
features warm, comfortable days (around 20℃) and cold nights (often 5℃ or below), dropping to below freezing in the winter (June, July, August). Sun during the day and clouds at night increase the effective heat and cold. Accordingly, dress in layers. Pack warm clothes in your duffel (alpaca hat, gloves, and socks are cozy), and make sure you have a warm sleeping bag. Also, flip-flops to rest your feet at the end of the day will leave you with cold feet: bring light, loose,
closed
sandals instead.
The air is dry, and dry
ing
: the low pressure means water evaporates more quickly. Drink plenty of water, and use moisturizer if desired.
Prepare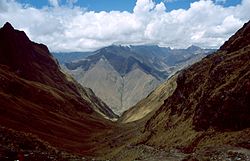 Book tickets
Tickets
must be booked in advance
, far in advance for the high season, through an authorized local tour operator, as it is not allowed to organize your own trip. For the high season, tickets must be booked immediately when they become available: it's wise to book six months in advance or more. Get these trail tickets
before
your plane tickets. If booked up, consider rescheduling your trip, or taking one of the
alternative treks
in the area, none of which require booking so far in advance. Don't expect to pick up last-minute cancellations, as tour organizers must register client passport numbers with the government, and they are strictly checked at control points on the trail.
A
passport
is required both for reserving tickets, and for admission to the trail (copy
not
accepted), so you need to bring it in your day pack! It is easiest if you have the same passport when reserving your ticket as when you show up, so avoid renewing your passport or changing your name in the meantime: renew if necessary before, change name before or after.
Tickets are by season: reservations are accepted from mid-January, for the season from March 1st to the following January 31st. Some agencies will accept pre-reservations and then book immediately when tickets become available.
There are 500 permits available per day for the 4, 5 and 7 day treks and 250 permits for the 2 day trek. This includes both trekkers and tour employees (guides and porters). Since there are about 1.5 employees to 1 trekker, that leaves 40% for trekkers, so about 200 trekkers per day.
You can check official availability of tickets at the
Boletaje Virtual
(Virtual ticket) website. Beware that this is the
total
number left (trekkers and employees), so out of 500, and that days can book up in big chunks, due to booking a group (a group of 12 trekkers entail about 30 tickets total), so don't delay.
Tickets for Machu Picchu should be included in your tour. Tickets are also required for
Huayna Picchu
(a large mountain nearby which you can hike up for magnificent views of Machu Picchu). Huayna Picchu is optional, and thus might be forgotten: make sure to get tickets in advance if interested!
Which tour?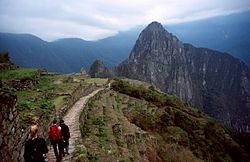 There are two tour lengths: 4 days and 5 days. They both sleep 3 nights on the trail, and follow the same path, but have different schedules, and stop at different camp sites. It is also possible to take a short 2-day trek on a slightly different route, or visit Machu Picchu without the Inca Trail.
The 4 day/3 night trek is the classic: on the last day you get into Machu Picchu early, see the sun rise, visit Machu Picchu, then go back to Cusco. The 5 day/4 night version is more leisurely, getting into Machu Picchu late on the fourth day for a brief look after most tourists have left; then you spend the night at
Aguas Calientes
and see Machu Picchu the next day.
If you're tight on time or money, or you're a fast hiker, do the 4-day, otherwise do the 5-day: it's less rushed and crowded.
The classic 4-day tour takes less time and is a bit faster and more demanding, particularly days 3 and 4: you have long days and relatively less sleep. It means you see the sun rise when you first get to Machu Picchu (assuming clear weather), but you'll likely be a bit tired, and may not be up to Huayna Picchu. You also may have a rushed day at Machu Picchu, and will need to plan your train back carefully if you want a full day at Machu Picchu, particularly to avoid the crowds. If you want, you can do the 4-day (arriving early) and then spend the night in Aguas Calientes, and see as much of Machu Picchu as you like, basically doing a fast-paced 5-day (with sunrise, and rest at the end).
The 5-day tour is more leisurely: it misses the sunrise, and takes an extra day, but is otherwise more pleasant: you see Machu Picchu after the crowds have left (on the first day) and before most crowds arrive (on the second day), with nice dusk/dawn light (golden hour, good for photos), you can be rested for Huayna Picchu, and the campsites are less crowded, because most people are on the 4-day schedule.
Choose tour operator
You must use a local authorized tour operator, of which there are many. You can book with a tour operator directly, or use a travel agent in your country. Some operators, notably high-end ones, only work through agencies. Beware that being authorized is no guarantee of quality, and many agencies are fly-by-night operations run out a storefront in Cusco. It is safest to use an established, reputable agency: research agencies and their reviews online. However, there are some newer companies that you might take a chance on if you find their story or reviews compelling.
When choosing an operator, consider what they offer—budget backpacking or high-end glamping? How big are the groups (or do you want a more expensive private tour)? Do you want to take a 4-day or 5-day (or 2-day) tour? Some operators only offer one. Will they arrange travel to/from Cusco? Which train service? And of course, operators and tours vary in price.
Many operators treat porters very poorly; check reviews and story (touting social responsibility is no guarantee, but it's a hint). Beware that cut-rate operators invariably cut corners at the expense of porters, but some good value operators treat porters well, and being expensive is no guarantee that porters are treated well. Also, due to intermediaries, paying a high price to a travel agency may not result in the tour operator getting much of it.
Operators
An operator is
required
. Out of the about 200 companies, many are bad. Check reviews, guidebooks, and the companies' own websites to decide, or rely on a travel agent to choose for you. Here are 13 well-respected companies, though there are other good ones.
High-end
Porters
There seem to be about 1½ porters per client on the trail, and you'll spend a fair amount of time getting out of their way as they hump all your gear to the next camp. Fortunately, the government has restricted the amount of gear tour operators can pile on each porter to 25 kg (including their personal stuff). You are allowed to pack only 6 kg for the porter to carry so choose carefully.
On many tours you can pay extra for a personal porter to carry most of your things, although you will always want a daypack for water, snacks, and clothing. Consider hiring the extra porter, which allows you to carry 7 kg extra (from 7 kg to 14 kg). To be clear, the extra porter you hire is not just for you - he will carry an equal share of the whole set of gear to be transported, including everyone else's food, kitchen tent, etc. The tips for 'your porter' are part of the shared pool as well - so it's not really the case that you are paying for a porter for yourself.
Get fit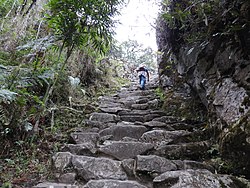 You do not need to be particularly athletic to travel the Inca trail – so long as you are generally fit and can walk up and down stairs, you should be able to do it – but it helps make it safer and more enjoyable. Walking, hiking, using the stair machine, and doing weights for leg muscles all help you be specifically prepared for the trek, and make it easier. A half hour on a stair machine a few times before the trek is adequate, but further conditioning helps. Check with a doctor or trainer before engaging on a demanding exercise program.
;3 to 6 months beforehand – build muscles
Muscles take time to build, and help with stability and endurance. Get training if any exercises are new to you.
Squats are the best exercise for your legs and general stability; leg presses or quad extensions are acceptable alternatives.
Dips are ideal preparation for pole use, as the movement (particularly downhill) is virtually identical. Triceps extensions are an acceptable alternative.
;3+ months beforehand – cardiovascular fitness
Any regular cardiovascular exercise is acceptable, though walking or running are the easiest option for most people. Hiking, particularly rough terrain at altitude, is best, if possible.
;1 month beforehand – muscular endurance
Muscular endurance decays quickly, so do shortly before departure. An hour on a stair machine 3 times or more per week is ideal, though steppers, sloped treadmills, or climbing actual stairs is also ok.
Arrange gear
Packing is a complicated tradeoff: bring enough to be comfortable, but minimize weight, and split between day pack and duffel. It also depends on the type of trek (will water be provided?)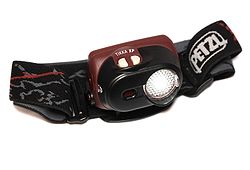 Headlamp/flashlight
Warm top/bottom for the evenings
Hiking boots; runners are possible if you don't mind them getting thrashed by the rocky trail and you have strong ankles
Wash kit, 2L water bottle and water purifying tablets
Sunblock (SPF 30+), UV-blocking sunglasses, and sun-blocking lip balm – you're outdoors, at altitude, by the equator: the sun is very strong, and clouds don't block it
Hat, preferably something covering your neck to protect from the high-altitude sun
Cash to tip porters and guides and buy snacks along the way, including a handful of one-sol coins for the bathrooms on the first day and at Machu Picchu
Long pants or slacks
Long-sleeved shirts
Several T-shirts
Rain wear (you never know when it will rain even if it's the dry season)
Camera.
Insect repellent
Personal toiletries
A light backpack
Gloves, scarf, warm socks
A towel and toilet paper
Maybe earplugs – your companions are likely to snore; this is partly periodic breathing, part of acclimatization to altitude (see altitude sickness)
Possibly an inflatable mattresses – at US$25 per person, renting one of these means you get two mattresses, a normal one and in addition an inflatable one on top, making it exceedingly and maybe excessively comfortable
Acclimatize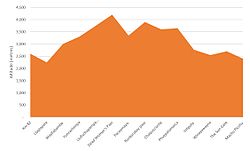 At its highest, the trail reaches 4200 m above sea level, so you should spend at least 2 days in
Cusco
acclimatizing before you start the trek. If you don't,
altitude sickness
could make your first few days pretty uncomfortable.
Be aware that at 3400 m altitude, there's a risk for altitude sickness in Cusco too, so ideally, start with a day or two in the Sacred Valley, to acclimatize gradually to altitude before your trek. See
Inca Highlands
for what to do before your trek.
Get in
See
Inca Highlands
. You first need to spend a few nights in Cusco (and before that, preferably a night or two in the
Sacred Valley
) to acclimatize to the altitude. From Cusco, you can take a train, bus, or private car to the trailhead. This will likely be arranged by your tour group, so you just need to get to Cusco.
Some tour companies may also be able to pick you up from
Ollantaytambo
or
Urubamba
instead of Cusco. Since these are closer to the trailhead, this option lets you get a couple extra hours of sleep before starting the trail.
Costs

Around US$400 at least. If you are paying less than US$350 for the 4 day trip, something is fishy, and porters are probably being treated very poorly. Make sure your tour includes the entrance ticket to the Inca Trail and Machu Picchu (US$85) and the Vistadome train (US$71) back to Cusco.
Tipping is expected, and a significant portion of the income, especially for porters. Verify exact composition of crew, expected tip amount, and protocol before the trek, and prepare tips. Use clean bills, given on either on last morning on the trail (for 5-day trek), or last night (for 4-day, due to early start), since porters return home early the last day. Please tip in soles, not foreign currency, to avoid giving porters the inconvenience of finding a currency exchange place and paying their (probably significant) fees.

Go
The following roughly describes a typical 4-day trip along the Inca Trail. Everyone takes the same route, but your timing and campsites will depend on your tour operator, the speed of your group, and other considerations. Your ability to tour and explore the ruins will also depend on your particular tour: the 5-day tours include plenty of time for all the ruins, but many 4-day tours end up rushing past some of them without a chance to look around. In particular, Runkuracay and Wiñay Wayna are likely to be skipped on some versions of the trek that put them close to the end of a long day of hiking.
The trail has stairs, most of which were put in by the Incas. The rocks are rough and uneven, and very slippery when wet. It is very easy to sprain your ankle, particularly when descending. Use trekking poles for balance, tread carefully, and be very careful when wet.
Don't rush, particularly on the 2nd day climbing up to Warmiwañusqa (Dead Woman's Pass) – you have to climb down afterwards, after all. Slow and steady is better than rushing ahead and getting sweaty and winded. More subtly, climb
down
slowly, using poles – your knees will thank you.
Toilets are found every couple of hours along the trail. On the first day they are sit-down toilets that cost S/1 to use; after that they are free squat toilets. They are filthy and lack toilet paper. Bring toilet paper and hand sanitizer or soap (benzalkonium chloride is best for the dry season, as it does not dry out your already-dry hands; soap is fine, though water may not always be available).
Day 1: Cusco to Wayllabamba
Your operator will probably pick you up early in the morning at your hotel in for a drive to the trailhead. On the way, you might stop in or for supplies or breakfast.
When you reach the trailhead at , you can buy a few last-minute supplies like toilet paper, coca leaves, and mosquito repellent. Then you'll go through a control checkpoint and set off by crossing a bridge across the river. From a distance, you'll see the ruins of and then the former large Inca settlement of (aka Patallacta), both in the valley below you. You should then get a chance to explore the Inca fort of , located on the trail overlooking Llactapata—this hill fort, which mostly consists of rows of small Inca buildings, is where many of the inhabitants of Llactapata worked.
If you're feeling like this day was easier than you expected, don't get cocky – day two is much harder. Settle in for the night at and rest up for the hardest day of the trek.
Wayllabamba, by the way, is actually a village rather than just a campground, and you can buy drinks and snacks here. The kids who live here have to commute all the way along the trail you've just taken and then take a bus to Ollantaytambo just to go to school.
Day 2: Dead Woman's Pass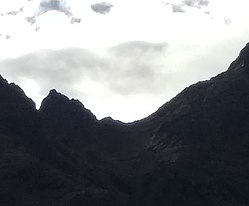 Day 1 of the Inca Trail is said to be the easy day. Day 3 is the long day. Day 2? This is the hard day. You won't be spending your time touring ruins today—instead, your main goal is the difficult slog up and down the trail's highest mountain pass. Your guide may give you something to help with the altitude; even if not, some coca tea or leaves to chew can help.
After another early wake-up call, you'll pass the campsites of and (your final opportunities to buy any last essentials, like water, snacks, toilet paper, or wine). Then comes the steep and difficult ascent to (
Warmiwañusqa
/
Huarmihuañusca
) at 4200m, the highest point of the trek. For most trekkers, the last chunk is especially tough because of the altitude, so take it slow. Take breaks as often as you need to, and don't try to compete with other hikers. When you do reach the pass, take in the breathtaking views while you celebrate your accomplishment—you've just completed the hardest section of the trail. Then descend to your campsite at for some well-deserved rest.
Make sure to have a jacket on hand for this day—temperatures can drop drastically with altitude. The campsite is quite high up too, at about 3600m, and it gets cold at night.
Day 3: Phuyupatamarca and Wiñay Wayna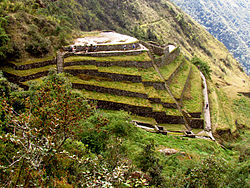 Set off early (are you sensing a pattern?) for another full day of hiking. Day 3 will take you past several impressive Inca ruins. Start by seeing the ruins of , a semicircular Inca watchtower where sentries once looked out over the valley below, and crossing the 4000m . At this pass there are a couple of small side trails you can take for views of the valleys on either side. Then you'll pass the "inaccessible town" of , a large set of ruins which despite its nickname is open for exploring. Sayacmarka is the biggest archeological site so far and includes both a residential area and a sun temple. Down below Sayacmarka is the much smaller site of , which you'll see from afar and then walk past, but are not allowed to enter.
Now that you're past the second pass, you'll notice a striking difference in climate and wildlife – suddenly you're in a lush, moist forest with colorful plants. This area, known as a cloud forest, looks almost like a mountainside rainforest, and it's hard to believe it can exist so close to the austere peaks and grassy scrubland you've just passed.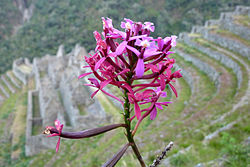 Then come three more ruins that you can explore, assuming your group walks fast enough to give you time! First is —"Town in the Clouds", an appropriate name given how often it's shrouded in fog. Located at an altitude of 3600 m, this is an impressive and well-preserved set of ruins, including agricultural terraces and ceremonial baths. Look for the water channels that connect the baths, a surviving demonstration of high-quality Inca engineering. Next is , a truly huge set of agricultural terraces with amazing views of the mountains—if you're lucky you might have the time and energy to wear yourself out walking up and down the long flights of stairs between the terraces. Finally, make your way to , the largest set of ruins on the trail (aside from Machu Picchu, of course). Wiñay Wayna includes ruins of residential buildings, several storehouses, and terraces where food was grown to be sent to Machu Picchu. For most tours, this is also near the location of your last campsite.
Note: your campsite for this day may be somewhat unpredictable—while the Wiñay Wayna campsite is the most popular because of its proximity to Machu Picchu, space considerations sometimes mean that groups are allocated space at the farther away Phuyupatamarca campsite instead, especially in the high season. Space is allocated by the government, so this is outside the tour operators' control. If your operator plans to camp at Wiñay Wayna, you probably will, but they can't guarantee it 100%.
Day 4: Machu Picchu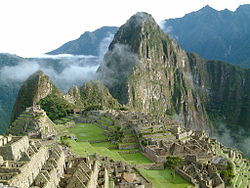 This is one of the world's most rewarding day-hikes. Wake up
very
early for a hike in darkness of just a few kilometers to reach your destination before sunrise. You will find that the Trail is fairly easy until you have to go up the steep "gringo killer" stairs. The final climb brings you to , the
Sun Gate
, where you achieve your first and most picturesque view of . Now there's another hour or so of hiking, during which you'll pass a couple of smaller ruins and watch the main part of the ruins slowly get closer and closer.
Finally, you'll make it: one of the most famous sets of ruins in the world, and with good reason. It's spectacular, huge, and very well preserved and restored, full of Inca houses, temples, streets, terraces, and so on. The ruins you saw on the way were just a shadow of the impressive engineering on display here, in the form of systems of running water and temple walls composed of huge, perfectly cut boulders. It's true that Machu Picchu is crowded, especially compared to the sites you saw on the trail, but the crowds are worth it for an unparalleled look at what remains from the height of Inca civilization.
Depending on your exact itinerary, you'll be at Machu Picchu either in the morning (6AM–noon) or the afternoon (noon–5:30PM). If you have a morning ticket, you won't be kicked out at noon, but you won't be allowed to re-enter if you leave to use the toilets, which are outside the gate. Machu Picchu is most crowded at midday and clears out by 4PM, when the last train heads back to Cusco, so take your time finishing the hike. Late afternoon is the prettiest time to wander through the intricate stonework. The last bus down to , at the foot of Machu Picchu, departs shortly after the gates close in the afternoon.
After touring Machu Picchu, you can choose to take a hike to to see the beautiful views of the site. This may cost extra.
Getting out
Which train to take
Beware: if you are not spending the night in Aguas Calientes (4-day/3-night trip), then you only have part of one day in Machu Picchu, and thus your return train ticket from Machu Picchu will have a large impact on how much time you can spend there and whether or not you have time to climb Huayna Picchu at all. If you are spending this night, this isn't an issue.
When you are booking an Inca Trail ticket from home, you may think the time of your train is a very low priority item. You are probably assuming that someone else made sure you have enough time to spend at Machu Picchu. But the reality is that trains get booked and your trail operator may buy you a train ticket out of Aguas Calientes at 1PM. To make it to this train, you will have to be at the train station at 12:30, which means you have to leave Machu Picchu by no later than noon, which means that you will be there only briefly, and have to leave it when it is the most crowded. Machu Picchu is the best in the first half hour after opening and during the last two hours before closing. Most people are gone after 3PM, and the light till 5PM is gorgeous, the heat a little gentler, and you can sit on a patch of grass and soak in the place. You do not want to miss this. It will make Machu Picchu yours. At 10AM Machu Picchu is crowded, loud, and bustling. You will be running around to not lose track of your tour group. At 4PM you can really see it at your own pace, and hang out with the resident chinchillas and llamas. But to do that, you have to take a later train.

Stay safe
Statistics on hazards on the Inca trail are not available, and probably do not exist: injuries and petty crimes are not reported, so all information is anecdotal. With proper precautions, and a bit of luck, you'll be fine, and major problems are rare, but more minor problems are common. At the end of the trail, beware of falls at Machu Picchu, especially at Huayna Picchu.
The most common issues on the Inca trail are: altitude sickness, lack of potable water, filthy bathrooms, sprains and broken bones, and petty theft. More serious issues are heart attacks, falling off the trail, landslides, lack of medical facilities, difficulty in rescue and evacuation, and lack of police. Deaths are quite rare (a handful or fewer per year, out of tens of thousands of trekkers), and typically make news. Similarly, serious crimes (murder, rape) are rare, though rape attempts of single women are reported at Wiñay Wayna, particularly when using toilet late at night: safest is to always be in a pair or group at night.
The tap water in Peru is not potable. Do not drink it. You must either boil water for five full minutes or drink bottled water. Your tour operator will have plans for what to do about
water
during the trek, so ask what you should bring. In any case, it's a good idea to have
water purification tablets
on hand in case of emergency.
Because you are visiting Andean areas, don't forget to take precautions to avoid
altitude sickness
if you are prone to it. Be sure to try a hot tea or an infusion of coca leaves on arrival at altitude. During your first day move slowly and eat lightly, resting the first couple of hours. At night you may be woken by the screams of a panicking trekker who is suffering an acute case of altitude sickness, and requires oxygen (particularly at Paqaymayu, the largest and usually highest campsite). Don't be scared, but acclimatize properly so this isn't you.
Sample altitudes above sea level:
Cusco: 3,360 m (11,000 ft)
Machu Picchu: 2,400 m (7,800 ft)
Urubamba Valley: 2,850m (9,300 ft)
highest point on the trail: 4,200 m (13,600 ft)
Theft
Theft is common, primarily of unattended items at camp, and occurs particularly at meal time, when washing or using the toilet, and when sleeping: even experienced tour operators suffer theft. This is especially a problem at crowded campsites, notably Paqaymayu and Wiñay Wayna, which are crawling with people and virtually impossible to secure. More aggressive theft (armed robbery, tent slashing) is now rare, however. Prime targets include sunglasses, cell phones, cameras, lenses (camera and sunglasses), money, trekking poles, head lamps, and beer. Thieves are primarily porters (from your own group or another) or locals, who are very poor: there is no need to be overtly suspicious, but never let your guard down. You cannot realistically protect everything perfectly, but you can minimize risk.
As a precaution, avoid bringing valuables. Leave jewelry at home, and consider bringing a smaller, cheaper camera. Unfortunately, you must bring your passport and tip money on the trail, and much gear is expensive. Whatever valuable items you do bring should be kept on your person at all times. Your passport is the most serious, since this is disastrous if stolen. Fortunately, this and money are easy to secure, if awkward: use a money belt, even at night. Do
not
use a neck pouch at night, due to strangulation risk. Safest is to give these to someone when washing.
Leave nothing unattended, especially at meal time. Safest is to have multi-person tents, with someone always there, and either eat in your tent or bring your bags to meal. This is a bit paranoid, and you can generally leave bulky items (clothes, trail shoes) in your tent.
Don't leave anything outside the tent, even shoes or clothes, especially at night (not just to because of theft but also in case of rain and dew). Leave nothing valuable inside tent entrance or in easy-access pockets.
Hide bulkier items mixed with other items in bags inside of bags inside of deep pockets Backpack pockets, pant pockets, shirt pockets, etc. are easily searched. The more layers (bags, zippers, etc.), the less likely a rushed thief is to risk opening all of them or risk taking a large item. This provides added protection for items such as sunglasses, cameras, and lenses.
Hide valuables when approaching campsite, if possible.
Injuries, evacuation, and death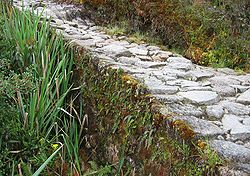 Serious injuries and death are very rare, but possible.
Medical emergencies are very dangerous, due to the remoteness. Medical facilities on the trail are limited, and evacuation and rescue are slow and difficult. The closest major facilities are in Cusco, many hours away. If you are at risk of a medical emergency that would need a hospital, you risk death.
Prior to Warmiwañusqa, you can turn back. Once you pass Warmiwañusqa, there's no turning back: the fastest and safest way out is onward to Machu Picchu. If you are injured, you will need to walk out or be carried out (if you cannot walk); horse are available for the first day, but not afterwards. Helicopter evacuation is possible from Machu Picchu, but not from the trail itself. Usual evacuation proceeds via Aguas Calientes (if past Warmiwañusqa), Ullantaytampu, then to Cusco.
If you fall off the trail, you will likely be seriously injured or die: off a sheer drop you will likely die, while if you fall into vegetation you will likely not be able to climb back up (mountainsides are scree covered with thick vegetation), and need to be rescued by a team with machetes and a basket stretcher, which can take hours.
It is safest to not be alone on the trail: if something happens, it can be some time before you are found, and if you fall off out of sight, it may be hours or days before you are found.
Be aware of the language problem: English is often limited, and porters may only speak
Quechua
. Please document and learn to state any medical conditions in
Spanish
.
Go next
Other treks
Many alternative treks in the area, some also ending at Machu Picchu, are run by some of the same companies.
Keep hiking, by long, demanding hike to Choquequirao (similar ruin to Machu Picchu, much less-known), then short (2-day) hike down to Cachora and bus back to Cusco.
Salkantay Trek, passing by the staggeringly tall Salkantay peak on the way to Machu Picchu
Two-day Inca Trail, where you only hike past a few ruins, for people who want a taste of the Inca Trail but aren't ready for a big four-day trek