Incheon
Incheon
(Hangul: 인천, Hanja: 仁川, formerly romanized as
Inchon
) is a city in
South Korea
on the coast directly bordering the west of
Seoul
.
Understand
Incheon is a historically and economically significant place for Koreans. During the Korean War, the city was the site of the
Incheon Landing
by American forces. In 2016, Incheon became the third most populous city in the country after the Seoul Metropolitan Government and Busan Metropolitan Government, with 2,943,069 locals, 59,103 foreigners and 3,002,172. Also, the city serves as a transportation hub by air and sea, with a massive harbor and
a major international airport
. Several beautiful islands, such as
Yeongjong Island
and
Ganghwa Island
, are also within city limits.
The status of the area is set to increase as various national projects are in development here. The
New Songdo City
plan, the most expensive real estate development in Korean history, is in progress. One of the world's tallest twin tower buildings, 151 Incheon Tower, is under early construction and one of Korea's tallest buildings, the Northeast Asia Trade Tower, is already finished. It is planning to launch further independent mini-cities for shopping, housing, and education. Added to this real estate development, and will also invite a large number of visitors for the 2014 Incheon Asian Games. Despite these developments, the Songdo district of Incheon is unfinished and not yet permitted for full inhabitation,
Climate
Incheon is part of the cold winter cattle climate and is also classified as wet continental climate depending on the classification.Although it is a coastal city, the temperature and precipitation are similar to those in inland areas as only low-level waters are located deep. Temperatures are highest and precipitation is highest in July and August. Incheon is affected in the northwest, the same latitude on the skylines of East Sea coast, the winter temperature is low. Precipitation is relatively small compared to other parts of central South Korea. Ongjin Island area is warmer due to the influence of the sea than Incheon land.
Atmosphere
Incheon is the first to be affected by yellow dust because it is close to the source of yellow dust in the Mongolian desert region, which is riding a strong one-way wind wave. Compared to inland cities where high mountains and hills are heavily distributed, yellow dust is directly affected.
Get in
By plane
Incheon International Airport
is South Korea's main gateway. The
AREX
train connects the airport to Gyeyang (20 min), where you can transfer to the Incheon subway line. Alternatively, the limousine bus line (50 min) is always available to go to many places in Incheon, or you can take a taxi (25 min) to get into the city.
By boat
Incheon Port International Ferry Terminal
has connections to several cities in
China
, such as
Weihai
,
Dandong
,
Qingdao
and
Tianjin
.
The largest operator is now
Weidong
, but passengers can look at full listings on the
port's website
(only in Korean). These ferries are similar to miniature cruise lines and provide karaoke rooms, console games, and DVD rentals (private rooms only).
The trip can take as long as 24 hours, so if you have an economy ticket, request a sleeper bunk for a comfortable trip. If they are all taken, however, the only other option for an economy ticket is the sleeping deck where everyone will stay like sardines in a can. Arrive at the terminal 2–3 hours before departure to ensure there is availability for the bunks.
By subway
Kyeong-in line called Metropolitan Line 1 links
Seoul
to Incheon. The line often provides express trains that skip some minor stops between Dong-incheon station and
Yongsan station
. By using the express trains passengers can save up to 30 minutes depending on where they go and for the same fare.



By bus

From various cities in South Korea, there are numerous Intercity Bus routes heading to Incheon.
Travellers can book some routes from the Kobus website such as Busan, Daegu and Gwangju.
From Seoul, there are some express bus routes which mainly exist for commuters.


| Number | Origin | Destination |
| --- | --- | --- |
| 1000 | Seoul Station | Gyeongnam Honorsbill |
| 1100 | Seoul Station | Naho Park |
| 1200 | Seoul Station | Miju Bathhouse |
| 1300 | Seoul Station | Dongmak Station |
| 1400 | Seoul Station | Incheon Terminal |
| 1500 | Seoul Station | Lotte Mart |


Most of them connect Incheon from Seoul station, Shinchon and Gangnam station. For example, route 1400 links Seoul station, Shinchon, Hongdae and Bupyeong.

Get around
Incheon is like the gist of traffic. It can reach Incheon no matter what transportation it uses to reach the ocean, inland or air.

By subway
Subway line No.1 and Suin line have connected to Seoul and Gyeonggi Province. The subway line passes through many famous places.If you get off the 'Gyeyang station', you can see the Gyeongin Ara Waterway.

By bus
For visitors who want to visit more places in Incheon, local bus lines could be another great option. There are about 2,000 operating buses; therefore, a visitor can go almost everywhere.

Land and water double use bus
In Ara waterway, there are several 'land and water double use buses'. You can stop by and experience them. It takes about 1 hours and you can look around in Ara Waterway. The hours of operation are 11:00-11:30 to 15:30-17:30 on weekdays. On weekends, the hours of operation are from 10:00 to 18:00. The times between departures are 30 minutes or 1 hour.

By taxi
There are a number of taxis on the street, and a taxi can be called under 1577-5588.

See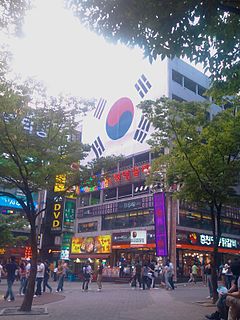 Incheon has a lot of attractions in each region. There are places where you can experience things and places where you can feel nature. Visitors can easily get interested because there are special features in each area.
Market
Cultural properties
School
Festival
Other
Do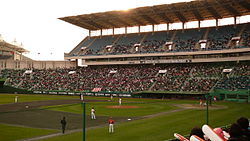 Go to the hot place in Guwol-dong. If you go, you can enjoy the nightlife. It has many delicious restaurants and pubs.

phone: +82 032 427 8401

address: 1408 Guwol-dong, Namdong-gu

The Incheon Culture & Arts Center has served as the home of culture and the arts in Incheon.

haughty cat

phone: +82 032 433 8584

address: Rodeo Plaza 5th floor 1463-2 Guwol-dong, Namdong-gu

It is a pet cat café that you can drink some coffee and enjoy with cats.

Fairy-tale town

address: Songwol-dong 3-ga, Jung-gu

This town is designed to show like fairy tales.

G tower

address: Songdo-dong, Yeonsu-gu

This tower rises to a height of over 30 meters. It is a great building to see all of Songdo at a glance.

address: Yeonsu-gu Songdo-dong Convensia-daero 160

It is a large park located between tall buildings in downtown Songdo, where boats, canoes and water taxis can be taken on the 3.6-kilometer waterway. You can see deer and rabbits and rent a multi-seater or single bicycle. It is a tourist attraction in Songdo which has a very fine view.

NCcube Canal Walk

phone: +82 32-723-6300

address: Canal Walk 17-1 Songdo-dong, Yeonsu-gu

It is a good place for shopping. It's called Venice in Incheon.

Bupyeong Underground Shopping CenterBupyeong Underground Shopping Center is 1.8km from Bupyeong Station to the Bupyeong cultural street. There are 1408 stores operating in an area of 3,1692m2. Boasting the largest number of stores in a single area, it was certified as a world record in October 2015. Various items are sold and the convenient transportation network attracts shoppers not only from locals but also from the metropolitan area.

Songdo ConvensiaSongdo Convensia has international level exhibition halls, conference halls and event hall with advanced ubiquitous facilities. The exhibition hall can accommodate up to 450 booths and the ceiling height is 32m, allowing for various kinds of exhibitions that are not restricted by space. The hotel is located 20 minutes away by car from Incheon International Airport, so its overseas access is excellent. There are six luxury hotels and a variety of accommodation infrastructure around Songdo Convensia .

address: Namdong-district Munemi-ro 236 (Jangsu-dong)

It is a large park located in the eastern inland area of Incheon. It has various facilities including a children's zoo, a botanical garden, an arboretum, a sledding area, etc. There are so many cherry blossom trees that the scenery is very nice during the cherry blossom season.

Songdo Triple Street

address: Songdo-dong 176-1

It is a complex shopping mall in Songdo, divided into A-dong, B-dong, C-dong and D-dong, and consists of three floors above ground from the first basement level. A lawn and small stage are installed between the C-dong and D-dong, so major events are held here.

Ganghwa mudflat

address: Incheon Ganghwa, on the west coast

Ganghwa mud flat is the world's top five mudflat and one of the largest mudflat in Korea. This refers to the mudflats from Ganghwado Island to Sihwa Embankment in the south, centered on Yeongjongdo Island in Incheon. It is well preserved and its economic value is very high.

Gyeongin Arabat-road

address: the coast of Incheon

Gyeongin Arabat-road that connects the waters off Incheon with the Han River, is the first canal in Korea and is an 18-kilometer water route linking the West Sea and the Han River. A pleasant bicycle road and a park have been built on both sides of the Arabat-road, making it a popular resting place for residents. The Arabat-road bike path is connected to the Han river bike road, which allows you to ride your bike to the West Sea from downtown Seoul.

Sorae Wetland Ecological Park

address: Nonhyeon-dong, Namdong-district

It is a park in Nonhyeon-dong, Namdong-district. The entire area is about 3.5 million square meters in size. In August-September, you can observe the production of salt from the salt farms, and you can also experience harvesting it. There is also an ecological exhibition hall, and there is also a mud flat experience area where you can observe the living things such as crabs and shellfish.
Movie theaters
There are several movie theaters in Incheon. Big multiplex movie theater chains, such as CGV, Lotte Cinema and Megabox, are represented in Incheon and show movies of various genres.
Sports
Watch baseball, the national sport, at Munhak Baseball Stadium (home to SK Wyverns) and football at Incheon Football Stadium (Incheon United FC).
Incheon SK Happy Dream Park

address: Incheon Michuhol-district Masohol-ro 618(Munhak-dong)

It is the home stadium for the SK Wyverns in the Korean professional baseball league.

Incheon Munhak Stadium

address: Incheon Michuhol-district Masohol-ro 618(Munhak-dong 482)

It is stadium consists of a main stadium, a baseball stadium(Incheon SK Happy Dream Park), a auxiliary stadium, a swimming pool, a football field, a square, an x-game field, a camping ground, and an artificial rock wall.
Eat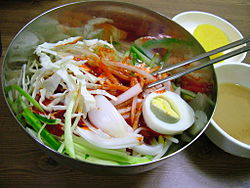 In Incheon, there are a large number of quality restaurants but do not expect the staff to be able to speak English.
Bupyeong and Guwol-dong Rodeo Street
are two main areas for food and drink. It has the advantage of being able to enjoy a meal with drinks as well as meals. A variety of genres is available. Korean food generally offers a delightful and exciting experience. If someone is not familiar with Korean food, there are also many American and Italian restaurants which could be a safe bet for foreign visitors.
Bupyeong New-York Chinese restaurant

phone: +82 32 516-4488

It is a very famous Chinese restaurant in Bupyeong. The Sweet and Sour Pork was made with sweet rice. Also, employee directly cut this Sweet and Sour Pork.

phone: +82 32 426-1111

It is franchise brand. Many South Korean people like to eat chicken feet.

phone: +82 32 765-7888

address: 5-1,3ga bokseong-dong, jung-gu

This restaurant went on the air lots of times. It is in the Chinatown

Original Sinpo sweet and sour chicken

phone: +82 32-762-5853

address: 1-12 Sinpo-dong, Jung-gu

This restaurant serves sweet and sour chicken. The sweet and sour chicken is a thing for which Incheon is famous.

Samgang Seolleongtang

phone: +82 32-772-7885

address: 95-8 Gyeong-dong, Jung-gu

This restaurant serves seolleongtang. (Seolleongtang is a stock soup of bone and stew meat.) This restaurant boasts of a tradition that goes back 60 years.

Japanese Bistro

phone: +82 32-833-7720

address: Hyundai Hillstate Apt.402 No. 110, 21-60 Songdo-dong, Yeonsu-gu

This restaurant serves Japanese food. The pork cutlet with mozzarella cheese is a thing for which Songdo is famous.

Teru

phone: +82 32-723-6600

address: 107, Art center-daero, Yeonsu-gu

This restaurant serves Japanese food. The cheese fondue pork cutlet is a thing for which Songdo is famous.

Dokyo Panya

phone: +82 32-831-1025

address: 194, Central-ro, Yeonsu-gu

This is a bakery. This bakery's breads cost more, but they are also more delicious and healthy than other bakeries' breads.

Sushiway

phone: +82 32-834-3704

address: 232, Central-ro, Yeonsu-gu

This restaurant serves Japanese food. It is famous for fresh sushi.

myeong-dong boiled barley

phone: +82 32 435-3393

address: 232, 1134, Guwol1-dong

Korea people like to eat boiled barley. If you stop by here, you can eat it.

phone: +82 32 432-7500

address: 9, Inha-ro 507beon-gil, Namdong-gu, Incheon

This is one of the famous restaurants in Incheon. You can enjoy pasta to pizza at a low price. They usually visit as a family unit, and many couples visit as well.

Hwapyeong-dong Washbowl Cold Noodles Street(화평동 세숫대야 냉면 거리) Cold noodles bowl of 'Hwapyeong-dong Washbowl Cold Noodles Street' is as big as the washbowl. 'Washbowl cold noodles' is very cheap compared to the quantity. The types of cold noodles are water-cold noodles and Bibim-cold noodles, and the characteristic of it is that it contains Yeolmu Kimchi.
Drink
Cuttlefish super

phone: +82 10-7168-1874

address: Bupyeong

There are always many people in this shop. And they manage the Facebook page

Cheap Shots

phone: +82 10-7168-1874

address: Bupyeong

A fairly new foreigner-owned bar with weekly trivia nights and other events. Owner Tommy is very friendly and also makes good food.

N's pub

address: Bupyeong

Small but good atmosphere. Very cheap drinks and beer (but no soju); a favorite for both foreigners and Koreans.

Red Rock chicken

address: Bupyeong

Many people who go to Bupyeong, they go to this chicken store. It is very popular in Bupyeong.

The Shine

address: Bupyeong

A high-class atmosphere for budget prices, The Shine is a traditional bar in that you have to buy anju (안주, appetizer or meal) with your drinks, but the food is quite good. Drinks are reasonably priced and beer can be purchased in towering dispensers which shoot dry ice through a tube and out a chimney on top.

Korean-style raw beef village

address: Bupyeong

Many people drink soju or beer in Korea-style raw beef. This store is also popular in Bupyeong.

Redsun

phone: +82 32-511-7820

address: 153-3, Bupyeong5-dong

Many people drink this place. It has wide size.

Mad Max

phone: +82 32-811-9560

address: 598-4, Yeonsu2-dong

Western style bar, serves a good rum & coke.

Chunnyue Sarang

address: 526-6,ongneyon-dong

Korea's original tea & wine, snack. The master's dress is oriental Korea costume and interior is Oriental culture style.

WoodstockThe original Woodstock is small (about 2 dozen seats) but is comfy and has nice bartenders. The second location (also in Bupyeong) is much bigger.

phone: +82 32-889-8300

address: 55, Seonjae-ro, Yeongheung-myeon, Ongjin-gun, Incheon

This is a dessert cafe operated by photographer Kim Yeon-yong. His photo essay, "The Sea of Father," which depicts a touching true story with his blind father, was also introduced to Heo Young-man's cartoonist and KBS' human theater program, and I can see the photos and photo equipment that he took from all over the world, looking around the world for the scenery of Seonjae Island, filling the interior. Using herbs grown in Cuban-style vegetable gardens, you can taste mojito and waffle that are suitable for the beach.

phone: +82 32-816-8988

address: Incheon, Yeonsugu, Yeonsu2dong, 600-1, Third Floor

This is Yeonsu dong's go-to for beer, burgers and events. The bar is owned by a very friendly American guy and his Korean wife. They have dart leagues, foosball, trivia nights, live music, movie nights and on-demand music videos for free. It's a small neighbourhood, so everyone knows everyone. You'll never go there without seeing a friendly face. Every couple of months they do big events in which they take 40 of the locals on weekend getaways. Great mix of foreigners and Koreans!

O'Malley's Irish Pub

phone: +82 32-424-3006

address: 1474-3 Guwol-Dong, Namdong-Gu, Incheon, Top Plaza 4th Floor

A truly western-style pub/sports bar on the outskirts of the lively "Square" in Guwoldong. They have reasonably priced drinks and great western-style-pub-food (burgers, club sandwich, chicken wings, etc.) Great atmosphere and hang out for mostly westerners but Koreans are usually there, as well.

Rio's Western Bar

address: Guwol-Dong Square

Perhaps the only 'Western-style' bar outside of Bupyeong regularly packed with foreigners. The pub is quite well hidden and therefore tends to attract the same local English teachers rather than wandering tourists. On the 3rd floor in the same building is the massive (and rather infamous) King Kong Hof, also frequented by Westerners on weekends.

Goose GooseInnocuous enough from the outside, Goose Goose is perhaps the largest and busiest westerner zone in town on a Saturday night. The "pub jukebox" is an open desktop computer running iTunes. Excuse the Canadians playing Celine Dion. And the Brit obsessed with Adele.

Who's BarA cosy western bar great for catching up on English football. The owner is a very friendly young fellow who'll offer a free drink to new ESL teachers.
Sleep
Hotels

Hotels are gathered in Songdo International City. If you come to city, you don't have to difficult to reserve accommodations.


Resort

These resorts are not far from Incheon International Airport.


Pensions
In South Korea, the word for a boarding house where three meals a day are provided along with your room is "pension". There are 1,635 pensions around Incheon according to a 'Naver page', including the following:


Guest houses

There are 39 guest houses according to a 'Naver page', including the following:


Go next