Independence (Missouri)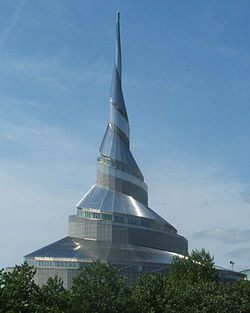 Independence
, known as the
Queen City of the Trails
, is a city in western
Missouri
just east of
Kansas City
with a population of approximately 110,000. Independence's founding predates that of Kansas City, and it was home to U.S. President Harry S. Truman and the legendary actress Ginger Rogers, as well as the starting point of three of America's great Westward Trails: the
Santa Fe Trail
, the California Trail, and the
Oregon Trail
. The city also hosts numerous historical sites related to the Community of Christ (formerly RLDS), Church of Jesus Christ of Latter-day Saints (the "Mormons"),
American Civil War
and Western history.
While offering a full range of entertainment and lodging options for visitors, Independence generally tends to be more "quiet" than its larger neighbor to the west. One notable exception is Labor Day weekend, when it holds its annual
Santa-Cali-Gon Days
, one of the most important yearly festivals held in the Kansas City metropolitan area. Another exception is during the biennial April general conferences of the
Community of Christ
, the second-largest Latter-day Saint denomination, whose world headquarters is in the city.
Get in
By car
Interstate 70
is the main east-west highway, while
Interstate 435
(running north-south) passes just to the city's west. U.S. highways 24 and 40 and Missouri state highway 291, which becomes
Interstate 470
, south of I-70, also provide access to the city. I-70 offers six exits to Independence (from west to east, in order: Blue Ridge Blvd., U.S. 40/Sterling Ave., Noland Rd., Lee's Summit Rd., MO-291/I-470, and Little Blue Parkway), while I-435 offers three (from north to south, in order: U.S. 24/Winner Road, Truman Rd., and 23rd St.). At each of these three I-435 exits, you must turn
east
to head into Independence! Turning west will take you into Kansas City. Also, if you are taking I-435 south on the east side of Kansas City (as opposed to the west side; I-435 circles the Kansas City metropolitan area) and planning to exit onto I-70 east, be aware that this exit is a
left
exit, and it can be very slow-moving during "rush hour" times!
By bus
Nearest Greyhound station is in
Kansas City
, MO.
By train
Amtrak
, . The unattended is at 600 S Grand Ave, near the intersection with W Pacific Ave. This station, locally known as the
Truman Depot
, is on Amtrak's Kansas City to St. Louis route, the
Missouri River Runner
, and offers trains twice daily in both directions. Tickets cannot be purchased or baggage checked at this station, which houses the Jackson Co. Genealogical Society, so it is best to call Amtrak's toll-free reservation center or visit their website before departure. Tickets may also be purchased locally at Union Station in downtown Kansas City. A ticket is not required for boarding, though a reservation is. The route boasts a 90% on-time rating.
By plane
Access by air requires use of one of three airports:
Kansas City International Airport is 40 mi (64 km) away. To reach Independence from the airport take I-29 south to I-435 east, then follow I-435 east and then south along KC's east side until you cross the Missouri River; after passing the Front St. exit south of the river, you'll see the Independence exits.
Charles B. Wheeler Downtown Airport, located in downtown KCMO, serves private, corporate and charter aircraft. From this airport, take I-70 east.
Lee's Summit Airport, +1 816 969-1186. About 5 mi (8 km) south of Independence just off I-470 at 2751 NE Douglas Rd. Serves private aircraft. From this airport, take I-470/MO 291 north until reaching I-70. Continue north on MO 291 (I-470 ends here; only MO 291 continues) into Independence or go west on I-70 for other Independence exits.
Get around
By bus
The
Metro
, Kansas City's municipal bus service, has
very
limited service (time and route-wise) within Independence. The main Independence terminal is located next to the police station at the intersection of Truman and Noland roads. Fares cost $1.50 full price (including one transfer within two hours of the ticket's purchase), or $0.75 reduced fare (seniors, those under age 18, and disabled persons). A "Visitor's Pass" is available for out-of-towners; it allows unlimited riding of the entire Kansas City bus system for three days for $8. Information is available at .
On foot
Walking tours of the historic town square, Truman historical sites and Mormon historical sites are available. For most visitors, a car, bicycle or other means of wheeled transportation will prove necessary if one intends to venture very far beyond the central square area, which contains most of the attractions listed below.
By taxi
Local taxi service is available, but taxies are generally only obtainable by phone and sometimes require a lengthy waiting period between the time when you first call for the cab and the time that it arrives to pick you up. Calling well in advance of your appointment or desired arrival time is advised, as is checking with the taxi service as to the expected time of the cab's arrival.
See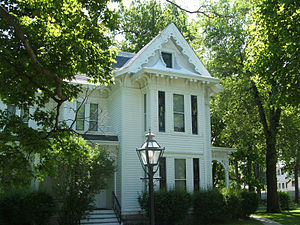 Historic Independence SquareLocated in the center of town, the Independence town square features numerous family-owned shops surrounding the old main courthouse, which was modeled after Philadelphia's Independence Hall. This courthouse houses Harry S. Truman's former courtroom and office (see below).

National Frontier Trails Museum

phone: +1 816 325-7575

address: 318 W Pacific

Museum and interpretive center dedicated to the history of the Overland Trails and the settlement of the American West. Independence hosted thousands of settlers, pioneers, soldiers and merchants as they prepared to cross the plains along one of three trails which began just off the city square: the Santa Fe, California, and Oregon. The museum offers film, a children's activity room, artifacts, journal entries, maps, and covered wagons, among other highlights.

Harry S. Truman Presidential Library & Museum

phone: +1 816 268-8200

address: 500 W US Hwy 24

Official library of the 33rd U.S. President. Hailed as America's "best presidential museum" by the Dallas Morning News, the Truman Library offers theaters, a museum, store, and some interactive "hands-on" exhibits together with a "Decision Theater." The museum contains a colorful mural by Thomas Hart Benton, together with a reproduction of the Oval Office. The displays seek to educate patrons about the major world-shaping decisions that Truman was involved in as President (including the use of the Atom Bomb during WWII, and the formation of the UN), together with details of his personal life. The lower level offers an area where kids can dress up like Harry and Bess, explore "feely" boxes, engage in an interactive computerized race, sort mail, make campaign buttons and posters and play a trivia game.

Harry S. Truman National Historic Site

phone: +1 816 254-9929

address: 219 N Delaware St

The Independence home of the nation's 33rd President, completed in 1885 and furnished exactly as it was when Truman lived there. Only the main floor is open to visitors, via a guided tour conducted by National Park Service employees. Obtain tickets for $4 at their office at 223 N. Main St., then walk or drive a short distance away to the corner of Delaware St. and Truman Rd. to see the house itself. You must obtain the tickets at the Main St. office before attempting to enter the house! Tours are limited to eight persons at a time, and all tickets are sold on a "first-come, first-served" basis on the day of the tour only. A ticket purchased to tour the Truman Home is also good to tour the Truman Farm Home in Grandview on the same day, and vice-versa.

Harry S. Truman Courtroom & Office

phone: +1 816 252-7454

In the Old Courthouse at the center of Independence's historic square. Truman's first elected office was as a Jackson Co. judge (1922-24) an administrative, not judicial, position. During his term he worked in the historic Independence courthouse.

phone: +1 816 833-2046

address: 100 W Maple Ave

Still a working soda fountain and ice-cream parlor, this was the site of Truman's first paying job. On the Independence Sq.
Temple Lot A grassy field dedicated in 1831 by Joseph Smith, Jr., founder of the Church of Jesus Christ of Latter-day Saints (the "Mormons") together with several smaller organizations claiming to be the legitimate continuation of that church. No temple has ever been constructed on this site, though the Community of Christ has built one across the street which the Utah LDS and other sects do not accept as legitimate. The vast majority of the world's Latter-day Saints believe that this particular piece of land, which is owned by the tiny Church of Christ-Temple Lot, will one day be the site of their most important spiritual edifice. Tours and information are available at the white church building located on the lot, which is the world headquarters of its current owners.

Community of Christ World Headquarters

address: 1001 W Walnut St

The Community of Christ, second-largest of the Latter-day Saint denominations, has its world headquarters in Independence, as do several other smaller groups. Its headquarters' complex consists of three buildings, all of which are open to the public:
address: 1001 W Walnut St,

Constructed from 1990-94, sits adjacent to the original "Temple Lot," and clearly dominates the city skyline. Designed by famed Japanese architect Gyo Obata, the edifice evokes the spiral shell of the Nautilus by using a stainless steel spire that rises 300 ft (91 m). Unlike temples of the larger LDS church, the Community of Christ's sacred structure is always open to non-members. Its main sanctuary features a Casavant pipe organ with 60 stops, 102 ranks, and 5685 pipes; recitals are held daily during June, July, and August (and Sundays only the rest of the year). Also held daily is a Prayer for Peace, which the public is encouraged to attend.

phone: +1 816 254-2211

address: 1012 W Lexington

It was constructed during the late 1800s, and serves a local Community of Christ congregation. Beautiful stained-glass windows and woodwork.

phone: +1 816 833-1000

address: 1001 W Walnut St

A large structure built between 1926-58 for holding the church's biennial convention. It was the church's headquarters, before erection of the Temple. It houses an Aeolian-Skinner pipe organ with 113 ranks and 6,334 pipes, including an antiphonal console and pipes in the rear balcony of the oval chamber. Seating nearly 6,000 people (as opposed to 1,600 in the Temple's main sanctuary), this building is used not only for religious ceremonies, but community events as well, including local graduation ceremonies and an annual performance of Handel's Messiah that has become a mainstay of the KC Christmas holiday season.
The Children's Peace PavilionInside the Auditorium's west entrance. It contains a number of exhibits designed to teach concepts of personal peace, social peace, international peace, and environmental peace to children ages 12 and under.
United Nations Peace PlazaJust west of the Temple Lot. This memorial features a beautiful sculpture of a young girl releasing a dove to symbolize the hopes and dreams represented by the United Nations. It is billed as the only monument in the U.S. dedicated specifically to peace outside of the UN's headquarters in New York.
phone: +1 816 836-3466

address: 937 W Walnut

Describes the roles played by Latter-day Saints during the early and tempestuous history of Independence. Offers flat screen visual presentations showing the arrival of early Saints, revelations, and their pioneer lives. Also offers rare artifacts and exhibits documenting the history and beliefs of the Mormons, together with information on the adjacent Temple Lot. Free guided tours daily.
1859 Jail, Marshal's Home and Museum

phone: +1 816 252-1892

address: 217 N Main St

The dungeon-like cells of the 1859 Jail housed thousands of prisoners during the bloodiest period of Jackson County's history. Some of its guests included Frank James (brother of Jesse James) and Confederate guerrilla leader William Quantrill. Part of the exhibit details how the local marshal and his family lived in the adjoining Federal brick two-story home. An 1870s-era schoolhouse and museum completes the site. A "historic homes combo" ticket is available for use with the Bingham-Waggoner Estate and the Vaile Mansion. Closed for the winter from Jan-Mar.
address: 1333 S Noland Rd

Museum of Victorian-era art of hair jewelry and wreaths. The Hair Museum, believed to be the only one of its kind in the world, houses over 350 hair "wreaths" and 1,500 pieces of artwork or jewelry made partially or completely out of human hair.
address: 11025 E Winner Rd

Home to hundreds of puppets and marionettes from around the world and features a collection from the world's largest puppet factory in neighboring KC, owned and operated by famous puppeteer Hazelle Rollins. Visitors can also watch a movie, use the puppet resource library and see changing displays. Children can choose a puppet head from the now-closed factory inventory, paint it with professional puppet paint, attach a body, and stage an impromptu performance on one of the institute's stages. Monthly professional puppet shows are also offered.
phone: +1 816 461-3491

address: 313 W Pacific

Built in 1852 along the Santa Fe Trail, this magnificent home was owned by American artist George Caleb Bingham. Extensively renovated in the 1890s, many furnishings and accessories from the era may be seen in the home, and original wagon swales from the Santa Fe Trail may be viewed to its south. A gift shop is in the carriage house. Closed for the winter from Jan-Mar. Directly across from the National Frontier Trails museum.
phone: +1 816 325-7430

address: 1500 N Liberty

This 30-room mansion was built by frontier business tycoon Harvey Vaile in 1881. Recognized as one of the finest examples of Second Empire Victorian architecture in the U.S., the opulent estate boasted conveniences such as flushing toilets, a built-in 6,000-gallon water tank, painted woodwork and ceilings and nine different marble fireplaces. Closed for the winter from Jan-Mar.
Pioneer Spring Cabin

phone: +1 816 325-7111

This austere two-room log cabin offers a sharp contrast to Independence's opulent Victorian estates. It was constructed in an Irish community known as "Brady Town," and moved to its present location in 1971. A spring outside the Cabin has been recreated to represent the abundant natural springs that served weary trail riders, pioneers and livestock.
Do
Buy
A farmers' market is held on the northeast side of the Independence Sq., along Truman Rd., on Wednesdays and Saturdays, mid-May through mid-Sep. (Vendors are usually at the market around 5AM and most leave by 11AM.) The adjacent Independence Sq. holds numerous shops for antiques, curios, book, and more.
phone: +1 816 795-8600

address: 18801 E 39th St S

Over 100 stores. Anchors include Dick's Sporting Goods, Macy's and DIllard's,
Eat
Recently the Independence Square has seen restoration work which has involved the opening or refurbishing of various restaurants. Among these are:
Several other restaurants, including the
Longhorn Steakhouse
,
Logans Roadhouse
,
Hereford House
and other national or local chain eateries are located at or adjacent to the 39th Street corridor, between Lee's Summit Road and the Little Blue Parkway. Smoking is prohibited in all restaurants, bars and other public establishments in Independence.
Dixon's Chili

phone: +1 816 861-7308

address: 9105 E US Hwy 40

Dixon's Chili has some of the best chili and chili-based dishes in the area. This restaurant has an old-time diner feel, a great staff, and great value. Some of the dishes include Dixon's signature dry chili, spaghetti, and all-you-can-eat tacos.
Drink
There are numerous drinking establishments around Independence, and most if not all restaurants serve alcohol.
(Smoking is prohibited in all nightclubs, bars and other public establishments in Independence.)

Sleep
Several major motel chains serve Independence, and there are also a number of bed-and-breakfasts available.
Stay safe
Although violent crime is very uncommon in Independence, it is not unknown. Carjackings, vandalism to cars and auto thefts do occur, and while the chances of being a victim are slim (though still higher than the MO and national averages), visitors should not allow the "small town" atmosphere of this city trick them into letting down their guard with regard to locking autos and hotel doors, leaving cars running unattended, paying attention to surroundings, etc. The Square area is relatively safe during daylight and evening hours.
The west side, particularly the portion west of Sterling Ave., is not known to be particularly safe at night, especially along Blue Ridge Blvd. between 23rd St. and U.S. 24. Avoid anything west of Sterling Ave. at night if possible. Since there are no hotels, restaurants or tourist attractions in this part of town, this should not be hard for visitors to do.

Go next
phone: +1 816 254-9929

address: 12301 Blue Ridge Blvd

Grandview. Harry Truman lived on this, his family's farm, from 1906-17. Tours F Sa Su from Memorial Day to Labor Day, 9:30AM-4PM, limited to 6 people. Farm grounds open daily, year-round for self-guided tour. $4, ages 15 and under free. A ticket purchased to tour the Truman Farm Home is also good to tour the Truman Home in Independence on the same day, and vice-versa.
Fort Osage National Historic Landmark Sibley, +1 816 650-5737, +1 816 795-8200. This reconstructed frontier post once hosted famed American explorer William Clark (of Lewis and Clark fame), who selected the site and drew up the plans for its construction. The site offers the reconstructed fort, together with living history exhibits and a museum. A few miles east off U.S. Hwy 24. Call before going for exact directions (you'll need them, if you're not familiar with the area!), as the fort is in a rural area some distance off the highway.
Missouri Town 1855 8010 E Park Rd, Lee's Summit, +1 816 503-4860. A fascinating 30-acre "town" using both authentic and reconstructed buildings to reconstruct what a frontier town in 1850s Missouri looked like. Professional living history guides interact with guests on this self-guided walking tour, dressed in 19th-century attire and depicting 19th-century lifestyles. Authentic field and garden crops and rare livestock breeds are available for visitors to view. Definitely worth the time and reasonable cost ($5, $3 children and senior citizens).
Native Hooved Animal Enclosure at Lake Jacomo Lee's Summit, The big draw being the wild buffalo (bring some carrots to feed them!), but other interesting animals lurk here too, like Elk and Deer. It's near to MO-7 and Lake Jacomo/Missouri Town. There a few small buffalo calves in the herd now as well.
Battle of Lexington 1101 Delaware St, Lexington, +1 660 259-4654. 25 mi (40 km) east, off US Hwy 24, and was the site of a Civil War battle fought in September 1861 later known as "The Battle of the Hemp Bales." After a fruitless three-day siege of the Union garrison, attacking Confederate forces used hemp bales soaked in river water to form a mobile breastworks, which they rolled slowly up to the Yankee trenches to enable them to finally force a Union surrender. The site, now a state park, offers a free museum, picnicking, and a walking tour of part of the old battlefield, where remnants of the old trenches and fortifications remain visible. Adjacent to the museum is the Anderson House, which served as a hospital during the battle (a small fee is charged to tour). Lexington is worth a full day or more in its own right, with numerous Antebellum houses and the Wentworth Military Academy.